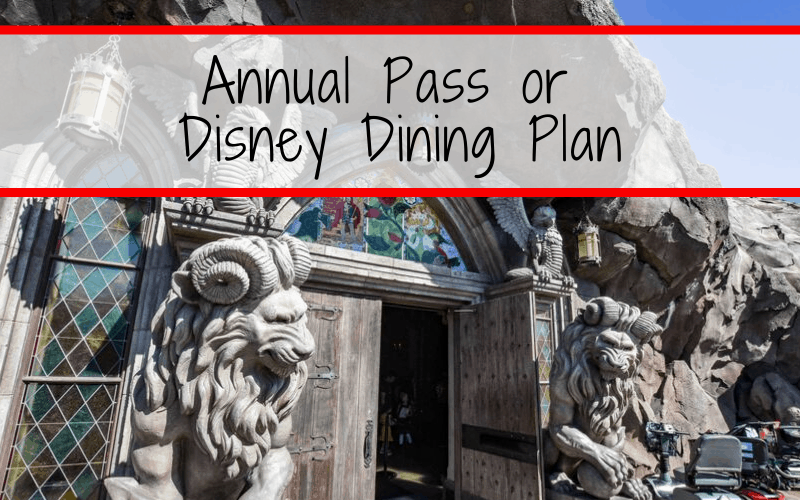 Once you have made the decision to invest in a Disney Annual Pass, and you have looked through the various discounts available to you, it's time to decide if you want to add Disney Dining Plan or pay out of pocket for your meals.
Knowing that Annual Pass will give you 20% off at Table Service restaurants, it's hard to imagine that the Disney Dining Plan could beat that price.
Comparing Apples to Apples, let look at 5 days worth of Table Service Dining Plan vs paying out of pocket with the AP discount.
To be clear, everyone staying at a Disney Resort can purchase the Disney Dining Plan. There are Annual Pass packages with free dining plan but that is neither here nor there. Should Annual Pass holders buy the Disney Dining Plan?
Buying the Dining Plan
Taking Ohana dinner as the standard, it will cost your family $46 per adult and $26 per child. For 5 days, this comes to $720 for TS dinner. Adding QS lunch, $300 for 5 days.
That comes to $1020 for 5 days, plus 40 snack credits during your stay. Considering the Table Service dining plan costs $1080 for the same days and group size, this is already pushing into "not worth it" territory, but that may have something to do with the restaurant we choose.
Paying out of Pocket
An Annual Pass discount takes 20% off the cost of table service meals for up to 4 people. That comes to $144 off the cost of dinner, which comes to $576. Adding $300 for QS, that comes to $876 plus 40 snack credits. These snack credits are worth roughly $200 if used correctly.
Consider, however, that drinks and deserts are eligible for an Annual Pass discount, but they are including in the price of the Dining Plan and extra for out of pocket.
At $1076 total investment, it's easy to see how choosing or refusing the Disney Dining Plan can be a confusing math problem.
It all depends; tips on deciding
Prices at sit-down restaurants range anywhere from $15 to $60 per plate. If you choose the higher range of restaurants and plates, maximize your drinks and desserts.
Take a look at the menu items and make a rough estimate of which plates you intend to buy. Try to calculate how much you plan on spending on your Table Service restaurant selections.
Quick service restaurant calculations don't really apply here because you can't get a discount at counter restaurants, but you can choose more or less expensive items depending on if they are covered by your dining plan.
Final verdict
At the end of the day, I would say, stay with the Table Service Dining plan if you know how to use it properly.
Those that want to maximize their dining credits, get some free snacks and use your Quick Service credits wisely.
For Disney destinations, our preferred travel agency is Clickthemouse.
They specialize in Disney destinations and will help you with all the details like dining, FastPasses, Magical Express, park days, etc. The best part is that their services are FREE when you book your vacation with them. Personalized service at no extra cost to you! To get a quote from a Click the Mouse travel agent, simply click on the quote button below and they will be in touch: