Last Updated on June 30, 2020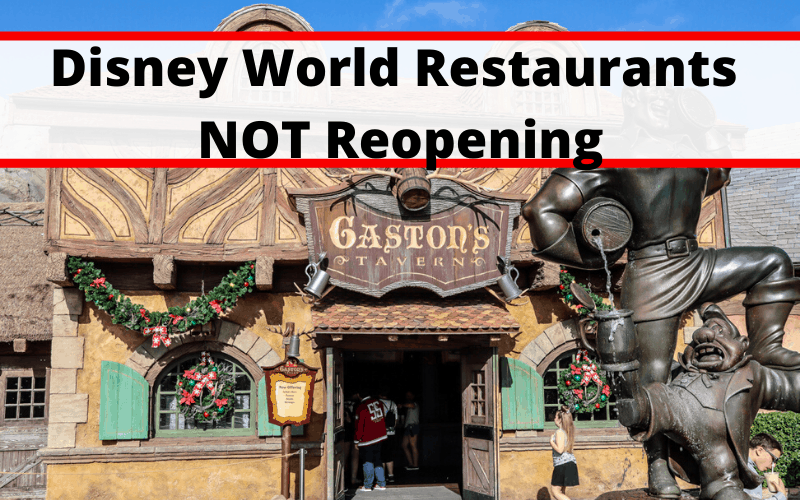 With so much information pouring out of Disney at the moment, it is important to keep up with what is necessary to your vacation, and dump the rest. Today we are looking at a complete list of Disney World Restaurants that will not be reopening right away.
The Magic Kingdom
The Diamond Horseshoe
Casey's Corner
Cheshire Cafe
Cinderella's Royal Table
Columbia Harbor House
Cool Ship Food Stand
The Crystal Palace
The Friar's Nook
Gaston's Tavern
Golden Oak Outpost
The Lunching Pad
Plaza Ice Cream Parlor
Prince Eric's Village Market
Tomorrowland Terrace Restaurant
Tortuga Tavern
Westward Ho Food Stand
EPCOT
Akershus Royal Banquet Hall
Block & Hans
Chefs de France
Cool Wash
Kringla Bakeri Og Kafe
Las Halles Boulangerie-Patisserie
Les Vins des Chefs de France
Lotus Blossom Cafe
Monsieur Paul
Nine Dragons
Restaurant Marrakesh
Sommerfest
Space 220 – Coming Soon
Takumi-Tei
Teppan Edo
Tokyo Dining
Tutto Gusto Wine Cellar
Tutto Italia Ristorante
Yorkshire County Fish Shop
Animal Kingdom
Dino Diner
Drinkwallah
Eight Spoon Cafe
Kusafiri Coffe Shop & Bakery
Mahinda
Pizzafari
The Smiling Crocodile
Terra Treats
Tusker House Restaurant
Warung Outpost
Disney's Hollywood Studios
ABC Commissary
Catalina Eddie's
Dockside Diner
Epic Eats
Fairfax Fare
Hollywood Scoops
Hollywood & Vine
Kat Saka's Kettle
KRNR The Rock Station
Market
Neighborhood Bakery
Oga's Cantina
Tune-In Lounge
Woody's Lunch Box
Here's a list of what attractions will remain closed you'll be able to enjoy when Walt Disney World starts their Phased Reopening next month. How to book your table service reservations for Walt Disney World Resort restaurants.