Last Updated on August 23, 2020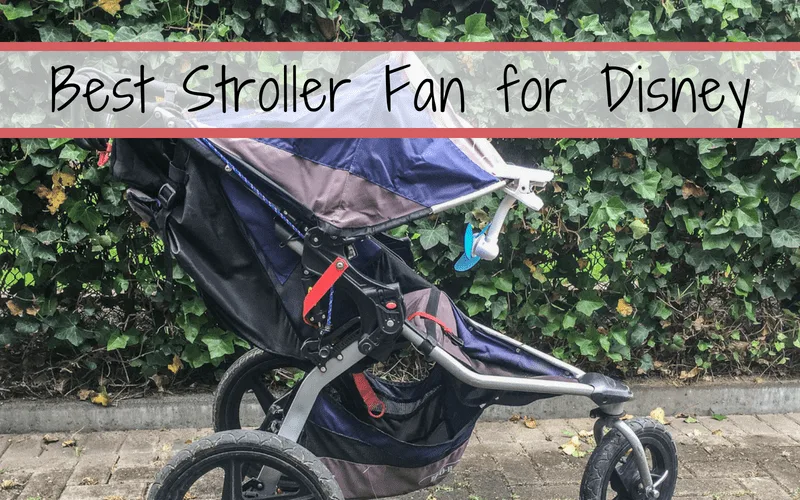 How do we bring our babies around with us in the heat outdoors? Even with your little one lounging in a stroller while being pushed around the parks, they will get hot fast and one of the best ways to help them cool down is buying a stroller fan!
This post may contain affiliate links.
To which I earn a small commission, at zero cost to you!
Find more info in our
Privacy Policy
.
What is a Baby Stroller Fan?
A stroller fan is simply that. It is a small, lightweight, usually battery-operated or USB fan that clips to a stroller. The main purpose of a stroller fan is to cool the child on days of extreme heat. They are designed to be mounted on any stroller and have an adjustable neck. This ensures you are able to move the fan and direct the airflow to where it needs to be.
A stroller fan can also be clipped to carriers, Disney Park Bag, or even handheld while waiting in line.
Benefits of a Baby Stroller Fan
Keeps the baby cool inside the stroller, by providing air flow
Ensures child gets enough air when sleeping in a covered stroller
Ensures the child gets the benefits of being outdoors – like Vitamin D from sun exposure – while limiting the risk of overheating.
A stroller fan won't prevent sunburn but it will reduce the risks of overheating and skin conditions caused by excessive sweating.
Stroller fans are used for multiple purposes. Not only is a stroller fan great for clipping onto a stroller, but as mentioned, the fan can be clipped to many objects like a baby carrier, backpack or computer desk.
It's free entertainment. If your stroller fan has different colours, it is bound to mesmerize your toddler. Even if it doesn't, there is something to say for a spinning magical instrument attached to the stroller that provides instant relief.
Hint to Parents: You may want to hook one to the stroller to keep cool too!
Buying Tips: What To Look For
Is the fan case durable?
Not only does the case prevent the child from grabbing the fan blades, but the case must be made of hard enough plastic to not break the first moment it falls. Because it will fall, that's what children to do nice things.
What material are the blades?
Many manufacturers now have foam fan blades. They bend when poked by the child, thus alleviating the risk of injury.
Is it a misting fan?
Misting fans provide a fine mist of water and keep you and your baby cool. Not all baby stroller fans have a mist function.
Is it quiet or noise-free?
While a little white noise is great to help the children fall asleep, too much noise can distract them and keep them awake.
Does it clip-on and is it lightweight?
Since you will be carrying the stroller fan around with you all day, and clipping to any and all surfaces, weight, and grip are important. If you are clipping to the stroller canopy, for example, you want to make sure it is not too heavy, as to ruin the canopy itself, or its grip too loose as to fall off onto the baby.
Is it battery-operated or rechargeable?
Most stroller fans operate within one of two ways; rechargeable USB or battery. Decide which is best for your travelling needs, which is more practical for your particular travelling situation, and go from there. Don't forget to check if you will have access to a charger when needed, or more batteries (or battery charger).
Does it have adjustable speeds?
Make sure your stroller fan has adjustable speeds, to meet the needs of the child and the environment.
5 Best Baby Stroller Fans
1. Sky Genius Clip-On Stroller Fan
The Sky Genius stroller fan provides quite a bit of airflow for such a small device. Users love the fact that it can be recharged by USB. With so many USB plugs everywhere, including the car and power pack, it's just so easy to plug this fan in for a few minutes to top off the charge.
Finally, the Sky Genius stroller fan is more flexible and can point in just about any direction.
2. Dreambaby Clip-On Stroller Fan
A great little fan is good for on-the-go and staying at home. Only needs 2 AA batteries, not included, however. With an easy to use On and Off switch, older kids will be able to use it on their own. The Dreambaby clip-on stroller fan does not have a speed option, but the setting is fairly strong enough for a warm day.
Clip-On Fans feature soft, baby-safe foam fins and the flexible neck can be adjusted to the right angle to ensure baby gets a breeze. Ideal for keeping your little one from over-heating in the stroller or playpen on warm days. Totally portable and perfect for beach, pool, picnics, and parks. May be clipped onto nearly anything including strollers, bassinets, playpens, picnic bench, lawn chairs, beach chairs, treadmills, ellipticals, and many more!
3. Cool On The Go Necklace Portable Neck Fan
Cool On The Go is a revolutionary personal cooling system that was designed with convenience in mind. It's lightweight and features a compact design that leaves your hands free as you're working or playing in the heat!
While other personal fans are often bulky hand-held products that barely produce any airflow, the Cool On The Go PUMPS out air! It provides users with over 5 hours on high and over 8 hours on low, of a continuous steady airflow to help anyone keep cool and refreshed. Suitable for all ages!
4. Glovion Cooling Fan, Stroller Clip Fan
A+ Mini fan. These mini fans strongly blow wind, but only when using the 18650 batteries (provided). The long USB cord is very convenient unlike the short ones provided by other companies. When using the 18650 batteries, the wind output is a lot stronger than using the USB cord attached to a laptop or power bank.
In comparison to other mini USB fans, this fan is a bit noisier. It shines over other fans that use USB power only because its wind output is A LOT higher. Being cooler was more important to me than being quieter so I prefer this battery operated mini fan over other fans. I also love the contrasting colour scheme and options, the rotating head design, adjustable wind speed, and the ultra strong clip.
5. Diono Stroller Fan
Keep baby cool with a clip-on Stroller Fan. Attaches easily to strollers and other surfaces to keep the breeze flowing. Fan cover protects small fingers. Requires 2 AA batteries, not included.
The Diono Stroller Fan works great on both of our strollers. It is powerful enough to keep baby cool in Orlando heat and batteries lasted all day. The only problem was that the switch is very sensitive and often turned on when we just set the fan down.
---
Why you need a stroller fan for Disney
Stroller fans are a real lifesaver on those hot summer days at Disney. Such a tiny little device can bring so much comfort to your baby and so much peace of mind for you the parent.

Your Thoughts...
Please share your thoughts in the comments or reach out on social media...We would love to hear from you.
Follow Mouse Travel Matters for Disney Parks news, the latest info and park insights, follow MTM on Twitter, Facebook, and Instagram.
You May Also Like…