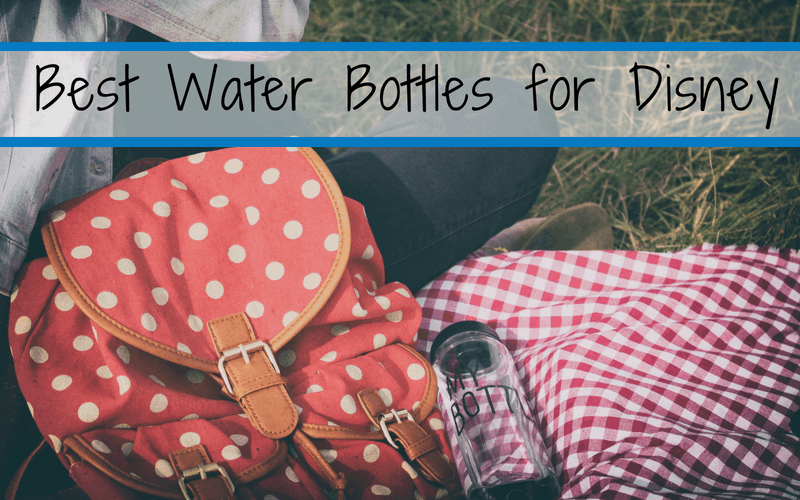 What are the best water bottles for Disney World? It doesn't matter where you live or when you have your holidays, everyone that has ever planned a Disney trip wants to avoid the crowds and beat the heat at all costs.
If nothing else, many vacationers would prefer crowds over the hot summer heat, as these high temperatures tend to get guests in a crusty mood and slow everything down. With the right strategies, you can beat the heat at Disney Parks. The absolute best way to stay cool AND save money is to bring along a water bottle from home, find in this article, Mouse Travel Matters, Best Water Bottles for Disney Parks.
Can you bring reusable water bottles into Disney World?
When it comes to bringing drinks into Disney parks, one would naturally lean towards bringing their refillable mugs from breakfast, but will they prevent spillage, and fit with travel hygiene safety? The best way to keep cold liquids cold is to have them in dedicated, preferably insulated and spill-proof, and possibly with a little handle or loop so they are easy to hold onto or secure to a Disney Park Bag.
Yeah sure, guests can easily purchase bottled water at each gift shop in order to hydrate but, along with cost, there are a handful of reasons why you may want to reconsider that particular touring strategy and opt for a reusable water bottle instead.
How much is bottled water at Disney World?
A bottle of water at Walt Disney World costs about $2.50 per bottle for around 16oz (475ml) of water. In order to get your recommended 8 cups of water per day (that's 2 litres), you will need to buy 4 water bottles per day. That's $10 per person! Do you know how much popcorn one can buy with $10 per person? Or delicious Turkey legs? Or Mickey Ice Cream Bars?
Why you should take your own water bottle to Disney
By having a refillable water bottle, you can get ice cold water for FREE! Just ask for a free cup of water and ice when purchasing snacks or meals. Yes – any Walt Disney World food stand will give you a cup of water (and usually ice) if you simply ask for it – and it's free!!
Also, the average reusable bottle holds about 32 oz, whereas the average plastic water bottle can only hold 16 oz. That makes fewer trips to refill, and as we all know; Time is money.
Environmental Stewardship (AKA. Not leaving a mess)
Americans use more than 50 billion plastic water bottles a year. How many plastic water bottles does one reusable bottle save? Since you, the average human, need to drink approx. 4 plastic bottles per day, you would be saving approx. 1,460 plastic bottles per year by using a reusable bottle.
And let's be honest, if you leave a mess and others leave a mess, Disney Fans know. Finding a plastic water bottle in a toilet is just weird, your favourite Cast Member will appreciate you while they are somewhere cleaning up that 'protein' spill.
Heat Exhaustion
Having immediate access to water is a great way to beat heat exhaustion.
Many people claim that if we don't stay hydrated throughout the day, our energy levels and brain function can start to suffer. There are actually plenty of studies to support this. In one study in women, a fluid loss of 1.36% after exercise did impair both mood and concentration, while increasing the frequency of headaches
Immune System
One of the benefits of drinking water is that adequate hydration has a huge impact on your immune system. Water helps all of your body's systems function at optimum levels. Drinking plenty of water flushes toxins and ensures that your cells get all of the oxygen they need to function as they were meant to
Plastic Water Bottles Sweat Like Crazy!
Even if the cost of bottled water doesn't phase you, it's hard to argue against the fact that the cold beverages that you buy in the middle of summer just don't stay cold for very long – and then they sweat condensation.
This post may contain affiliate links.
To which I earn a small commission, at zero cost to you!
Find more info in our
Privacy Policy
.
9 Best Water Bottles for Disney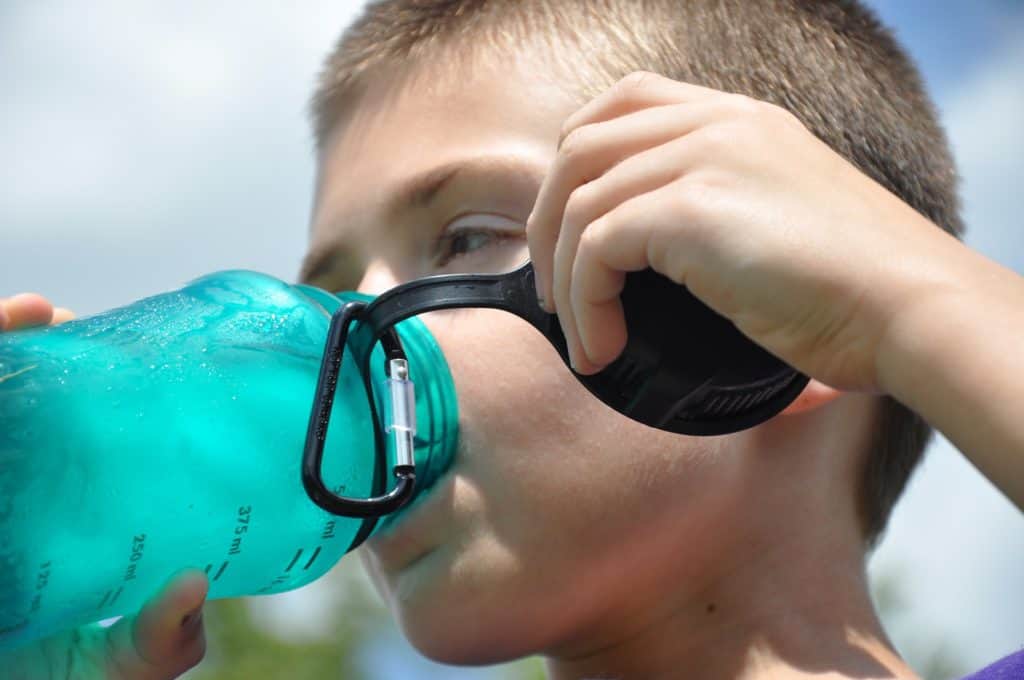 Zak Designs Mickey & Minnie Mouse 25 oz. Wide-Mouth Water Bottle
Zak Designs is a 25-ounce water bottle with a leak-proof lid and built-in carrying loop. It features graphics from our favourite boss, Mickey Mouse. The easy-open flip top cap locks into place when open and is spill-proof when closed. The wide mouth easily accommodates ice cubes on those super hot days.
ZeroWater On-The-Go 26oz. Filtered Tumbler
In between refills at the restaurants, ZeroWater's portable filtered tumbler allows guests to refill their bottles at any drinkable water sources, like public fountains. The 5-stage filter transforms tap water into delicious, TDS-free drinking water. While every town and city have a slightly different taste to their water, this filtered tumbler gives you the peace of mind that nothing is left but "the good stuff".
HYDAWAY Collapsible Pocket-sized Travel Water Bottle
Space is a terrible thing to waste! Instead of walking into the park with a full bottle of hotel water, why not arrive and fill the bottle when first needed. Then drink and refill again later when required. There is no need to carry around an empty bottle, especially if you don't have anywhere to put the bottle afterward (did you know there are people that actually go to the parks without a bag? Crazy eh! I discovered that when I walked right past the 'no bags' line at Disney Security). Just fold it up and tuck it away in your pockets until the time comes to fill 'er up again.
HYDAWAY Collapsible Kids Water Bottle
With eye-catching colours like Very Berry, Cool Breeze, and Hot Lava, kids will want all three. The creative base design offers a label space to personalize the bottle with your child's name, just in case, it's left behind in the Parks or in a restaurant. The bottle flattens down to just over an inch thick when fully collapsed. It can be easily stashed in a backpack, lunchbox, pocket or diaper bag.  The HYDAWAY kids bottle is designed for ages 3-8 and keeps parents happy with nontoxic and food-grade materials.
Vapur Eclipse Water Bottle
Known as an anti-bottle, this little guy will stand when filled and rolled nearly flat when empty. Guests are able to freeze the Vapur Eclipse Water Bottle overnight for extra cold water in the morning. The Supercap allows for a tight seal when closed and an easy-open spout for drinking and comes with an attached carabiner for easy carrying. It is dishwasher safe, BPA free and made in the USA.
Klean Kanteen Wide Insulated Stainless Steel Bottle With Loop Cap
With double-wall vacuum insulation, Climate Lock insulation keeps drinks Hot up to 14 Hours and Iced up to 48 Hours! (20oz size). The Klean Kanteen is lightweight and perfectly sized to fit in most cup holders and the leakproof Loop Cap clips onto just about anything.
Live Infinitely 32 oz. Infuser Water Bottles
Industry-first FULL-LENGTH infuser rod ensures that your water is infused to the very last drop, providing the best flavour possible! Removable infuser and cap can be placed in your favourite water pitcher to make it a fruit infuser as well.
Dual hand grips on each side and the lid features auto-alignment technology; this means that no matter where you start, your bottle will always secure in the perfect position for drinking.
There is an added security metal loop above the button on the lid. this way it can not be opened accidentally when not in use. Simply disengage the metal loop, press the button and you're ready to go. A travel loop has been added to the back of the lid for extra convenience – simply attach your favourite carabiner and attach it to anything you would like.
Not sure where to start or how to get some of the most delicious water from the bottle? No problem, we got you covered! Every purchase comes with our recipe PDF which features 20 of our favourite recipes. A quick and simple guide to a healthier you that outlines the health benefits of each recipe.
CamelBak Eddy Water Bottle
Redesigned cap and Big Bite valve provide faster flow than previous versions; just bite and sip, and your beverage flows through the valve. Dishwasher-safe, durable, BPA-free & BPS-free. Carry the integrated handle in the crook of a finger, or connect it to a pack or waist belt with a small carabiner (found here).
The posts and pages of Mouse Travel Matters
do contain affiliate links that we earn a small commission for,
they come at no extra cost to you!
Real Savings Purchasing a Reusable Water Bottle?
Over the course of a year, if you drank a total of 4 bottles per day, at an average cost of $2 per bottle, you would spend almost $3,000 per year just on water. With a reusable bottle, even if you needed to buy a new one within a year, you would only be spending $20 per year at most. This would leave you with an extra approx. $2,980 in your Disney budget.
Water bottle refill stations Disney World
How do I find "Hydration Stations" or places I can fill water bottles in the parks?
The easiest places to refill your water bottle are the water fountains situated throughout the theme parks. You will typically spot them between or near the restrooms. Also, Cast Members will be happy to provide you with a cold, complimentary cup of water at any quick-service restaurant.
Disney has added new water fountains and filtered water bottle refill stations throughout the parks. Recently, guests have mentioned they are have seen such stations at Satu'li Canteen and Restaurantosaurus at Disney's Animal Kingdom, The Electric Umbrella in Epcot, and both Earl of Sandwich and Wolfgang Puck Express at Disney Springs as well as Be Our Guest and Cosmic Rays, in Magic Kingdom Park.
Your Thoughts...
Please share your thoughts in the comments or reach out on social media...We would love to hear from you.
You May Also Like…
How to Pack the Perfect Disney Park Bag Ever!
Dehydration and Heat Stroke on Your Disney Vacation
How to Stay Cool at Walt Disney World this Summer
Best Shoes for Disney & Theme Parks 2018
Star Wars Attractions and Experiences Guide for Walt Disney World