Last Updated on April 1, 2020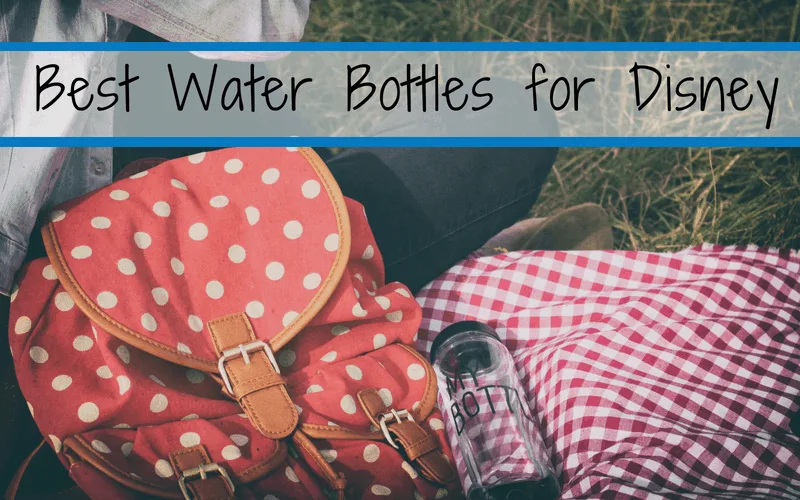 What are the best water bottles for Disney World? It doesn't matter where you live or when you have your holidays, everyone that has ever planned a Disney trip wants to avoid the crowds and beat the heat at all costs.
If nothing else, many vacationers would prefer crowds over the hot summer heat, as these high temperatures tend to get guests in a crusty mood and slow everything down. With the right strategies, you can beat the heat at Disney Parks.
The absolute best way to stay cool AND save money is to bring along a water bottle from home, find in this article, Mouse Travel Matters, Best Water Bottles for Disney Parks.
Can you bring reusable water bottles into Disney World?
When it comes to bringing drinks into Disney parks, one would naturally lean towards bringing their refillable mugs from breakfast, but will they prevent spillage, and fit with travel hygiene safety? The best way to keep cold liquids cold is to have them in dedicated, preferably insulated and spill-proof, and possibly with a little handle or loop so they are easy to hold onto or secure to a Disney Park Bag.
Yeah sure, guests can easily purchase bottled water at each gift shop in order to hydrate but, along with cost, there are a handful of reasons why you may want to reconsider that particular touring strategy and opt for a reusable water bottle instead.
How much is bottled water at Disney World?
A bottle of water at Walt Disney World costs about $2.50 per bottle for around 16oz (475ml) of water. In order to get your recommended 8 cups of water per day (that's 2 litres), you will need to buy 4 water bottles per day. That's $10 per person! Do you know how much popcorn one can buy with $10 per person? Or delicious Turkey legs? Or Mickey Ice Cream Bars?
Why you should take your own water bottle to Disney
By having a refillable water bottle, you can get ice cold water for FREE! Just ask for a free cup of water and ice when purchasing snacks or meals. Yes – any Walt Disney World food stand will give you a cup of water (and usually ice) if you simply ask for it – and it's free!!
Also, the average reusable bottle holds about 32 oz, whereas the average plastic water bottle can only hold 16 oz. That makes fewer trips to refill, and as we all know; Time is money.
Environmental Stewardship (AKA. Not leaving a mess)
Americans use more than 50 billion plastic water bottles a year. How many plastic water bottles does one reusable bottle save? Since you, the average human, need to drink approx. 4 plastic bottles per day, you would be saving approx. 1,460 plastic bottles per year by using a reusable bottle.
And let's be honest, if you leave a mess and others leave a mess, Disney Fans know. Finding a plastic water bottle in a toilet is just weird, your favourite Cast Member will appreciate you while they are somewhere cleaning up that 'protein' spill.
Heat Exhaustion
Having immediate access to water is a great way to beat heat exhaustion.
Many people claim that if we don't stay hydrated throughout the day, our energy levels and brain function can start to suffer. There are actually plenty of studies to support this. In one study in women, a fluid loss of 1.36% after exercise did impair both mood and concentration, while increasing the frequency of headaches
Immune System
One of the benefits of drinking water is that adequate hydration has a huge impact on your immune system. Water helps all of your body's systems function at optimum levels. Drinking plenty of water flushes toxins and ensures that your cells get all of the oxygen they need to function as they were meant to
Plastic Water Bottles Sweat Like Crazy!
Even if the cost of bottled water doesn't phase you, it's hard to argue against the fact that the cold beverages that you buy in the middle of summer just don't stay cold for very long – and then they sweat condensation.
This post may contain affiliate links.
To which I earn a small commission, at zero cost to you!
Find more info in our
Privacy Policy
.