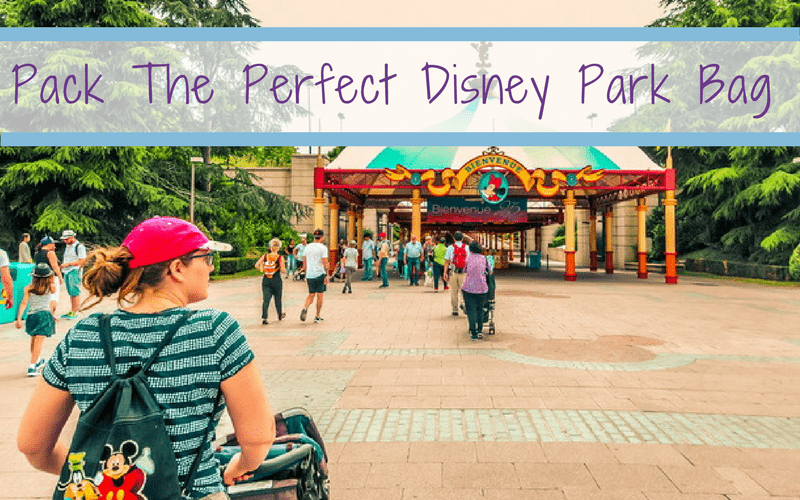 If you thought packing your Disney vacation suitcase was nerve-wracking, just wait until you start working on how to pack the perfect Disney park bag for your needs. We highlight some park bag items for your consideration.
So what should you pack in your Disney park bag to make sure you're prepared for those marathon days in the theme parks?
Disney Park Bag Packing Philosophy
A Disney Park bag and a day bag can have some pretty clear differences. Disney parks are a very high energy tourist destination. On any given day the parks are filled with excited, sweaty and possibly exhausted children and parents.
If the parks are open for 10-14 hours, that's a long time to make it only on the contents of your pockets; you should consider extra supplies. Having been to Walt Disney World 3 times, and Disneyland Paris 4 times, with and without kids, all in the last 8 years… this is what we have learned.
This post may contain affiliate links.
To which I earn a small commission, at zero cost to you!
Find more info in our
Privacy Policy
.
As any Disney fan would tell you there is some much fun to be had that stopping to hunt down sunscreen at a crowded shop is not something to waste your, detailed, epic-schedule on. Plus think of the children!!!
Disney fans with children will tell you there are some items to carry in your park bag that will just save you time and money. We will often refer throughout this article to Walt Disney World but if your travelling from afar this article is a one-stop read for all 6 Disney Parks.
The parks don't have corner stores to buy forgotten items. And any health items can be time-consuming to source from the Disney Baby Care Center, First aid Station (Walt Disney World First Aid Stations), or City Hall.
And weather-related items are often something you don't think of until you are already soaked running for the closest store on Main Street USA. And from my experience, you could be paying nearly double the price.
The stock is often limited, they typically only have one brand, and the line to make your purchases can last at least 30 minutes, if not longer (Yes, I have stood in one of those lines).
FAQ
Does Disney Allow You to Bring Your Own Food in your park bag?
This is no problem. Pack a whole day's meals, if that's your jam. Just be mindful of Disney's policy of NO alcohol or glass items in the parks.
Is your park bag allowed on Rides at Disney?
Yes, they do! On all rides Disney allows you to bring your bags. Worrying about your bags can really eat into the fun. Remember it needs to fit with you on the attraction.
What's the Ultimate Park Bag for Disney Parks?
Your ultimate Disney Park Bag should fit everything you usually need on any given day, plus a few extras. We use backpacks for the majority of our Disney Park trips.
A nice Disney drawstring backpack is also a great option. This will help you reduce the amount of clutter you take with you unnecessarily. It is easy to access for both yourself and your partner – but you will definitely feel it if a stranger tries to reach into it.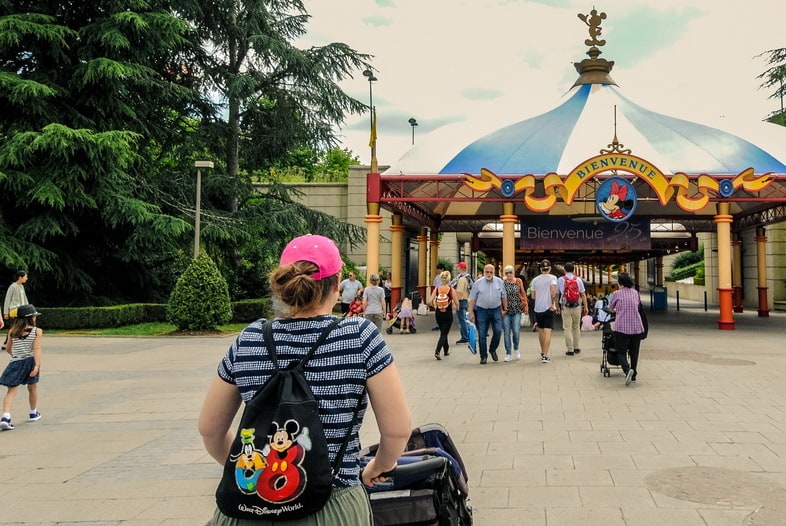 Don't become the family mule, carrying everyone's stuff around. My partner generally carries an assortment of camera gear in a backpack. In our experience, the children often enjoy carrying their own stuff in there very own backpack. In this way, you have a completely kitted out little person how is ready for any parent to see to there needs.
No digging for stuff in many bags. "One kid one kit!" If you have to hang that bag off the stroller for any period of time, at least, all their stuff is together and ready to go on there backs.
Disney Park Bag Contents
Weather Considerations
Does the cold bother you? Maybe you need your very own isolated flurries.
The weather is a hard fact during most Disney Park trips. Heat, rain, snow! (Disneyland Paris in Winter), and sun (101 Things Not to Do at Walt Disney World) can have a massive impact on your fun. Some mornings and nights in WDW can be quite cold.
Umbrellas and Ponchos – Ponchos are awesome and of course, it rains at some very inopportune times like during the Star Wars Guided Tour recently.

This time my poncho was in my hotel room so had to buy one at Star Tours.
More convenient than an umbrella they can easily be deployed to the whole family and stored in a bag or a stroller like our BOB Revolution.
They can be purchased at Disney Parks and are very high quality, or for less on Amazon.
We pack the same one for every trip. Unless you forget yours as I did.

Spray Misters -So amazing on a hot Disney Park trip.

Well, they are convenient, keep them out of the sun, or you will have a hot water spray mister.
Hit up the online stores for this when they are out of season in your area.

Light Jacket (Windbreaker)- during the mornings and evenings from October – March (Verifiable with historical weather data) we recommend them for that cold chill.

And of course, they are easily stuffed in your Disney bag.

Sunglasses – Show your Disney style with some shades! Some recommend a sunglass strap.

Mornings can be quite bright.
Health Considerations
We travel often and have found that having these items at hand will allow for quick reaction to trips and falls as well as weather-related issues.
A light well-stocked Disney park bag is handy whether you are walking the Roman forum or walking through Italy Pavilion at Epcot.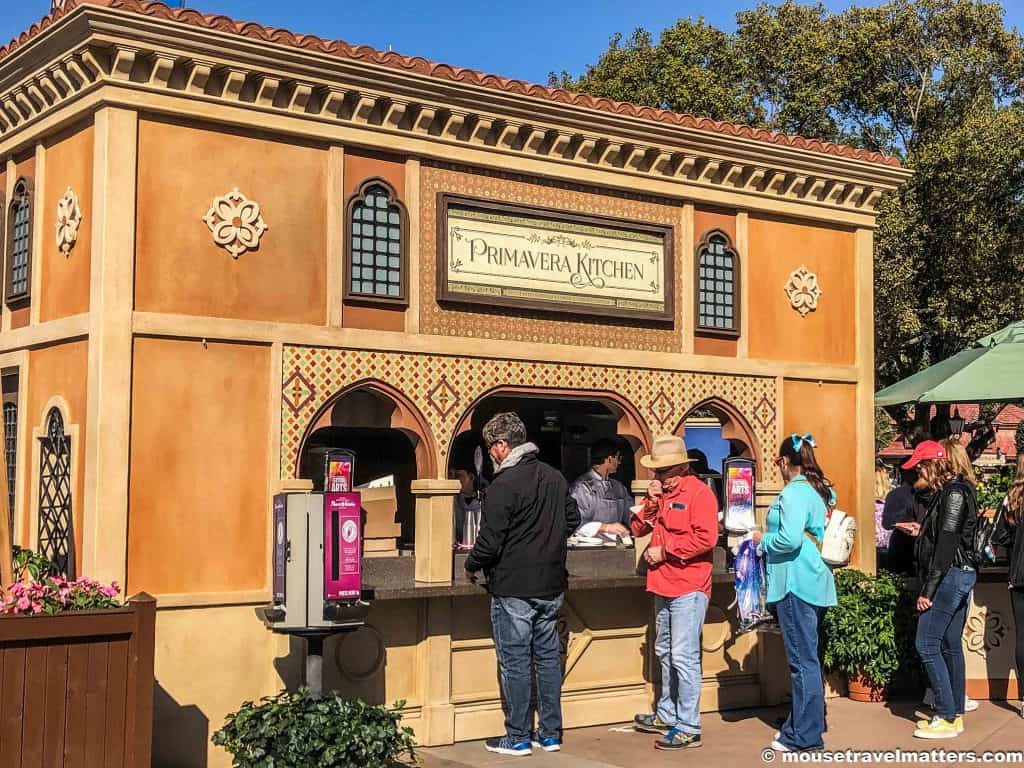 Sunscreen. Your number one item. In the parks, you WILL fry, especially at the water parks. Don't leave home without it!
Personal First-Aid Kit. We have a pouch on our bag for this. Band-Aids, ibuprofen, and Triple Antibiotic Protection Ointment (In my opinion Best Stuff Ever for skinned Knees), etc. First-Aid stations in the parks will have many of these items available for purchase.
Baby Wipes. You can clean ANYTHING with baby wipes. Use them in your car at your campsite. At work. And definitely at Disney Parks.
Anti-Bacterial Gel. Take it easy with this stuff.