Last Updated on June 20, 2023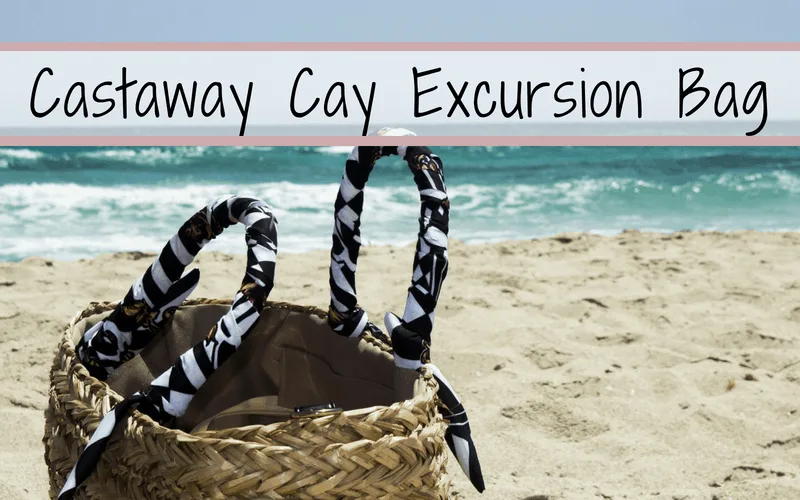 Everyone keeps telling you what to bring on the boat, but no one ever mentions what to bring OFF the boat.
We don't want to suggest you bring EVERYTHING off the boat with you, it's a beach and it's still fairly close to the ship. Yes, it's a Disney private island beach and super packed with things to do, as seen in our Disney's Castaway Cay Planning Guide, but at the end of the day, there is only so much you need to bring. Here are a few suggestions for packing your shore excursion bag for Castaway Cay.
This post may contain affiliate links.
To which I earn a small commission, at zero cost to you!
Find more info in our
Privacy Policy
.
What to Bring With You on Castaway Cay
First and foremost, the style of bag you use is an important consideration. Here we consider two types of bags that would look great on the beach and serve your needs; the solid side beach bag, or the mesh beach bag.
There are pros and cons for each type of bag; namely security and sand. With a solid bag, no one can see what is in your Castaway Cay excursion bag, and shouldn't be tempted to take a peak. However, any and all sand or water that enters this bag, stays inside this bag, until thoroughly washed.
On the other hand, a mesh bag will allow for all liquids and sand to flow freely to the ground, leaving the rest of your items untouched. Because the sides are relatively see-through, everyone now knows how many beach toys, the size of your beach towel and how many cell phones/cameras you are hiding in there.
Go for some packing depth, think Inception. Keep your sand toys and wet clothes at the bottom of your larger mesh bag, and place other items like sunscreen, cell phones, towels, and glasses, inside of your smaller solid beach bag, or dry bag (a bag that keeps liquids on the inside or outside of the bag).
What to Put in Your Castaway Cay Excursion Bag
Weather-Related Items (Beat the Heat)
Hats. A good sun hat should have a wide brim so that it will keep both your face and your neck in shadow. This little bit of sun relief will also do wonders for protecting your eyes.
Sunglasses. There is a style out there for everyone. As a family of glasses-wearers, we purchase prescription sunglasses or wear contact lenses and a nice pair of inexpensive sunglasses. This way, it is easier and cheaper when lost or misplaced. Either way, sunglasses are a great way to protect your eyes from the suns rays, reflecting off the crystal clear water at Castaway Cay.
Water Bottle. Having an insulated, portable, constant source of drinking water is a great way to beat the heat. If your looking for a great article look here for the Best Water Bottles for Disney & Theme Parks we think it is an important piece of kit hence a dedicated article.
This is also a great way to stave off Dehydration and Heat Stroke on Your Disney Holiday, enjoy those hot summer days. While the refill stations demand you use a fresh paper cup to take water away, that doesn't mean you need to drink from it. Empty your cup into your bottle and carry on.
It will also keep families with children from running back to the fountain every 30 minutes; we will just sit and enjoy or Konk Koolers.
Baby care. If you are a family with children too young for Scuttle's Cove and don't want to fork out $9(USD) per hour for daycare on the ship, then be prepared to for the epic architectural challenge of keeping baby from burning. Not only do little ones burn much quicker than older children, they often require naps midday. Instead of returning to the ship (unless that's the plan, then, by all means, have at 'er), why not get yourself a small, collapsible beach tent.
If the umbrellas are taken, park your beach tent somewhere accessible and enjoy a forced relaxing afternoon on a beach chair or beach towel while the little one takes his midday siesta.
Health-Related Items
Sunscreen. You can never be too careful when it comes to sun safety. Be sure to apply sunscreen before leaving the boat, and reapply every few hours, especially after leaving the water. Don't think because it's a cloudy day or that you've spent the majority of your time underwater that the sun doesn't reach you; plants grow just as green in rainy Germany, or under the water's surface. Wear Sunscreen!
Waterbug repellent. There are waterbugs, like noseeums (sandflies), that lay in the water and bit legs. Keep them off with waterproof bug repellent that is rated for these specific intruders.
Beach-Related Items
Water shoes. The sand on sunny beaches can get fairly hot and uncomfortable fairly quickly. The sand and rocks under the water also have a nasty habit of biting back when you are least expecting. Protect your feet from anything else that you or may not see on the beach with a pair of water shoes.
Pro Beachgoer-Related Items
There are times when owning and taking along supersede rental fees and the convenience of luggage space. While we believe in travelling with less, this is not always the cheapest way to travel or experience shore excursions. That being said, who is to say you won't use these another day… or on your next Disney Cruise.
Beach Toys. These highly sought-after items are very hard to find on the beach and depend on the previous guest abandoning them for others to use. There is also the option of buying beach toys on Castaway Cay unless you have successfully managed to secure your family a Cabanas, in which case, congratulations! Cabanas come with many freebies, including sand toys for the kids.
It doesn't need to be much, you would be surprised how little the children need to be content, and they will manage to swap toys with their newfound friends anyways so they will not be lacking. Rest assured.
Snorkelling gear. This one is slightly more expensive "it depends" item but could be useful in the end. Considering snorkel rentals at Castaway Cay cost $33 per person over the age of 10, there are a handful of options available for just that price. Pay once and now you own it. And the children will love playing with their new gear in their local pool, or local beach.
Gadget Beach Protection
Waterproof phone pouch. A waterproof phone case would be preferable but a waterproof phone pouch is a great backup. Place your phone in the pouch and take it snorkelling, snap a few images of the hidden treasures underwater.
Pro tip – Travel sized Baby powder will help get the sand off your feet without all the scrapping.
If you forget something on the ship, don't fret. The shops will have it, or just go back to the boat and get it. The boat is always available.
Mouse Travel Resources We Love
The posts and pages of Mouse Travel Matters
do contain affiliate links that we earn a small commission for,
they come at no extra cost to you!
We love to plan our holidays maybe even more than the trip itself.
Your Thoughts...
Please share your thoughts in the comments or reach out on social media...We would love to hear from you.
Follow Mouse Travel Matters for Disney Parks news, the latest info and park insights, follow MTM on Twitter, Facebook, and Instagram.
You May Also Like…