Last Updated on February 4, 2020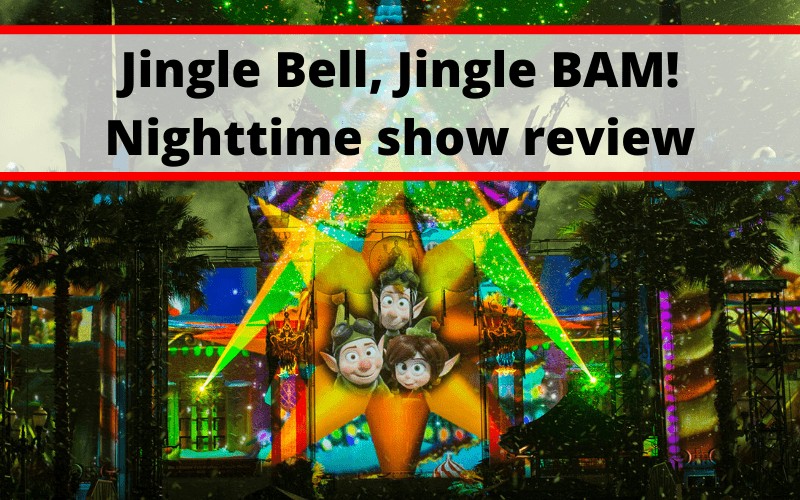 Jingle Bell, Jingle BAM! is a Christmas nighttime spectacular at Disney's Hollywood Studios, running during the holidays at Walt Disney World. Here we review this nighttime spectacular, with photos of the show, viewing tips, and dessert party info.
Running November 8, 2019, to January 5, 2020
This post may contain affiliate links.
To which I earn a small commission, at zero cost to you!
Find more info in our
Privacy Policy
.
The show is pretty much a 180-degree viewing show that is full of pyrotechnics, screen projections, and great music. I liked the story and that they incorporated the Nightmare Before Christmas into the show.
Every review I have read thus far has prefaced it by saying "It's no Osborne Family Spectacle of Dancing Light "… well, thankfully I haven't seen that incredible masterpiece of Christmas lights before so I have nothing to compare it to.
Santa's Gone Missing
Join the fun as stars of ABC's Prep & Landing search for Santa—to rescue him and save Christmas!
The new nighttime spectacular, Jingle Bell, Jingle BAM is an energetic night-time show incorporating the new trifecta du jour: fireworks, amazing lasers, and precise projections.
In terms of the projections, films represented include Mickey's Christmas Carol, Pluto's Christmas Tree, Bambi, Beauty and the Beast, The Nightmare Before Christmas, Inside Out, Up, and virtually every princess and prince (in a brief romance montage).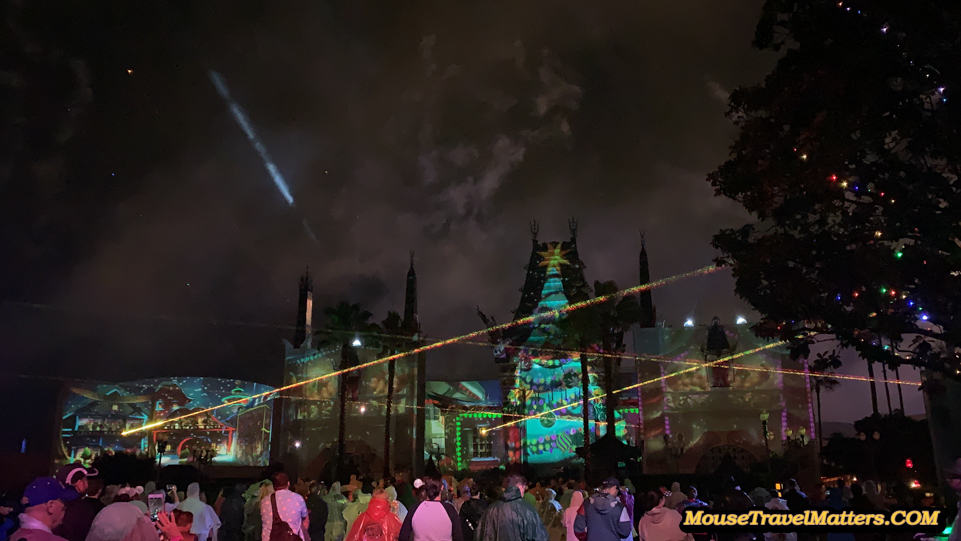 Wonderful World of Animation
Just before Jingle Bell, Jingle Bam! starts, a smaller projection show is put on for us. The Wonderful World of Animation is a 12-minute mini-show that starts at 8:30 pm.
The show is a celebration of Disney animation (including Pixar), beginning with Mickey Mouse.
The show kicks off with a tribute to the beginning of Disney animation, Mickey Mouse, and be followed by segments highlighting a number of animated feature films, including Snow White and the Seven Dwarfs, Sleeping Beauty, The Little Mermaid, Finding Nemo, Beauty and the Beast, Aladdin, Lilo & Stitch, The Incredibles, Frozen, Big Hero 6, Zootopia, Cars 3, Coco and Ralph Breaks the Internet. There is also a Disney Villains segment, highlighted by Tamatoa, Hades, and Yzma
Where is the best spot to view the Jingle Bell show
I think the best place to view the show is in the Center Stage area at the end of Hollywood Boulevard, right in front of the Chinese Theatre.
I recommend that you position yourself in front of the lighting booths and trees in this area so that you have a direct view of the show which will be projected on the theatre.
Since there are some larger fireworks that are part of the show, I recommend that you stand just slightly towards the left of the circular Center Stage area so you can see the projections on the theatre and the large fireworks all in the same line of sight.
If you have small children that you aren't able to pick up (please don't put them on your shoulders, there are people behind you), we recommend a slightly different spot. Off to the right and left of Centre Stage, there are raised flower beds and stone seating.
We waited there and the children were able to stand on the benches for an unobstructed view of the show. Sure, we weren't on center and there was a tree blocking the rightmost screen, but it's the same projection on the left screen so we didn't feel that we were missing anything.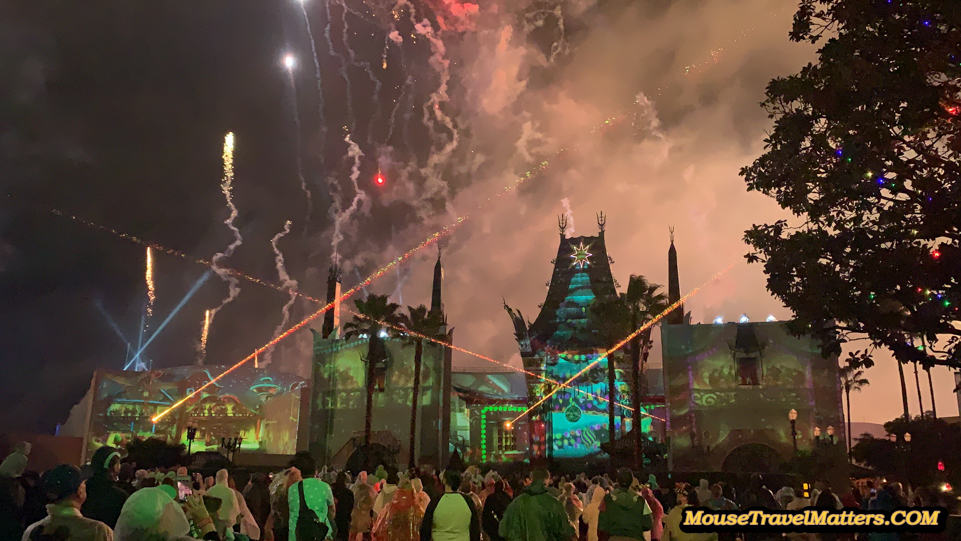 Will Jingle Bell, Jingle Bam! be rained out?
Thankfully, no. We had planned on doing Fantasmic on our first day at Hollywood Studios and Jingle bell, Jingle Bam on our second night. Well, day 2 turned into a day full of rain. We waited a solid 1.5 hours in the rain, with just our ponchos and clever popcorn holding, to see the show and Cast Members assured us that the show would go on.
And go on it did. The show was incredible, our feet were soaked and we love every minute of it.
Is Jingle Bell, Jingle Bam! free?
Jingle Bell, Jingle Bam is included in the price of your Disney Hollywood Studios ticket
Jingle Bell, Jingle Bam! Holiday dessert party
The Holiday dessert party starts roughly 90 minutes before the show. Guests are given access to exclusive treats, a meeting with Very Important Characters in Santa costumes and a free souvenir keepsake.
Dessert party guests are also given priority seating at the Jingle Bell, Jingle BAM! Nighttime show. For more information, check out Jingle Bell, Jingle BAM! Holiday Dessert Party in Disney World's Hollywood Studios

Jingle Bell, Jingle Bam! Tips
Start looking for a spot to watch the show about an hour before the show starts. There is a pre-show at 8:30 pm that you don't want to miss.
Many Cast Members are walking around selling Christmas Light necklaces. Save money by buying a Christmas Light Necklace from Amazon. This will help you keep an eye on the little ones once the lights go down for the show. It's not too dark, but just enough to send those mom-senses into high gear.
Try to get a view where the Chinese theatre is not blocked by trees. Both side panels show the same thing but it's nice to have an unobstructed view too.
Do not be too close to the theatre as the show is not just projected on the theatre.
After the show, wait 10-15 minutes before trying to leave the park. Since Jingle Bell, Jingle Bam closes the park, this makes it less crowded as everyone is trying to leave at the same time.
Your Thoughts...
Please share your thoughts in the comments or reach out on social media...We would love to hear from you.
Follow Mouse Travel Matters for Disney Parks news, the latest info and park insights, follow MTM on Twitter, Facebook, and Instagram.
You May Also Like…
Epcot International Festival of the Holidays
Epcot Festival of the Holidays – Booths, Menus, and FOOD
Tips on Managing Disney World Holiday Crowds