Last Updated on November 1, 2020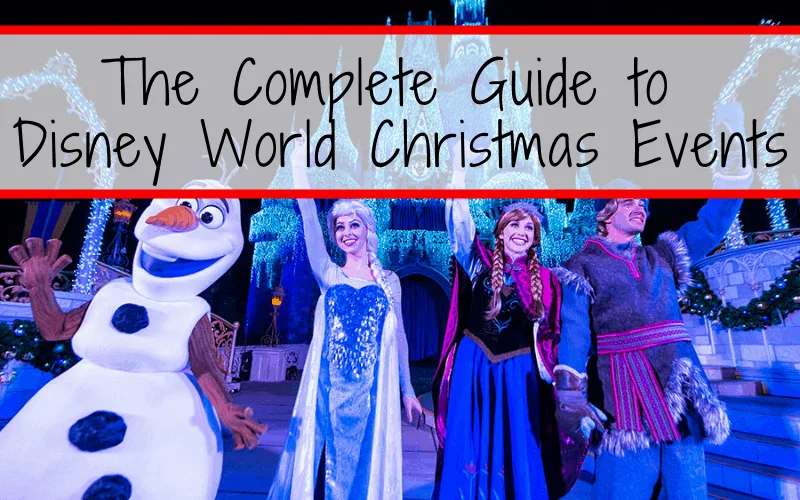 When do Disney World Christmas decorations go up and where can you find Santa at Disney World. Check out all the Disney World Christmas Events here. Our Christmas 2020 Guide to Walt Disney World offers tips for Magic Kingdom, Epcot, Animal Kingdom, Hollywood Studios, and includes entertainment, food, free tours & things to do, and everything else WDW does for the holidays. (Updated November 2, 2020.)
As you would imagine, Disney Christmas is going to be a lot different this year. Not only has Disney implemented a Park Pass Reservation system that limits the number of people allowed into the park son any given day, but social distancing has also forced Disney World to cancel all crowd-generating activities such as parades and fireworks. Throughout this guide, we'll note what has been cancelled for 2020 and what you can look forward to.
This post may contain affiliate links.
To which I earn a small commission, at zero cost to you!
Find more info in our
Privacy Policy
.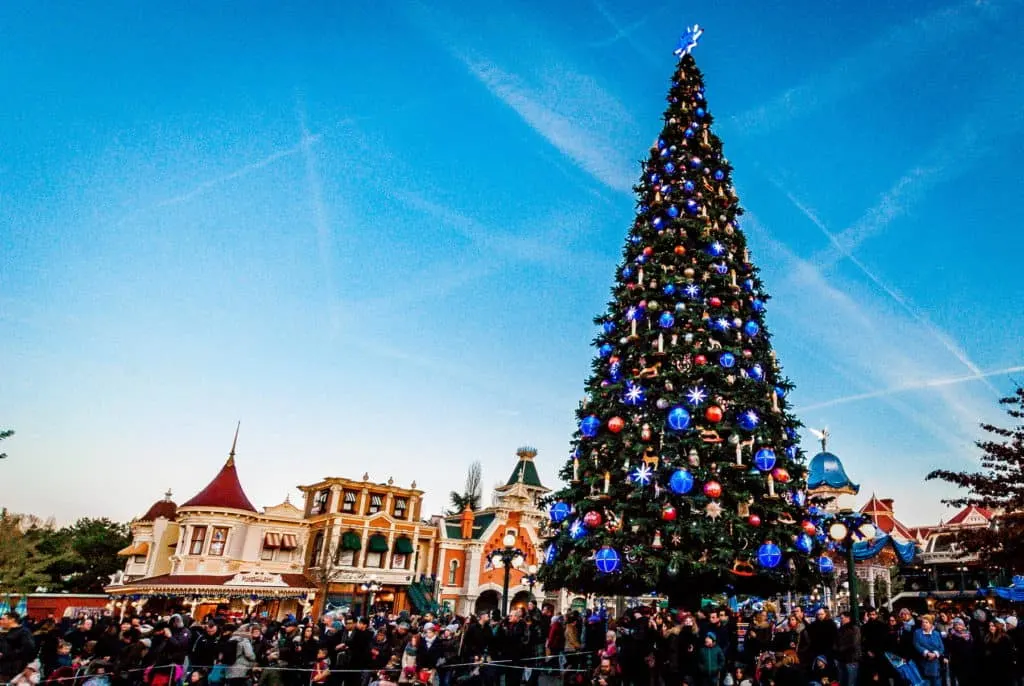 15 Tips for Managing Disney World Holiday Crowds
When is the best time to visit Disney for Christmas?
Truth be told, there is no perfect time to visit Disney during a Pandemic. All the crowd calendars are broken and no one can predict what Disney World will look like tomorrow.
We do, however, have a handful of dates that you will want to actively avoid. The week of or immediately following a bank holiday. Many are suggesting November 15 to 21, 2020 as the sweet spot for the lowest crowds during full Christmas decorations, though this is outside of the Festival of the Holidays and thus we do not recommend it. If you are going all that way, why not hit up a festival. Consequently, we personally recommend the first two weeks of December 2020.
When in doubt, check out the Park Pass reservation calendar. If the day is sold out, avoid that park.
No matter when you go, you will also want to remember to pack for the season. Check out our Winter Packing Tips for Disney post for more insight on what to take on your trip. Just because it's Florida doesn't mean it won't be cold!
Decorations at Disney World for Christmas Time
The most asked question on social media, starting around August, is when does Disney World Decorate for Christmas? The Magic Kingdom started decorating the minute it closed its doors to the last guest on Halloween night. This is a stark difference from last year when they had Halloween parties or a few more nights afterward.
Decorations at the other theme parks don't traditionally go up until closer to Thanksgiving for the first Candlelight Processional but with that being cancelled this year, we are hoping for an earlier decorating schedule. Epcot's International Festival of the Holidays official starts on November 27-December 30, 2020 so that is our target date for now.
Each park does have it's own Christmas tree. Animal Kingdom has theirs outside of the Park, just after security, while the others have them in the main area; Magic Kingdom on Main Street USA, Epcot at Showcase Plaza between Port of Entry and Disney Traders, and Holly studios is in the middle of Echo Lake.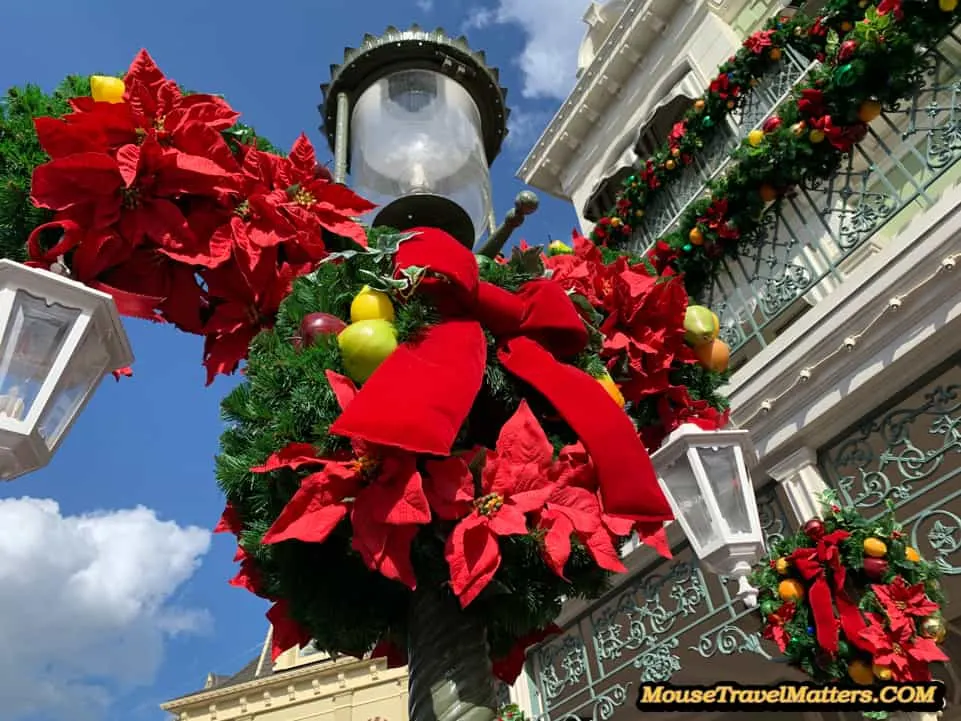 Resort hoping to check out the decorations
The resorts have unique decorations of their own, the deluxe resorts are the grandest of them all and get extensively decorated. Sadly, Disney has made it very clear that guests can't just waltz into a Disney resort for decoration photos. Guests are required to hold a room reservation or dining reservation in order to be allowed into the building.
This is all done in the name of lower crowds and contact tracing so it makes sense. This just means you will need to make a dining our lounge reservation to get in; it's not the worse idea in the world.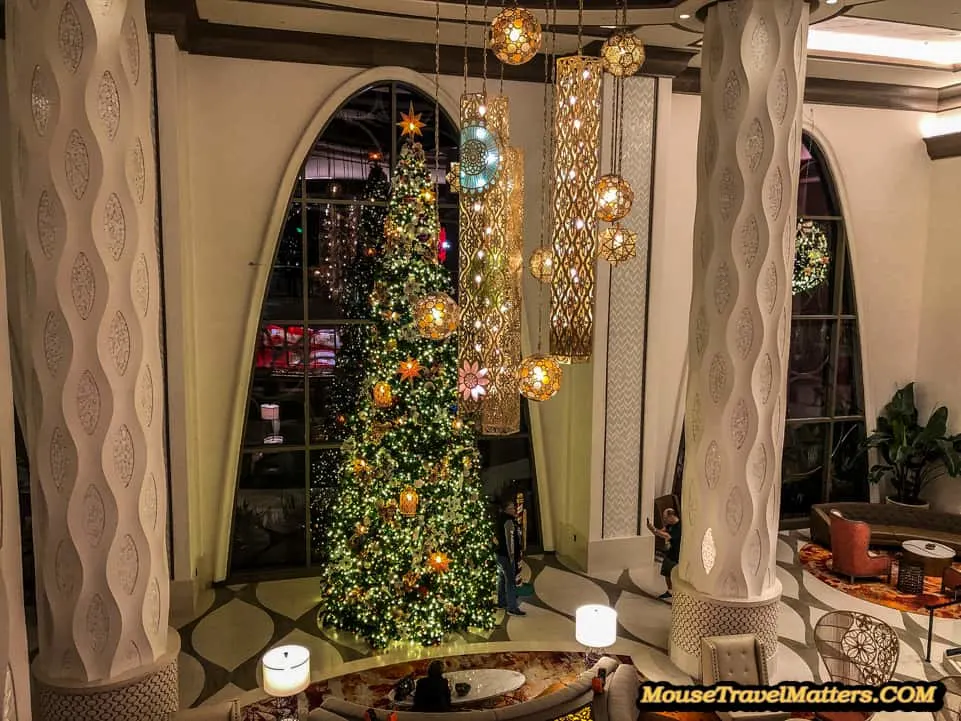 Is Disney World Open on Christmas Day?
Yes! The Disney World theme parks (Magic Kingdom, Epcot, Animal Kingdom, and Hollywood Studios) are open every day of the year including Christmas Day.

Holiday Highlights around Walt Disney World
Christmas at the Magic Kingdom
During the holidays, Magic Kingdom is home to 40 trees, 147 wreaths and 590 garlands that measure a total of 5,188 feet. Guests can celebrate the season at Mickey's Very Merry Christmas Party on 23 select nights from November 8 to December 22. This year's celebration welcomes the dazzling new nighttime spectacular, "Minnie's Wonderful Christmastime Fireworks."
Jingle Cruise takes over the Jungle Cruise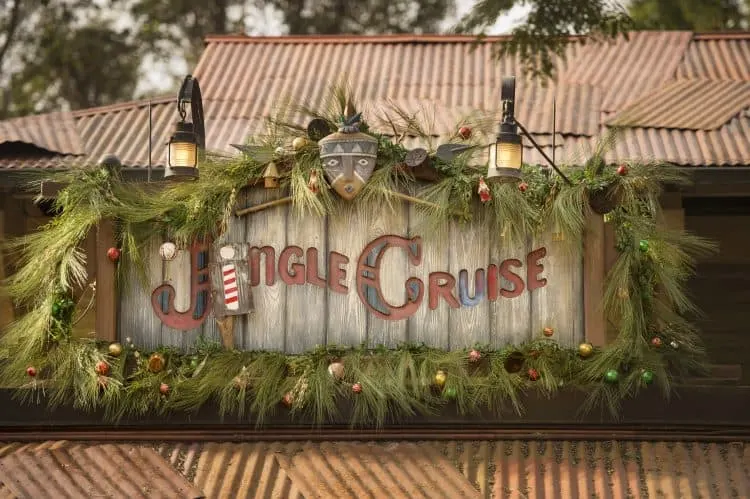 During the holiday season, the Jungle Cruise attraction has a new storyline, just for the holidays. Jingle Cruise all the way to holiday cheer and punny jokes.
Mickey's Very Merry Christmas Party
(Mickey's Very Merry Christmas Party has been CANCELLED for 2020; it'll likely be back in 2021.)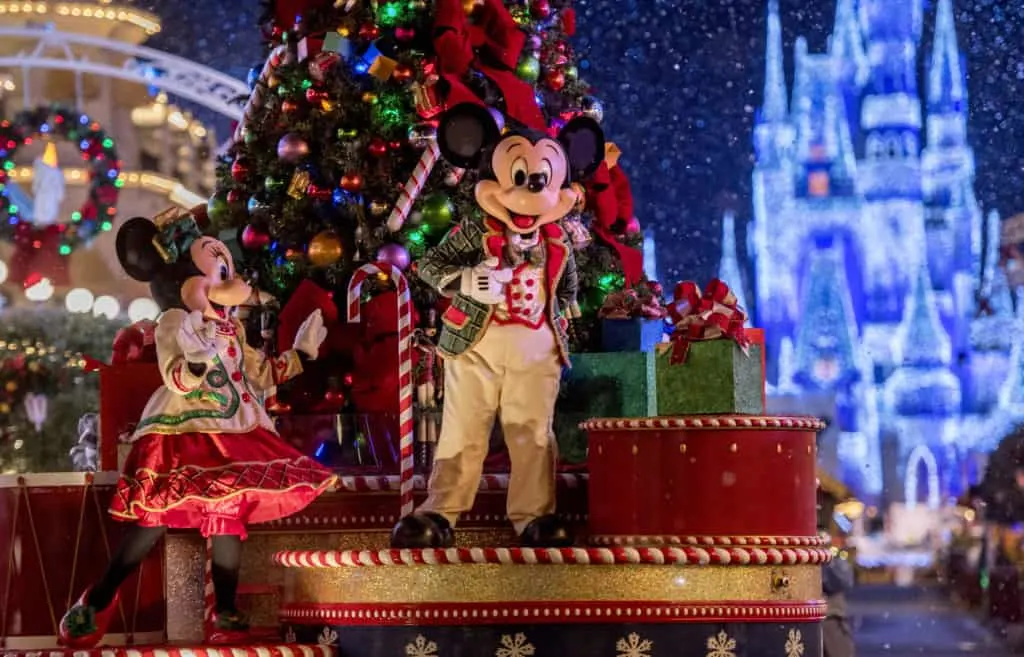 The Magic Kingdom is home to Walt Disney World's most sawt after Christmas event—Mickey's Very Merry Christmas Party.
This separately ticketed event is held on select evenings throughout November and December.
It features unique entertainment, snacks (including free cookies and beverages), and character greetings.
Meet Santa Claus
This year, guests will not be able to personally meet-and-greet Santa Claus in Disney World. Much like the temporary suspension of character meet-and-greets and the adjustments to character dining experiences, this change was made as a safety precaution.
But even though you can't meet him up-close in Disney World this year, he'll still be making the rounds! That's right, Santa Claus WILL be making pop-up, distanced appearances in all four parks AND in Disney Springs!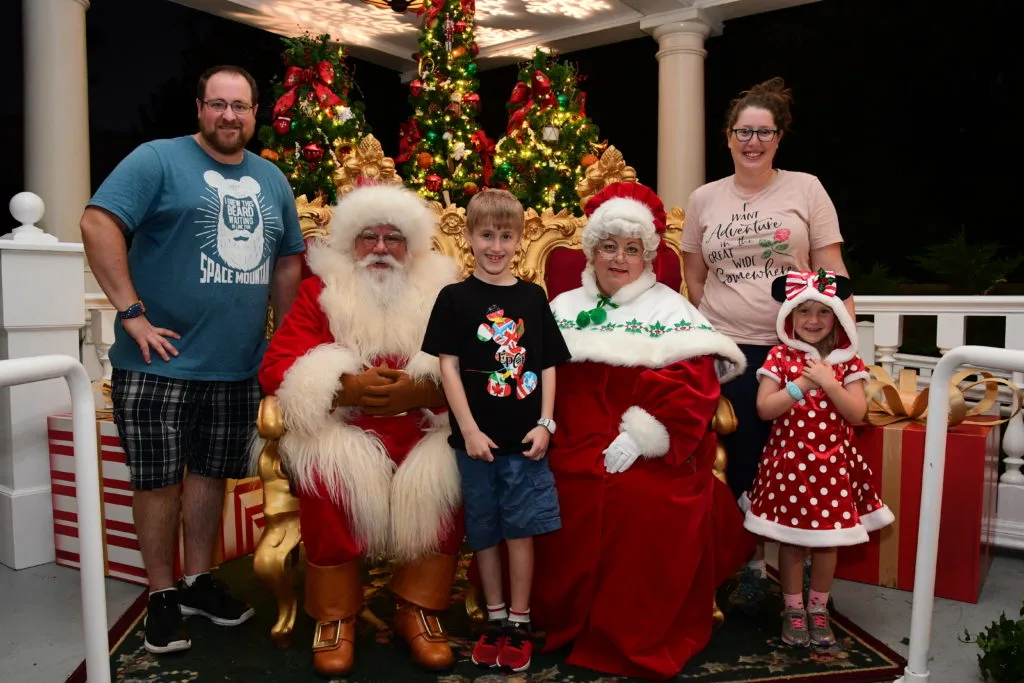 Christmas Parade
While a traditional parade has been cancelled for 2020, character cavalcades have taken over the streets of Disney World and Christmas time is no different. This tie they will feature your favorite Christmas friends joined by Gingerbread Men, Elves and Reindeer.
Castle Dream Lights (not happening in 2020)
6:15 nightly or at 8:15 p.m. on Mickey's Very Merry Christmas Party nights
Every night at dusk beginning in mid-November, "A Frozen Holiday Wish" show lights Cinderella Castle with beautiful white lights. During this show, Queen Elsa will use her powers to transform the Castle into a glistening ice palace for the holidays, illuminating the castle with 200,000 shimmering white lights.
Christmas at Epcot
There is so much to see at Epcot during the holiday seasons, that you will need to visit more than once just to see it all.
Festival of the Holidays
The Epcot International Festival of the Holidays gives you a taste of different holiday customs from every corner of the world, from delish dishes to unique festivities. Oddly enough, the shows at certain pavilions have been allowed to carry on with their performances so you will hear lovely Christmas music and traditions coming from all corners of Epcot.
There are Marketplace booths open around World Showcase offering different seasonal snacks from around the world. The Taste of EPCOT International Festival of the Holidays will run from November 27, 2020, until December 30, 2020, and we have our review of preious years and a list of the holiday kitchens you can expect this year inour Food Guide to Epcot International Festival of the Holidays.
Candlelight Processional (canceled for 2020)
Hear the stirring story of Christmas as told by a celebrity narrator, and accompanied by a 50-piece orchestra and massed choir. Each night, a celebrity narrator tells the biblical tale of a savior born to a virgin in Bethlehem. All the while, gorgeous choral pieces are woven into the production as an orchestra and choir provide an inspirational backdrop with songs of hope and joy.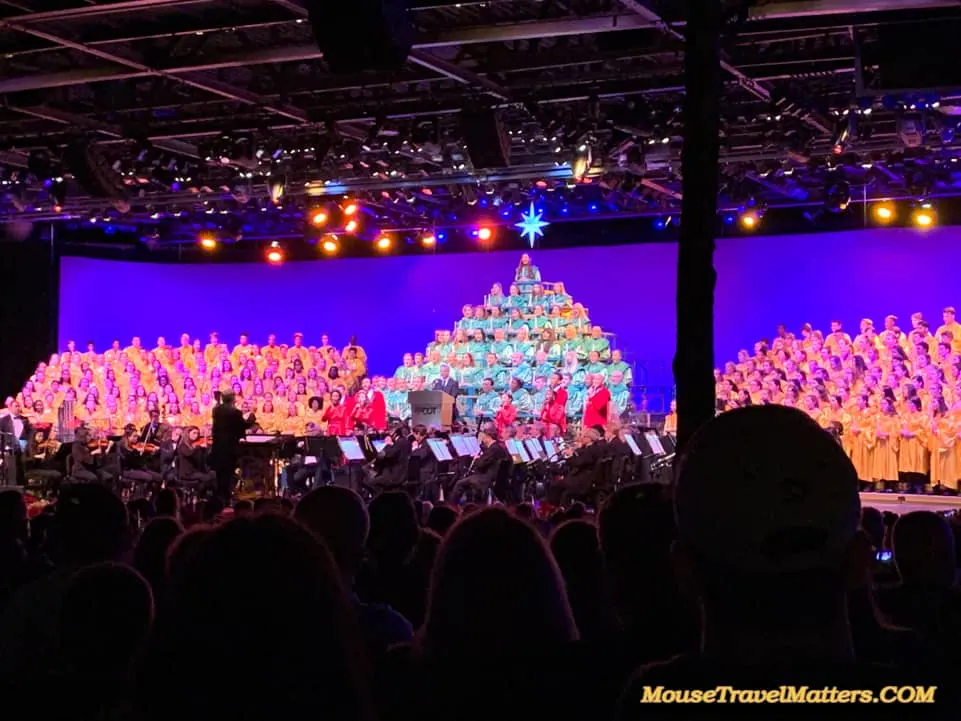 Cookie Stroll
You won't want to miss out on the official Holiday Cookie Stroll! Purchase any 5 cookies from any of the official cookie stroll locations noted in your Passport, making sure to collect a matching stamp for each cookie purchased. Once you've collected 5 stamps, bring the stamped Passport to Holiday Sweets & Treats for a complimentary completer cookie!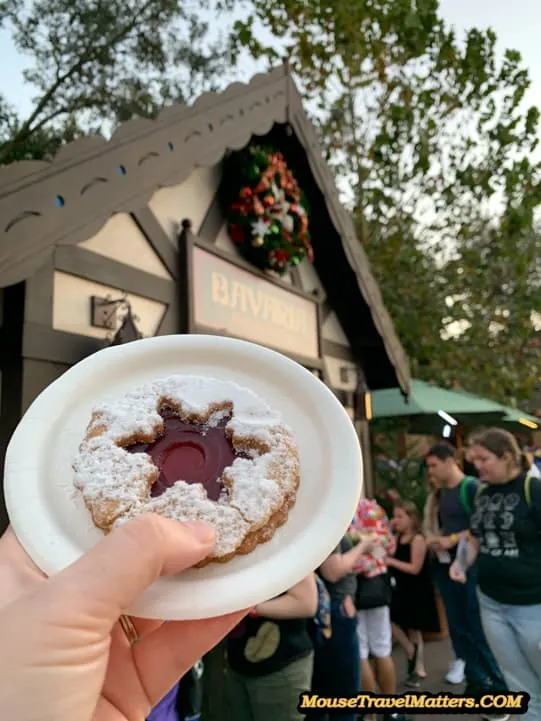 Christmas at Disney's Hollywood Studios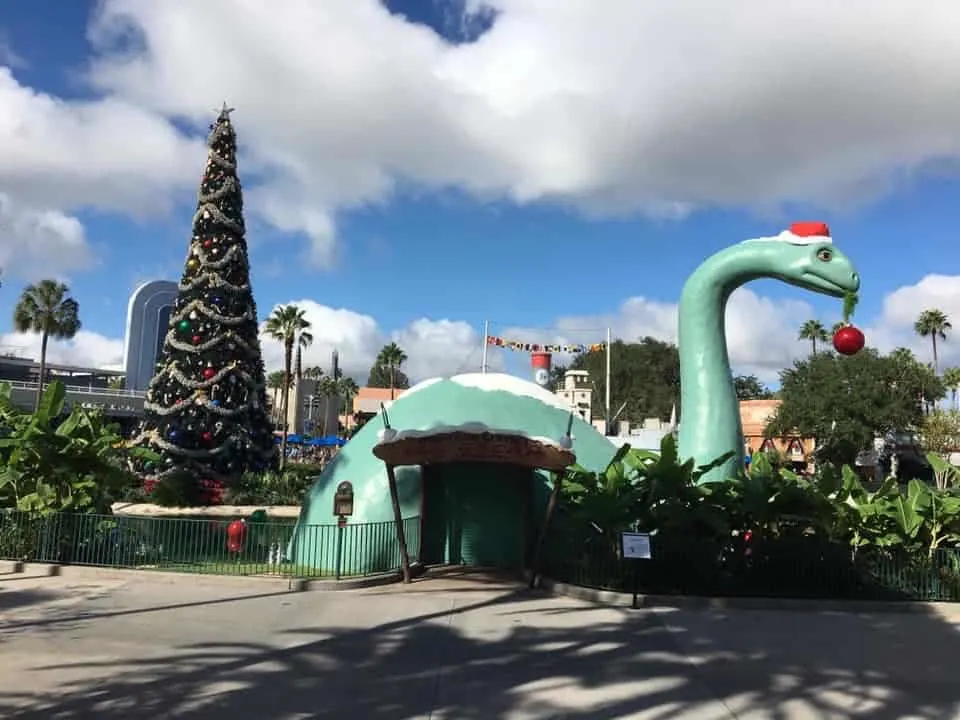 Hollywood Studios has a Christmas celebration called "Flurry of Fun." We're huge fans of this celebration. It occurs throughout November and December and is a park-wide celebration.
Jingle Bell, Jingle BAM! Holiday Nighttime Spectacular (canceled for 2020)
This fireworks show is the centrepiece of the Christmas lineup at Disney's Hollywood Studios. This show plays rain or shine (from experience)and is a great mix of projection and fireworks display. You can read more of our thoughts on it in our "Jingle Bell, Jingle BAM!" Tips & Review post.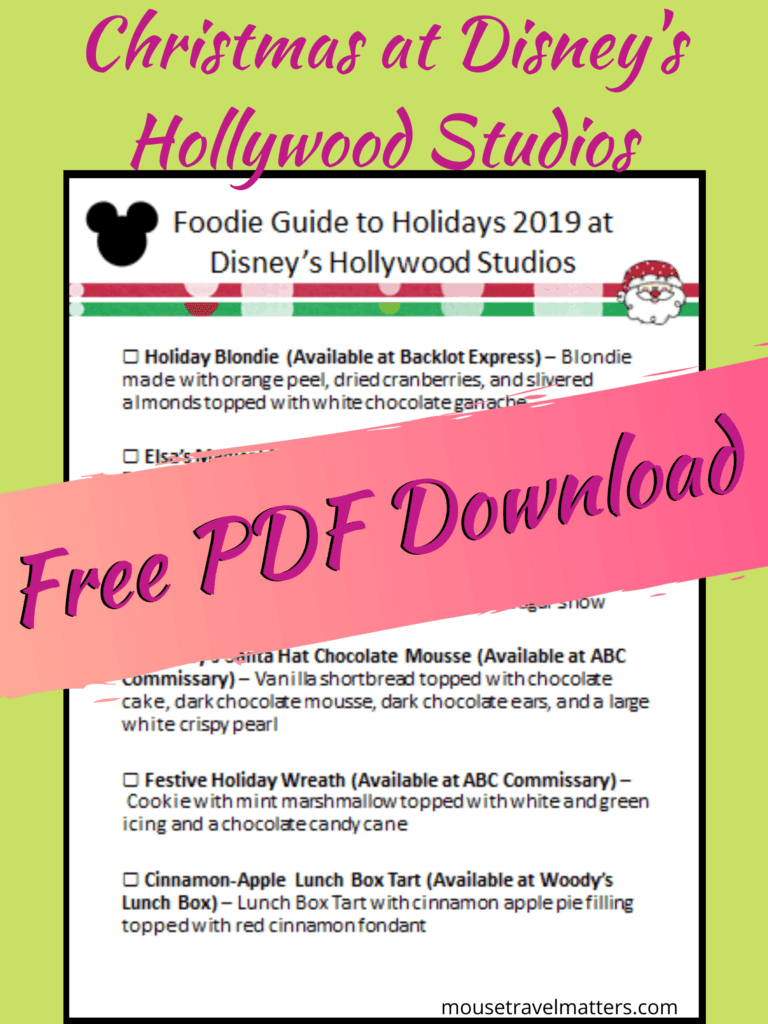 Download your Free copy of the Foodie Guide to the Holidays at Hollywood Studios
Sunset Season's Greetings (cancelled for 2020)
This is a projection show consisting of vignettes from Olaf's Frozen Adventure, Mickey's Christmas Carol, the Muppets, and Toy Story, plus appearances by the Prep & Landing characters.
Minnie's Holiday Dine – Hollywood & Vine
Beginning November 6, Minnie Mouse will host a festive holiday dinner with Mickey Mouse, Donald Duck, Daisy Duck, and Santa Goofy! Hollywood & Vine will be all decked out with holiday decor, food, music, and activities.
Disney is warning guests that this is a modified character experience and meals will be brought to guests' tables instead of a full buffet. We will know more once they are officially open to the public.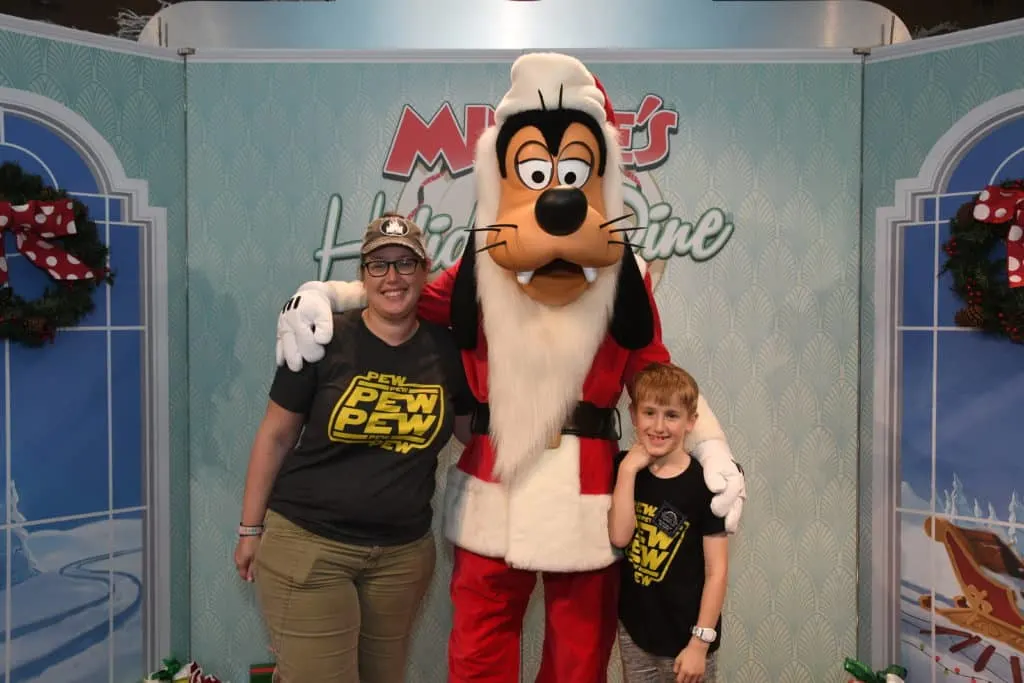 Christmas at the Animal Kingdom
For the first time ever, Animal Kingdom is getting a thorough holiday treatment in 2020! Without further imformation from Disney, we are hoping to see the Animal Kingdom in full holiday transformation that includes:
Extensive decorations on Discovery Island, including life-size, artisan-sculpted animal puppets
Holiday-inspired Tree of Life Awakenings
The holiday version of Donald's Dino-Bash
Diwali decorations in Anandapur
Christmas in Pandora, with "kitschy holiday decor"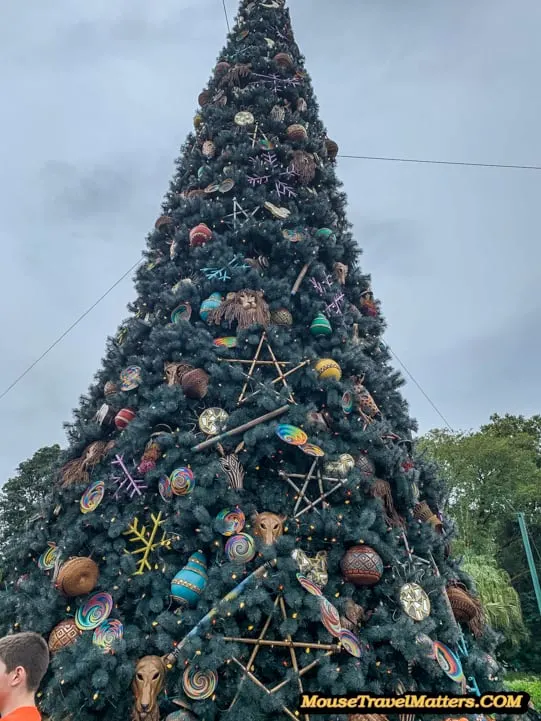 Christmas Time at Disney Springs
Disney Springs is also getting in on the Christmas action, not just with a visit from Santa, but with their very own free activities.
Christmas Tree Trail
For 2020, rather than being a trail, these same trees will be positioned all around Disney Springs. Disney hasn't officially released any dates yet but if it's anything like the years before, it should be up any day now.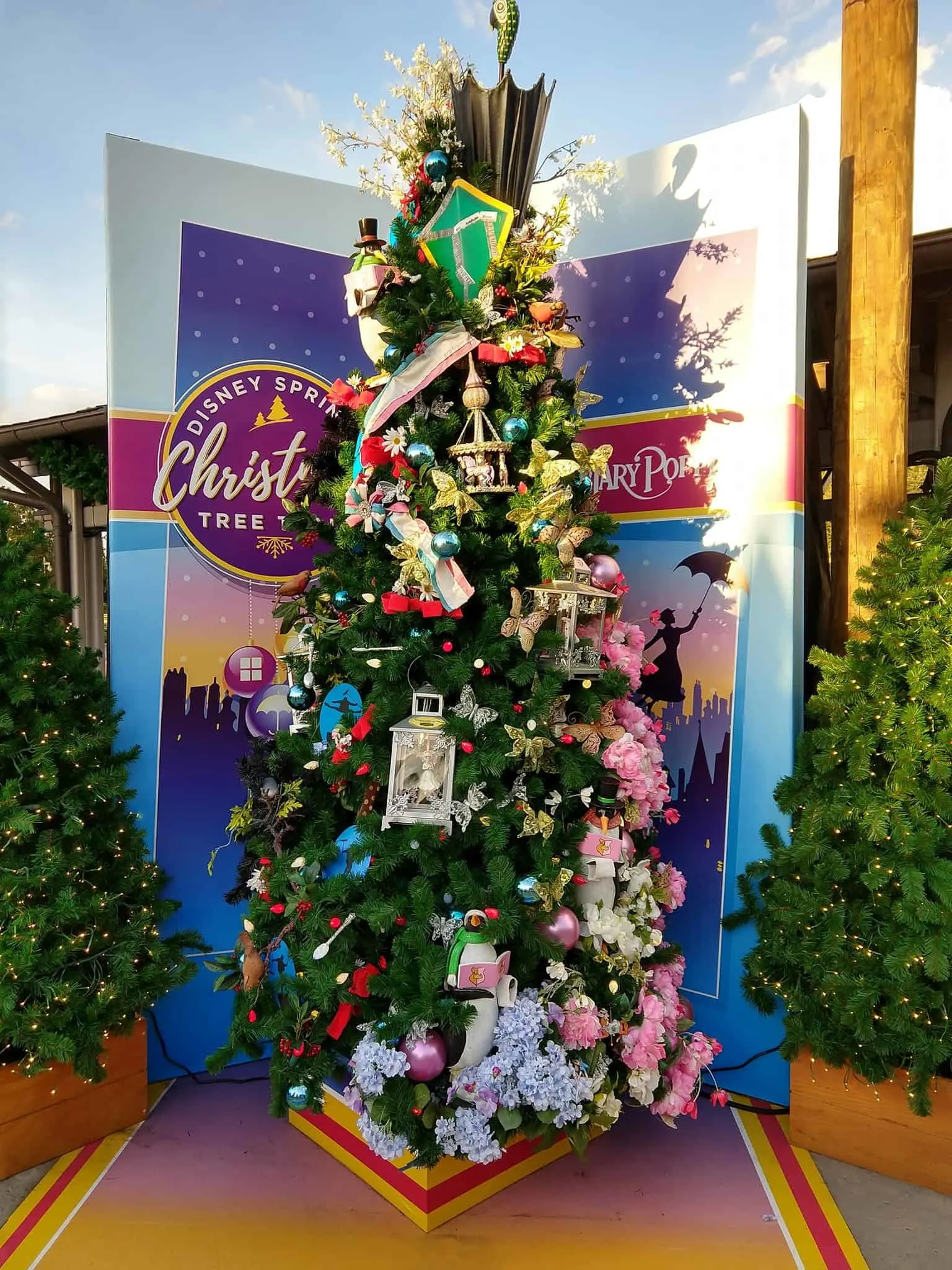 Embark on a very merry mission to find the items on Stitch's lost list and earn a surprise even Santa would love. There is a brand new, seasonal scavenger hunt taking place at Disney Springs this holiday season and Stitch is the host! Here's what you need to know.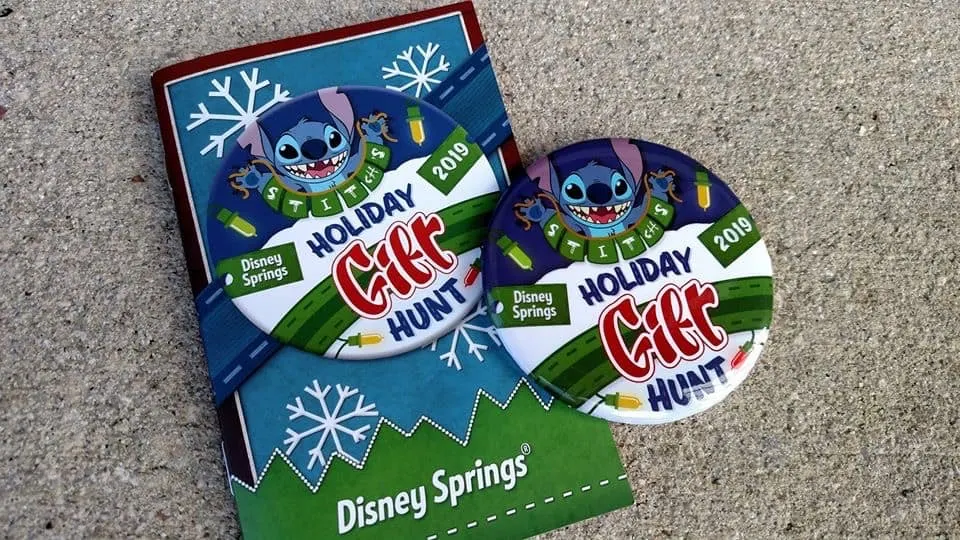 Holiday Merchandise Around the World
There is so much to see and do at Disney World during the holidays, it is important to stop and check out the shops in-between attractions. The plushies and ears are adorable, not to mention the countless AP exclusive and Festival exclusive goodies. Most of these amazing pieces can be found on Shopdisney.com, but there will be a handful of park exclusive merch that we will be reporting on later. Don't forget to check out the full list of available Christmas items from the "'tis the season" collection.
Your Thoughts...
Please share your thoughts in the comments or reach out on social media...We would love to hear from you.
Follow Mouse Travel Matters for Disney Parks news, the latest info and park insights, follow MTM on Twitter, Facebook, and Instagram.
You May Also Like…