Last Updated on February 22, 2020
During Star Wars: Galactic Nights a panel introduced by a legend in the Star Wars cinematic universe Warwick Davies presented Star Wars voice actor, from the new movies, and Sound Editor and Mixer at Skywalker Sound, David Collins.
David with a team from Walt Disney Imagineering shares new details about Star Wars: Galaxy's Edge. This exciting sneak peeks, provided fascinating insights it the process of bringing the epic stories of Star Wars to life.
Check out the excellent coverage via BigFatPanda
Set on the planet Batuu is a remote frontier outpost somewhere on the edge of Wild Space beyond the outer rim. A former trading planet that has fallen off the main galactic routes with the adoption of faster than light travel (FTL). This is clearly a great home for smugglers, bounty hunters, and rouge adventurers looking to avoid the mainstream path and maybe get up to no good.
The scale of this project is epic with 5000 people globally working on bringing this project to life at both Disneyland and Walt Disney World. From massive set pieces to design elements and story development, this is not your typical Star Wars movie with a few camera angles, 'this is for reals'.
Galaxy's Edge Panel 'Size & Scale' Highlights
Full-size AT-AT's
A resistance troop transport ride
Nien Nunb returns. Disney has pulled out all the stops including finding the original voice actor for this character, in Kenya.
Prop and set dressing are being gathered from all over the world from California, in the USA to India.
Black Spire Outpost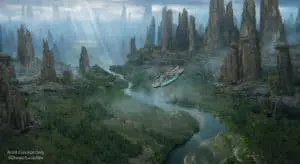 The Map Completed

Star Wars: Galaxy's Edge, a 14-acre expansion, is slated to open in late fall 2019. No yet word on when the hotel will open.
I'll meet you at the Black Spire!
Your Thoughts...
Please share your thoughts in the comments or reach out on social media...We would love to hear from you.
Follow Mouse Travel Matters for Disney Parks news, the latest info and park insights, follow MTM on Twitter, Facebook, and Instagram.