Last Updated on February 22, 2020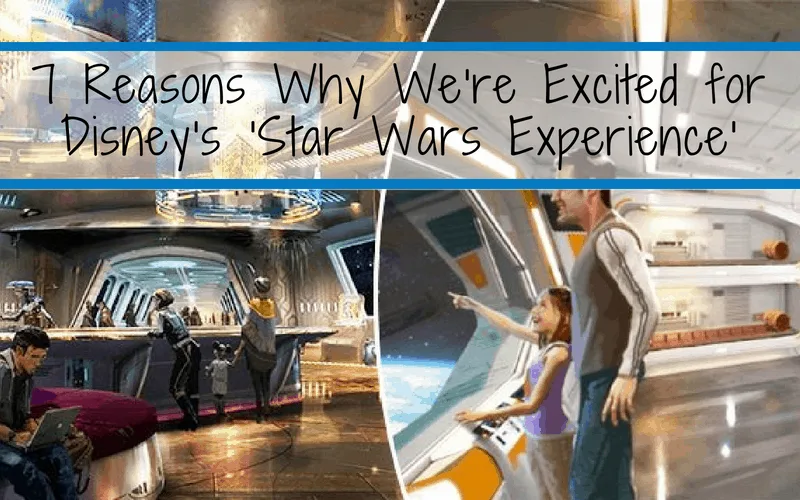 With all the news and details emerging about Star Wars: Galaxies Edge and the Star Wars Hotel, we have become very aware of the epic nature of what Disney is cooking up.
With all these details, it is becoming clear that there will likely be a considerable cost-per-person for Disney's 'Star Wars Experience'.
While Star Wars: Galaxy's Edge is being built on both coasts, the hotel is only coming to Walt Disney World. Have a read of our 7 Reasons Why We're Excited about Disney's 'Star Wars Experience'.
1) Ultimate Roleplay Experience
Disney's Star Wars Resort Hotel will give you the opportunity to dress up! and participate in your own space fantasy set in a galaxy far, far away. Described as a "multi-day Star Wars adventure," the resort experience begins with arriving guests "boarding a spaceship" looking much like a modified C90 Corvette in the concept art. These guest floors and rooms will be themed and staffed by a cast of characters from the Star Wars universe.
The concept Disney has detailed is something of a live-action movie set brought to life by a cast of characters with stories that unfold all around you during a voyage through the galaxy".
2) It is described by Disney as a Luxury Resort
Typically Disney bills its top-tier resorts as Deluxe. Some have questioned if this will be considered as a higher class than Deluxe. From our perspective, a floor to ceiling themed resort really does stand apart from the other resort spaces. Specifically, what will the amenities look like? Will the baby crib be themed? What will the bathrooms look like? Obviously, all of these things will be functional, but everyone who visits will be quite literally in a galaxy far far away.
We await the first long-term stay at Disney's Star Wars Hotel Resort, and what impact that will have on the very 'Westworld' like magic Disney hopes to create. It's pretty safe to say it won't be cheap. In fact, we had better start saving now. From what we have all seen from the concept art, this hotel will most certainly be that modern style theme to Star Wars leaving Disney to fill the spaces with the comforts you expect from Disney.
3) Seamlessly connection to Star Wars: Galaxy's Edge
With the Star Wars hotel having a confirmed seamless connection to Star Wars: Galaxy's Edge at Disney's Hollywood Studios, guests can look forward to a total Star Wars experience. With many rumours swirling about new monorails, and the currently under construction gondola 'Skyliner' system.
It is yet to be completely clear how this immersive experience will be applied for transport to Galaxy's Edge. We would love a monorail link from the Star Wars hotel to Galaxy's Edge. Perhaps a Coruscant Airbus, one can dream, right?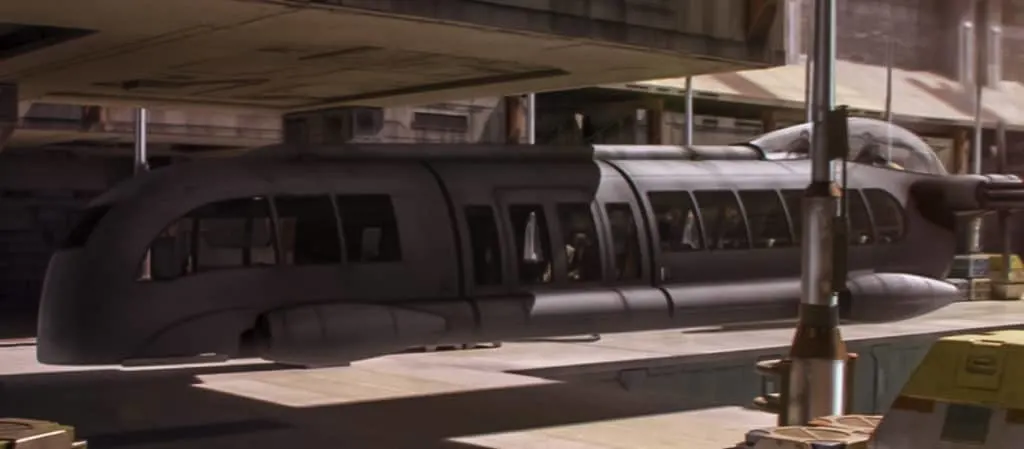 4) Live Your Own Dedicated Multi-day Star Wars Adventure
According to Disney, guests will be treated to there own individual experience and narrative. This is to include missions in Star Wars: Galaxy's Edge, some are reported to be away from regular guests, and exclusive to Star Wars Hotel guests. It is billed as a 100% Immersive unique journey for every person who visits. Choose your adventure, quite literally! Everything you do in this Star Wars experience will come with consequences that will affect the outcome of your individual Star Wars adventure.
Did you crash the Millennium Falcon on the Millennium Falcon ride? A familiar Star Wars character hanging out in the Cantina may not be too happy with you and your party. Your actions have consequences!
5) Active Citizens (Star Wars Hotel Guests) have the Opportunity to Dress in 'Proper Attire'
Disney has revealed that while staying and playing at Disney's Star Wars Hotel, guests will be treated to the opportunity to Cosplay as a character from the Star Wars universe. According to Disney, this 'proper attire' will be provided during your stay at the Star Wars Hotel.
6) Must Unique Disney Immersive Resort in the World
This new concept will stand out among all Disney Resorts Around the Globe. There just hasn't been anything like this in any theme park, Disney or otherwise. They are completely reimagining the entire concept of a luxury hotel resort and this, along with Star Wars: Galaxy's Edge, will likely become one of the greatest bucket-list destination hotel theme parks in the world.
Here at Mouse Travel Matters, we envision the Star Wars property will draw a very large fanbase that would have not otherwise considered a Walt Disney World trip.
7) Every window in this place has a view from space.
A large part of Disney's details for the Star Wars hotel involves the use of hotel-wide digital windows they feature heavily in the Concept Art and marketing. Hotel guests won't even be able to see the outside world, as every window, including those in each hotel room, will actually give a view of space perhaps orbiting a planet or travelling through Hyperspace.
The animated image released by Disney Parks shows a space battle in progress, as the hotel guests look on.
We cannot imagine a more expensive fully immersive experience. Disney has set the bar high with the details released so far. And we are stoked to experience this Star Wars Experience with a 'Westworld' vibe.
We hope that our 7 Reasons Why We're Excited for Disney's 'Star Wars Experience' has you excited about a galaxy far, far away at Walt Disney World.
Your Thoughts...
Please share your thoughts in the comments or reach out on social media...We would love to hear from you.
Follow Mouse Travel Matters for Disney Parks news, the latest info and park insights, follow MTM on Twitter, Facebook, and Instagram.
You May Also Like…
Star Wars Attractions and Experiences Guide for Walt Disney World
Star Wars: Galaxy's Edge Reservations and Updates
Star Wars at Disney Parks News & Updates