Last Updated on July 26, 2020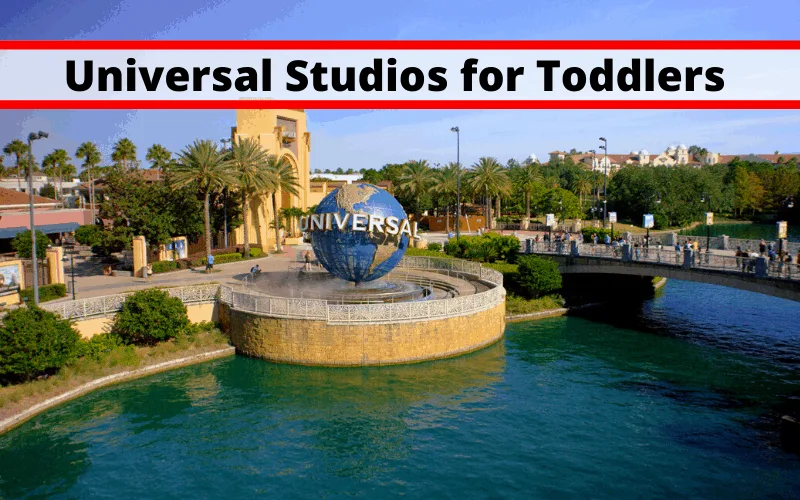 We think you will enjoy Universal Studios with toddlers. We love Central Florida and look towards Universal Studios as a way to enhance our existing vacation.
This post may contain affiliate links.
To which I earn a small commission, at zero cost to you!
Find more info in our
Privacy Policy
.
Is Universal Studios Kid-friendly?
Technically, if parents are prepared enough, everything is kid-friendly. But that's not the answer you were looking for, what's important is to find the best of Universal Studios for toddlers.
With the opening of Islands of Adventure and City Walk, there are more attractions and entertainment areas that are adult-centred than Walt Disney World. That being said, there are only 7 rides for kids under 34 inches tall (the average height of a 2-3-year-old).
7 Rides for Toddlers Under 36 in tall
There are seven rides and attractions that allow children at or under 36 inches tall at Universal Studios Hollywood:
Despicable Me Minion Mayhem 40inches
E.T. Adventure
Kang and Kodos' Twirl 'n' Hurl
Shrek 4-D
Hogwarts Express
Terminator 2 3-D
Transformers: The Ride – 3D 40inches
The Cat In The Hat 36 inches.
Flight of the Hippogriff 36 inches
Woody Woodpecker's Nuthouse Coaster 36 inches
The High in the Sky Seuss Trolley Train Ride 36 inches
The Amazing Adventures of Spider-Man 40inches
Camp Jurassic
Curious George Goes to Town.
To learn more about Universal Studios height restrictions, click here
What is a good age to go to Universal Studios?
Based on the height requirements and the scare level of the majority of the attractions at Universal Studios Orlando and Islands of Adventure, we would recommend you wait until your child is at least 8 years old if you really want to make the most of your time there.
Seuss-Landing and the Simpsons may be great to walk around and explore for smaller children.
To make up for their lack of attractions for small kids, Universal Studios does have some of the best-themed playgrounds and entertainment areas for toddlers.
Ideally, you will want your kids to be at least 42inches tall to experience most of what Universal Studios has to offer. 54inches to do the biggest coasters.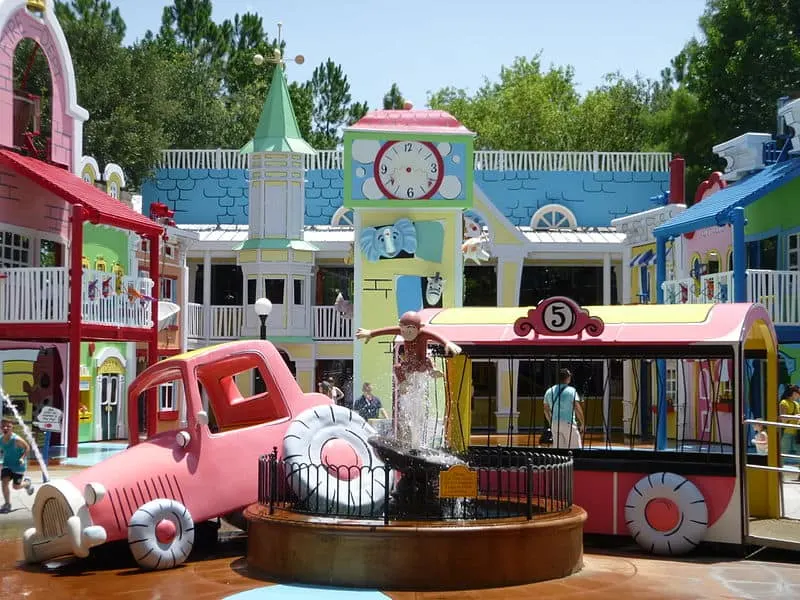 Universal Orlando Rider Switch (Child Swap)
If you are with children too young to go on a particular ride, or they just don't want to, make use of the Child Swap option. It means you can ride while your other half waits with the children in a designated area. You then swap places without having to wait in line all over again.
Unlike Walt Disney World, Universal Studios requires its guests to all join the standard queue when entering a ride. When wanting to use the Child Swap feature, simply notifying the attending staff and they will place the waiting party into a Child Swap waiting area at the rides loading area. As an added bonus, the Child Swap areas are usually indoors with nice cool air conditioning.
Infants and Toddlers at Universal Studios
Children under 3 years old are free of charge to enter the parks.
Both Universal theme parks have centralized Family Services facilities for infant and toddler care adjacent to the first aid stations. Everything necessary for changing diapers, preparing formulas, and warming bottles and food is available. Supplies are for sale, and rockers and special chairs for nursing mothers are provided.
In Universal Studios Florida, Family Services are located in the Front Lot near Lost and Found, and on Canal Street behind Louie's Italian Restaurant, on the border between New York and San Francisco. In Islands of Adventure, Family Services is in Port of Entry near Guest Services, and in the Lost Continent near the Sindbad show; look for the red cross behind the coin vendor. Dads are welcome at the centers and can use most services. In addition, most men's restrooms in the resort have changing tables.
Strollers at Universal Studios
Single or double strollers are available for rent upon entering Universal Studios Florida and Universal's Islands of Adventure, or you may bring your own stroller if you find it more convenient. Strollers and Electronic Convenience Vehicles (ECVs) will not be available for rent at Universal's Volcano Bay.
Single strollers cost $15/day and Double strollers cost $25/day. There is a refundable $50 deposit required when taking out the strollers, that will be given back when the stroller is returned.
The strollers are too big for infants, however. We do recommend you bring a properly fitted stroller from home or rent one from businesses like Kingdom Stroller.
Universal Studios Character meet and greets
Most mornings you'll find a rotating collection of characters near the entrance of the park. Not every character will appear every day; the busier the season, the more likely lesser-known characters will come out.
Here is a guide to the places you're likely to find famous friends in Universal's parks:
Universal Studios Florida
Celebrities (Face Characters)
Doc Brown from Back to the Future: Hollywood: at the Delorean outside Fast Food Boulevard
The Men in Black: Hollywood; World Expo outside MIB
Marilyn Monroe: Hollywood, New York near Macy's
Knight Bus Conductor & Talking Head: London Waterfront outside Diagon Alley
Animated (Costumed Characters)
Barney the Dinosaur, B.J., & Baby Bop: KidZone at A Day in the Park with Barney
Curious George & The Man in the Yellow Hat: Hollywood; KidZone E.B. from Hop Hollywood
Despicable Me Minions: Hollywood; exit of Despicable Me ride
Gru, Agnes, Edith, Margo, and Vector from Despicable Me: Hollywood Dora the Explorer & Diego Hollywood
Hello Kitty: Hollywood outside her store
Optimus Prime, Bumblebee, & Megatron from Transformers: 8th Ave between Shrek 4-D exit & Mel's Drive-In
Scooby Doo, Shaggy, and the Mystery Van: Hollywood; KidZone
Shrek, Donkey, & Princess Fiona: 8th Ave across from Shrek 4-D exit
Homer, Marge, Bart, and Lisa Simpson: Hollywood; Springfield outside Kwik-E-Mart
Sideshow Bob and Krusty the Clown: Springfield outside Kwik-E-Mart
SpongeBob SquarePants, Squidward, & Patrick: Hollywood; Kidzone inside Spongebob StorePants
Woody Woodpecker: Front Lot
Islands of Adventure
Celebrities (Face Characters)
Betty Boop: Toon Lagoon outside Betty Boop store
Captain America: Marvel Super Hero Island outside Captain America Diner
Dinosaur Keeper: Jurassic Park
The Grinch (live-action version): Seuss Landing inside All The Books You Can Read store (seasonal only)
Hogwarts Express Conductor: Hogsmeade across from Honeydukes
Popeye & Olive Oyl: Toon Lagoon outside Comic Strip Cafe
Rogue & Storm: Marvel Super Hero Island outside Marvel Alterniverse store
Spider-Man: Marvel Super Hero Island; inside Marvel Alterniverse store
Wolverine & Cyclops: Marvel Super Hero Island outside Marvel Alterniverse store
Animated (Costumed Characters)
Beetle Bailey: Toon Lagoon outside Comic Strip Cafe
Cat in the Hat, Thing 1 & Thing 2: Seuss Landing at Oh! The Stories You'll Hear
Green Goblin, Doctor Doom: Marvel Super Hero Island outside Doctor Doom's Fearfall
The Lorax & Sam I Am: Seuss Landing at Oh! The Stories You'll Hear
The Grinch (cartoon version): Seuss Landing at Oh! The Stories You'll Hear
Woody Woodpecker: Port of Entry
Character Dining
Unlike Walt Disney World, there isn't a ton of planning required to have a great holiday at Universal Studios. Character dining isn't an exception. Instead of booking 180 days in advance, Universal Studios has guests make reservations between 30-45 days ahead of arrival.
There are 4 character dining options, 2 seasonal and 2 everyday.
Seasonal Character Dining
The Grinch™ & Friends Character Breakfast – Each holiday season, the Grinch will join you for a buffet breakfast at the Circus McGurkus Cafe Stoo-pendous in Universal's Islands of Adventure
Halloween Horror Nights Scareactor Dining Experience – Universal Orlando does not recommend this event for anyone under the age of 13.
Character Dining Available All Year Long
Despicable Me Character Breakfast – Every Saturday morning at Loews Royal Pacific Resort. There are several different seating times offered at 7:30 a.m., 9:00 a.m., and 10:30 a.m. Breakfast is held at the Cayman Court with your favorite characters from the Despicable Me films – Gru, Margo, Edith, Agnes, and the Minions.
Marvel Character Dinner – Universal's Islands of Adventure. Every Thursday through Sunday you can immerse yourself into the world of Marvel Entertainment at Cafe 4. Characters include Captain America, Spider-Man, Wolverine, Cyclops, Storm and Rogue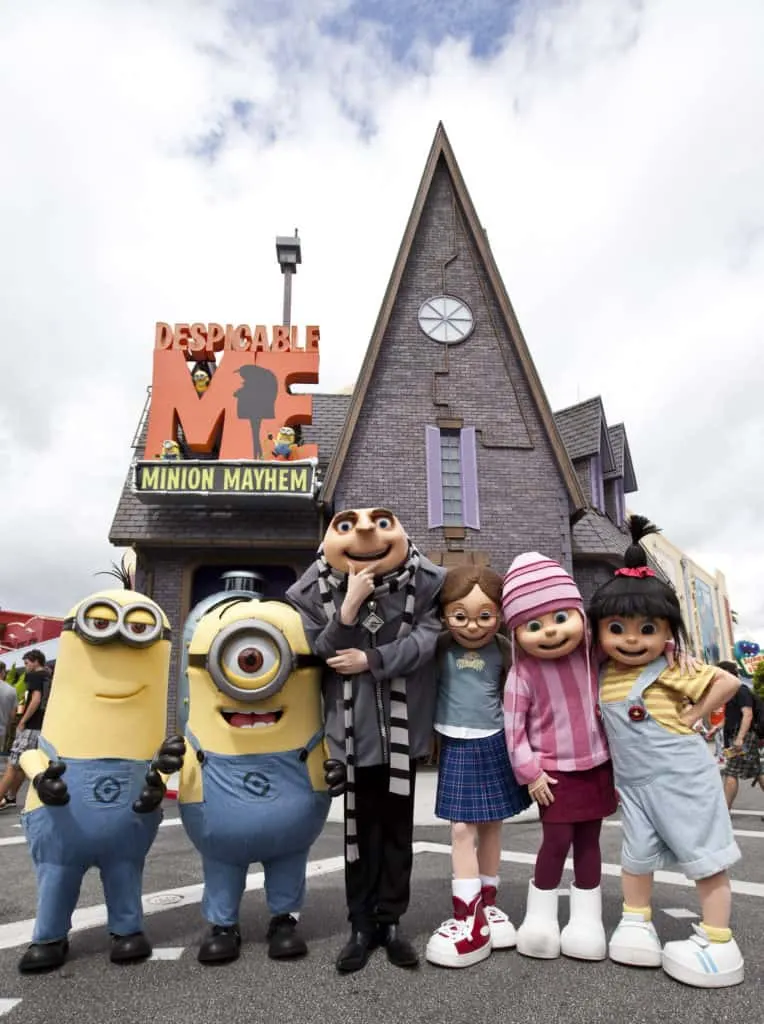 Your Thoughts...
Please share your thoughts in the comments or reach out on social media...We would love to hear from you.
Follow Mouse Travel Matters for Disney Parks news, the latest info and park insights, follow MTM on Twitter, Facebook, and Instagram.
You May Also Like…
Guide to Walt Disney World with toddlers
Universal Studios Height requirement
Universal Studios locker rentals