Last Updated on April 25, 2021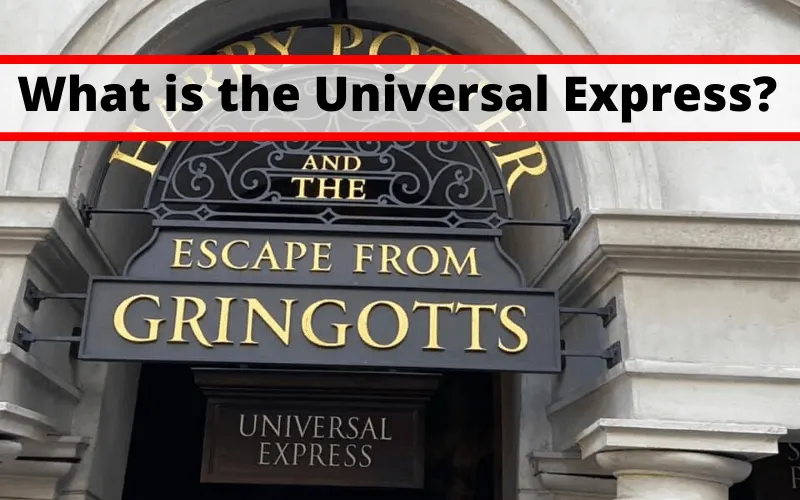 One of the ways we experience more and wait in line less is with the Universal Express pass. Universal's skip-the-line access is a big help in the parks, especially on crowded days.
Isn't free — unless you stay on-site at select Universal hotels. Understanding how and when to use the Universal Express pass is your key to a great visit. This post explains everything you need to know!
How Many Types of Universal Express Passes Are There?
There are 4 Universal Express Pass Options, all of which require you to cough up more money beyond your park admission:
Universal Express Pass:
Available for purchase online or in the parks, allowing one person one ride on each attraction which participates in Universal Express.
Universal Express Unlimited Pass:
Available for purchase online or in the parks (either bundled with admission or separately), allowing one person an unlimited number of rides on any attraction that participates in Universal Express.
On-site Hotel Universal Express Unlimited Pass:
Included for all guests at the three luxury Universal Resort Hotels (Cabana Bay, Sapphire Falls, and Aventura excluded) at no extra cost, allowing each person staying on-site an unlimited number of rides on any attraction which participates in Universal Express. (Note that Volcano Bay is excluded.)
Premiere Pass Universal Express after 4 p.m.:
Holders of the top-of-the-line Premiere Pass get free Universal Express access every day from 4 p.m. until park closing (excluding special events like Halloween). Even though it's officially valid only once per attraction per day, we've rarely been denied a re-ride, and can usually bring a companion along. (Note that Volcano Bay is excluded.)
How Universal Express Pass Works?
When you approach a ride with Universal Express, show your pass to the attendant.
Know that Universal Express pass is not a group pass. Everyone in your party will need his or her own Universal Express pass. Also, the passes are non-transferrable. If you're staying at a Universal hotel that offers the free Express pass benefit, your hotel room key will act as the pass. Each person will have a personalized hotel key.
How to Get an Express Pass for Free
As previously mentioned, guests can secure free passes by staying at select Universal Orlando Hotels. Rooms at Universal Premier category hotels — Loews Portofino Bay Hotel, Loews Hard Rock Hotel, and Loews Royal Pacific Resort — come complete with two-park unlimited Express Passes. Your hotel room key doubles as the express park pass.
Even better, the Universal Express Pass is good on the day you check in and the day you check out. That means a one-night stay gets you two days of Universal Express Passes.
What Attractions and Rides are Included?
Universal Studios Florida
Harry Potter and the Escape from Gringotts
Hogwarts Express (Park-to-Park admission ticket required)
Despicable Me Minion Mayhem
TRANSFORMERS: The Ride-3D
Fast & Furious – Supercharged
MEN IN BLACK Alien Attack
Hollywood Rip Ride Rockit
Race Through New York Starring Jimmy Fallon
The Simpsons Ride
Kang & Kodos' Twirl 'n' Hurl
Revenge of the Mummy
E.T. Adventure
Woody Woodpecker's Nuthouse Coaster
Universal's Islands Of Adventure
Harry Potter and the Forbidden Journey
Hogwarts Express (Park-to-Park admission ticket required)
Flight of the Hippogriff
The Amazing Adventures of Spider-Man
The Incredible Hulk Coaster
Storm Force Accelatron
Doctor Doom's Fearfall
Jurassic Park River Adventure
Skull Island: Reign of Kong
Caro-Seuss-el
The High in the Sky Seuss Trolley Train Ride!
Dudley Do-Right's Ripsaw Falls
Poseidon's Fury
Universal's Volcano Bay
Krakatau Aqua Coaster
Punga Racers
Maku of Maku Puihi Round Raft Rides
Puihi of Maku Puihi Round Raft Rides
Honu of Honu ika Moana
ika Moana of Honu ika Moana
Tonga of Taniwha Tubes
Raki of Taniwha Tubes
Express Pass Can Also Be Used for
Fievel's Playland at Universal Orlando Resort
Pteranodon Flyers or Hagrid's Magical Creatures Motorbike Adventure at Universal's Islands of Adventure.
Why You Should Never Buy Your Express Pass Online
On the off chance that you aren't sure about the expected crowd levels at Universal Studios, we suggest waiting until you arrive to make such a decision.
Of course, a good travel agent will be able to give you their 2 cents, but if you plan on risking it on your own, waiting is best. Should the heavens part and you are left with a rainy, low crowded day, you don't want to be holding a $300 piece of useless paper, now don't you.
Universal Orlando Single Rider Lines
Single Rider lines can be even faster than Universal Express pass lines. If you don't mind splitting up your party on the ride, you can experience some of the most popular rides much quicker.
When to Use Universal Express Passes
Anytime it's free
We aren't one to look a gift horse in the mouth. If it's being offered for free, take it.
When the parks are expected to be super busy
If the parks plan on being busy (crowd calendars) or are super busy once you arrive, get yourself an Express pass and skip those queues. Your time is worth more than this.
If you only have a day and want to see as much as possible
If you are limited on the amount of actual time you have in the parks, we suggest saving yourself a day in the parks and using the Express Pass to save yourself from long queues.
Is Universal Express Pass Worth It?
No matter when you visit, having Universal Express will be a time-saver. We would never suggest guests forgo their Disney Fastpasses just because it takes a little bit of planning, and we always know that skipping a line means guests can accomplish that much more in the day. So the pass itself serves its purpose.
But the question isn't about whether or not the pass is worth the effort, but if the pass is worth the money invested for this add-on feature.
Ask yourself a few questions
During what season are you planning to visit and how large are the crowds during that season?
How many days do you have to visit each park?
What is your level of patience for slow-moving queues?
Decide for yourself, is Universal Express Pass worth the money? We think so.
Your Thoughts...
Please share your thoughts in the comments or reach out on social media...We would love to hear from you.
Follow Mouse Travel Matters for Disney Parks news, the latest info and park insights, follow MTM on Twitter, Facebook, and Instagram.
You May Also Like…
A Complete Guide to Universal Studios for Toddlers and Babies
Everything You Need to Know to Plan a Universal Studios Orlando Vacation
Universal Orlando Early Admission Overview
Universal Orlando Resort On-Site Hotel Benefits
Universal Orlando Single Rider Lines