Last Updated on May 15, 2021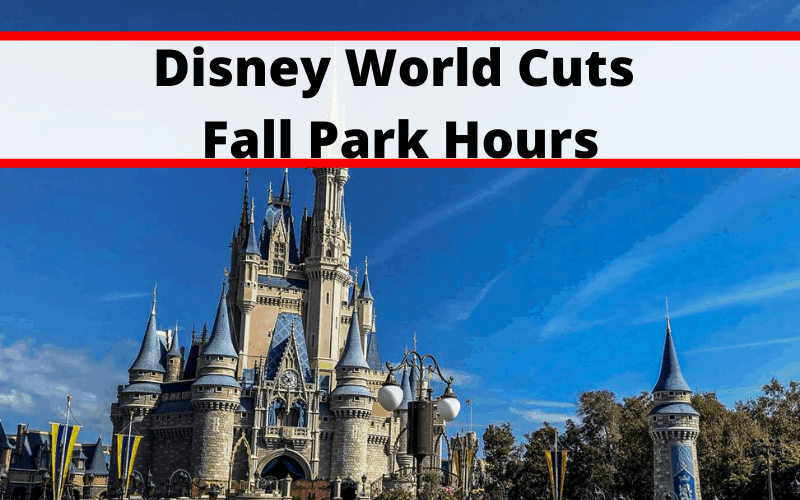 Walt Disney World's four Florida theme parks will see reduced hours come September 8.
Disney World Cuts Fall Park Hours
For both July and August, all Walt Disney World theme parks operated for 10 hours per day. Opening and closing times were staggered which made sense in terms of resources (like buses) and physical distancing (guests returning to hotels at staggered times). However, as Disney Parks enter the "slow season", they have made the decision to reduce park hours across the board.
The new reduced park hours are as follows;
Magic Kingdom: 9:00 am to 6:00 pm (Previously 9:00 am to 7:00 pm)
EPCOT: 11:00 am to 7:00 pm (Previously 11:00 am to 9:00 pm)
Disney's Hollywood Studios: 10:00 am to 7:00 pm (Previously 10:00 am to 8:00 pm)
Disney's Animal Kingdom: 9:00 am to 5:00 pm (Previously 8:00 am to 6:00 pm)
Hours at Disney Springs remain unchanged, from 10:00 am to 10:00 pm daily. New park hours have now been updated on the Walt Disney World website, and are in place through October.
But why is Disney cutting their hours?
September and October are likely to see some of the lowest crowds in Walt Disney World history. Not only is September and October among the lowest in terms of crowds, but Halloween has also effectively been cancelled. This means whatever influx Disney would have received has now decided against visiting Disney.
Without a need to remain open after dark for the Nighttime Spectaculars, Disney World has found that the last few hours of the day have received the lowest number of guests sticking around the parks. This does mean, however, that guests won't be able to take those amazing "Golden Hour" shots within the parks.
You should still be able to tour each park in a single day thanks to the short wait times and reduced crowds. You'll just have less flexibility in your arrival time, and won't be able to enjoy the 'late arrival' strategies that many prefer.