Last Updated on August 9, 2020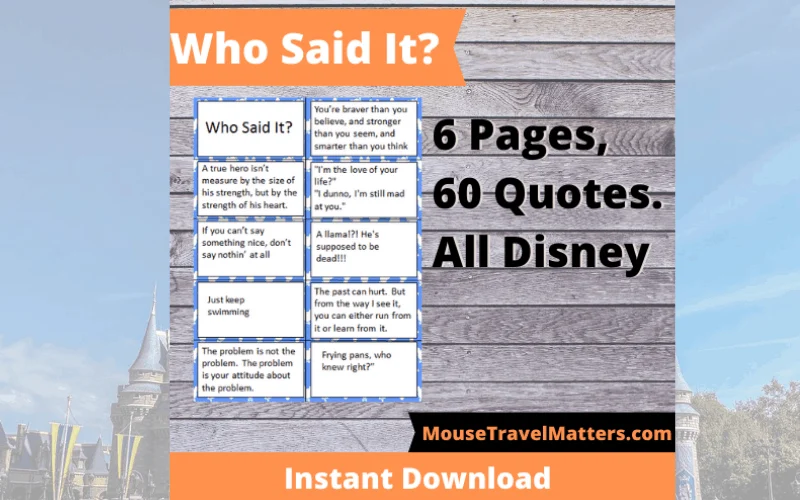 I love printable games because they don't cost much (just the cost of printing) and they don't take up much room in your bag. Your kids will love this Disney Guess Who Said it Trivial Game.
How well do you know your favorite Disney Movies? Test your knowledge with this fun Guess Who Said it – Disney Edition!
Be sure to visit our store to purchase Disney: Who Said It? game
Designed to put your Disney movie knowledge to the test. Each Who Said It Card gives a phrase that a famous Disney Character has said in a movie. Then the other players have to guess which character said it. It's super fun for kids and adults of all ages
You could even make it a full-on Disney night and make the copycat Disney recipes dessert!
This game would be an especially perfect way to entertain your family on the way to a Disney Vacation. (or during downtime at your hotel each night.)
This printable game comes with 6 pages (or 60 Trivia Cards). Each Card has an iconic quote from a Character in a Disney movie. Some are easier to guess than others. Beneath each quote in small print is the answer to who said it. The Printable is in the standard PDF format which means it is ready to print at home or at a local copy center.
After you print and cut the Trivia Cards you can either put them in a container (like a recipe box) or punch a hole in the corner of each card and then keep them together with a ring.