Last Updated on February 22, 2020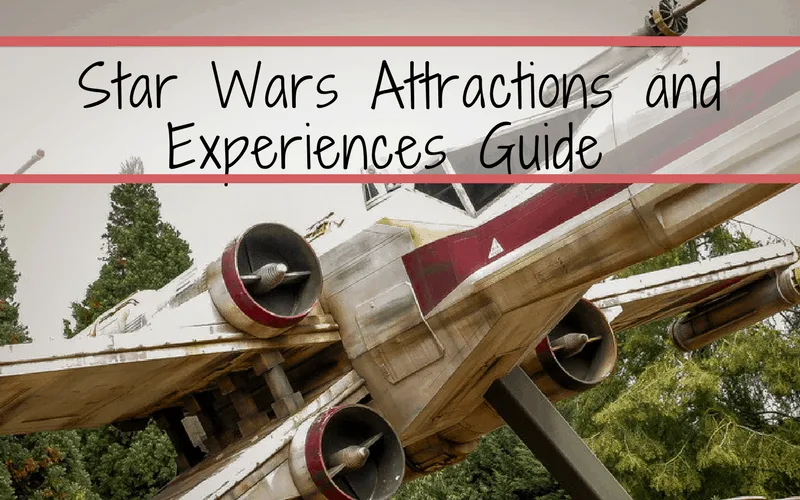 We celebrate Star Wars day on 4 May 2023, and Twitter lights up like Lukes Skywalkers lightsaber through a Jawa. Like many in the Disney fan-verse, Mouse Travel Matters presents for you the best Star Wars Attractions and Experiences for Star Wars Day at Walt Disney World.
Jedi Fanatics will agree there is much to celebrate with the upcoming release of 'Solo: A Star Wars Story' the excitement of the opening of the Star Wars-themed area 'Star Wars: Galaxies Edge'. And what Sith Lord can forget the forthcoming Star Wars -Inspired Resort to be built at Walt Disney World Resort. They will certainly bring the franchise to life with these new, and some updated, Star Wars Attractions.
NEW AND ENHANCED STAR WARS EXPERIENCES
Star Wars Launch Bay
This massive Star Wars attraction at Disney's Hollywood Studios at Animation Courtyard in Walt Disney World, Florida is filled with a great collection of Star War artifacts in the 'Celebration Gallery' including props and models from Star Wars: The Last Jedi.
Star Wars Meet & Greets
Say hi to BB-8 the Astromech on duty in the security sector. Get up close to a legendary Wookiee the one and only Chewbacca co-pilot of the Millenium Falcon, and make a furry friend forever. Beware Darth Vader is lurking in the shadows of 'Launch Bay'. And explore a Rebel Base.
Launch Bay Theater and Glorious Star Wars Merch!
See a celebration of the entire Star Wars Saga in 'Launch Bay Theater'. And a must shop at 'Launch Bay Cargo' for sculptures, memorabilia, movie prop replicas and SERIOUSLY! print-on-demand phone cases inspired by the films.
Check out this awesome video we love below by–>> MouseSteps.com.
Jedi Training- Trials at the Temple
Next door to Star Tours you will find a great opportunity for children ages 4-12 to go on stage and battle Star Wars characters like Darth Vader!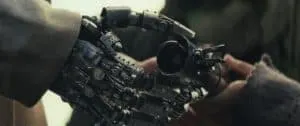 Enjoy watching younglings train in the ways of the force putting there training to the test battling the Dark side.
Tip: For younglings to get the opportunity to participate in the show, they must register before the show. Children between the ages of 4-12 only, registration is at the Indiana Jones Adventure Outpost located between the Indiana Jones Epic Stunt Spectacular! and the 50's Prime Time Café. You must have your child present at the time of registration. Be sure to take care of this in the morning as registration begins when Disney's Hollywood Studios opens for the day.
Star Tours – The Adventure Continues
Here at Mouse Travel Matters, we have a love-hate relationship with coasters but Star Wars-themed dark rides don't count. This updated jump to Hyperspace with its small drops is sure to thrill. This is a 3D, motion-simulated space flight throughout a galaxy far, far away. It's not a coaster but you will experience a Jedi mind-trick.
March of the First Order
In Disney's Hollywood Studios on Hollywood Boulevard, you WILL encounter the 'First Order'. Keep an eye out and clear the way for Captain Plasma as this ruthless commander marches her squad of Stormtroopers up Hollywood Boulevard to Center Stage at Disney's Hollywood Studios—witness the First Order's obedience and strength through this energetic demonstration.
Star Wars – A Galaxy Far, Far Away
In front of Grauman's Chinese Theatre situated on Hollywood Boulevard in Disney's Hollywood Studios witness a powerful live show that will get you right into the Jedi spirit.
Here legendary characters from the Star Wars franchise come to life bringing you some of your favourite scenes from all the classic Star Wars films.
Characters of the past and current franchise movies appear. There are several showtimes throughout the day featuring such characters as C3PO, Chewbacca, Yoda, BB-8, and more.
Star Wars: A Galactic Spectacular Fireworks
A nighttime show at Disney's Hollywood Studios. Star Wars: A Galactic Spectacular Fireworks is a must-see during your Disney stay! The show features fireworks, projection mapping, fire, lasers, fog effects, and searchlights complete with Star Wars imagery projected on Grauman's Chinese Theatre on Hollywood Boulevard.
The show has performances every night weather permitting.
May The Fourth Be With [YOUR NAME HERE]

— Mark Hamill (@HamillHimself) May 4, 2018
So many great #MayTheFourth tweets! Love this one! pic.twitter.com/zFLLFJ3dot

— Robert Iger (@RobertIger) May 4, 2018
Your Thoughts...
Please share your thoughts in the comments or reach out on social media...We would love to hear from you.
Follow Mouse Travel Matters for Disney Parks news, the latest info and park insights, follow MTM on Twitter, Facebook, and Instagram.
You May Also Like…
The Definitive Guide to Blizzard Beach Water Park at Walt Disney World
Disneyland Paris: $2.5 Billion Multi-Year Expansion Frozen, Star Wars, and Marvel
Best Shoes for Disney & Theme Parks 2018