Last Updated on February 22, 2020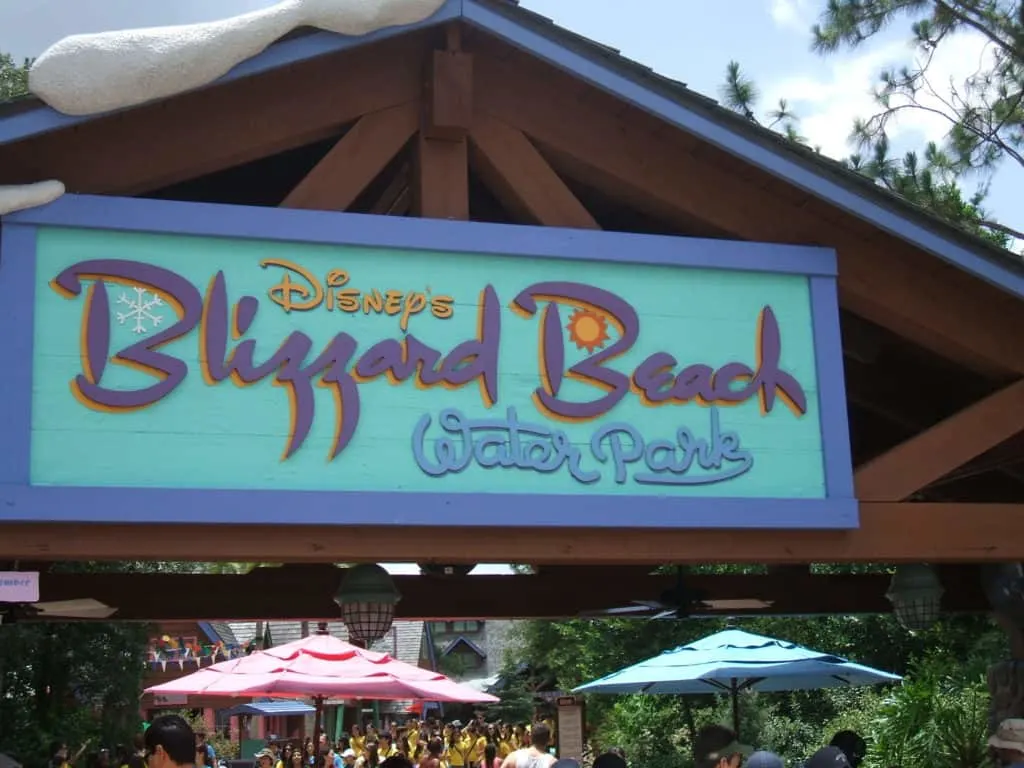 Blizzard Beach is one of 2 Disney-owned water parks at the Walt Disney World Resort in Florida.
But, just like the theme parks, a little advanced planning can help you minimize your waits and maximize your experience, and we have the tips and resources to help you do just that.
This post may contain affiliate links.
To which I earn a small commission, at zero cost to you!
Find more info in our
Privacy Policy
.
Blizzard Beach backstory
Blizzard Beach is themed as a melting, slushy ski resort with chair lifts and ski slopes covered with melting snow, and the resulting gushing water. There are lots of pine trees, rocks, and mounds of "snow." It sprawls over 66 acres. As the story goes, following a freak Florida snowstorm, someone with poor business astuteness built Florida's first ski resort.
As you might expect, the snow soon melted. Left behind were a bunch of ski jumps and chair lifts that were water-logged and useless.
BLIZZARD BEACH MAP
Want a map you can download? Check out the PDF of the Blizzard Beach map.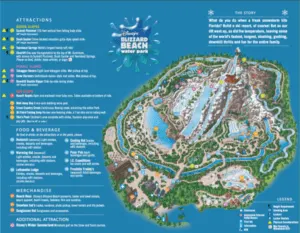 Attractions at Blizzard Beach
Note: Even though many of the slides may not have a height requirement it is important to know that some empty into water that can be quite deep and anybody riding a slide that requires the use of a raft must be able to hang onto their raft independently (you can't hold your child on your lap, for example).[/thrive_text_block]
There are 11 rides to help guests beat the heat.
Pre-teen area featuring slides, a T-bar drop, and an iceberg walk
Mt. Gushmore also features slalom courses, toboggan and water sled runs and the awesome, 120-foot-high Summit Plummet — one of the nation's tallest, fastest free-fall speed slides, visible from almost anywhere in the park. From Summit Plummet's "ski jump" tower, it's a breathtaking high-speed 55 mph plunge straight down to a splash landing at the base of the mountain.
Green Slopes
Next to Summit Plummet is the tall but less steep Slush Gusher, a speed slide that drops guests through a snow-banked mountain gully. Mt. Gushmore's other attractions include Teamboat Springs, the world's longest family white-water raft ride takes six-passenger rafts down a twisting 1,200-foot series of rushing waterfalls; Toboggan Racer, an 8-lane water slide that sends guests racing over exhilarating dips as they descend the "snowy" slope, and more.
World's longest family raft ride
One-way transportation to the top of Mt. Gushmore (no food, drinks, loose articles or bags allowed)
Purple Slopes
Eight-lane toboggan slide
Snow Stormers – Switchback slalom-style mat slides
Downhill Double Dipper
The most eye-catching attractions can be found on the slopes of Mt. Gushmore, the 90-foot snow-capped mountain that is home to Downhill Double Dipper, the only side-by-side racing water slides that stand 50 feet high and 200 feet long. Guests will travel up to 25 mph, twisting and turning before shooting out through a curtain of water.
Red Slope
Runoff Rapids – Open and enclosed inner tube runs
Orange Slopes
Melt-Away Bay – One-acre bobbing wave pool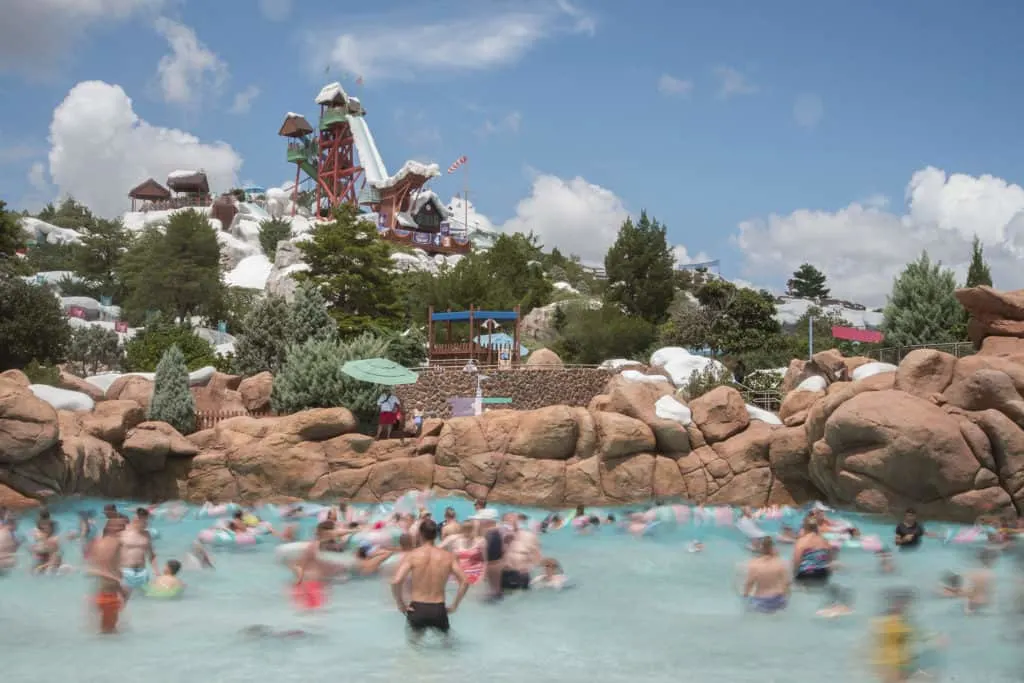 Continuous flowing creek, encircling the entire park
Tike's Peak – Children's area complete with slides, fountain play area, and pop jets; features miniature versions of some of the water park's signature rides
Don't forget to grab a few sandwiches from The Warming Hut, and mini glazed donuts from Lottawatta Lodge
Blizzard Beach height requirements
There are a few attractions at Blizzard Beach that require the rider to reach a certain height limit in order to access. There are others, however, that require guests to be small enough. The children's areas are specially meant for little ones and their parents to play, without being crowded by overzealous big kids.
Downhill Double Dipper – 48″ (122cm)
Slush Gusher – 48″ (122cm)
Summit Plummet – 48″ (122cm)
Chairlift – 32″ (82cm)
Tikes Peak – Must Be Under 48″ (122cm)
Blizzard Beach Eateries and Restaurants
Note that not all restaurants or huts accept Dining Plan credits. Look here just to be sure.
Keep on trekking 'til you see this snowmobile bar near the Chairlift—then, sip on some sweet concoctions like our Rum Runner, Black Cherry Lemonade, Beso Del Sol Sangria and much more! Dining Plans Not Accepted
Get a grip with specialty hot dogs, salads, desserts, chips, draft beer and soft drinks. Some Dining Plans Accepted
Thaw out in the heat with a frozen treat that's nice and sweet, like Mickey's Ice Cream Bar. Or, head off your hunger with something much warmer, including soft pretzels and popcorn. Beverages both hot and cold are also available. Some Dining Plans Accepted
Make tracks for this snow-capped chalet and chill with an icy-fresh orange swirl, or fill up on a turkey leg or loaded nachos—before washing it down with a soft drink or alcoholic beverage! Dining Plans Not Accepted
In search of something sweet? Cool off with frozen treats that include sundaes, floats, bars, waffle cones and other frosty desserts at this ice cream stand in Disney's Blizzard Beach. Dining Plans Not Accepted
Get a lotta grub at this alpine chalet—rice bowls, cheeseburgers, chicken strips, wraps, salads and more—while chilling out with an Olaf Frozen Blue Raspberry Lemonade or a Piña CoLAVA. We also offer vegetarian and vegan meal option. Some Dining Plans Accepted
These mini treats are big on taste! Dip in by the dozen or half dozen with raspberry, chocolate or white chocolate sauce. Soft drinks, frozen lemonade, coffee, tea and hot chocolate are also available from this stand near Lottawatta Lodge. Dining Plans Not Accepted
Get frosty at this full-service beach bar after making waves at Melt-Away Bay! Chill out with a cold one—including cocktails like the icy Piña CoLAVA or Blue Blizzard, along with bottled and draft brew-skis. Dining Plans Not Accepted
All that fun put a fire in your belly? Give roaring appetites the big chill with hearty fare that includes a selection of sandwiches, Southwest chicken wraps or grilled chicken with feta cheese and watermelon salad. Add a cookie, waffle cone or crisped rice treat for dessert with a cold drink and you're back in action! Some Dining Plans Accepted
Blizzard Beach lounge area
Polar Cabanas. These premium spaces offer guests a variety of amenities including a spacious area with cushioned furniture, all-day drink mugs, a personal locker and more. There are 15 different Polar Patio spaces throughout the water park that are booked on a first come, first-serve basis. The spaces also include an attendant who can take food orders (separate charges for food apply), towels, a cooler with ice and bottled water. Six guests can enjoy the patio space (there is an additional fee for guests 7-10).
Lodge Picnic Umbrellas. These spaces have two reclining lounge chairs, a table, an umbrella and towels. A maximum of four guests can use this reserved space
For reservations and pricing information, please call (407) WDW-PLAY or (407) 939-7529. Check-in takes place at Shade Shack Rentals.
The cost to rent towels at Blizzard Beach:
On-site Disney Resort guests: Free for resort guests
Offsite guests: $2 per towel
Does Blizzard Beach have lockers?
YES! Putting your valuables in a locker is the only way to guarantee they won't walk away while you're out having a good time on the slides.
Locker rentals at Blizzard Beach are good for the entire day.
COST TO RENT A LOCKER AT Blizzard Beach:
Regular (12.5″ x 10″ x 17″) – $10 per day
Large: (15.5″ x 13″ x 17″) – $15 per day
Swimwear for Blizzard Beach
Water slides can be brutal on swimsuits, so if you're planning on tackling any of them make sure you're wearing a suit that will stay in place. Also, suits with any exposed metal of any kind (including rivets) or buckles are not allowed on the slides.
Swim Diapers
As with all pools at Walt Disney World, if your child is still in diapers they must wear either plastic pants or swim diapers in the pool area.
Disney Resort Refillable Mugs and water parks
Your Resort mug on its own will not work at the refillable stations within Blizzard Beach. You can either purchase a new mug or a sticker (for roughly $6) for your current mug. This sticker lasts one day and will get you free refills at any of the stations.
Don't forget about PhotoPass
If you're going to Blizzard Beach, Memory Maker also has more value because these photographers are positioned in a lot of fun locations where you probably couldn't get your own photo.
Photographers will give you a photo pass card on an elastic band to scan and then you can link it to your Memory Maker.
Blizzard Beach shops
Beach Haus shop – beachwear, footwear, disposable underwater cameras and sundries; locker and towel rentals
Snowless Joe's – souvenirs and sundries; premium space, umbrella, locker and towel rentals; complimentary life jackets
Shade Shack – Beach towels, headwear, sunglasses, souvenirs and sundries
Winter Summerland Miniature Golf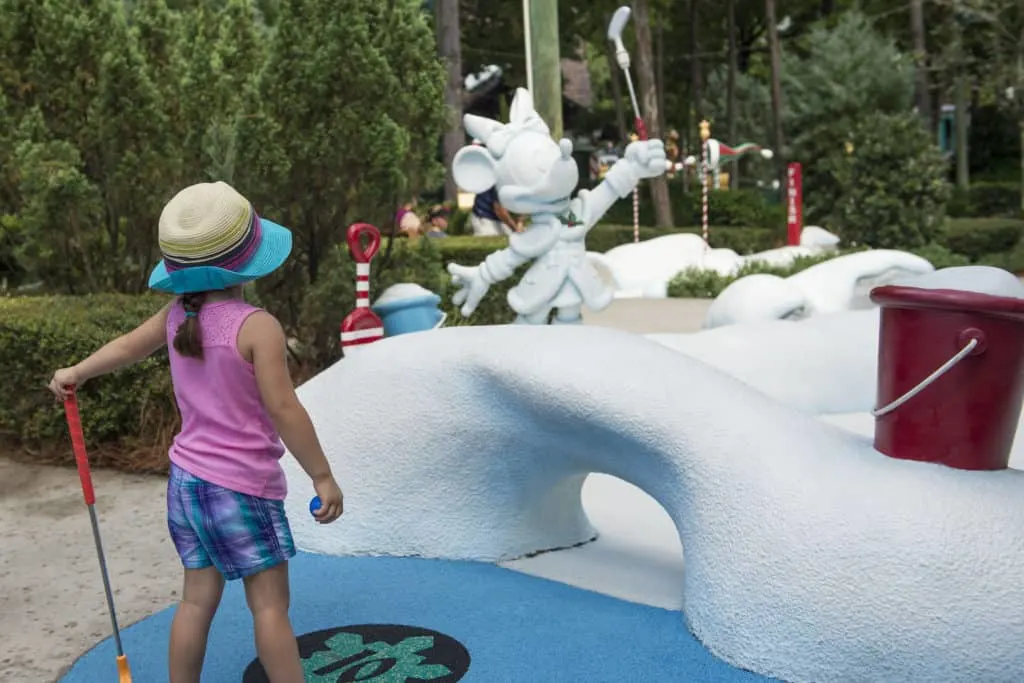 At Disney's Winter Summerland Miniature Golf Course, guests can choose between two courses: the Winter Course or the Summer Course. Both 18-hole courses feature merry touches from Santa and his elves. Golfers play around giant peppermints and a melting ice castle on the Winter Course, while the Summer Course lets guests putt around sandcastles and surfboards.
Winter Summerland Miniature Golf Course Cost
Adult (ages 10 and up): $14.00/round
Child (ages 3-9): $12/round
Should I visit Typhoon Lagoon or Blizzard Beach?
Can't decide between the 2 parks? We've pitted them against each other in the ultimate Disney Decisions: Typhoon Lagoon or Blizzard Beach to help you decide which is the best option for your family.
Your Thoughts...
Please share your thoughts in the comments or reach out on social media...We would love to hear from you.
Follow Mouse Travel Matters for Disney Parks news, the latest info and park insights, follow MTM on Twitter, Facebook, and Instagram.
You May Also Like…
Best Stroller Fan for Disney & Theme Parks
The Definitive Guide to Typhoon Lagoon Water Park at Walt Disney World
'Ultimate Disney Fall Into Magic Package' Now Available from Disney
Walt Disney World Hotels for a Family of 5 or More
How to Pack the Perfect Disney Park Bag Ever!