Last Updated on October 27, 2019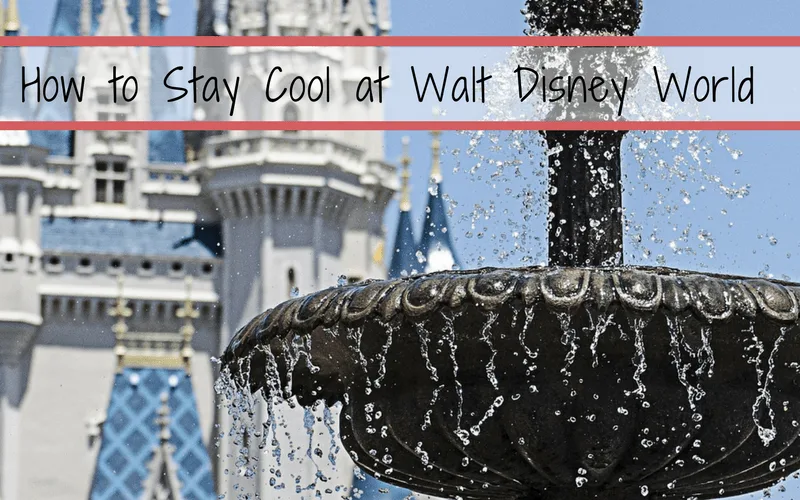 One needs strategies to stay cool at Walt Disney World with temperatures running anywhere from 21°C – 28°C (70°F – 82°F). If visiting Walt Disney World in the summer months, you already know that the temperatures can get pretty high.
That is some serious heat and it's not just the sun that gets you… it's the total lack of shade, lack of wind and most of all, overall humidity. It can reach up to 33°C (92°F) in July during the day.
To say that the Florida heat can kill enthusiasm in even the biggest of fans is no understatement. With this knowledge in mind, we are here to show you how to Stay Cool at Walt Disney World when it's hot.
This post may contain affiliate links.
To which I earn a small commission, at zero cost to you!
Find more info in our
Privacy Policy
.
Dress Appropriately
Leave the long sleeves and trousers at home because it's going to be a hot one. Make sure your clothes are breathable, quick to dry and lightweight. While they aren't the greatest of designs, Underarmour is famous for its light and water-repelling fabrics.
Don't bust out the tank tops and short shorts either. That hot Florida sun is going to make any and all surfaces too hot to touch directly with your sensitive bare behind and your shoulders are going to burn faster than you can reapply sunscreen. Try a capped sleeve and something that protects the back of your legs while sitting.
Use Personal Cooling Gear
There are many contraptions out there that will help you beat the heat at Walt Disney World. A misting fan, stroller fan and cooling towel are high on the list of magical devices that do exactly what they are promising. A gentle spritz of water from your refillable water bottle can make all the difference when waiting in weather-exposed queues.
Visit the Parks in the Morning and Evening.
While this isn't our favourite piece of advice, it is the most practical. Use your EMH to tour the Parks bright and early in the morning, then return to the hotel for a mid-day break. This can include anything from a quiet lunch break in the cafeteria, a nap in the hotel room or a small shopping spree nearby. Anything to get out of the shadeless parks and into some less crowded Air Conditioned buildings.
Hotel Pool
While you are at the hotel, try taking a quick dip and cooling off. The outside air temperature should lend itself to optimal water temperatures, which will help you lower your own. Spend an hour or so cooling off before heading back towards the Parks and finishing off your touring day. Don't forget the sunscreen.
Cold Drinks
If your hotel has a fridge, try freezing a few bottles of water and bringing them into the parks. You may not be able to bring a large cooler, but a small thermal lunch bag has more than enough room to store frozen water bottles and keep other bottles chilled until needed.
When ordering at a restaurant, ask for cold drinks and avoid hard liquor with your meal. Heat and alcohol do not mix, and truth be told your sunburn will be worse. Save the booze fest for evenings after the sun goes down. Be sure to hydrate well for the next days' activities.
Lastly, purchase a reusable water bottle and ask for free ice at the restaurants. Refill with water from the drink fountains found around the Parks and you just saved yourself $3 per refill. Save money and cool down, I like that kind of math.
Rides with Long Indoor Queues
By focusing on the rides with long indoor queues during the hottest time of the day, you are able to better schedule your day. Outdoor queues in the morning and evening, indoor queues midday and everyone is as cool as a cucumber.
Get Wet in the Parks
There are a handful of opportunities to get wet in the Parks.
Magic Kingdom

Splash mountain, there is a long queue but it will be worth it. You will get drenched but you will also dry fairly quickly so don't worry too much about it.
Casey Jr. Splash 'n' Soak Station. Again, if you don't have a change of clothes or a swimsuit in your Disney Park bag, don't worry about it. Take a few minutes to just be in the general vicinity of the splash pad and you will instantly feel better. If you do feel the need to jump in, you will dry just as quickly.

Epcot

Dancing Fountains. While you can't go swimming in the Dancing Fountains, you can dip your hands and feet in the fountain to help cool you off. Dab a little water on the back of your neck and face (careful not to get any in your eyes or mouth) for a little extra cool down.

Hollywood Studios

Umbrella Prop. There is a not-so-secret spraying umbrella in Hollywood studios. Much like a splash pad, the idea is to get near enough to cool off but not get completely soaked.

The Animal Kingdom

The Animal Kingdom is the hottest of all 4 parks. There may be a lot of shade, but it is still hot. There are, however, many misting areas throughout so keep an eye out and take advantage when you do stumble across one.
Find Air Conditioning
Oh, sweet Air Conditioning.
Going from the extreme heat to the extreme cold of a souvenir shop can seem a little startling but the shops need to be kept extremely cold because the doors are open all day. They are "chilling the outside" as my dad would say. Try not to stay too long, however, as going from one extreme to the other is not good for you, and we wouldn't want anyone catching a summer cold in the middle of their Disney Vacation.
Aside from the shops and restaurants, there are a handful of noteworthy rides that have just enough A/C to cool you down, without triggering hypothermia in the little ones.
Magic Kingdom

Pirates of the Caribbean
Haunted Mansion
Space Mountain
Hall of Presidents
Monsters Inc Laugh Floor
It's a Small World
Carousel of Progress
Enchanted Tiki Room

Epcot

The land
Spaceship Earth
The Seas with Nemo & Friends
Pavillion movies and rides
Innovations

Hollywood Studios

Tower of Terror – though it tends to have a long line outside
Star Wars Launch Bay
Star Tours

Animal Kingdom

Festival of the Lion King
Nemo musical
Ride the Monorail
If you are not keen on returning to your hotel, or it is simply too far away to make practical, ride the Monorail for a few runs to stay cool at Walt Disney World. During mid-day, the Monorail shouldn't be overly crowded, and you will be able to comfortably sit and enjoy the view.
Resort Hopping
While you are on the Monorail, try your hand at Resort Hopping. You aren't technically going back to the hotel since you will be touring, but you are also shopping and enjoying the Air Conditioning at the same time. Cross another item off your Disney to-do list because the Monorail hotels are definitely an experience on their own.
Visit a Water Park
Last but not least, if you know the day will be too hot to handle in the Parks and none of these alternatives particularly speak to you, give the Water Parks a try. Arrive early as they will start to fill up as guests become increasingly hot in the Parks; restaurants will start to fill and the queues for the rides will grow longer.
Grab a lounge chair and bask in the sun beachside.
The posts and pages of Mouse Travel Matters
do contain affiliate links that we earn a small commission for,
they come at no extra cost to you!
Your Thoughts...
Please share your thoughts in the comments or reach out on social media...We would love to hear from you.
Follow Mouse Travel Matters for Disney Parks news, the latest info and park insights, follow MTM on Twitter, Facebook, and Instagram.
You May Also Like…
How to Pack the Perfect Disney Park Bag Ever!
Best Water Bottles for Disney & Theme Parks
9 Rookie Mistakes You Didn't Know You Made on Your Last Disney Trip
Dehydration and Heat Stroke on Your Disney Holiday