Last Updated on February 6, 2020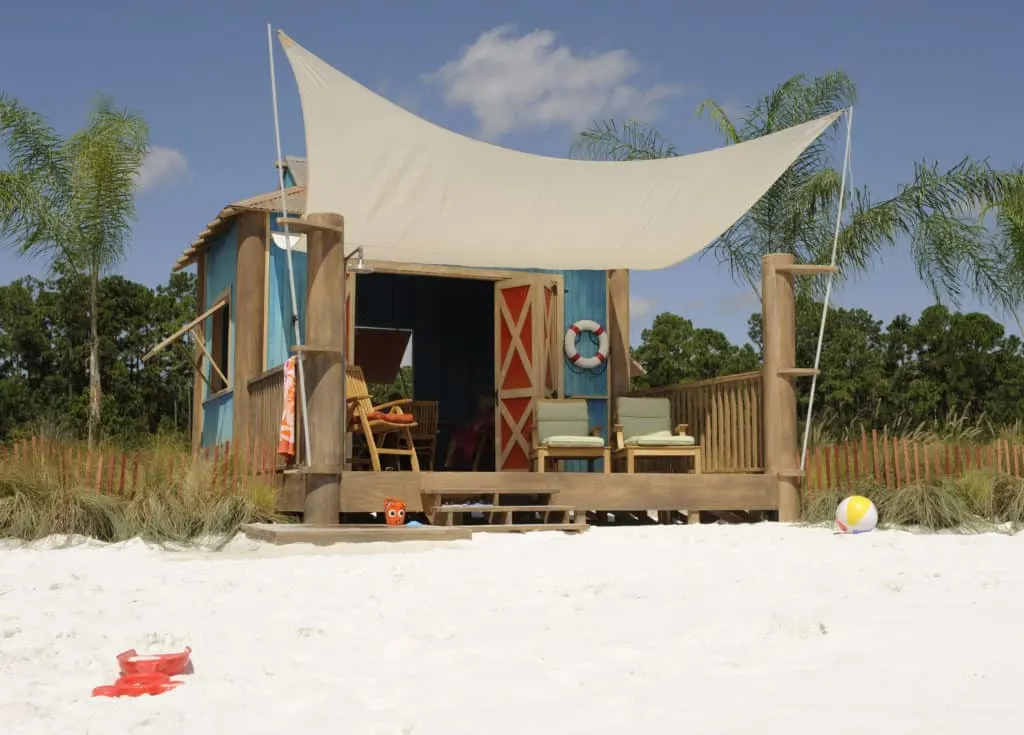 Castaway Cay Cabanas at Disney's Castaway Cay
How about your very own Cabana to bring on the relaxation at Castaway Cay?
Castaway Cay Cabanas include room for up to 6 guests. All cabanas come with indoor and outdoor cushioned seating; a freshwater shower; a hammock; a mini-fridge with unlimited soda and bottled water, fresh fruit and damp washcloths for cooling off; snacks (chips and granola bars); plush towels; Coppertone sunscreen and aloe care; and a selection of magazines.
There are 3 types of cabanas available. Guests will receive wristbands for each member and information about beverage package options in your cabin.
Take the tram to Pelican Point and follow the signs to 'Cabana Checkin'. Serenity beach cabanas have a separate check-in, head there instead.
Family beach cabana
There are 20 available.
September. 25, 2018 – March 17, 2019 – $599
March 18, 2019 – September 24, 2019 – $649
They fit up to 6 people and $50 per person extra, up to a total of 10 people. Kids count as people
Cabanas on the family beach come with snorkel equipment and sand toys, float and tube rentals, 1 hour bike rental, and a safe to store valuables.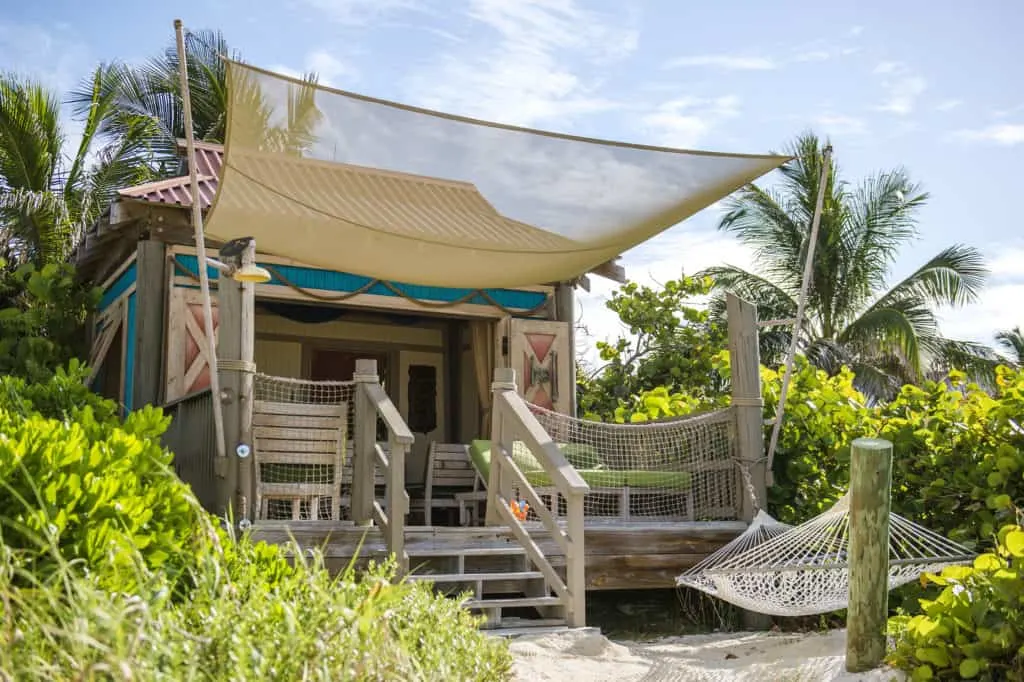 Grand family beach cabana
Just one available
$949 for 10 people
$55 per person extra up to a total of 16 people
Serenity bay beach cabana
4 available
$399 for 4 people, up to 10 adults at $50 extra per person
What's not included in a Castaway Cay Cabana
Food delivery is not available at Castaway Cay.
Disney does sell drink packages but the selection must be made by 6 pm the night before
Castaway Cay thirst quench package – 6 domestic beers. 1 sparkling wine, 1 white wine. $90 plus 15% service fee.
Castaway Cay beverage escape. 6 international beers. 1 champagne, 1 white wine. $131 plus 15% service fee.
Castaway Cay beverage adventure. 12 beers (domestic and international), champagne. $132 plus 15% fee
Beer buckets. 6 beers. $30 plus 15%
How to book a cabana on castaway cay
The first people able to book them are passengers booked in a Concierge-class stateroom, as well as Disney's loyalty program Platinum cruisers, who can reserve onboard and shoreside activities within 120 days of the cruise. Gold cruisers are next in line, as they are able to book 105 days before sailing. Often, cabanas are gone before the next loyalty class of cruise passenger, Silver is able to book at 90 days out.
Which castaway cay cabana is best
#1 is closest to Cookie Too bbq
1-14 are on the actual beach.
14-20 are in front of a lagoon. This is best for littles that are afraid of the waves. But they are further from the food and toilets
Without kids, serenity bay cabanas are the best. #22 closest to the bar and restaurant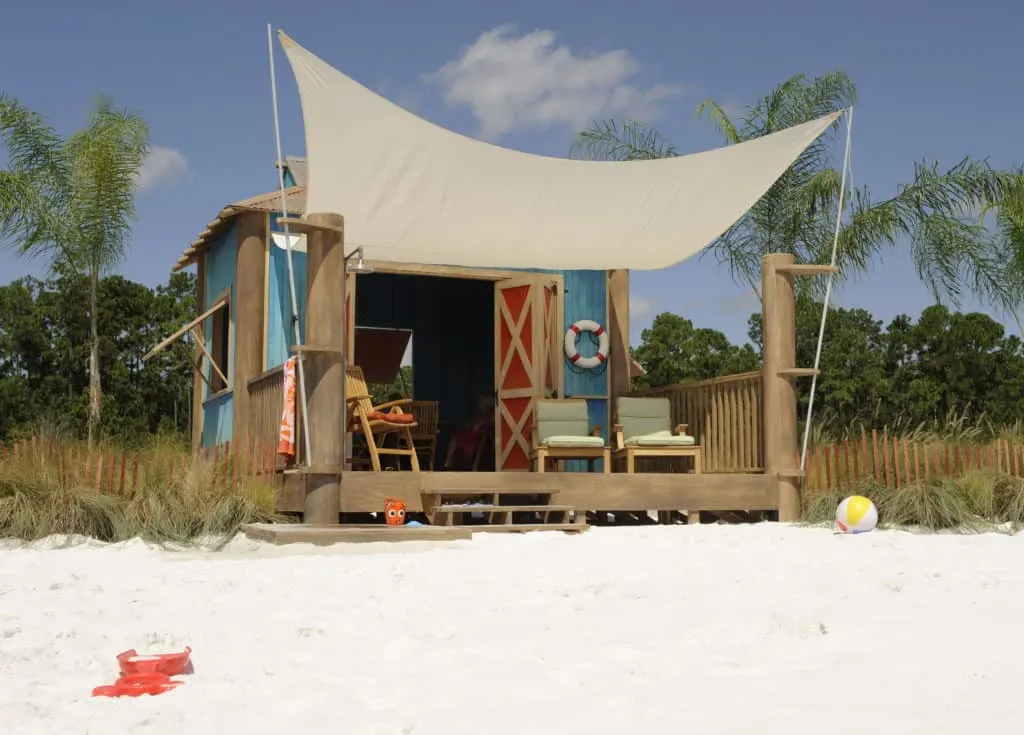 Location
Disney's Castaway Cay. Check-in takes place at Pelican Point.
Price
Call (800) 951-3532 for current pricing information.
Additional Information
There may be same-day availability for Castaway Cay Cabanas. Interested guests may inquire at Guest Services throughout the cruise.
To Book
Call (800) 951-3532
NOTE: Prices and inclusions are subject to change. Please visit the Disney Cruise Line to confirm information prior to booking.
Be sure to join our MTM Newsletter to stay on top of ALL things Disney!
Your Thoughts...
Please share your thoughts in the comments or reach out on social media...We would love to hear from you.
Follow Mouse Travel Matters for Disney Parks news, the latest info and park insights, follow MTM on Twitter, Facebook, and Instagram.