Last Updated on February 22, 2020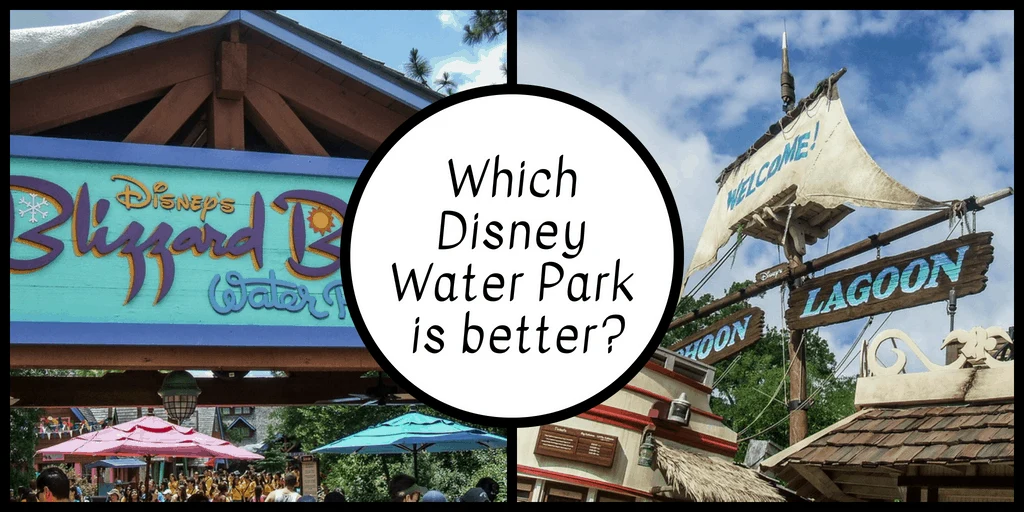 Wondering, "should I go to a Disney water park while I am at Disney World?"
Or, "should I go to Typhoon Lagoon or Blizzard Beach?"
We've got everything there is to know about the Disney World water parks, including answers to these questions.
This post may contain affiliate links.
To which I earn a small commission, at zero cost to you!
Find more info in our
Privacy Policy
.
Good to Know
Unlike the other theme parks, Disney's Water Parks don't use the Fast Pass system. This can mean a more relaxing and play it by ear kind of day, or waiting in lines you didn't expect. It all depends on how early you arrive and how you use this time.
There are a handful of rides that have height restrictions. Before getting the little ones hyped up about going down Summit Plummet, take a good look at the ride restrictions.
There are change rooms, showers, and toilets next to the lockers.
Guests are allowed to bring coolers, food, and water into the park. Straws are still not allowed, however. The environment and park cleanliness and all that.
Guests can rent a private cabana for the day
Guests can bring their own towels or rent a towel for $2 each
Safety vests of various sizes are available upon request
Guests are able to pay for everything with their Magic Band, so there is no need to truck a wallet or purse around. Bonus!
Don't forget to bring…
While everything is available for purchase at one of the many shops within either water park, this is an expensive I am sure many would prefer to forgo.
Towel – this can be rented, but why not bring your own and save a few dollars
Sunscreen and hat
Wet bag for when you are done for the day and want to put your swimsuits away
Refillable water bottle – to help hydrate and cut costs.
Waterproof phone pouch – don't want to ruin your phone on the first ride, now do we
Snacks
Change of clothes – you wore your swimsuit into the park… what are you going to wear leaving it if you want to visit somewhere else afterward?
Water Shoes. That pavement can get very hot, very fast.


Should I go to a Water Park at Disney World?
This really depends on a number of personal things, but here are a few to consider.
What is the average age of your party? Will they be able to ride anything, and do they actually care about a water park or is the local pool just as awesome to them?
How long is your trip? If you only have a few days, I would suggest spending your time at one of the theme parks. This is why you came all this way for, isn't it? Have 7+ days to explore the entire "World", then by all means, please visit a Water Park. Your family is going to need a "rest day". What better way to rest then by exploring another park.
Seriously, if you have a rest day planned and intend on visiting Disney Springs, why not spend the morning at one of the water parks. This is only a half day type of park, so there is plenty of time to do it all.
Planning Tips/ Know before you go
Go early for the best lounge chair spot
While portable coolers, food, and drink are allowed into the park, guests are not permitted to bring in glass containers or any alcohol. Or straws.
Guests can, however, purchase alcohol at several locations into each of the parks
Many guests leave during a rainstorm. This has been thoroughly covered when we discussed what to do in Walt Disney World while it rains. This is the perfect time to wait out the storm and snatch the perfect lounge chair once the skies clear.
Bring water shoes for the hot pavement
Swim diapers are required for all children that are not 100% potty trained.
On a fashion note, for those women choosing to ride the speed slides, may we suggest a one-piece swimsuit…it's happened.
All swimwear must be appropriate for a family environment. Cast Members will ask guests to cover up, change or even leave the park for having inappropriate swimwear. If you have any questions about what "appropriate" means, please call Walt Disney World at 00 800 2006 0809 (freephone) or 00 44 203 666 9911 (charges apply) for clarification.
What is the best time to go to the water parks?
First thing in the morning, or late afternoon.
Keep in mind that water parks tend to close earlier than the other 4 theme parks but that doesn't mean the day is done at 2 pm. There is still plenty to do after the morning folks have come and gone, however, you may find yourself competing with others that have just finished a half day of park touring and are looking to relax.
First thing in the morning is our strong suggestion. Get there when the water park opens, have your tickets already purchased (and linked to your Magic Band!) and dash to the lockers and lounge chairs. Split up and tag team for speedier results.
Throughout the water parks, Disney PhotoPass photographers will capture guests caught up in the Disney experience. Disney's PhotoPass and Memory Maker give guests the opportunity to have great high-resolution photos taken by Disney Photographers at picturesque locations. Your photos can then be accessed, shared, and ordered online. Visit our Disney's Disney's PhotoPass Guide for more information on Disney's PhotoPass service. This is a great opportunity to get family photos at the water park without worrying about getting your camera wet.
Lockers and Locker rooms
Lockers have switched over to keyless lockers; they now open with just a PIN, like your room safe. In order to rent a locker, simply find an electronic kiosk nearby. You are free to come and go as you please throughout the day on a single locker rental fee.
Regular lockers are $10 per day and they measure 12.5″ X 10″ X 17″
Large lockers are $15 per day and they measure 15.5″ X 13″ X 17″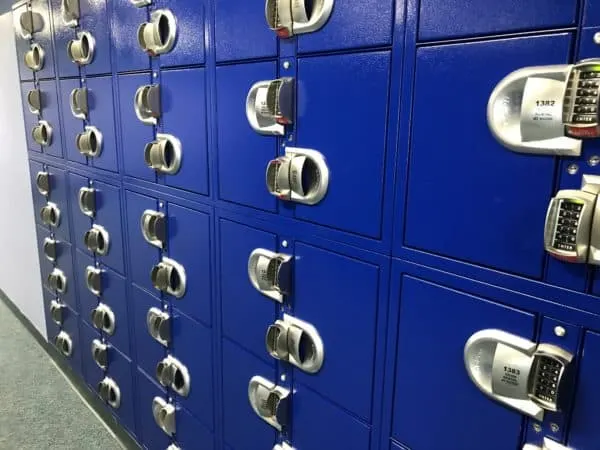 Water Park Tickets and Prices
Tickets for both Typhoon Lagoon and Blizzard Beach can be purchased separately or as part of the Magic Your Way Package. The cost is $62 per adult and $56 per child. Tickets can be purchased in advance or on site. As always, children 3 and under are free of charge when accompanied by a paying adult.
When purchasing the Park Hopper Plus option, you have the option of visiting a water park (or Golf course, or ESPN) for as many days as your ticket, on top of the theme park days. Disney does not regard Water parks to be equal to Theme parks and will never sell them as one in the same.
Don't forget about Photopass
If you're going to Blizzard Beach or Typhoon Lagoon water parks at Walt Disney World, Memory Maker also has more value because these photographers are positioned in a lot of fun locations where you probably couldn't get your own photo.
Photographers will give you a photo pass card on an elastic band to scan and then you can link it to your Memory Maker.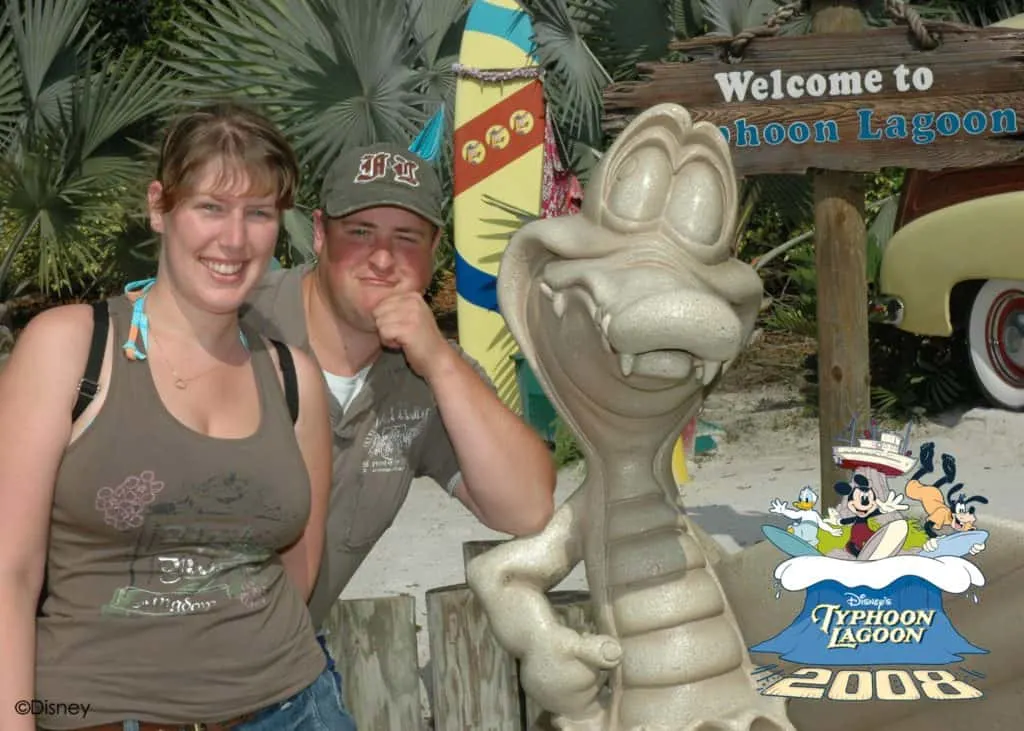 Which Disney Water Park is better, Blizzard Beach or Typhoon Lagoon?
This is the part where we tear apart both parks and tell you exactly why you should pick one over the other. Over the course of a 5-6 day vacation, you may have the time to visit a waterpark… once. If you only have 1 day to visit, which will you choose; Typhoon Lagoon or Blizzard Beach?
Each water park is amazing in their own way but with different themes that appeal to different age groups, guests should choose based on attractions, ages and swim ability of their party.
Target Audience
Typhoon Lagoon is best for elementary school-aged children and strong swimmers. While the wave pool is the highlight for most guests, it can easily knock over little ones. There are surf lessons and a shark reef for the older kids as well. Families with small kids can still have a great time; the lazy river is perfect for floating around the park, relaxing and chatting about the vacation days to come.
Blizzard Beach is best for thrillseekers and those that aren't great swimmers. This seems a bit of an oxymoron but hear me out. While there are a few thrillseeking rides at Blizzard Beach, which definitely bests any ride at Typhoon Lagoon, most regular slides at Blizzard Beach empty into a shallow pool. Melt-Away Bay is also a fairly tame pool for little ones to hang around and play without the threat of being pushed over by heavy waves.
Best Disney water park for little ones
Each water park has a special area just for little ones, but how do they stack up?
Blizzard Beach's Tikes Peak has 3 slides geared towards smaller children, and it has a splash pad for them to play in. The area is separate from the rest of the park so there is no chance of them being knocked over by a stray big-kid. Tikes Peak also has covered seating and cabanas if this is where families wanted to spend the majority of their time.
Ski Patrol training camp is technically for big kids but there are 2 slides for the little ones, if they are comfortable wearing a life jacket or riding an inner tube. Meltaway Bay is also a much smaller pool with gentler waves than Surf Pool. The undertow is minimal and shouldn't represent much of a problem for toddlers and preschoolers.
On the other hand, Typhoon Lagoon does have a larger splash pad at Ketchakiddie Creek. The slides are bigger and the water is a little deeper, so it is meant to have adults in the pool with the children, and maybe for older little ones (3+). Babies and toddlers may find this area a little intimidating. The Surf Pool waves are definitely not meant for toddlers. The undertow, even at the edge of the pool, can push over even the most sturdy of children. There are lifeguards at the poolside but parents still need to be vigilant.
Both parks have a lazy river, and aside from their size and theme, represent an equally great time for the children.
Verdict- Blizzard Beach is the winner here. While Typhoon Lagoon is a great water park, it is not the best for small children or those afraid of water/waves.
Best Thrill Rides
Blizzard Beach's Summit Plummet is terrifying. 12 stories STRAIGHT down.
The most intense slide at Typhoon Lagoon is probably Humunga Kowabunga but at only a 5 story drop (in darkness) it doesn't really compare to Summit Plummet.
Verdict- By far, the winner of the best thrill ride at a Disney water park is Summit Plummet at Blizzard Beach. It is the most terrifying, thrill-seeking adventure thrill ride arguably at Walt Disney World, let alone at one of their water parks.
Best Wave Pool
As mentioned several times, both Typhoon Lagoon and Blizzard Beach have amazing wave pools. With their own themes and target audience in mind, they do differ greatly in who will appreciate them most, however.
MeltAway Bay at Blizzard Beach is a much calmer wave pool. The waves are not as high nor are they as frequent. Because the pool is smaller, it tends to feel fuller and more crowded than Typhoon Lagoon.
Surf Pool at Typhoon Lagoon is a larger pool, with higher waves and a more thrilling atmosphere. The pool here is made for strong swimmers and those that aren't afraid to be sucked into the undertow because you will.
Verdict- Considering it is a wave pool, the winner is Typhoon Lagoon. It serves its purpose as a wave generator and thrill-seeking adventure at the same time.
Best lazy river at a Disney World Water Park
Castaway Creek at Typhoon Lagoon goes all around the park and is a great way to relax and/or make your way to a different section of the park. It is 2000 feet long.
Cross Country Creek at Blizzard Beach is very similar but goes in the occasional cave as well. One other addition; before entering a cave or going under a bridge, 'melting water' waterfalls tend to drip on unsuspecting guests, drenching them in freezing cold water in the process. While this can be avoided by jumping off the raft and walking around the sprinkling, getting back on can be a challenge that I personally try to avoid. It is 3000 feet long.
Verdict- Both win! Typhoon Lagoon and Blizzard Beach offer two very similar, yet very different lazy rivers and can be enjoyed by adults and children alike.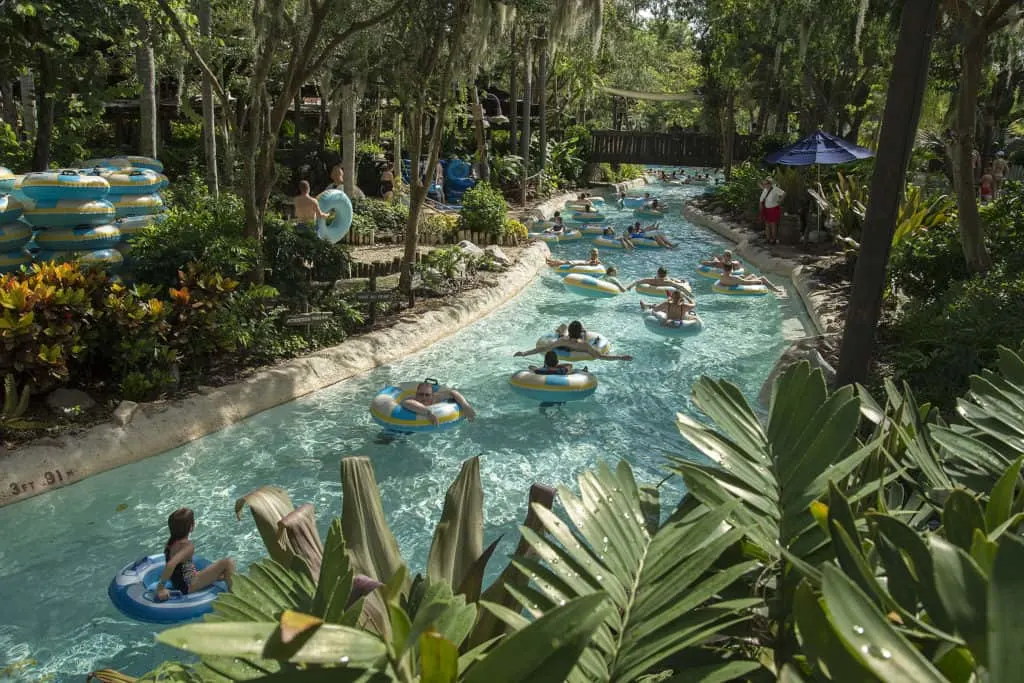 Best Family Raft Ride.
Typhoon Lagoon's Miss Adventure Falls is a new family ride that includes an animatronic bird, tunnels and a conveyor belt to carry you to the top.
Blizzard Beach's Teamboat Springs – is the worlds largest family raft ride – is a 1200 feet long winding river ride that allows up to 6 people per raft and is suitable for everybody in the family
Verdict-Miss Adventure Falls at Typhoon Lagoon wins the top spot for Best Family Raft Ride. You can't beat the slow climb to the top and the fun story that goes along with the ride.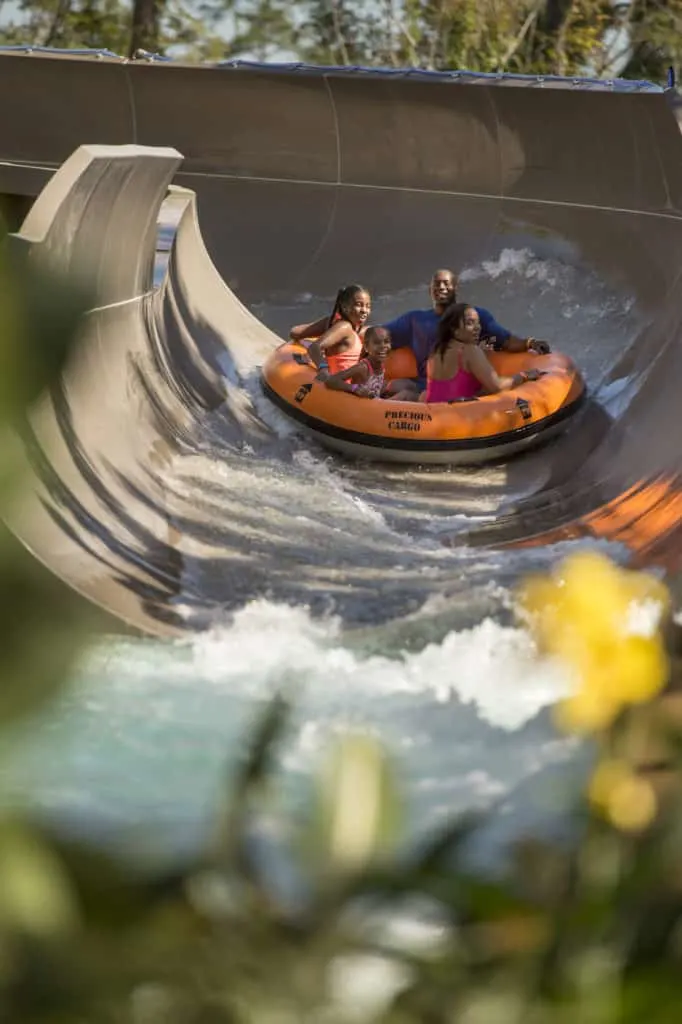 Final Verdict
Both parks are a ton of fun. They have similar amenities like lockers, free life jackets, cabanas, towel rentals and excellent dining options. But at the end of the day, the winner is…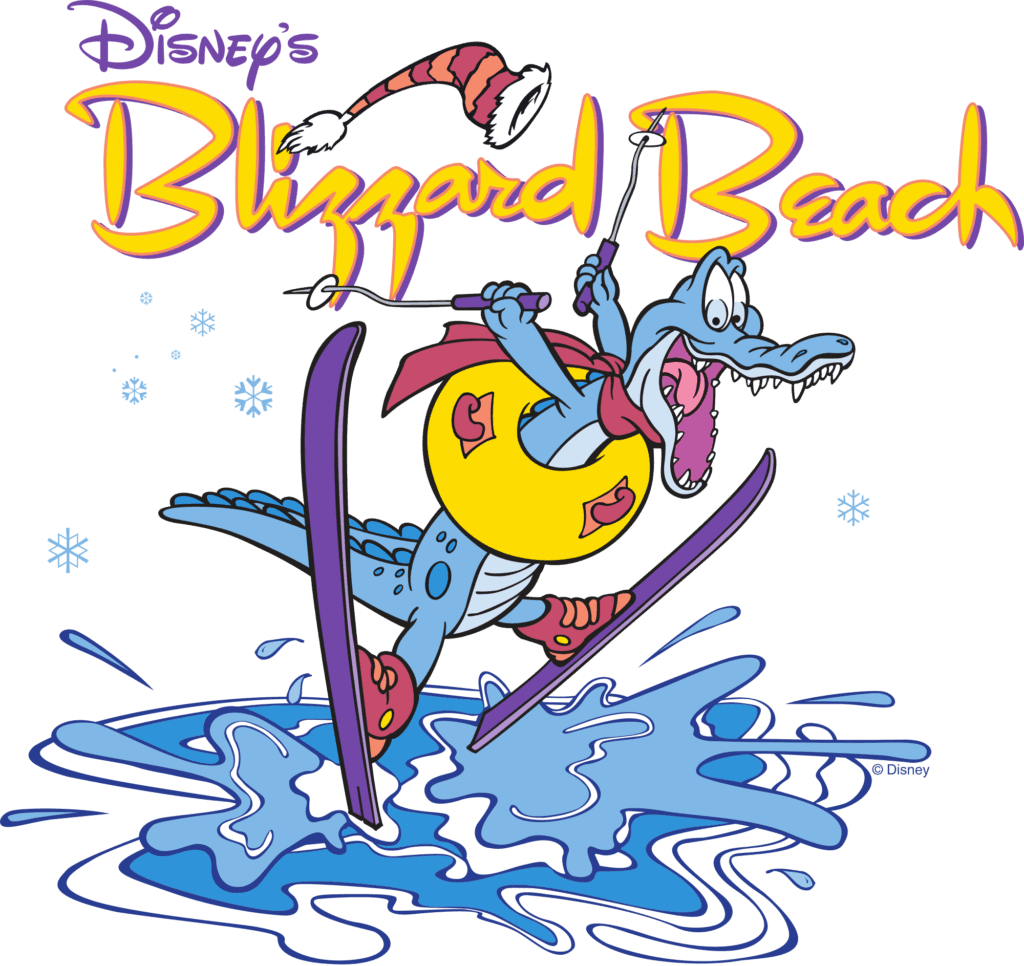 Typhoon Lagoon and Blizzard Beach are two very impressive water parks, Blizzard Beach is a little more inclusive of the younger guests and has more intense rides for older or more adventurous guests. Therefore, we believe that if you can only choose one water park for your next Disney adventure, it should be Blizzard Beach.
Please Note; between the months of October and March, there will always be one park closed for refurbishment (lasting around 2-3 months). The other will remain open. There is always a chance that one or two rides will be closed for repairs at any given time, and without warning, but this is generally true of any Disney park and not limited to the water parks.
Want to learn more about Walt Disney World Water Parks?
Check out the guides below. We have everything from details on all of the rides and slides to the pros and cons (and prices!) for all your dining and food options.
Your Thoughts...
Please share your thoughts in the comments or reach out on social media...We would love to hear from you.
Follow Mouse Travel Matters for Disney Parks news, the latest info and park insights, follow MTM on Twitter, Facebook, and Instagram.
You May Also Like…