Last Updated on March 23, 2020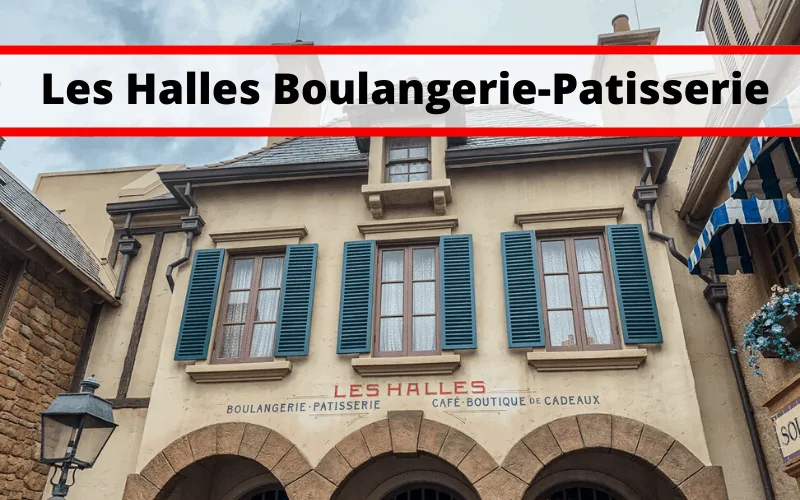 Sample delectable treats and tempting delicacies at this traditional French bakery—from soups and salads to fresh baguette sandwiches and pastries. Wine, champagne, beer and gourmet coffees are also available. Bon appétit!
This French-themed restaurant is tucked away in the back corner of the France Pavilion of Epcot and it's made to resemble a quaint French bakery.
When the France pavilion opened in 1982 there was a bakery there named Boulangerie-Patisserie. It was small but popular, so it was closed down and moved to a new location…the next building over. The new and improved bakery was opened in 2013 and was renamed Les Halles Boulangerie-Patisserie.
The new shop was moved into its current location and the gelato shop, Les Glaces (which is also delicious), took over the original building.
There is indoor and outdoor seating, but as it is located next to the shops, it tends to get crowded during the day.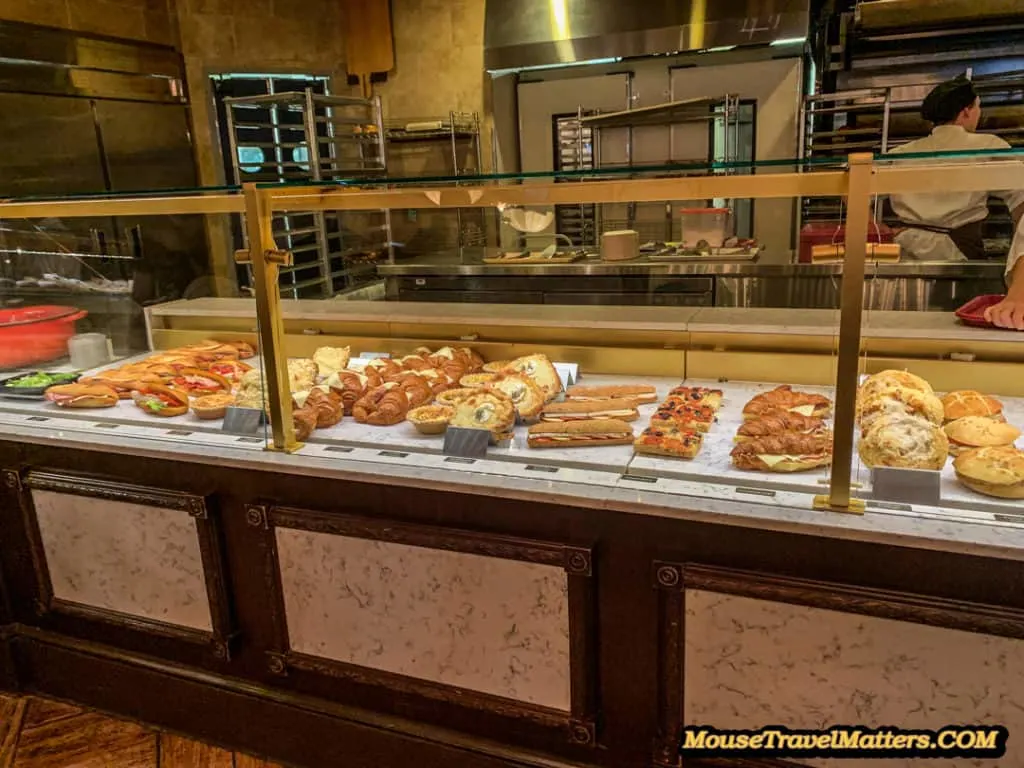 The serving area is roped off to make room for a line to form. The glass displays that hold the food are set up in a U-shape and when you reach the front of the line a cast member will meet you there. Guests alternate by going right or left (don't worry the same options are on both sides.) to choose their food.
A cast member will follow you with a tray and you simply tell them what you would like. Don't worry if you don't speak french, cast members have extensive English language training, though don't be afraid to practice your rusty french skills when you get the chance. My kids love when I show off any chance I can – mostly because they don't understand when I screw it up.
Frosé Slush
The Frosé slush is a few favorite of mine, especially since we conquered the Monorail Pubcrawl last August.
This delicious frozen beverage is made with Frozen Côtes de Provence rosé, vodka, lime juice and strawberry. It has a stronger lime flavor than the Frosé Slush found at other locations like Geyser Point Bar and Grill at Disney's Wilderness Lodge.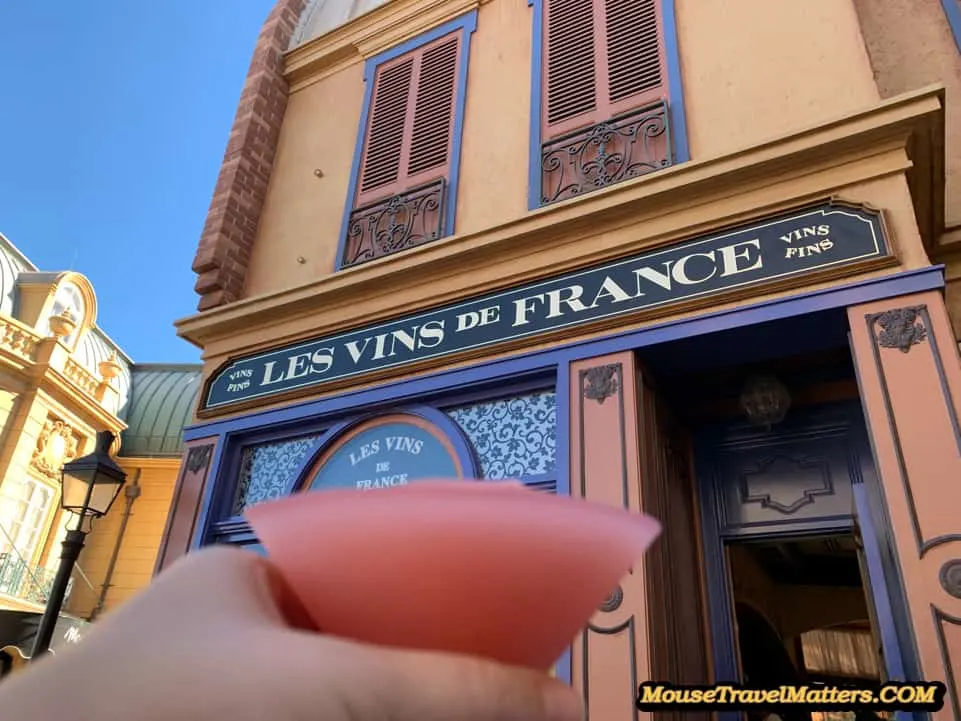 Tart au Fraise
This tart filled with vanilla cream and topped with glazed strawberries. This is one of the bakeries prettiest snacks, and quite delicious. The crust is flaky, and the sweet cream and tart strawberries make a perfect combination that is akin to strawberry shortcake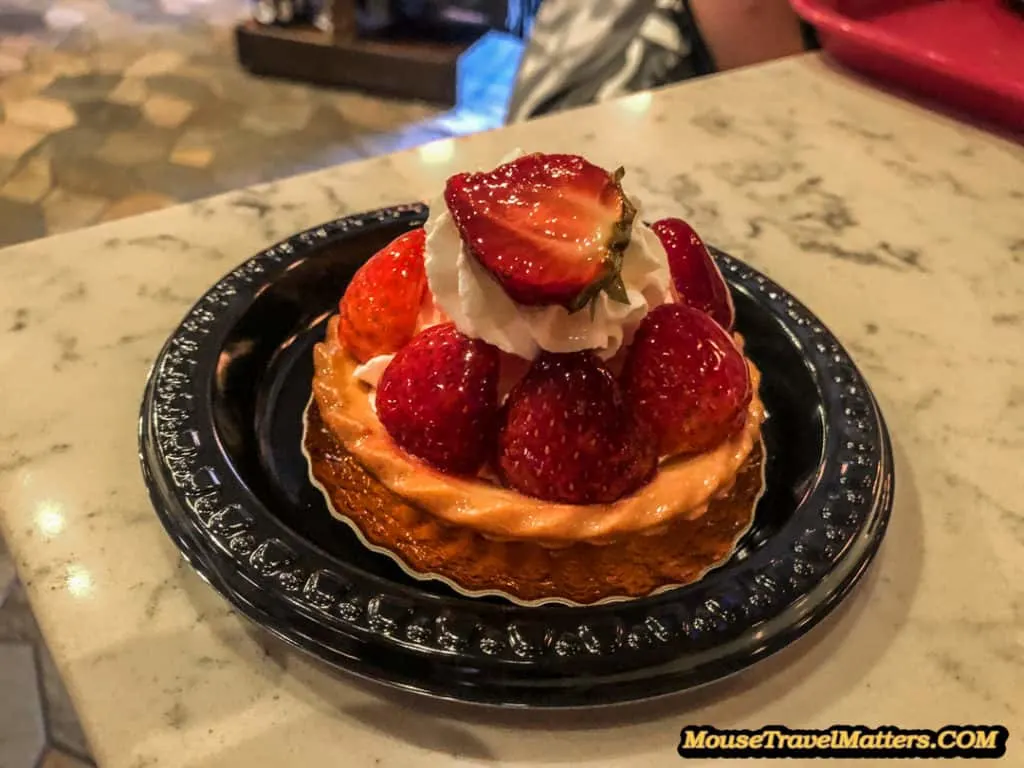 Eclair au chocolate
There are two types of eclairs served here – the chocolate-filled and the custard-filled. While I am used to my eclairs to being room-temperature, I can understand that these may be made the night before and refrigerated to keep from spoiling.
This means the filling is gooey and flowing as I would prefer, but an eclair is still an eclair and they are amazing regardless.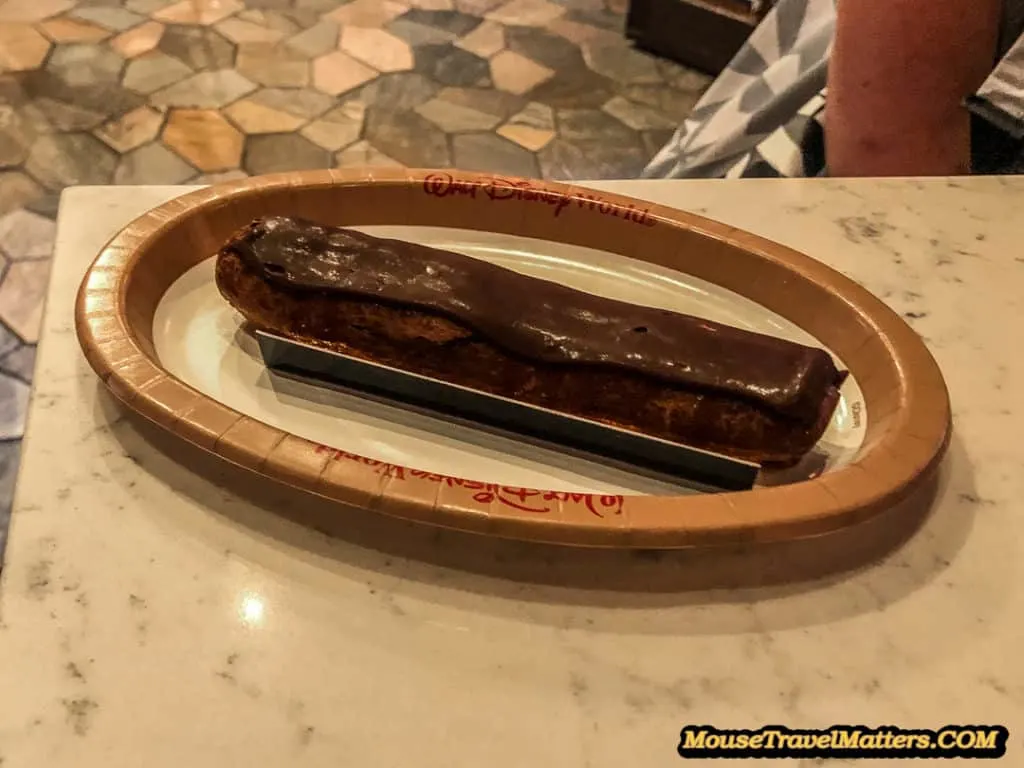 Beignet
This is not the same as the Port Orleans Beignet that resembles Princess Tiana's creation. This beignet is straight from France.
I remember walking along the beaches of the French Riviera with the kids and having the ice cream carts follow us in hopes of selling some sugary goodness to the family. Unbeknownst to them, we were following the beignet cart. He made his appearance twice a day, like clockwork and we would break change at dinner just to be able to have exchange coins for him the next day.
They are warm, deep-fried donut-like pastries filled with Nutella (and not the hazelnut chocolate spread knock-off to avoid copyright, France only uses the real thing) and it is amazing.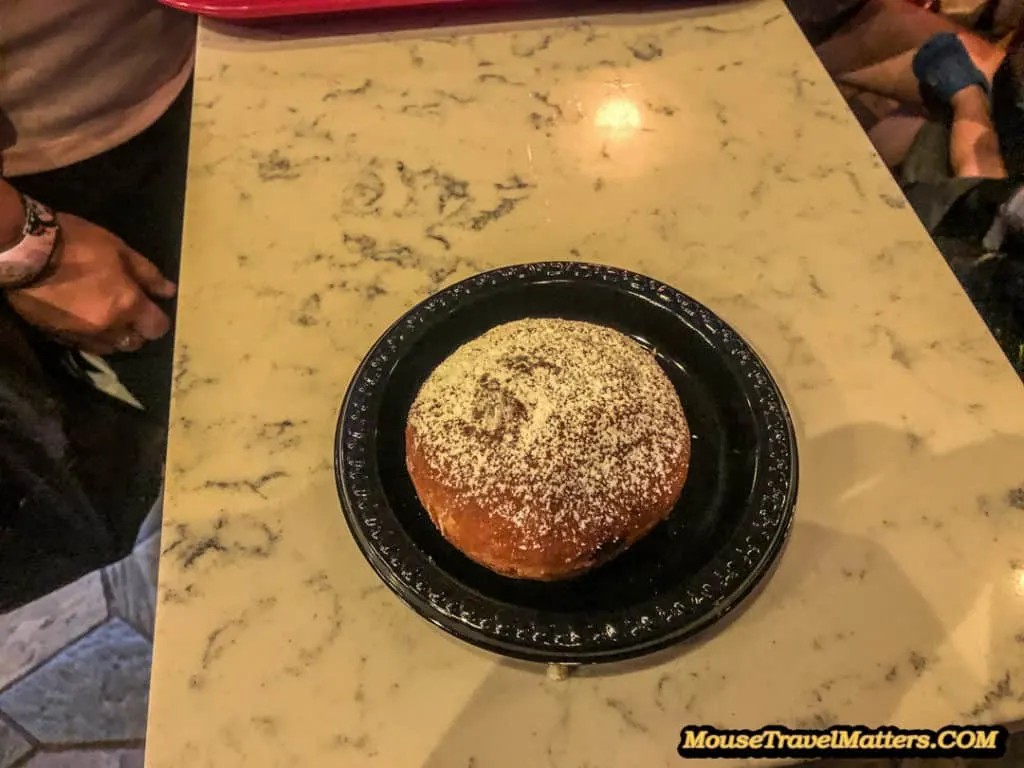 Macaron – Raspberry lime
This is a snack credit, worth $5.75. Inside the macaron shells are raspberry jam, whole raspberries and dollops of lime meringue. Crunchy outside, with a soft and delicate inside, it is definitely on our must-have list.
There is also a box set of Macarons available for $10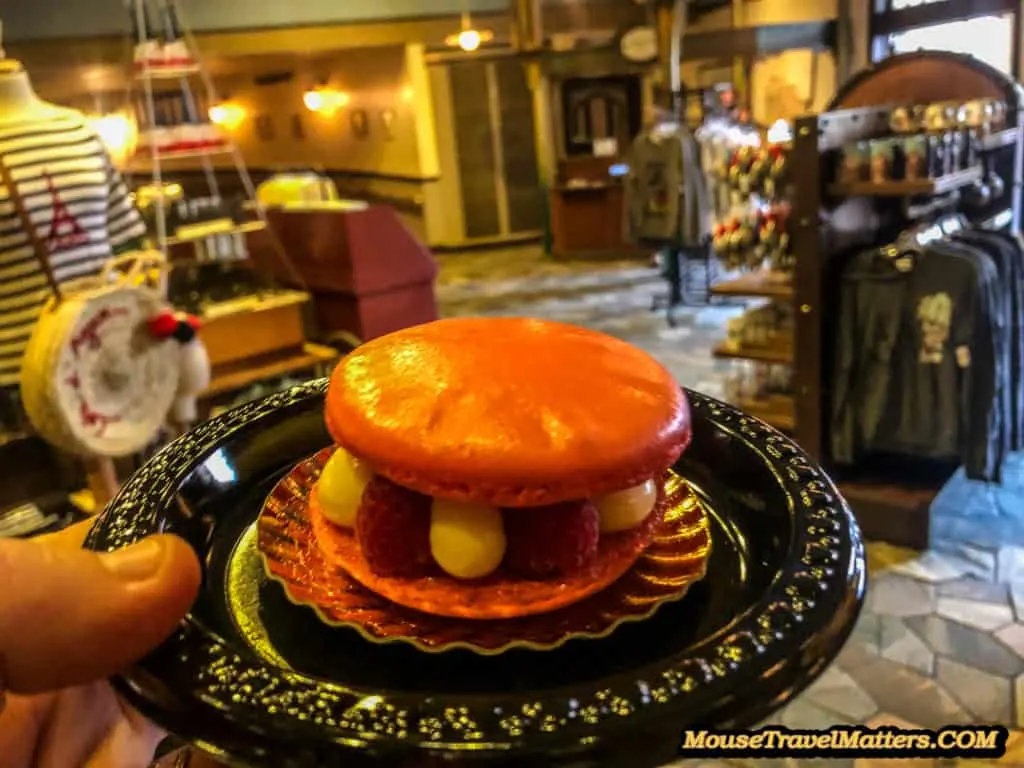 The savory options available include soups, salads, hot and cold sandwiches, quiche, bread, and cheeses. Again, many selections, including a lobster bisque and a ham & cheese croissant, are available for a Disney Dining Plan snack credit.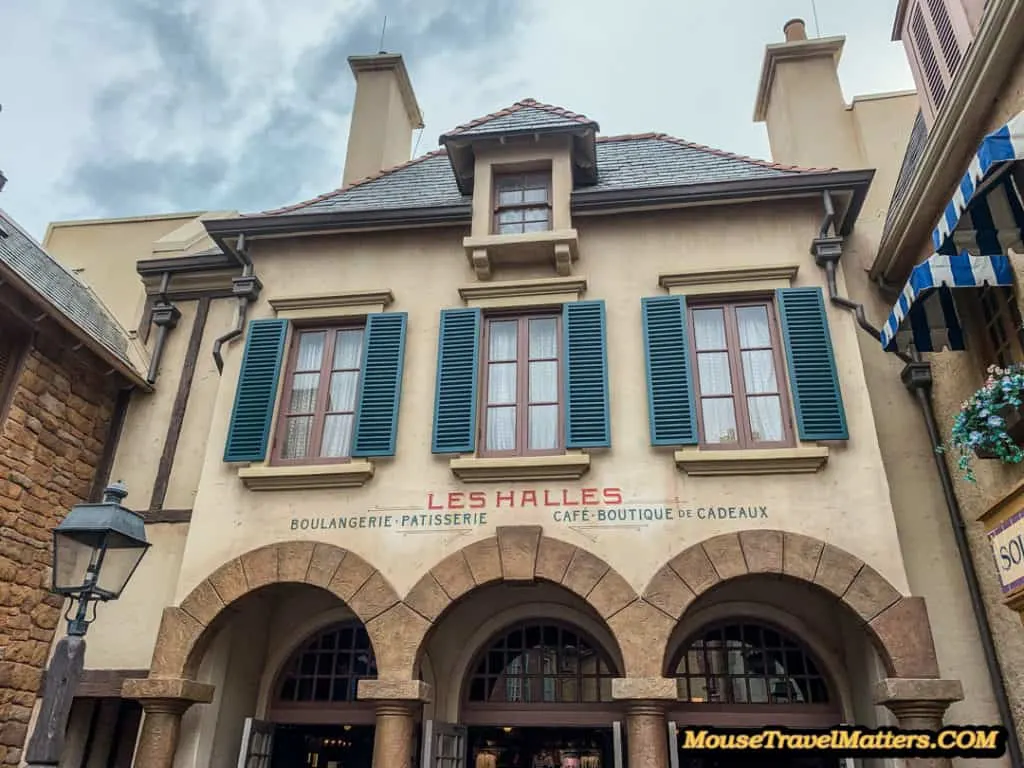 Overall, we found Les Halles to be a must-visit, especially if you have the time to visit France pavilion. The food is as beautiful as it is delicious and the large display of items makes it easy to pick out your favorites.