Last Updated on October 21, 2019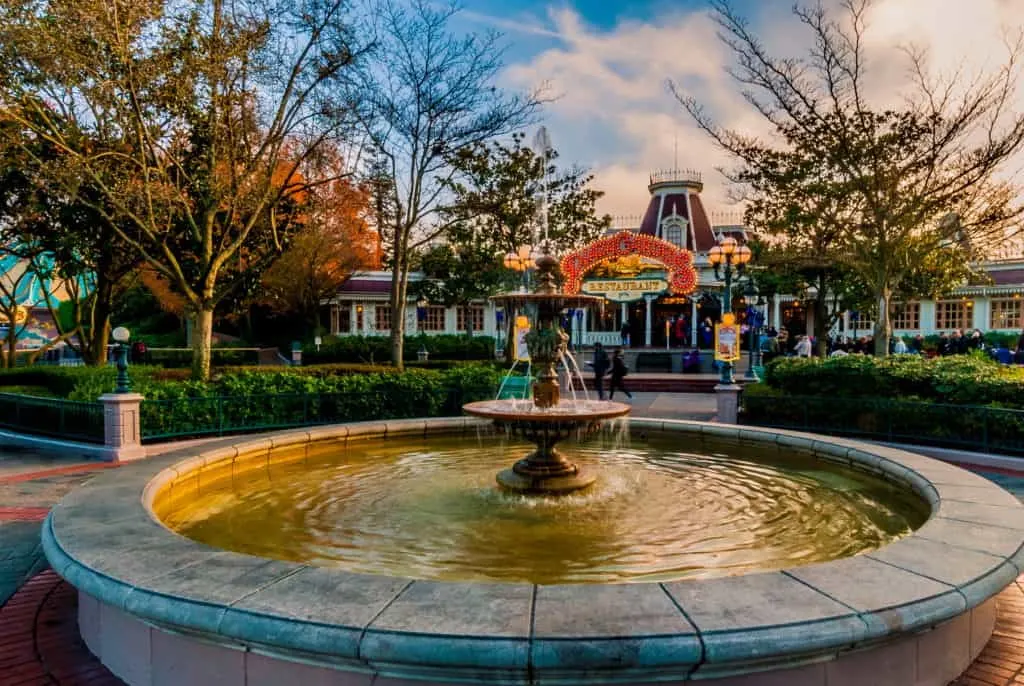 Plaza Gardens Restaurant in Disneyland Park is 1 of only 4 character dining experiences in Disneyland Paris. Plaza Gardens is also the only restaurant to offer a character breakfast.
At Plaza Gardens Restaurants, you will enjoy an American-style buffet that is sure to make you smile, all in an elegant Victorian atmosphere. The menu is available in advance
Located around the corner from Main Street U.S.A, Plaza Gardens is very easy to find, especially first thing in the morning. When making a reservation, you can choose between two seatings: 8:15 a.m. and 9:45 a.m. As the Park opens at 8:30 am for Early Magic Time, already being in the park, snug between two very popular lands and in the middle of breakfast is a great way to start the day.
Because Disneyland Paris Plaza Gardens is within the park gates, a valid park ticket is required to gain entrance to the restaurant. You do not, however, require Early Magic Time access. Main Street USA is open to all onsite guests at 8 am and 9:30 am for offsite guests, but with a printed confirmation of your reservation, off-site guests will be allowed entrance to Main Street. There are more Cast Members at the entrance of Early Magic Time accessible lands and they will be checking for specially marked the Entrance Passes.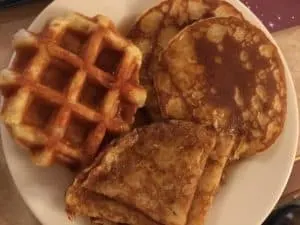 A full rotation of the characters takes about 1 hour to complete, the extra time is given in case a character gets distracted or guests were late for their reservation and are waiting for the character to do their second lap.
There were cereals, fruit and yogurt, bacon, scrambled eggs, veal sausages, waffles and maple syrup, bread, pastries and of course Nutella, milk, water, juices, tea, coffee and hot chocolate. This isn't much different than what is being served at the 'moderate' Disney hotels; Disneyland Hotel, Disney's Hotel New York, and Disney's Newport Bay Club. The price is fairly comparable to these hotels' buffet breakfasts as well, with the exception of adding 6 characters.
During the course of your meal, you will encounter several characters. They may vary from time to time, across the seasons, and they may wear different outfits, but the average available characters are Pooh, Piglet, Eeyore, Mickey, Daisy and Scrooge McDuck. If you have missed a character, please do not search for them; guests are asked to make a Cast Member aware of the oversight and the character will make their way back to you before you leave.
Plaza Gardens Restaurant is hugely popular so advance reservations are highly recommended and can be made up to 2 months prior to your arrival date. If you have made a Disney hotel reservation through Disney, you are entitled to book 60 days in advance and the reservation is attached to your name and hotel. All Disneyland Paris dining reservations can be made by +33 1 60 30 40 50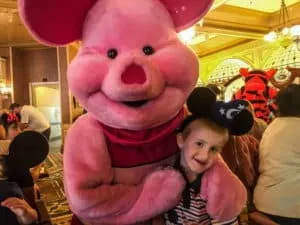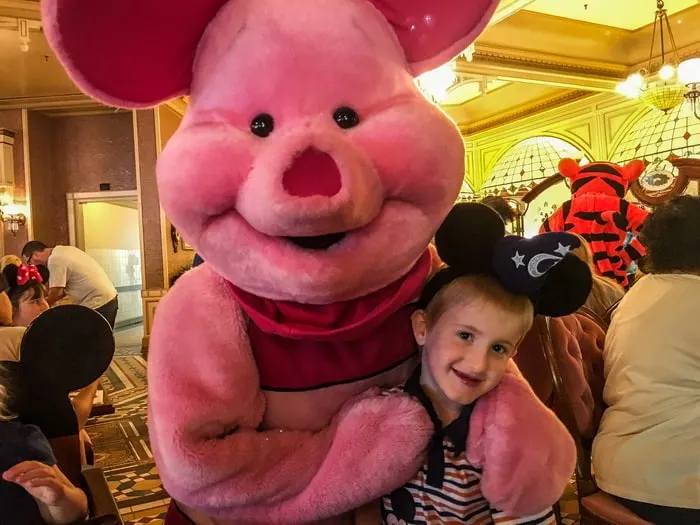 If you do not have a Disney Dining Plan attached to your account or are staying off-site, you will be asked to pay for the reservation in advance to hold your spot. If this is not practical for you, they do offer a 3 day in advance option where guests can pay at the door, however, during the busy season it is unlikely that there will be an opening unless there has been a short notice cancellation.
You can inquire at Guest Services at your hotel, City Hall at the entrance to the park or with the restaurant itself.
Premium Disneyland Paris meal plan will cover the cost of breakfast with Disney Characters at Plaza Gardens Restaurant. On the other hand, those on the Standard or Plus Disneyland Paris meal plan, the breakfast voucher is able to be deducted from the cost of the meal.
This difference changes every year and depending on whether you received the vouchers as a Free Meal Plan promotion or paid for the plan, but it is roughly half the cost of the meal.
For guests paying out of pocket, it will 34.99 per person plus tax. As a buffet, kids under the age of 3 are free.
Plaza Gardens is open for service during Lunch and Dinner, however, characters will be elsewhere in the Parks and other restaurants and therefore will not be visiting tables during this time.
Don't forget to check out our quick list of all available restaurants at Walt Disney World and Disneyland Paris.
Your Thoughts...
Please share your thoughts in the comments or reach out on social media...We would love to hear from you.
Follow Mouse Travel Matters for Disney Parks news, the latest info and park insights, follow MTM on Twitter, Facebook, and Instagram.
You May Also Like…
Secrets to Free Disney Dining Plan
How to Pack the Perfect Disney Park Bag Ever!
28 Disneyland Paris Tips for First Timers!