Last Updated on June 20, 2023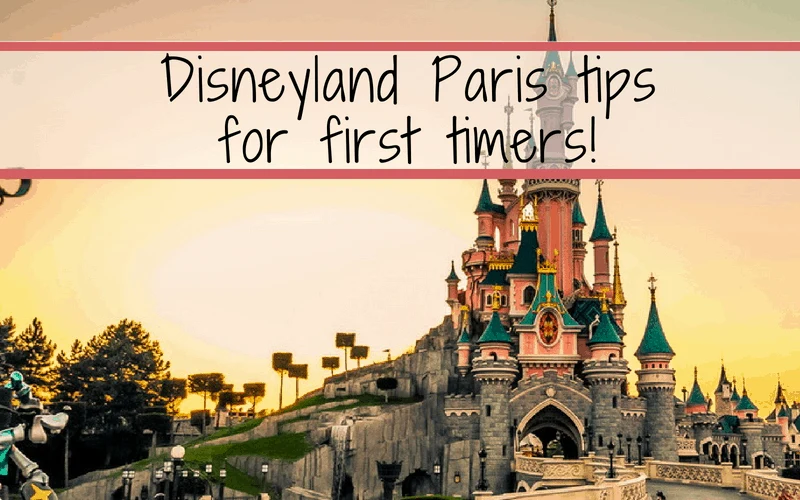 Disneyland Paris for First-Timers it can be hard going, with children even more so, looking after young children can be stressful at the best of times. If it is your first time in France experiencing French culture is another new experience to be had.
We love Disneyland Paris and have had the opportunity to visit many times. That said Mouse Travel Matter presents 28 Disneyland Paris Tips for First Timers! These are our first-hand tips from our days exploring Disneyland Paris as Disneyland Paris First Timers.

28 Tips to Make Your Day Brighter
If you haven't booked yet and can afford it, book at least 3 days as you can't get much done in a day, it takes time to get your bearings, and it doesn't give you room for a rainy day.
Plan plan plan your day! You will do so much walking and the wait times for things can be extremely long so know where you're going and what you're doing, otherwise, you'll spend ages just walking about doing nothing.
Take comfortable shoes or several pairs to alternate as you will walk a lot. After tracking our steps we were covering over 12 Km a day pushing a buggy.
Take water bottles and concentrated juice and fill up at the fountains around the park. You'll save a fortune.
For great photos and inspiration, follow us on Instagram.
Make your reservations for dinner early as otherwise, you'll end up just eating burgers and fries.
Book advanced dinner reservations for character dinners if you can, it's fantastic. We saved this for our last night and our kids met so many characters in such a short space of time included Mickey whom we refused to queue for the day before (just too long and too hot to even try)
If you have a non-walking baby or even just a small child, take a baby sling or carrier. You can't take strollers into the queue and when you're waiting over an hour for a ride, your arms will start to hurt holding them the entire time.
Take some snacks from home. We didn't need as much as I packed as we were so full from breakfast, but it was handy to have them if needed (especially when trying to keep little ones happy in queues)
This post may contain affiliate links.
To which I earn a small commission, at zero cost to you!
Find more info in our
Privacy Policy
.
Ensure you get to see Mickey and the Magician, the Disney Stars on Parade and the Disney Illuminations Fireworks show. Find your spot about an hour before these events start as many guests start waiting quite early! These definitely helped make our holiday and I'd highly recommend not missing them.
Take layers and waterproofs.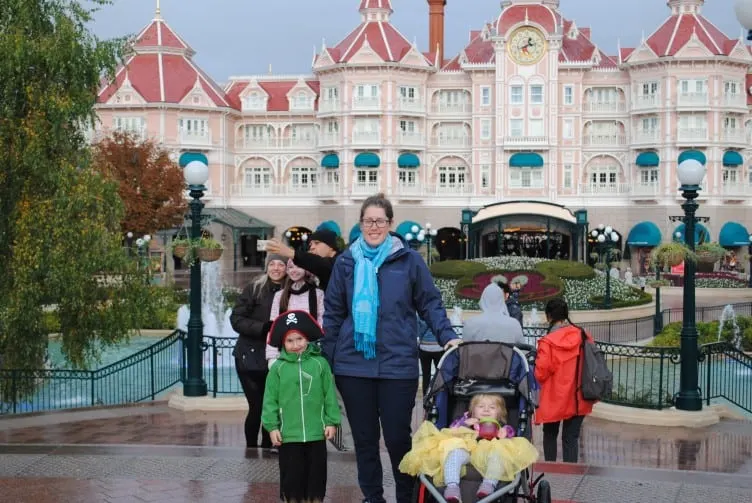 Download the free Disneyland Paris Mobile App, which can show you your current location in the park and is handy to see quickly where things. It also displays current wait times for rides!
We recommend dining at Bistrot Chez Rémy. This sit down restaurants decor is fantastic and the food is lovely. Ratatouille: The Adventure next door is brilliant! You shrink down to the size of Remy and duck, dive, dodge and scurry to safety in a dazzling chase across a gigantic kitchen.
Allow lots of time for meals in restaurants. 1.5 hrs for a 2-course meal minimum.
For those travelling to Disneyland Paris with Kids, be sure to tie something unique such as a ribbon to your buggy if taking one. You wouldn't want to walk off with someone else's after a ride or lose yours in a sea of strollers.
As Disneyland Paris First Timers we planned to spend all day in the park, as it can be a good 20 min walk back to the hotel so we avoid the trek back until evening. Little ones can sleep in the stroller and parents can use Rider Swap.
If riding the Magical Shuttle between Roissy-Charles-de-Gaulle airport and Disneyland Paris. It's really not obvious at all where to catch the bus. Follow the signs for generic buses from Terminal 2E and then look out the window for yellow coaches. There is no Disney sign.
Be prepared for bag checks and x-ray machines when entering Disney Parks and Hotels.
Seasoned Disney Fans use ID holders around their necks to hold their tickets, fast passes, photo pass etc. It will save you the bag shuffling.
Prepare yourself for lots of queues. Even when visiting off-peak it can be very busy and quite warm waiting in the queues without shade or covers. Hats and water are a must to prevent dehydration.
If staying on-site at a Disney Hotel, every morning at breakfast there is a character outside the restaurant (you don't need to be having breakfast for this) with an official photographer for the meet and greet, in some of the hotels. Call to see if your hotel has this option. The wait is never long and you are only competing with fellow hotel guests, not the whole park
If you aren't watching the parade, use that time to explore Walt Disney Studios Park around 4 pm. It's much quieter for rides at that time.
If renting a stroller, it is best to rent on the day you want to catch Illuminations, as it's not till

11 pm in the summer months. T

his way your kids can sit back and chill out whilst you wait.
If you have purchased your Disneyland Paris package with Free Half Board Plus like us on occasion, and it is a good thing it was free because paying for it wouldn't have been worth it. Princess lunch at Auberge de Cendrillon took 2 vouchers and we only had 1 left so we still ended up paying for half the meal. Bistrot Chez Rémy required the extra addition of dessert and drinks, and Plaza Gardens was only half off since the breakfast voucher doesn't cover the whole cost, just a lunch voucher – to be used during actual lunchtime. Full Board Premium or nothing for us.
During Extra Magic Time, there are meet and greets for Minnie, Donald and Chip & Dale.
If you plan on taking any Photopass+ pictures, it is worth buying in advance since it is cheaper and a lot more trouble to buy it after you arrive.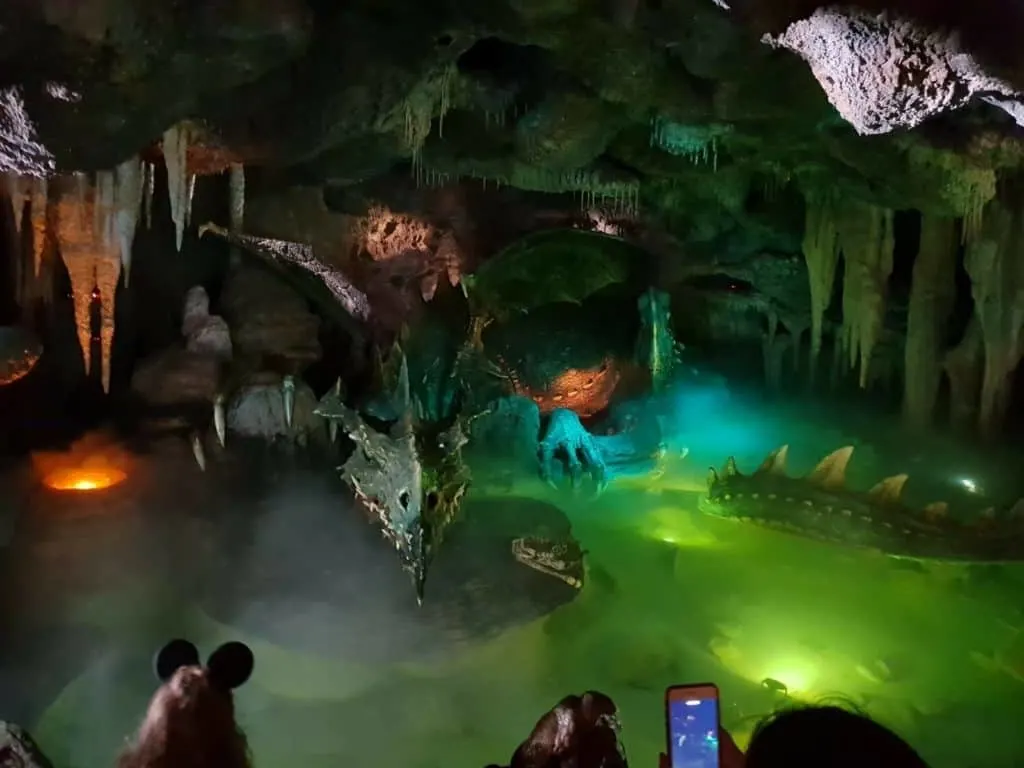 Yes! There's is a Dragon under the castle; "La Tanière du Dragon". For Disneyland Paris First Timers, it is not to be missed.
Don't worry if you don't speak French, the majority of the Continent doesn't either. You will be fine.
European attitudes are a bit different from North America. They're Not Rude, They're Just French. They may appear rude or indifferent, that's not it – they just do it differently. Walt Disney World has different magic all its own. You may find that Europeans don't have much tolerance for "personal problems" or "do you know how much I paid for this vacation?" type attitudes. It's part of the Disney experience worldwide to explore cultures.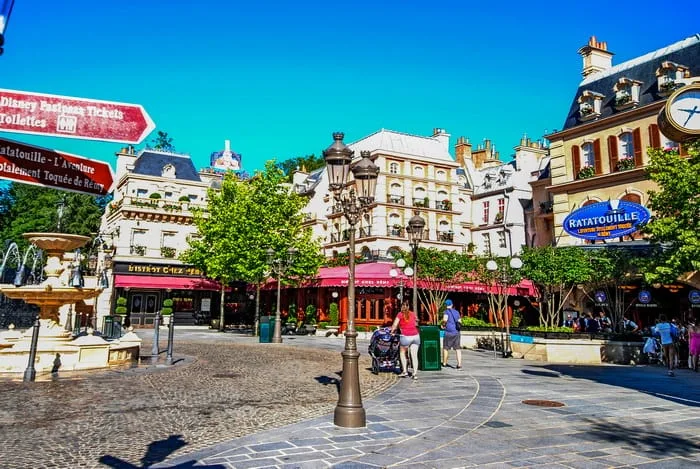 Bring a portable charger. Taking all those pictures are going to kill your battery and you can't rely on public outlets when you are on the proverbial clock.
Take advantage of FastPasses. You may not be able to book in advance, but that doesn't mean you can't think about it strategically. Plan which attractions you want to FP and in which order.
Never pay for water. All quick service locations, plus the water fountains at all restrooms, have free drinking water.
Take a picture of your parking spot. Cause let's be honest, when you are that tired, you will not remember where you parked.
Buy your tickets online. It's cheaper!
Get a special occasion button. Considering it's your first time, you will want to celebrate with a fancy new Disney pin. And they are free!
Have your shopping sent to your hotel room. No need to carry anything around with you, just have the store send everything to your hotel gift shop, and collect it tomorrow.
Use the single rider line. If you have zero intention of riding those scary attractions with your partner, send them through the single rider line and watch as they sore to the front of the line and fill in those empty seats.
Or the Rider switch system. If your little ones can't or won't ride a certain attraction, no one has to choose to stay away. The rider switch system allows everyone a chance to ride while the other parent watches the children.
Eat at weird times. Most people like to eat at noon and 5 pm. If you can muster the strength to eat well before or after these times, you will have much better success in securing a table, and the kitchen staff won't be as busy.
Use a Stroller. You may not think your littles ones require a stroller anymore but this is Disneyland Paris! The number of Miles you and your family will walk in a single day is incredible. Add that to the heat, less of sleep and overwhelming nature of Disney, and you have a recipe for disaster. Even if you park it in the morning and only grab it after lunch, you will thank yourself for it later.
Are you ready for a European adventure including Disneyland Paris? We hope this gives Disneyland Paris First Timers the info needed for a great time at DLP.
Your Thoughts...
Please share your thoughts in the comments or reach out on social media...We would love to hear from you.
Follow Mouse Travel Matters for Disney Parks news, the latest info and park insights, follow MTM on Twitter, Facebook, and Instagram.
You May Also Like…