Last Updated on July 26, 2020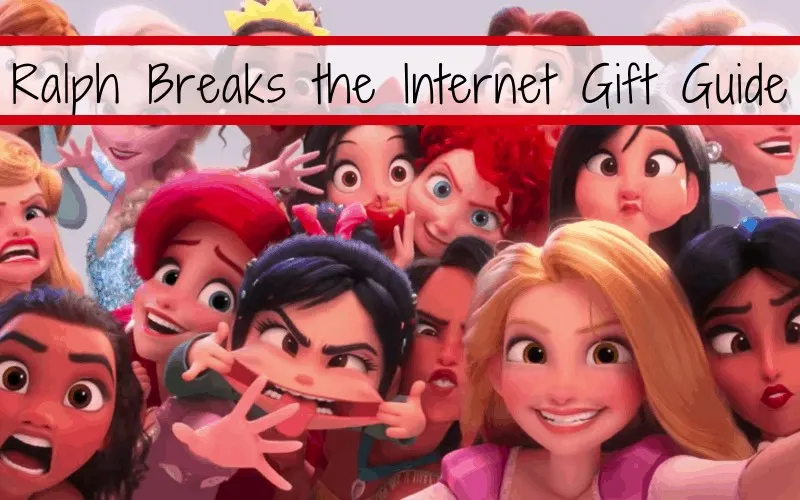 With the holidays around the corner, we wanted to share with you a Ralph Breaks the Internet Disney gift guide to help you choose that perfect gift for your loved ones.
Some family members are a little harder to shop for, and mindlessly searching the internet for ideas can leave one distracted and/or overwhelmed.
We have been waiting to see Ralph Breaks the Internet before creating this gift guide; mostly because I didn't want to spoil it for myself by knowing about too many characters. But mostly, it was because we didn't want to look at toys that we weren't sure would play well from the movie.
This post may contain affiliate links.
To which I earn a small commission, at zero cost to you!
Find more info in our
Privacy Policy
.
Funko Pop; main characters
If you've never heard of Funko Pop, don't worry. I hadn't until recently. I see them all over the internet and in the Disney stores and haven't paid too much attention to them until I saw their Wreck it Ralph collection. Funko creates vinyl Pop culture figures and bobbleheads, hence their unique style and size.
They also make for great photos while visiting Disney.
Funko Rock Candy Princesses
There are two sets of Funko princess collections; regular Disney princess, from their proper movie, and the "comfy Princess" which refers to their Ralph Breaks the Internet cameos.
Plush
Even if the kids are too young for toys and figurines, they will still appreciate these cute and cuddly plush stuffies.
Power Pac
Pac-Man: Ralph Breaks the Maze is a video game made & published by Bandai Namco Games for Android & iOS platforms in 2018. It's a crossover with Wreck-It Ralph series & other Disney characters in reference to his appearances in Ralph Breaks the Internet.
Now you can display your favourite Disney's Ralph Breaks the Internet Power Pac figures in the Power Pac Displays. Each display represents different locations from the movie. Show off your Power Pac figures in the Power Pac displays representing iconic locations in the movie. Each has the iconic look, but turn it around, push the button and display the figures inside. Includes exclusive Power Pac figure which can be added to the PAC-MAN App for more play!
In general, the role of the characters is to serve as a support or as an obstacle for Pac-Man, using their respective abilities:
Wreck-It Ralph – Wrecking
Fix-It Felix Jr. – Fixing
Vanellope Von Schweetz – Glitch Portals
Sergeant Calhoun – Shooting
Cy-Bug – Eat & transform in ghost
Each character costs $1.99 (before cost $6.99, the price was changed due to the numerous complaints of the users). You can also unlock them using input codes of the Power Pac toys of Ralph Breaks the Internet
Available for Pre-order Ralph Breaks the Internet here \/
Books
During the month of December, we wrap one book and have our own candy-less advent calendar. It's a great way to give books to the kids, and have a Christmas countdown at the same time.
Princess Casual Shirts
Each of the Disney Princesses had their own comfy shirt with a personalized message, based on their movie. While Amazon doesn't have any of these, probably because they aren't being sold by Disney themselves, Etsy is the place to find them. Don't forget to click on the picture to get to the store for sizes and prices.
Misc

Perfect for Munchkin how about a mini arcade for Christmas. The controllers look easy enough to maneuver; we think they will love it. Here are a few more gift ideas that don't fit into any of the other categories.
Your Thoughts...
Please share your thoughts in the comments or reach out on social media...We would love to hear from you.
Follow Mouse Travel Matters for Disney Parks news, the latest info and park insights, follow MTM on Twitter, Facebook, and Instagram.
The posts and pages of Mouse Travel Matters
do contain affiliate links that we earn a small commission for,
they come at no extra cost to you!
You May Also Like…
Ralph Breaks the Internet Fluffy Pancakes
Ralph Breaks The Internet: Wreck-It Ralph 2 Info With Official Teaser Trailer
Gender-Neutral Disney Gift Ideas Around the Web
25 Disney Christmas Movies to Have Your Own Christmas Countdown