Last Updated on March 2, 2020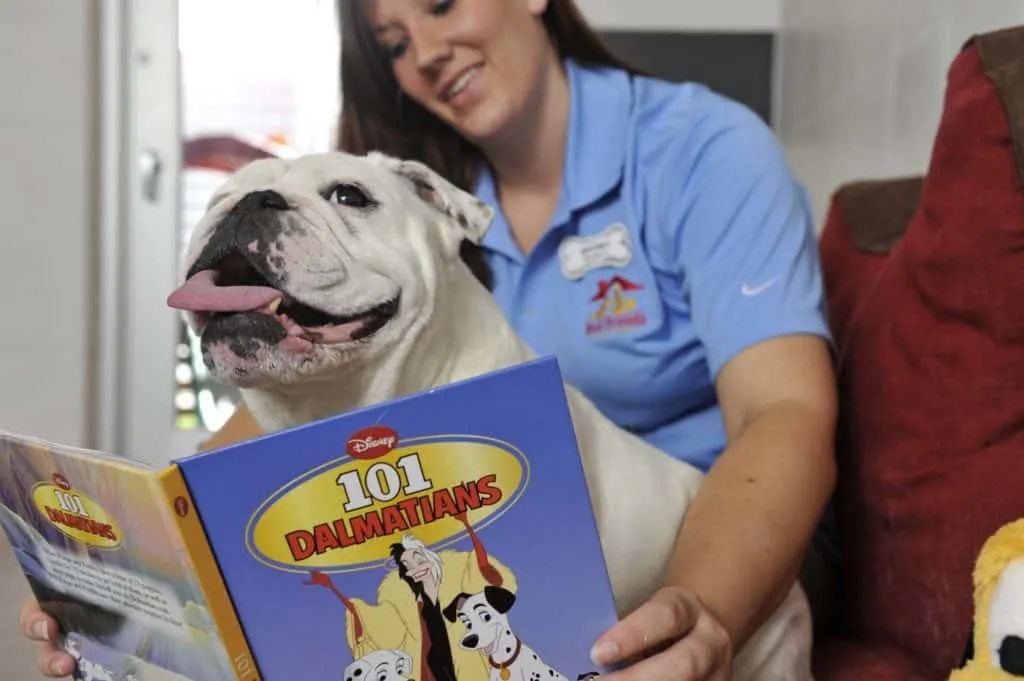 Want to bring your dog to Disney World? Good news! Disney now offers special accommodations and perks for pet owners — including a separate "theme park" for dogs
Dogs now welcome to some Walt Disney World Resorts
According to Disney, dogs may travel to a dog-friendly resort on Disney's Magical Express motorcoach in the passenger cabin while in a pet carrier. The pet carrier must be provided by the owner, and it must be able to fit safely in a seat on the motorcoach.
The dog-friendly resorts and extra cleaning fees are as follows:
Disney's Art of Animation Resort $50/night
Disney's Port Orleans Riverside Resort $50/night
Disney's Yacht Club Resort $75/night
Cabins at Disney's Ft. Wilderness Resort $50/night
Here are a few details of the new pet policy:
Disney designates a certain section (or floor) of these hotels to be dog-friendly. The other sections of the hotel will remain off-limits to dogs.
Disney allows a maximum of two dogs per room.
Must have up-to-date vaccinations
Must use the "Do Not Disturb" door hanger (housekeeping can only come in when guests are present)
Can't be left alone for more than 7 hours
The designated dog-friendly rooms have quick access to outdoor pet walking paths and open green spaces to give them exercise and "relief."
Some of the perks of dog-friendly accommodations include:
Guests will receive a "Pluto's Welcome Kit" of dog-friendly items upon check-in.
Guests staying in dog-friendly rooms will have access to Best Friends Pet Care, a full-service pet facility on Disney World located property (see below). Best Friends Pet Care can provide pet daycare, grooming and other services (extra fees apply).
Service dogs are allowed in Disney Park
All Orlando hotels, theme parks and attractions comply with the Americans with Disabilities Act when it comes to service animals.
While service animals are welcome everywhere, companion animals are not. Both Disney World and Universal Orlando Resort consider pets and emotional support dogs to be companion animals, so they are welcome in some, but not all locations.
Rules for Dogs in Disney World Hotels
The new room policy includes rules for keeping your pet on property with you. Keep in mind that these rules cover companion animals only. Your service animal is welcome in all resorts and theme parks in Orlando.
Dogs may not roam the grounds and must remain on a leash at all times. There are designated rest areas at each of the four resorts specifically for your dog and each of the dog-friendly rooms are close to pet walking and rest areas.
You may bring up to two dogs per room; there are no breed restrictions.
Bring your own food, toys and bedding, but you'll also receive Pluto's Welcome Kit when you check in
Dogs are not permitted in pools, ponds or fountains.
What's in Pluto's Welcome Kit?
Every dog that checks in gets a frogtastic welcome — a Pluto-themed kit to make your stay easy and fun. Pluto's Welcome Kit includes:
Pet Identification Tag
Food Mat
Food bowl
Water bowl
Bandanna
Map to walking paths
List of dog friendly areas
Best Friends Pet Care at Walt Disney World
Walt Disney World also has its own doggie daycare. Located just outside of the parks and resorts, Best Friends Pet Care is like Disney World for dogs.
At Best Friends Pet Care, your dog is in great hands. Not only are there 45 highly trained staff members, but your dog will have the time of its life in the facility's 17,000 square foot air-conditioned area, 10,000 square feet of outdoor runs, and 25,000 square foot dog park.