Last Updated on February 22, 2020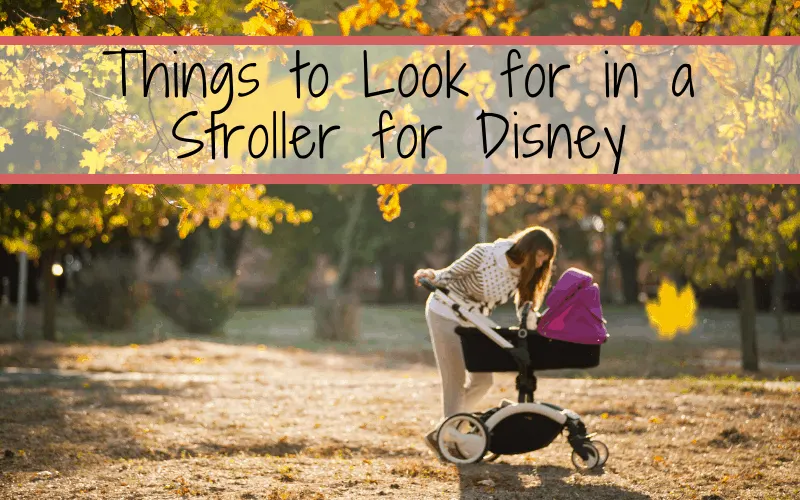 Are you looking to buy, rent, or borrow a stroller for your Disney park trip. Here at Mouse Travel Matters we like to be as mobile as possible but look forward to the day when all we need in the park is our Disney Park Bag.
Check out our Top 10 things to look for in a stroller:
This post may contain affiliate links.
To which I earn a small commission, at zero cost to you!
Find more info in our
Privacy Policy
.
1. Safety
Great safety features are key and you should always make sure every stroller you purchase has them!
Ensure it has a safety belt to buckle your child in.
Have locking wheels
It can get very busy at Disney parks and strollers can get bumped.
You cannot go wrong with quality tires.
2. Large Basket
Another one of the things to look for in a stroller for Disney is to have a large basket at the bottom to hold everything from awesome souvenirs to spare (spare) diapers! You will be grateful at the end of your Disney day for the extra storage!
3. Cup Holders
Cup holders are a must for not just the kids but for parents as well! Room saved in your storage basket for purchases will be a huge benefit. The stroller you choose should have the extra cup holders you need for those bottles of water!
4. Comfortable
Sleep is generally the big benefit of a comfortable stroller. Your child may be spending a lot of time in their stroller, especially if they fall asleep in it. Rented strollers can often be hard plastic, so finding a stroller with a cushion for your child is key.
5. Recline
Disney Parks is hours of fun, your little one might be out for the count. If they sleep well in a stroller, there is no reason for you to head back to the resort! Recline that stroller and then keep on exploring!
6. Adjustable Wheels
Not necessary, but it will come in handy when trying to navigate through crowds. Strollers with wheels that easily swivel will be perfect for the parks!
7.Canopy
The combination of the hot Florida sun plus parks with little shade makes having a canopy for your stroller a must!
8. Lightweight
You will have to fold the stroller when getting on and off trams and Disney transportation, so a lightweight stroller is a must! Make sure it is easy to fold up also!
9. Easy to clean
Make sure that whatever stroller you bring to Disney World is made of fabric that is easy to wash! Little hands with Mickey Bars and cotton candy tend to stain a stroller and you'll want to wipe away any mess!
10. Adjustable Handles
Most small strollers that are lightweight and great for traveling feature short handlebars! That works for parents that are under 5'4"! Look for a stroller that has adjustable handles, so it's comfortable for both parents!
Check out Mouse Travel Matters Best Strollers for Disney & Theme Parks these picks have many of the features above.
Your Thoughts...
Please share your thoughts in the comments or reach out on social media...We would love to hear from you.
Follow Mouse Travel Matters for Disney Parks news, the latest info and park insights, follow MTM on Twitter, Facebook, and Instagram.
You May Also Like