Last Updated on June 22, 2020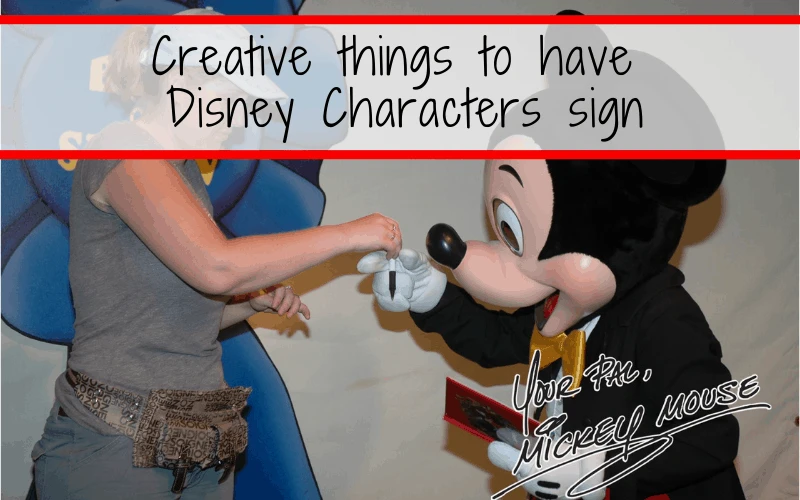 Get creative with your Disney character autographs. Here are some unique ideas for you to consider.
We did autographs on our first Disney trip together as a couple, then again on our kids first trip to Disney. Autographs, however, haven't been much of priority since.
Our autograph books are sitting nicely on the bookshelf, we peruse it every few months and remember the great times we had at Disney, then it goes back on the bookshelf.
Wouldn't it be great if we had a creative and unique way to display our autographs on a regular basis? One that would be displayed prominently in the house, like a great piece of Disney Art.
These 20+ Creative ideas for collecting Disney Character Autographs will give you plenty of options for remembering your special visit with your favourite characters!
This post may contain affiliate links.
To which I earn a small commission, at zero cost to you!
Find more info in our
Privacy Policy
.
What will Disney Characters autograph?
Click here to find out exactly which characters will sign autographs at Walt Disney World.
For the Disney Display Case
Disney Golden Books
Photo Frame Mats
Polaroid snaps
Things Made from Fabric
Backpacks – in order for this one to work, the bag needs to be fabric, and not plastic or vinyl-covered. In order to set the marker, I would iron it and then soak it in cold strong saltwater (just as you do when dying a garment). Afterward, wash in cold water only.
Big Mickey Gloves,
Quilting squares – After the trip, combine the autograph squares with cute Disney material to make a blanket that will be cherished forever!
Tree Skirts
Stockings
Stuffy
T-shirts, Sweatshirts, Jackets, Hats

Disney characters are more than happy to sign clothing, including t-shirts, as long as you aren't wearing them. Be sure to bring a fabric pen with you so the ink doesn't run after the first wash.

Pillowcases
Ceramic Items
Plates – you will need to use special acrylic paint markers made for ceramics and fabric.
Coffee Mugs
Ornaments. This makes an excellent craft and Christmas decoration
Scrapbooking Those Signatures
3×5 or 5×7 index cards, they turn out great when you add them to your layout
Park Maps, especially the high-quality ones you order from Disney
Posters
Handmade Autograph Books
PhotoBooks from last years vacation. Include a few pictures from the parades so they have somewhere to sign if you didn't have a meet and greet with them before.
Tips for Collecting Disney Character Autographs
Please keep in mind that it is hard for costumed characters like Mickey and Donald to see your items to have signed. Don't pick items that are too small or they will have a hard time signing it.
Permanent markers work best on cloth, canvas, autograph books, and plastic. Easy to open clickable Sharpies are what the characters and their handlers prefer.
If you do have a traditional autograph book or a book I mentioned above, write your address in it. If you lose or forget it, Disney will mail it back to you for free!
For anything plastic like ornaments, lunch boxes, etc. cover the autograph with mod podge or clear nail polish to prevent it from rubbing off.
For plain white ceramics like plates and coffee cups, bake at 350 degrees for 30 minutes.
Your Thoughts...
Please share your thoughts in the comments or reach out on social media...We would love to hear from you.
Follow Mouse Travel Matters for Disney Parks news, the latest info and park insights, follow MTM on Twitter, Facebook, and Instagram.
You May Also Like…
2020 Disney Parks Trip Planning Guides
Disney World Character Dining At-a-Glance