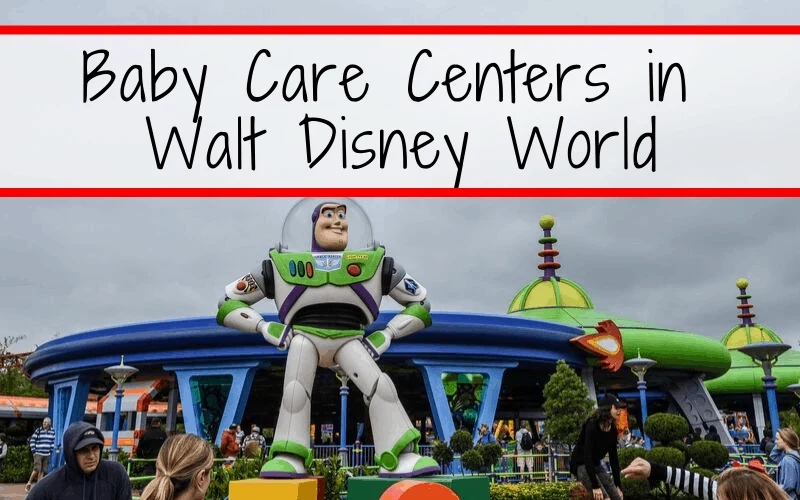 If you're visiting the Walt Disney World Resort with a baby or toddler, the Baby Care Centers may become your favorite location in the park. Each park has its own center, and each Baby Care Center includes nursing rooms, changing tables, high chairs, and more – giving you the ability to take care of your baby's needs in an air-conditioned environment away from the crowds.
This post may contain affiliate links.
To which I earn a small commission, at zero cost to you!
Find more info in our
Privacy Policy
.
The state of Florida allows mothers to nurse their children anywhere they would like to. As such, Walt Disney World is breastfeeding friendly and you can nurse freely throughout the parks. However, the Baby Care Centers offer private, dimly lit rooms with rocking chairs for mothers looking for a more relaxing atmosphere
Where are the Disney Baby Care Centers?
Baby Care Centers at the Disney World Parks: Each of the four main parks has very convenient baby care centers designed to make your life much easier. Dads can also use the centers and have access to most of the services and areas. Here are the locations:
Magic Kingdom: The Baby Care Center is between Casey's and the Crystal Palace.
Epcot: The Baby Care Center is in the Odyssey building.
Animal Kingdom: The building next to Pizzafari.
Disney's Hollywood Studios: The Baby Care Center is in the same building as Guest Relations.
Waterparks and Disney Springs
Disney's Typhoon Lagoon Water Park, Disney's Blizzard Beach Water Park and Disney Springs do not have a dedicated Baby Care Center, but the restrooms do have baby changing stations.
What's in the Baby Care Centers?
Even though you may tediously pack your bags for your Walt Disney World® Resort vacation, at some point you're bound to forget something you need. Each Baby Care Center also contains a store with products for your baby. From formula and baby food to diapers and wipes, whatever your baby needs, the store most likely has it. Baby Care Centers also have bug spray, sunscreen, and over the counter medicines for purchase.
The Baby Care Centers include the following:
Several diapers changing tables.
A bathroom with a small, toddler-sized flush toilet.
An area reserved for the use of nursing mothers.
Basic food prep equipment including microwave, ice, plastic spoons, and sink.
High chairs.
A seating area for other family members.
Items for sale including diapers, training pants (like Pull-Ups, but a different brand), wipes, baby food, formula, juice, pacifiers, baby lotion, diaper ointment, adult comfort items (deodorant, feminine hygiene supplies, over the counter medications), basic infant clothing, sippy cups, bottles, Purell, Pedialyte, child formulations of standard over the counter medications.
Air conditioning!
Baby Care Centers are the only location inside the parks where guests can heat food they personally bring with them. Restaurants in Disney are not allowed to heat items they did not prepare, including sealed baby food jars.
Do the Baby Care Centers have specific hours?
The hours vary, but they Baby Care Centers are generally open from 9:00 a.m. until park closing.
Inside the Walt Disney World Baby Care Centers
The parks are huge are there is only one baby care center per park, so we didn't do all of our diaper changes and nursing sessions in there, but it was just fantastic to have that option and meeting point when the baby and I broke off from daddy and the "big kid".
Pro-tip; If you need to store your breast pump while you are in the park, go next door to the First Aid Station and they will hold it for you for the day. The First Aid Stations are located next door to the Baby Care Centers in all four parks.
Entertainment
There is a room with a tv, and chairs to relax for older children while they wait for mum and baby.
Lost Children's center
The Baby Care Centers are the meeting spot for lost children. If a lost child is spotted in the parks, this is where the cast will bring them.
Join our facebook group!!!!
Ask any questions, share your knowledge and just enjoy getting to know other Disney fanatics in our facebook group called Walt Disney World And Disneyland Paris With Kids
Also, join me on Pinterest here.