Last Updated on November 18, 2019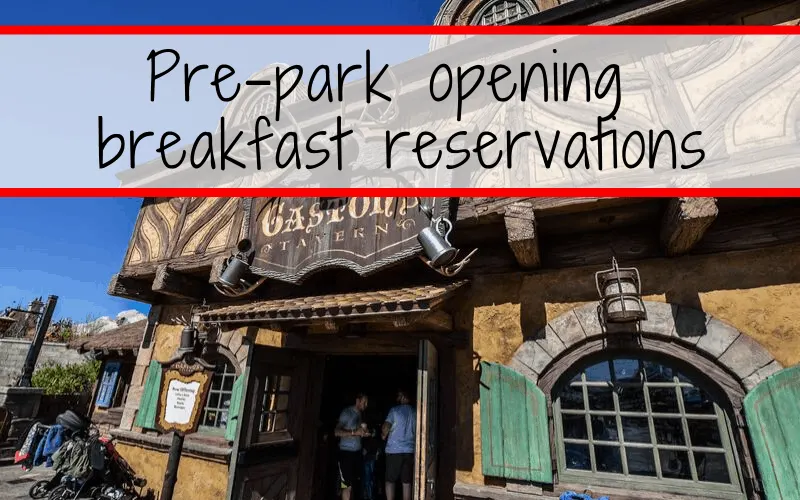 A Pre-Park Opening dining reservation, or PPO, is a reservation for breakfast before the park opens. Each one of the parks has at least one restaurant that offers Pre-Park Opening breakfast reservations.
The obvious advantage of a PPO reservation is that it provides you with early access to the park.
Some general Disney World breakfast advice
Regardless of whether you're staying on or off-site, guests with valid theme park admission are eligible to enter the park early if they have an Advanced Dining Reservation scheduled for before the park's official opening time.
Just show up at the Park Entrance half an hour before your reservation and look for the Cast Members holding signs that state "Breakfast Reservations" and they will direct you.
Be sure to factor in travel time to actually get to the entrance 30 minutes before, each park will have a different commute time.
Make your dining reservation as early as possible. Not only early in the day, but also immediately on your ADR day.
The earliest breakfast reservation time is almost always 8:00, regardless of when the park opens.
If at all possible, pay for your food early. This will mean using Mobile Ordering where you can.
Magic Kingdom
Breakfast options; Crystal Palace, Cinderella's Royal Table, and Be Our Guest.
Best ride to conquer after breakfast; Seven Dwarfs Mine Train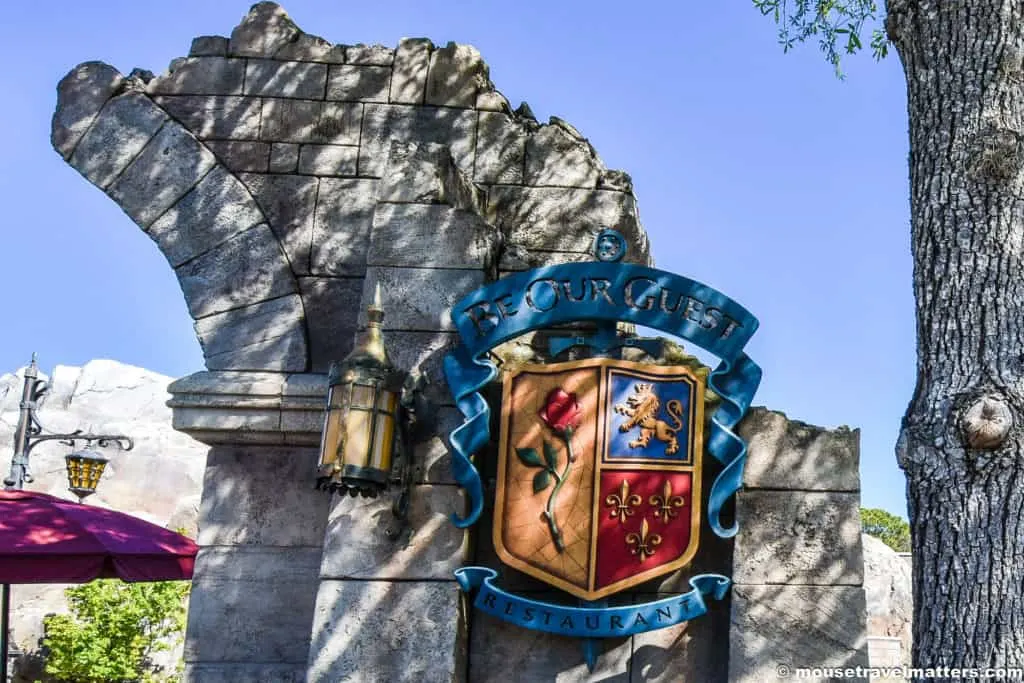 Why is Be Our Guest the best Pre-Park Opening Breakfast Reservation?
The distinct disadvantage of either Cinderella's Royal Table or Crystal Palace in terms of a PPO breakfast strategy simply centers around the fact that they are both not only Table Service restaurants, but Character Meals on top of that.
We recommend 1.5 hours for all character meals and it means that you will have one very rushed breakfast in order to do that.
How early can you get into the Magic Kingdom with breakfast reservations?
Magic Kingdom park opening procedures have changed a lot in the last few years so here is a quick refresher.
The Magic Kingdom officially opens at 9 am. Guests will be allowed to enter Main St USA as early as 8 am and simply wander the streets, take photos and do a little pre-shopping before the lands open up at 9.
If you have an 8 am reservation for any of the Breakfast restaurants; Be Our Guest, Plaza Gardens or Cinderella's Royal Table, we suggest arriving at the gates for 7-7:30 am. You will enter the breakfast reservation line and enter around 7:45 am. This isn't much time to have an empty Main St but make sure you take full advantage of the time given.
Epcot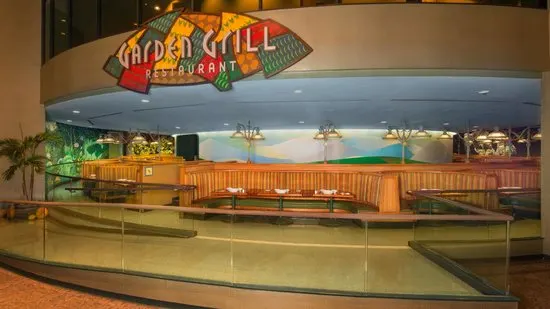 Garden Grill and Soarin'
Garden Grill allows for reservations as early as 8 am. Soarin', or more specifically, Future World, rarely opens before 9 am. While we traditionally suggest 1.5 hours for character dining, this will mean your meal is a little rushed but in the same building so you will have access to the queue in the same breath as those rope-dropping Epcot.
Akershus and Frozen Ever After
Since Frozen Ever After officially opens at 11 am, but Akershus, being right next door, is the perfect way to get your foot into World Showcase before the masses.
Hollywood Studios
Hollywood & Vine and Jedi Training Signup
While on your way to breakfast, take a mild detour to Jedi Training and sign your kids up for those coveted spots. Even if your reservation is for 9 am, right when the park opens, CM will allow you to enter 15 minutes beforehand and therefore you will be among the first to place your children's names.
Animal Kingdom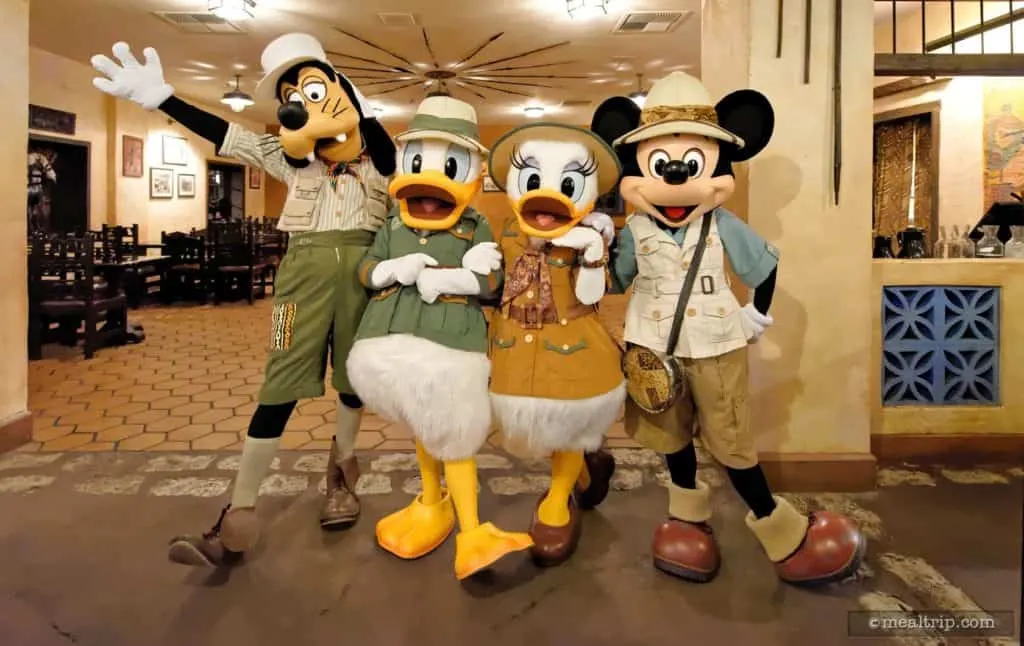 Tusker House and Kilimanjaro Safaris
Again, Tusker House allows for reservations starting at 8 am, and on non-EMH mornings, Animal Kindom doesn't open until 9 am. This will be another slightly rushed breakfast but still can be done.
Tusker House and Kilimanjaro Safaris are both in Africa, therefore fairly close to one another.
Using a Pre-Park Opening Reservation during Extra Morning Magic vs. Extra Magic Hours
There is one thing that will completely derail a pre-park opening reservation strategy and one thing that will affect it, but not completely derail it. The first is if that day has AM Extra Magic Hours, the second is it is a day with Extra Morning Magic.
What are Extra Magic Hours?
First, AM Extra Magic Hours is the extra hour of park time that guests staying at Disney resorts can enjoy.
Morning Extra Magic Hours will typically begin an hour before the park opens to the general public. I'm sure you can begin to see the problem…
If the park opens for Extra Magic Hours at 8:00a, and your reservation at Be Our Guest is at 8:00a, you just lost all the benefits of having an early breakfast reservation.
Extra Morning Magic
Not to be confused with AM Extra Magic Hours, Extra Morning Magic is an entirely different event. Disney just likes to confuse people by giving them similar names…
Extra Morning Magic is a separately ticketed event that runs on some mornings at Magic Kingdom (and Hollywood Studios!). A small number of tickets are sold, and those people get access to Fantasyland from 7:45a until 9:00a, when the park opens to everyone.
Your Thoughts...
Please share your thoughts in the comments or reach out on social media...We would love to hear from you.
Follow Mouse Travel Matters for Disney Parks news, the latest info and park insights, follow MTM on Twitter, Facebook, and Instagram.