Last Updated on April 30, 2020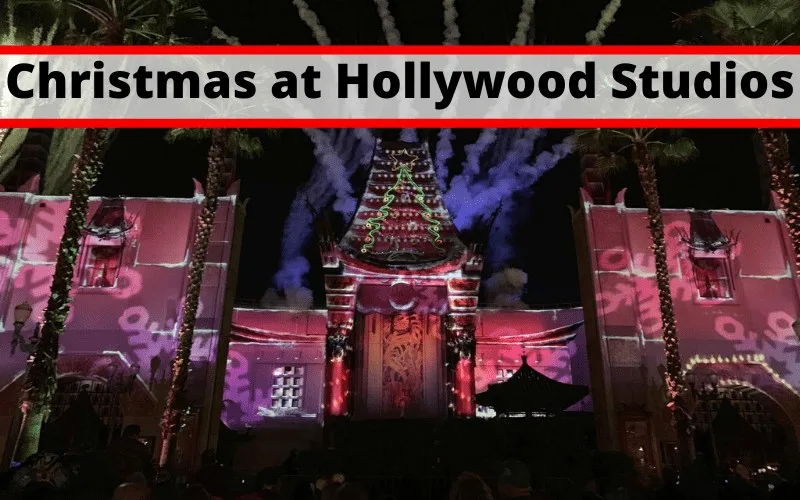 Walt Disney World's Christmas entertainment at Hollywood Studios is known as Flurry of Fun, which includes Sunset Seasons Greetings.
As with Jingle Bell, Jingle BAM!, these holidays offerings run from November, through January. In this post, we'll offer tips, info, and our thoughts on Christmas at Disney's Hollywood Studios.
This post may contain affiliate links.
To which I earn a small commission, at zero cost to you!
Find more info in our
Privacy Policy
.
Christmas at Disney's Hollywood Studios Info & Tips
While there is so much to see over the holidays at Walt Disney World, which we conveniently cover in our post The Complete Guide to Disney World Christmas Events, very few guests would consider Hollywood Studios to be among the list of parks that actually decorates.
I mean, sure, Magic Kingdom is the heart and soul of Walt Disney World and is decorated to the Nines, including their own Christmas party, and Epcot has its own holiday festival. How does Hollywood Studios celebrate?
There may not be a party or a festival but the decorations are on point, the attraction holiday overlays are fit to theme, and the little extras that Disney Imagineers have added to make Hollywood Studios Christmassy means you can't miss checking out this park during the winter holidays.
Entertainment
Sunset Seasons Greetings
Watch Sunset Boulevard become a winter wonderland—with falling snow, twinkling lights and stories from some beloved Disney Characters.
During the Sunset Seasons Greetings projection show, billboards will suddenly begin to move into motion and tell a tale, courtesy of iconic characters sharing their love for the season. Also, the Hollywood Tower Hotel will magically transform, bringing to life the characters' stories. Some of those special stories that will be told will include:
Mickey and Minnie reminiscing about a hometown Christmas as the scene shifts into a romanticized, Norman Rockwell-inspired town—starting in black and white before slowly changing into colour.
The Toy Story characters guessing which new toys are coming this Christmas as the scene becomes covered in holiday wrapping paper.
The Swedish Chef from The Muppets babbling as only he can while the scene turns into giant gingerbread houses.
Olaf pining over his holiday wish as iconic music plays and the scene freezes over into a Frozen winter wonderland—complete with dancing Aurora Borealis lights and projected falling snow.
Sunset Seasons Greetings will take place from November 8 through January 5, 2020.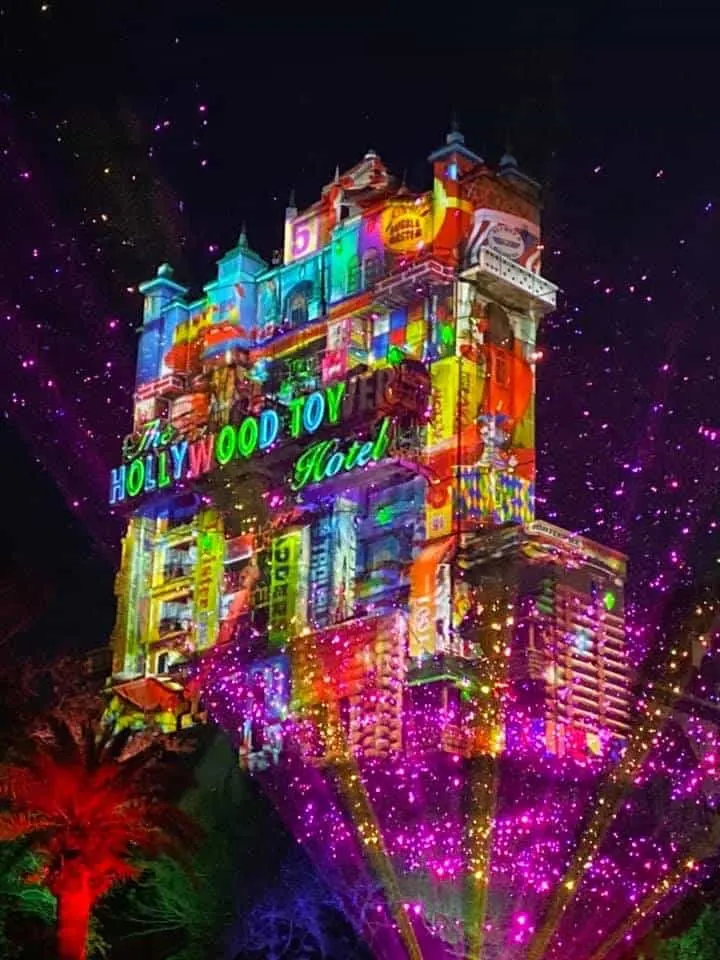 Jingle Bell, Jingle BAM!
The Jingle Bell, Jingle BAM! holiday fireworks spectacular will take place at Disney's Hollywood Studios from November 8 through January 5, 2020. During the show, Guests learn that Santa Claus is missing and there is a search-and-rescue mission to get him back to the North Pole in time for Christmas Eve. The show comes to life on, above and around the Chinese Theater and includes state-of-the-art projections, special effects, fireworks and a seasonal musical score.
There is a Jingle Bell, Jingle BAM Dessert Party available, which includes a VIP viewing area, desserts and Santa Goofy photo op, but this all costs extra.
The cost is $89 per adult ages 10 and up and $53 for children ages 3-9 from November 8 – December 22 and January 2-5. From December 22 – January 1, the cost will be $99 per adult and $59 per child (tax and gratuity included.) The price includes all taxes and gratuities.
To book the Jingle Bell, Jingle BAM! Desert Party, Guests can call 407-WDW-DINE.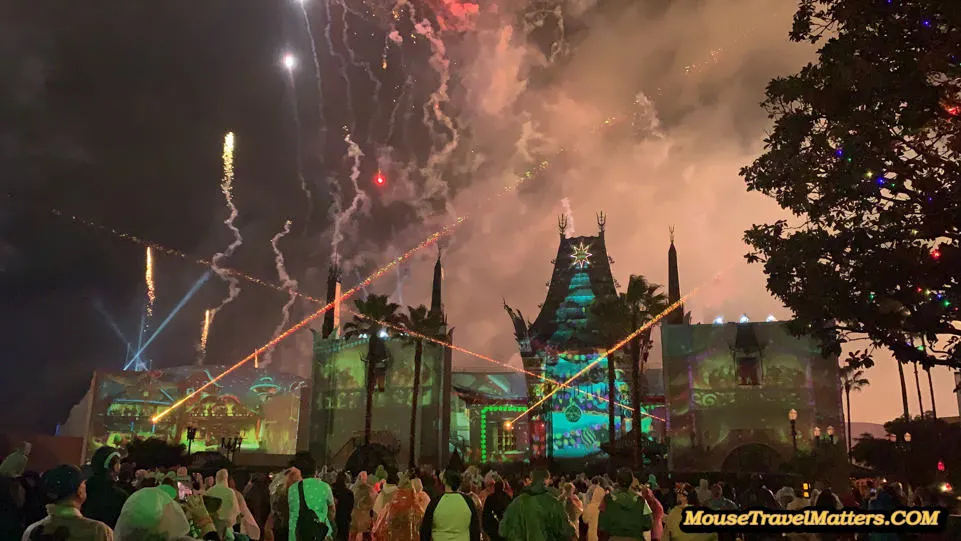 Minnie's Holiday Dine
Mingle with Minnie Mouse and her friends during a dazzling holiday dinner party at Hollywood & Vine. Holiday-themed décor, food, music and activities create the perfect place to deck the halls with friends and family
You'll also want to read our Minnie's Holiday Dine Review to determine whether you should book that Christmas-themed buffet, as well as our Jingle Bell, Jingle BAM! Nighttime show review post for strategy in terms of viewing that show.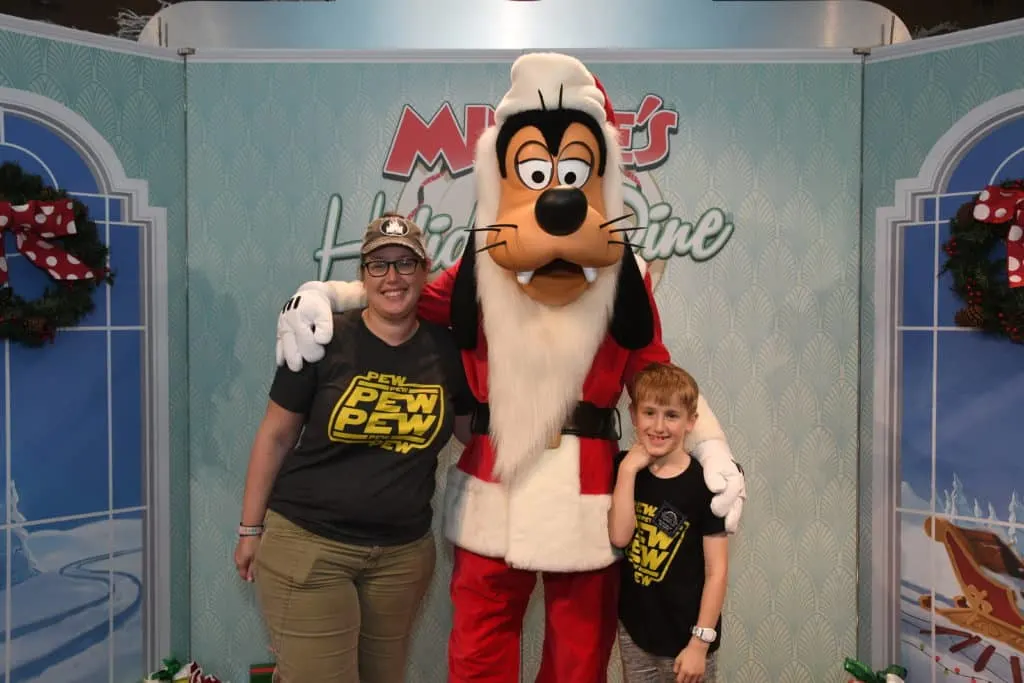 For the First Time in Forever – A "Frozen" Sing-Along Celebration (with Winter Festival Finale)
Sadly, we didn't have the chance to view For the First Time in Forever because we were so busy meeting characters at Animation Courtyard and Launch Bay (worth it, btw) but we did find this great video with the whole show, including the winter festival finale.
Festive decorations throughout Hollywood Studios
Christmas in Toy Story Land
Aboard Slinky Dog Dash, guests will hear sleigh bells ringing, and Alien Swirling Saucers will offer two holiday tracks, plus themed lighting for the holidays.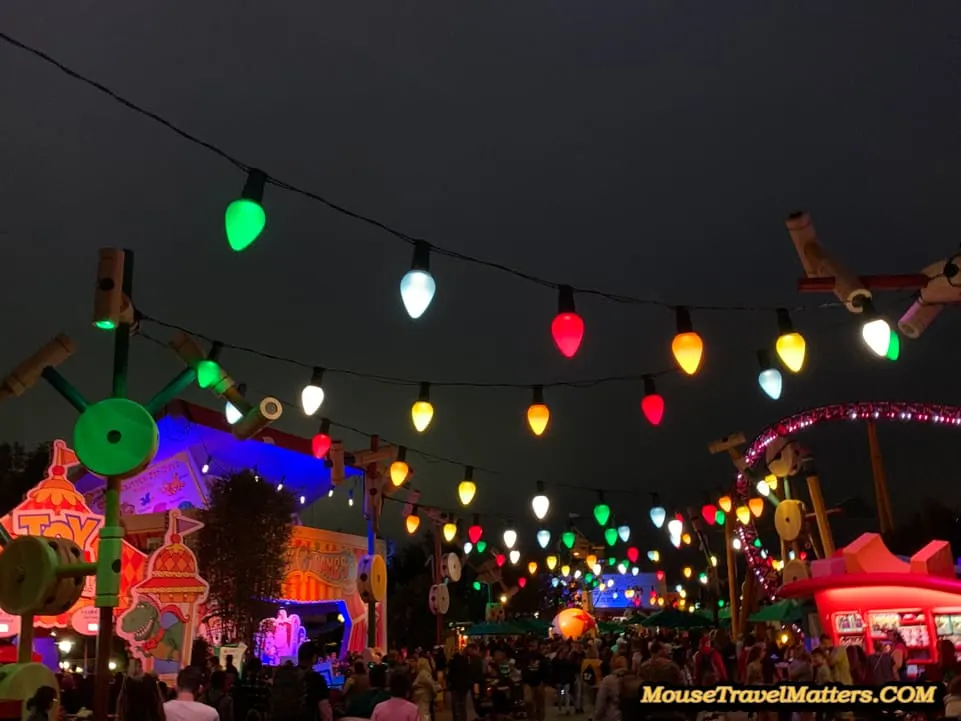 Woody get a red and white striped scarf, Buzz gets a fancy Santa hat, and Jessie has decorations on her vest. Rex even joins in with some festive "cardboard" reindeer ears. And we can't forget about the fun decorations, like giant popcorn garland, alien ornaments, and the cute Hamm sugar cookie.
Echo Lake Christmas decor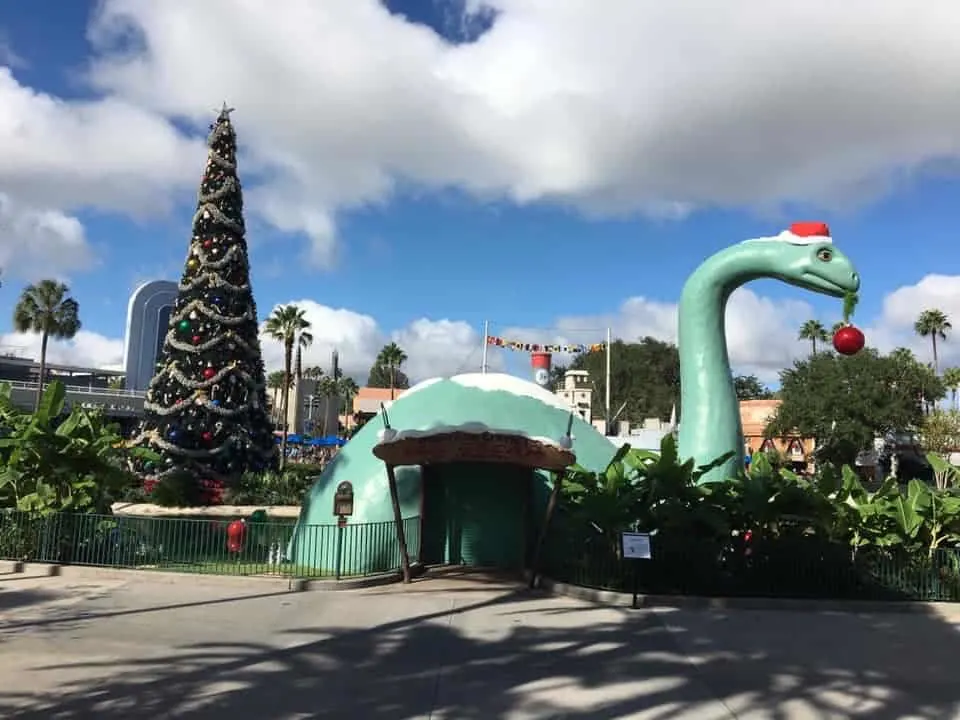 It was raining pretty hard by the time the sun went down so I am not too proud of the photo quality here but you get the idea. It was much prettier in person.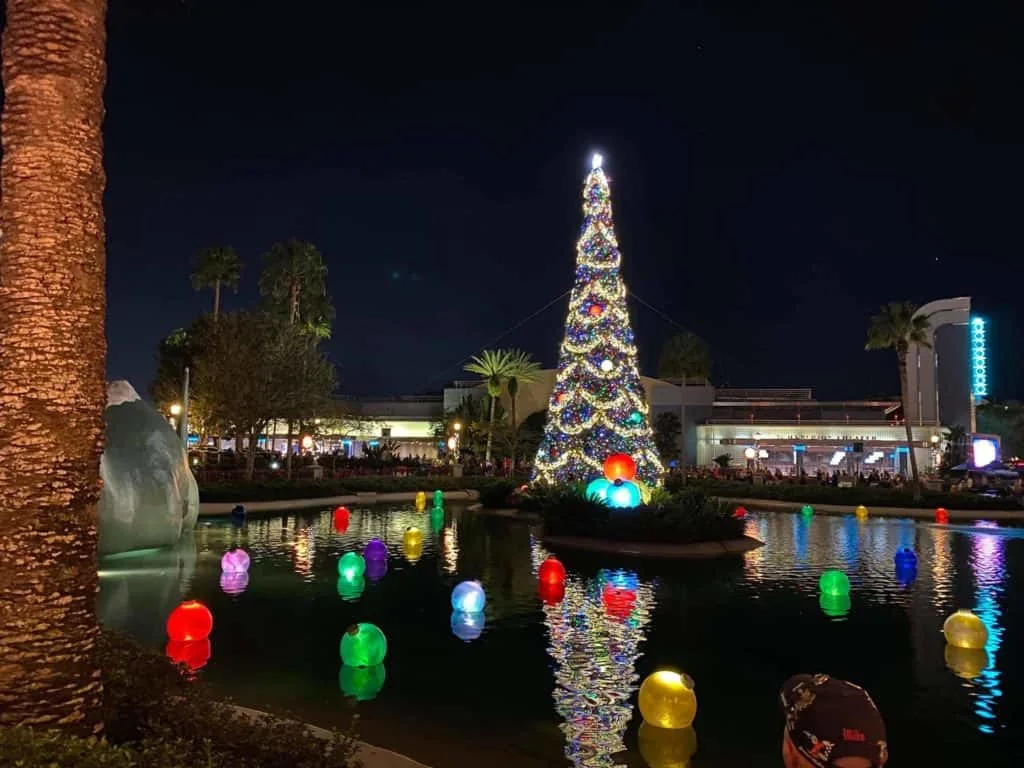 Hollywood Blvd decorations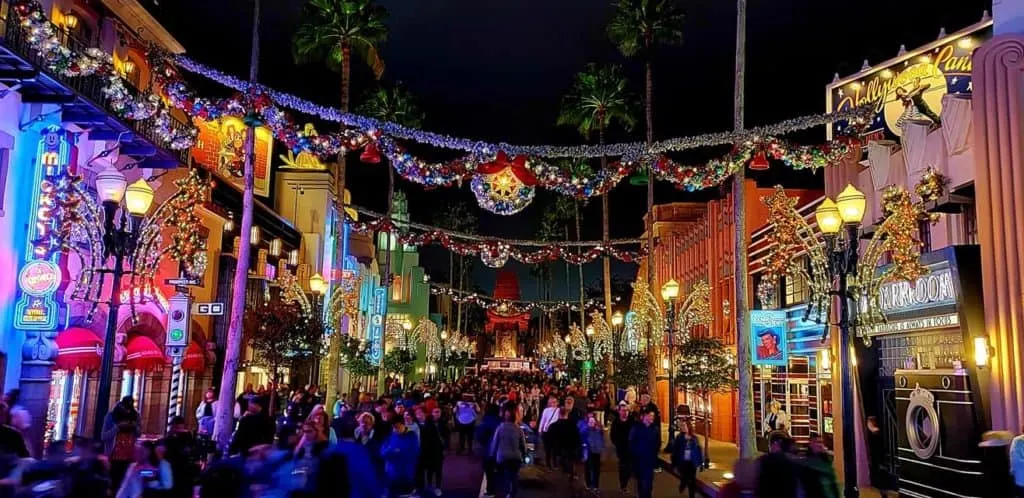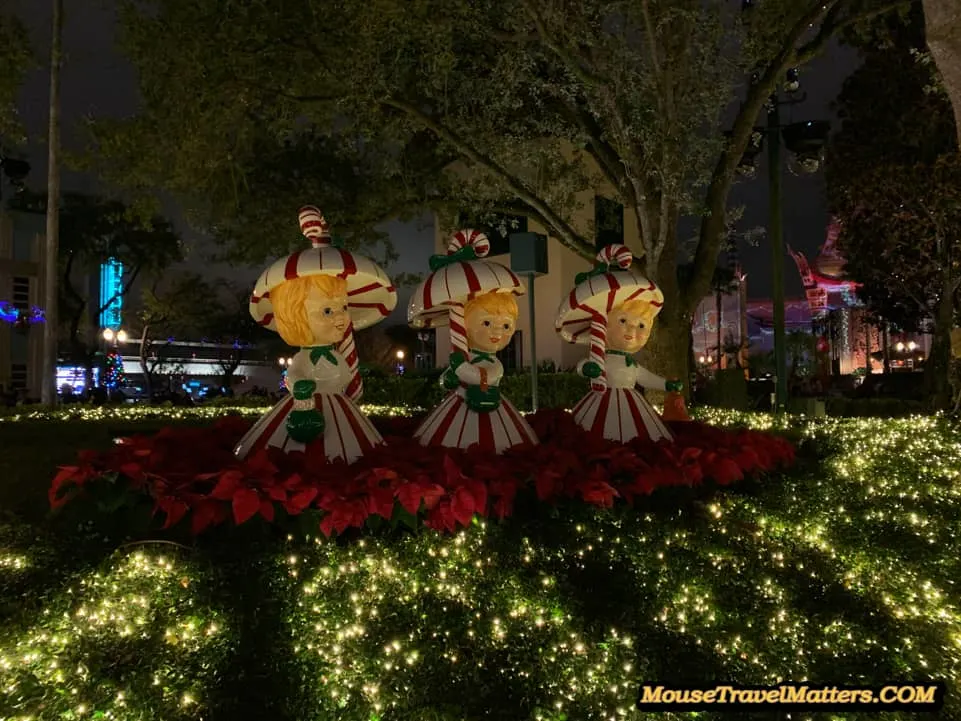 Holiday Character Greetings
The lines for Woody and Bo (appearing together) and Buzz Lightyear can get fairly long. Woody and Bo are beside Toy Story Manie and Buzz is in front of the Toy Story Land entrance.
While the characters are on break, guests can jump to the front of the line for a regular picture in these spots but must leave the area once the characters are approaching.
Jessie
Found in front of Alien Saucer Swirl, Jessie has a festive holiday vest that matches her cowgirl hat. Her line isn't crazy long but it is best to join the line while she is on her break – no one else knows what people are queuing for and tend to not join until later. Sneaky sneaky.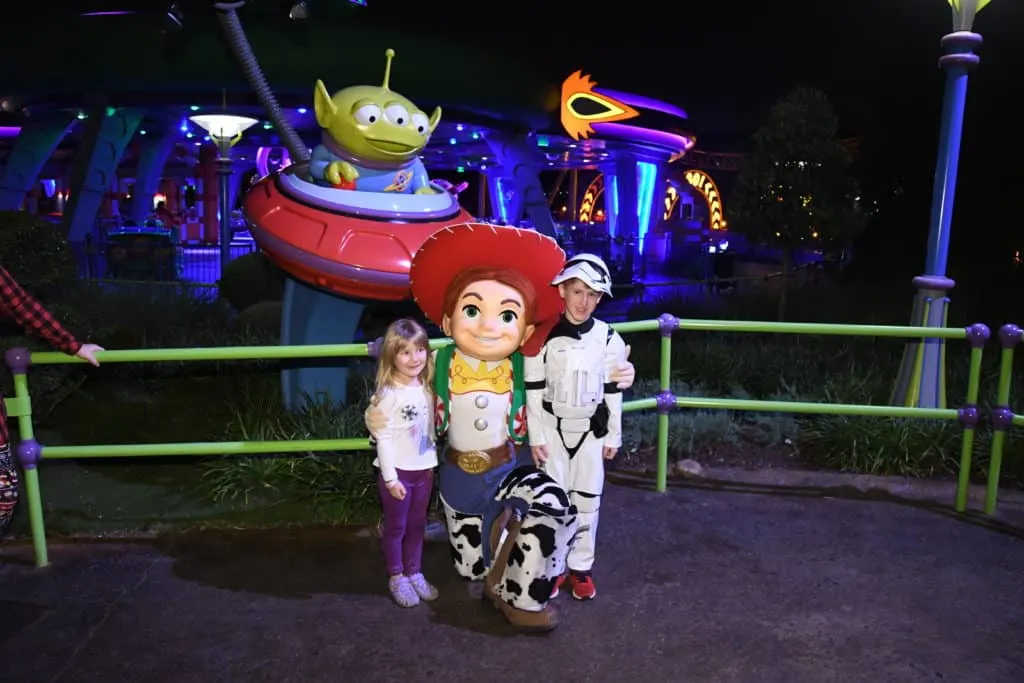 Chip and Dale
Chip and Dale can be found near the entrance/exit of Hollywood Studios, just outside the Memory Maker Sales Centre, before Mickey's of Hollywood.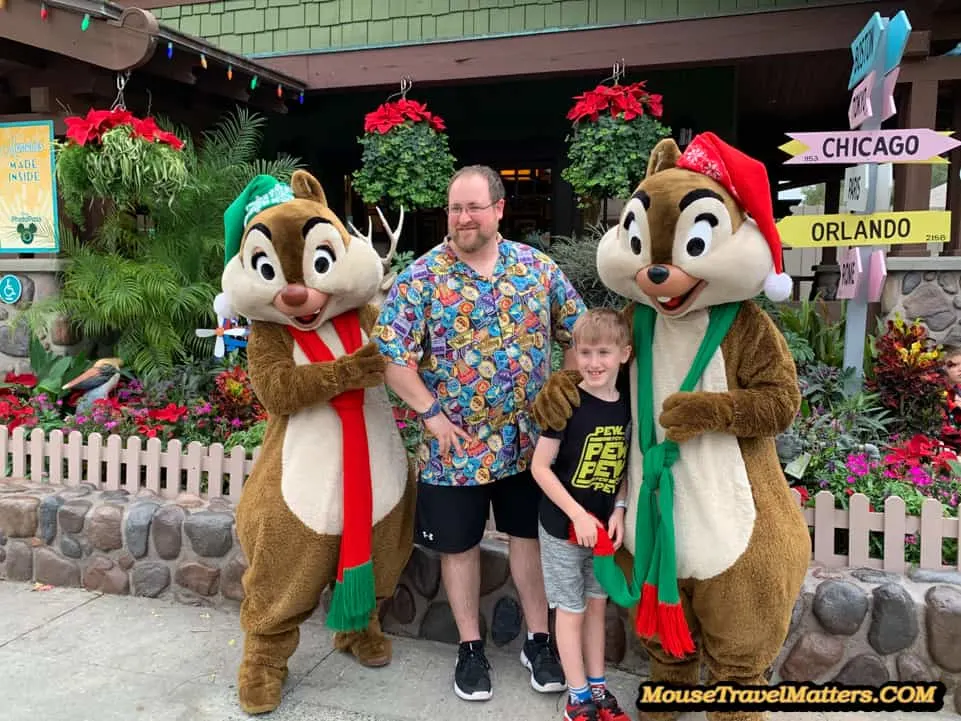 Santa Greetings
Visit with Santa Claus or Santa Goofy—and enjoy a festive photo op that's sure to make spirits bright.
Chances to meet Santa, Santa Goofy, and other holiday-inspired characters
The big man himself meets daily until Christmas Eve at Once Upon a Time, and Santa Goofy takes over his spot from December 25-31. These are classic photo ops that only come around once a year!
Don't worry if you didn't get a chance to meet Santa Claus at Hollywood Studios, there are plenty of opportunities to meet him throughout Disney World.
Check the time's guide
For the month of December, the 3 evening shows play at the following times;
Jingle Bell, Jingle BAM!» Holiday Nighttime Spectacular
One showing at 9:00 pm
Wonderful World of Animation One showing at 8:35 pm
Fantasmic! One showing at 8:00 pm
Download the Disney's Hollywood Studios Guide Map here
Holiday Food and Treats at Disney's Hollywood Studios
There are a variety of snacks available, too, mostly additions to the menus at the Hollywood Studios quick-service restaurants.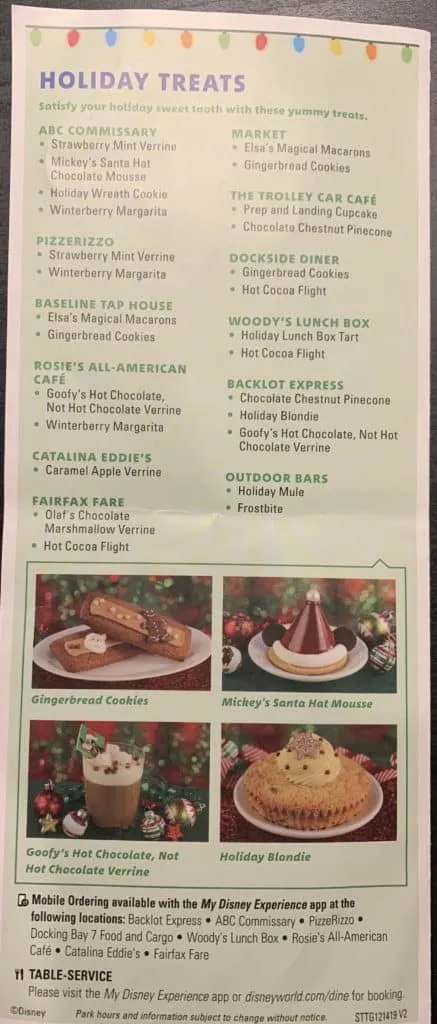 Grab yourself a Hot Cocoa Flight at Woody's Lunch Box or go for the Lunch Box Tart, which is a hit with most everyone. The seasonal flavour for the holidays is apple cinnamon, so warm and cozy.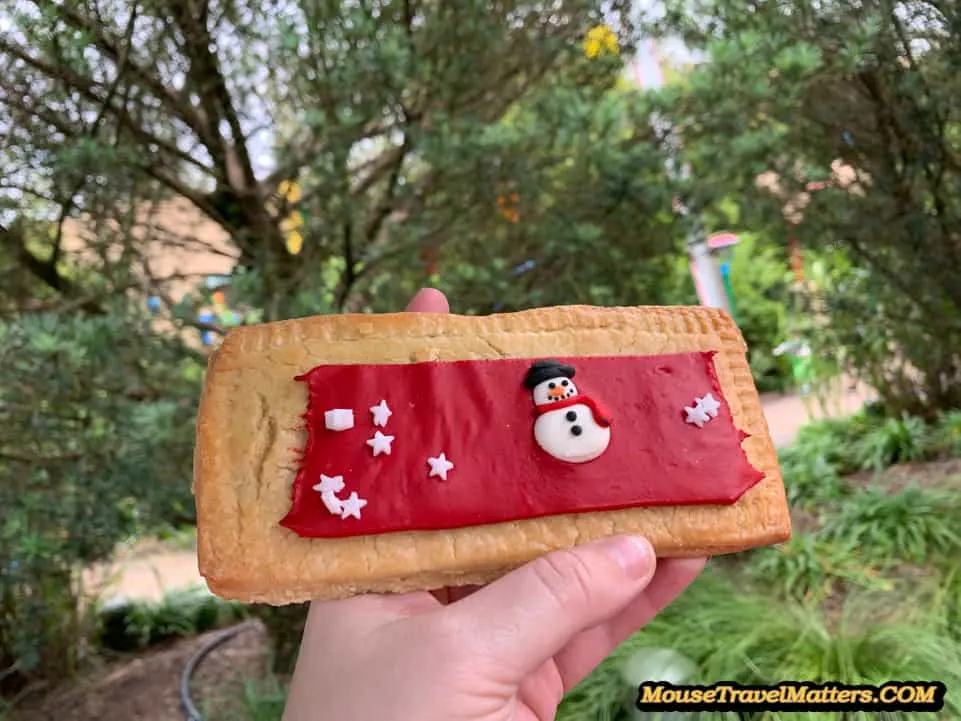 Finally, make sure to check out all of the holiday snacks at Disney's Hollywood Studios this year as part of its Flurry of Fun. For that, check out our Food Guide to Christmas at Disney's Hollywood Studios.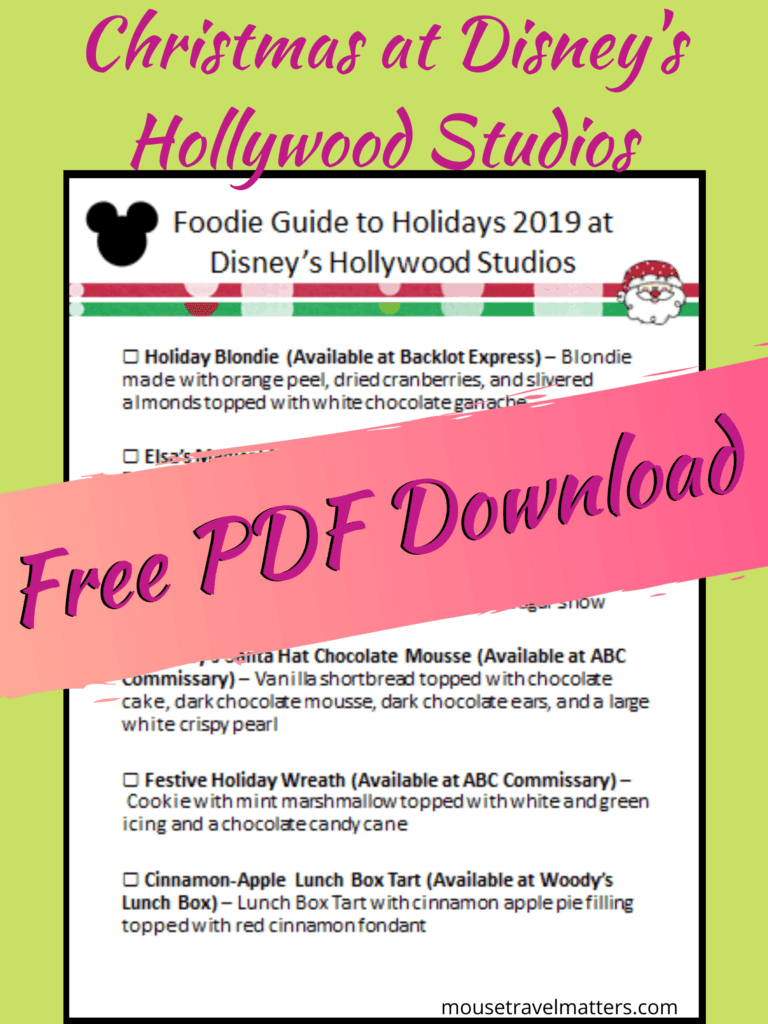 Don't forget you can mobile order from most counter service locations, including seasonal food. The mobile order system is a real time saver and one of my favourite features.

Merchandise
There are so many wonderful holiday treats and merchandise available, we couldn't possibly photograph it all (though we did try). Here is a peek at what is available throughout all the parks, noting that some parks do have exclusive Park seasonal content.
Don't forget to have your purchases sent to your resort gift shop, instead of dragging them around with you all day. If you are checking out within 24 hours, simply have your purchases sent to the front of the park where you can pick them up in as little as 3 hours and still tour Hollywood Studio's hands-free.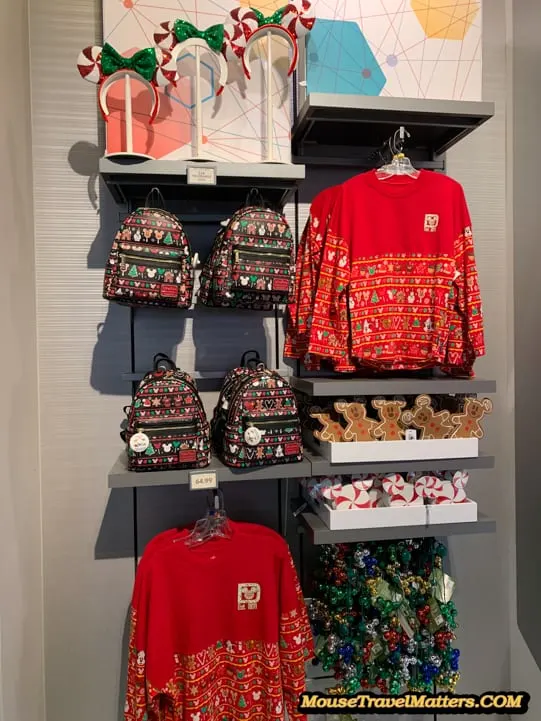 Two attractions at Hollywood Studios are modified with a bit of holiday cheer.
A special holiday version of the Frozen Sing-Along
This is the only attraction modification in Hollywood Studios. The Frozen Sing-Along Celebration gets an extra 5 minutes or so of holiday-inspired songs, along with an appearance by a special friend.
Alien Swirling Saucers With Christmas Music
The Alien Swirling Saucers "overlay" is less interesting, as it is the normal ride, but with some Christmas music (auto-tuned alien style) instead of the standard ride music.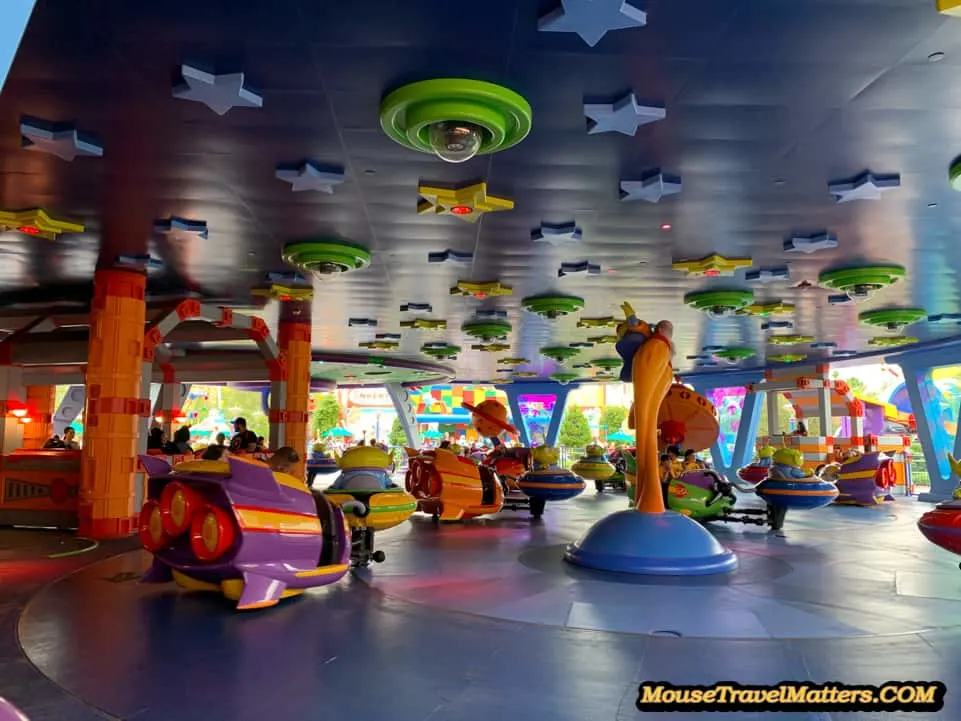 Your Thoughts...
Please share your thoughts in the comments or reach out on social media...We would love to hear from you.
Follow Mouse Travel Matters for Disney Parks news, the latest info and park insights, follow MTM on Twitter, Facebook, and Instagram.
You May Also Like…
Epcot International Festival of the Holidays
Epcot Festival of the Holidays – Booths, Menus, and FOOD
Tips on Managing Disney World Holiday Crowds
Complete Guide to Disney World Christmas
Foodie Guide to Hollywood Studios during Christmas