Last Updated on March 16, 2020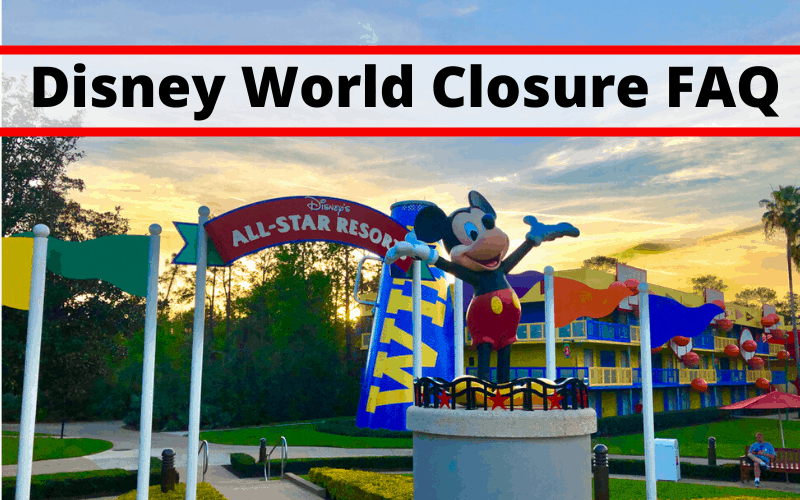 Disney World and Disneyland Coronavirus Closure Questions Answered!
By now, everyone is aware of the coronavirus (COVID-19) and what has been happening around the world because of it. The Disney parks have been affected by it and now in a historic event, Walt Disney World is closing over the coronavirus outbreak, along with every single Disney theme park worldwide!
Disney Resorts, Disney Springs and Water Parks
Disney has just announced that the Walt Disney World Resort Hotels are closing at 5 pm on March 20 due to the coronavirus. This includes all Disney-operated hotels in Walt Disney World as well as their Vero Beach property.
Disney had previously announced the hotels would remain open, but we knew it was only a matter of time that they would close after the parks. This gives guests who are currently staying in Walt Disney World enough time to make travel arrangements to get back home safely.
They also announced that Disney Springs is closing starting March 17. This too was previously announced to stay open, but with no visitors to the resort, it doesn't make any sense to keep open.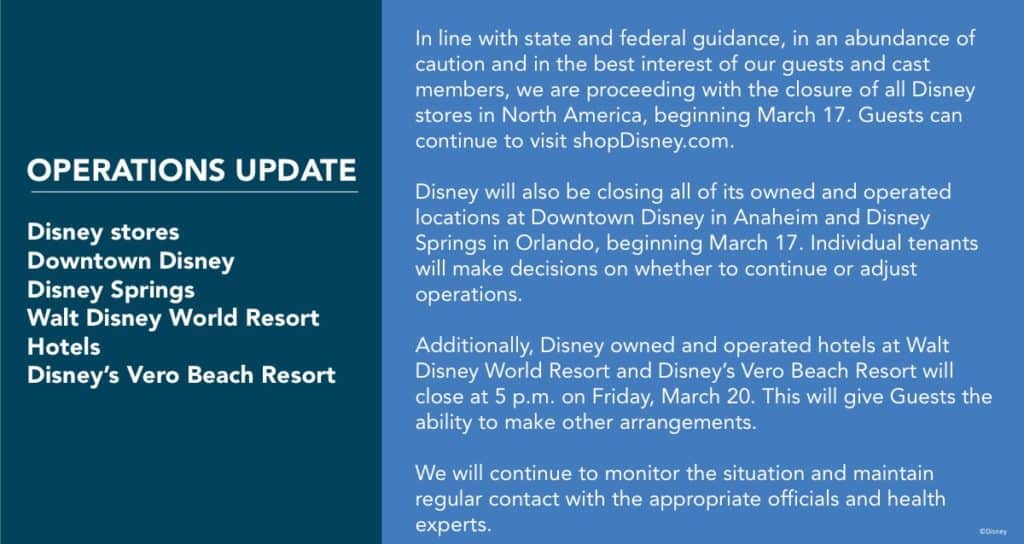 From refunds to how to break the news to your children that your Disney vacation was canceled, we're covering all of our readers' concerns as best we can! Here's Walt Disney World's official FAQ…
PARK TICKETS
May I get a refund on my tickets?
Unexpired multi-day theme park tickets with unused days, or date-specific theme park tickets with a start date on or before March 31, 2020 will automatically be extended to use any date through December 15, 2020.
If you are unable to visit by December 15, 2020 you may apply the value of a wholly unused ticket toward the purchase of a ticket for a future date.
Basically, unless you purchased tickets as part of a WDW Travel Package (room and tickets or room and tickets and dining), there are no refunds for unused tickets.
Will the spring special Florida Resident Discover Disney Tickets be extended?
Florida Resident Discover Disney Tickets may be used through July 31, 2020.
What about tickets for special events slated to occur during the closure?
Guests who have purchased tickets for Disney After Hours, Disney Villains After Hours and Disney Early Morning Magic from March 16, 2020 through March 31, 2020 will be automatically refunded.
Will Annual Passes to Walt Disney World be extended?
Walt Disney World Annual Passes will be extended by the number of days the parks are closed.
What if I purchased Memory Maker in advance?
If you purchased Memory Maker as part of a package, you will be refunded for it. If you purchased it separately, they will be able to put an extension on it for you to use at a later date.
RESORTS & HOTELS
I have a future stay at a Walt Disney World Resort hotel while the park is closed. What does that mean for my vacation?
Guests who have not checked in for stays between March 16, 2020 through March 31, 2020 may modify or cancel their Disney Resort room reservation or Walt Disney Travel Company package up to their original check-in date.
If no action is taken, Disney will automatically process a refund to the original form of payment within seven days of the original check-in date. If you did not book through Disney directly, please contact your travel professional.
What if I want to cancel a Disney Resort hotel reservation after the parks reopen?
Disney will waive all Disney imposed change and cancellation fees up to the date of check-in through June 30, 2020.
DINING & OTHER EXPERIENCES
I have a pre-paid dining reservation or experience reservation like Droid Depot or Savi's Workshop while the parks are closed. Will I receive a refund?
Yes.
All pre-paid dining and experience reservations will be automatically refunded if scheduled between March 16, 2020 through March 31, 2020.
What happens to dining reservations that required a credit card at the time of booking?
Reservations made at locations impacted by the closure will not be charged a cancellation or no-show fee.
All active Tables in Wonderland members will be extended by the number of days the Parks are closed.
Fastpasses
What happens to FastPass+ reservations made during the closure?
They are automatically canceled without replacement.
Questions from our readers
Can I simply reschedule my vacation for another date?
Absolutely you can. If a trip is moved to a new date, guests will pay the price difference for those travel dates. Offers on your current reservation that are not valid on your new vacation dates can not be transferred, as in, you lose any vacation offers on your last reservation and wait to see if new offers become available for the new dates.
How Long Do Refunds Take?
In theory, a refund should only take 1-2 weeks to appear on your credit card statement. With the mass number of transactions that Disney is putting through this month, we encourage you to keep an eye on your bank statements and give them a little more time to process than usual.
What If I Paid For My Trip With A Gift Card?
If you paid for a trip using gift cards, your refund will be returned to the gift card used.