Last Updated on October 27, 2019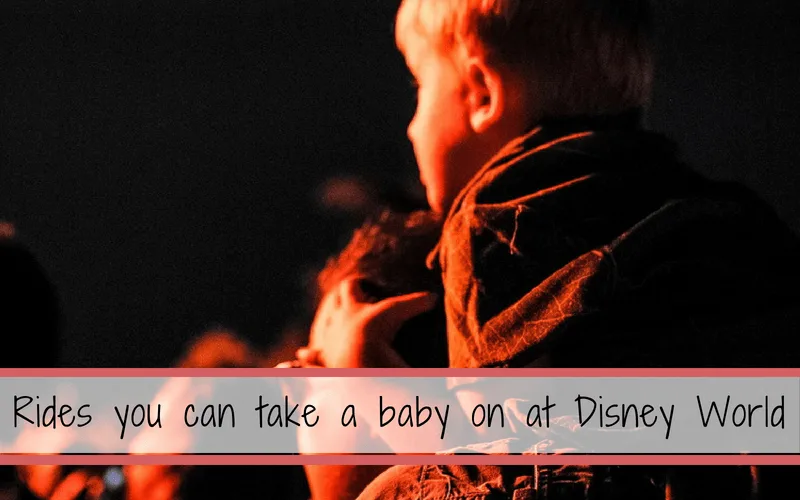 For those with babies and newborns, we are sometimes faced with planning vacations and holidays that fit our little ones. Mouse travel matters are no different so what can a 6-month-old ride at Walt Disney World?
There are many Disney attractions a 6-month-old will be allowed to ride at Walt Disney World. So what can a 6-Month-Old ride at Disney World? Generally, a baby can ride with you on any ride that has a no height requirement.
For the most part, Magic Kingdom is a baby free-for-all. And Fantasyland is the motherload. Most rides are built with seating that allows families to sit together. There are even pictures to show specific configurations; mom plus two little ones, mom with one and dad with the other… some are even large enough to have mom and dad sit together with a small child (it's tight, but you gotta do what ya gotta do).
Exceptions
As with any rule at Disney, there are exceptions. Mad Hatter Tea Party, for example, I would say breaks the rules in terms of no height restrictions. The speed and duration of this ride make it a no-no for little ones in my books, and many other parents' books too; jostling their little heads like that isn't a good idea.
If the description for the attraction says Preschooler, then it is safe to ride the attraction with a little one.
If you want to ride something that isn't suitable for a baby, on the other hand, Walt Disney World does offer Rider Switch. This is when one parent queues for a ride, while the other waits with the baby (or any other small child that can't or won't ride along), then once the first parent comes back, the second parent gets to skip the line and ride via the Fast Pass lane – without ever getting a FastPass ticket!
Just make sure to Rider Switch to the CM in charge. And don't forget to check out the list of applicable rides – not every ride uses this system, just the big ones.
Our two-cents: Advice for Families With Kids.
Your baby will likely be more comfortable in their own stroller. Remember strollers are not allowed in ride lines so have a plan for how you're going to carry your baby while you're waiting in line. There are many soft baby carriers that can easily be tucked away under the stroller when not in use.
Personally, I don't even bother taking it off. It just kinda hangs off me when I'm walking around.
It's OK to breastfeed your baby anywhere at Walt Disney World. Florida law allows breastfeeding anywhere in public. If you want somewhere a little quieter, or with more air conditioning, know where the Baby Care Centers are in each park.
Your Thoughts...
Please share your thoughts in the comments or reach out on social media...We would love to hear from you.
Follow Mouse Travel Matters for Disney Parks news, the latest info and park insights, follow MTM on Twitter, Facebook, and Instagram.
You May Also Like…
What Is Rider Switch and How Does It Work?
What are the height requirements for Disney World?
Why You Really Need a Stroller for Your Disney Vacation
Best Stroller Fan for Disney & Theme Parks