Last Updated on May 12, 2022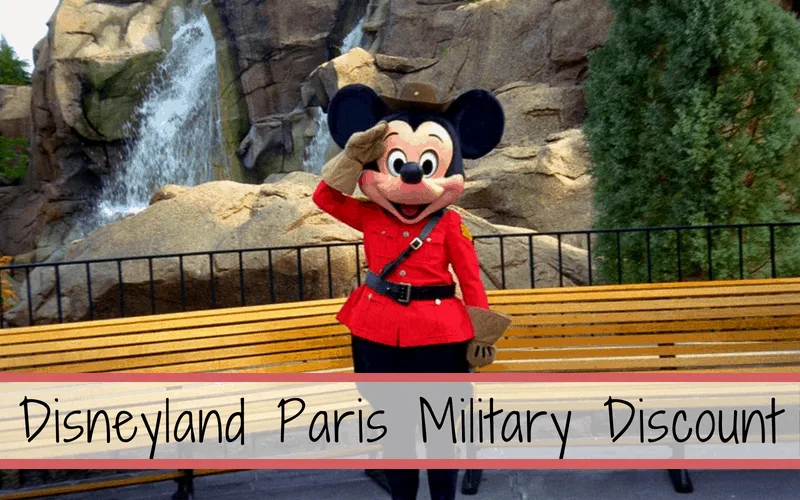 Planning a Trip to Disneyland Paris?
Whether you are planning a Disneyland Paris vacation for the first time or the hundredth time, there will always be something that you missed; a discount here, a tip there. It's endless.
Throw in some exclusive offers like Disneyland Paris Military Discount, and your whole train has been derailed; start again from scratch. These Disneyland Paris Travel Tips are tailored to helping military personnel.
Active and retired military personnel can benefit from a discount on Disney Park tickets. If you are eligible.
This post may contain affiliate links.
To which I earn a small commission, at zero cost to you!
Find more info in our
Privacy Policy
.
Disneyland Paris Military Discount
Tickets are not available for purchase, at the Disney Park entrance and must be purchased online. A valid military ID is required. And you will be required to register your ticket separately for the date you will visit.
Important Information
Dependent military ID can be used at Walt Disney World. Mileage may vary at Disneyland Paris.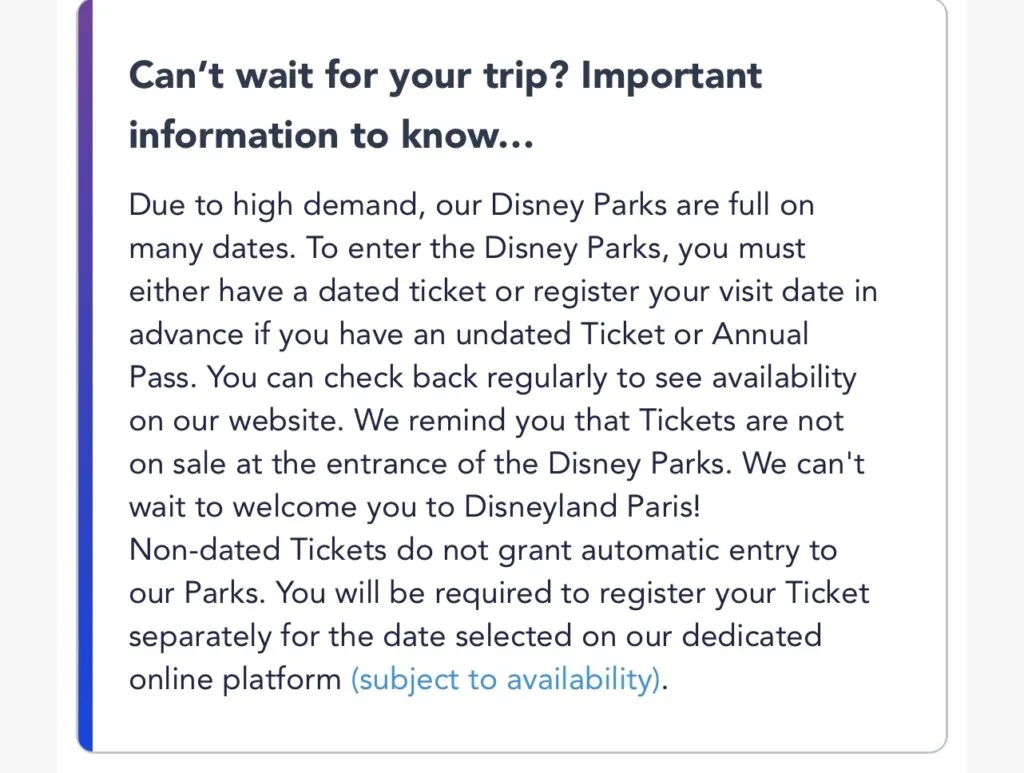 Disneyland Paris, because it is physically not in America, do not make distinctions between military nationalities. Walt Disney World in Florida and Disneyland California, however, have rigid policies regarding American Military members or Foreign Nationals working for the American Military.
In terms of numbers, Military members receive 50% off of 2 or 3 day Adult & Child 2 Day Park Tickets. They are not applicable to single-day passes. A member must be present at time of purchase and can only purchase up to 4 additional tickets – unless the immediate family is larger than 5 (having 4 kids or bringing a grandparent, for example), they may make an exception and grant the Disneyland Paris Military discount to all tickets, but this is based on the individual ticket agent's discretion.
Support us by liking our Facebook page
Ticket Prices Date-Based
Tickets for the Disney parks are priced according to a date-based pricing model. The prices for theme park tickets will vary depending on the month and the day of the month. See below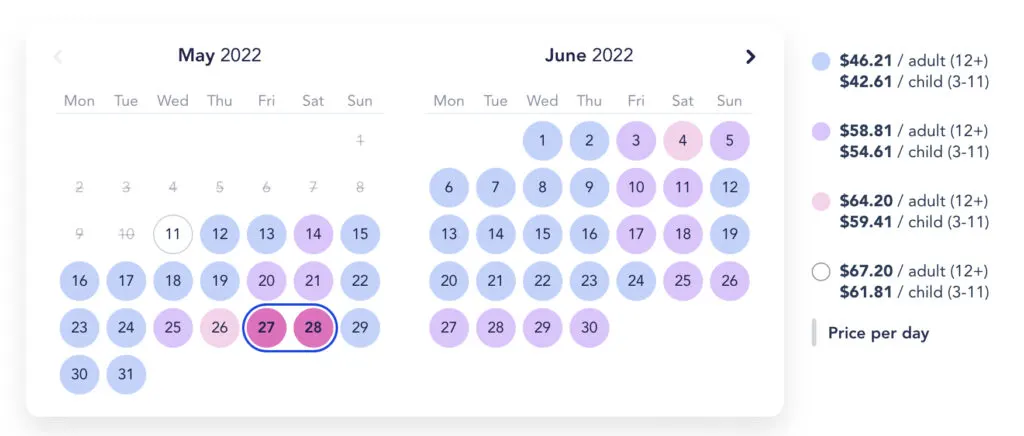 Disneyland Hotel-Only Rate
There is such a thing as Disneyland Hotel-Only rates. Each hotel has a different discount rate, and this differs based on crowd predictions as well, but it can range from 35-45% off. In order to make this type of reservation, you will need to call the reservation desk, they can be reached by phone at 0-84-48 008 898, and only book the room.
From there, mention your desire for a Disneyland Hotel-Only rate. Because Disneyland Paris hotels offer Extra Magic Hours with their tickets but you have now just purchased a hotel reservation only, they will give you a special card that allows you Extra Magic Access when combined with your Entrance Ticket.
Off-site resorts do not offer any sort of hotel Military rate, but depending on the time of year, their full price rate may or may not be better than the Disneyland Paris Hotel-Only Rate.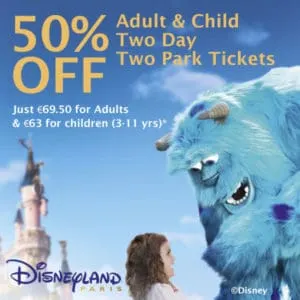 Blackout dates
As far as we can tell, there are no blackout dates. Several agents have been called, several times, and always return with the same answer; blackout dates are issued on a monthly basis based on crowd predictions but they have yet to issue Military Discount Blackout dates. Even on Christmas Morning.
Follow us on Instagram for realistic Disney inspiration
To discount or not to discount
There comes a time in every planner's itinerary when they must weigh the various options and decide which is the better deal. If you are booking off-site, as I mentioned, purchasing Disneyland Paris Military Discount Tickets is the obvious choice. But what about those planning to stay on-site?
Those package deals look pretty amazing, and they are only valid as a package. Tickets also cannot be partially refunded at the gate when purchased as part of a package. In lamens terms, once you've purchased a package with a special offer, like buy two nights receive two nights, or free half board plus dining plan, you cannot double-dip and also get the military discount added to your entrance tickets.
Again, there is rarely a room-only special so it is best to check all prices and combination options before making a final decision.
Follow us on Pinterest – we share the best Disney content (not just ours)
Insider Tips
Go to the parks at the opening, especially during Extra Magic Hours
Make reservations for Character dinners if you plan on seeing any of them
Visit between fall and spring to save the most money, and the crowds are lower during this time
Also, between fall and spring, the fireworks are earlier in the night since the sun will be setting earlier. Yes, that means the park closes a little earlier, but with little ones, is that really a bad thing?
Not everything comes "standard" with hotels like we would think in North America. For example, the lower level hotels do not have Air Conditioning or Elevators.
Purchase your souvenirs ahead of time and save a few dollars. The kids won't know the difference.
We suggest getting a waterproof pocket to hold your tickets, cards, and phone.
Your Thoughts...
Please share your thoughts in the comments or reach out on social media...We would love to hear from you.
Follow Mouse Travel Matters for Disney Parks news, the latest info and park insights, follow MTM on Twitter, Facebook, and Instagram.
You May Also Like…
We'll share more Disney tips in our next posts. Subscribe to our newsletter to stay in the know.