Last Updated on July 26, 2020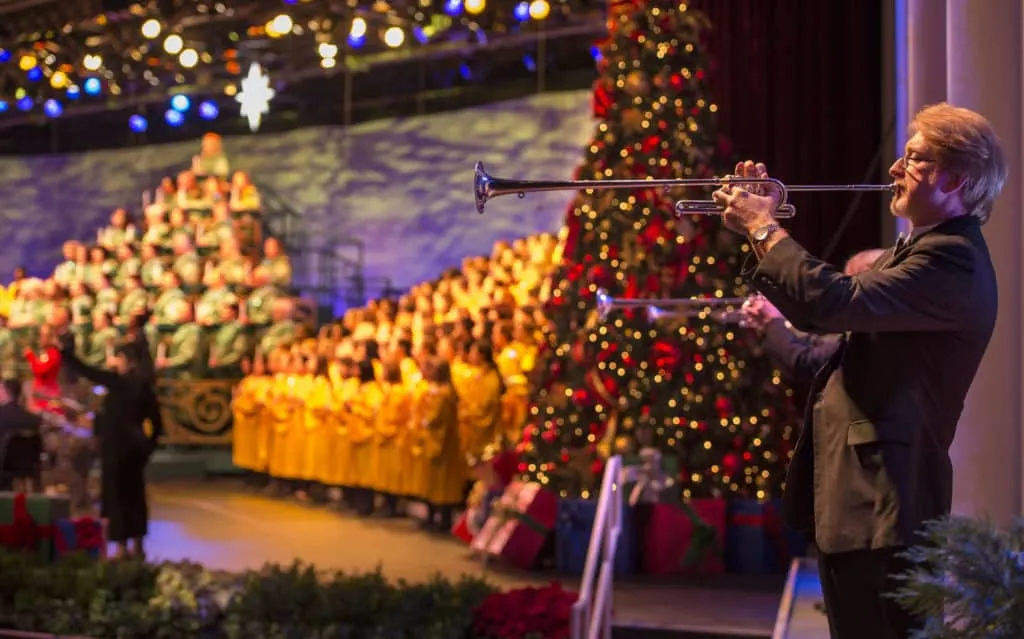 Hear the stirring story of Christmas as told by a celebrity narrator, and accompanied by a 50-piece orchestra and massed choir.
November 29 – December 30, 2019
Performances take place each evening at
5:00 p.m., 6:45 p.m., and 8:15 p.m.
On our most recent trip to Disney World, we were excited to see the famous Candlelight Processional at Disney's Epcot America Pavilion. We didn't want to ruin the experience by watching too much of it on Youtube, especially this years' live stream with Neil Patrick Harris, but we did want to make sure this was something the children would at least sit through, let alone enjoy.
For the most part, the 7-year old liked it. He sat quietly and listened to the music. He loves Classical Music so this was right up his alley. The narration was a little out of his league since the vocabulary level wasn't something that he was used to, but he was happy that there wasn't too much narration between the songs.
Our 4-year-old on the other hand, was getting tired. Since strollers aren't allowed into the theatre, she was forced to sit on my lap and listen quietly and that was not what she wanted to do at 6:45 pm at night.
Each narrator puts a little personal touch to their concert at the beginning and the end of the processional, while the story of Christmas is static throughout each narrator. I was happy to hear some personality come through and learn a little bit more about our narrator, Gary Sinise, and what about his life's story made him a great fit for narrating this incredible story.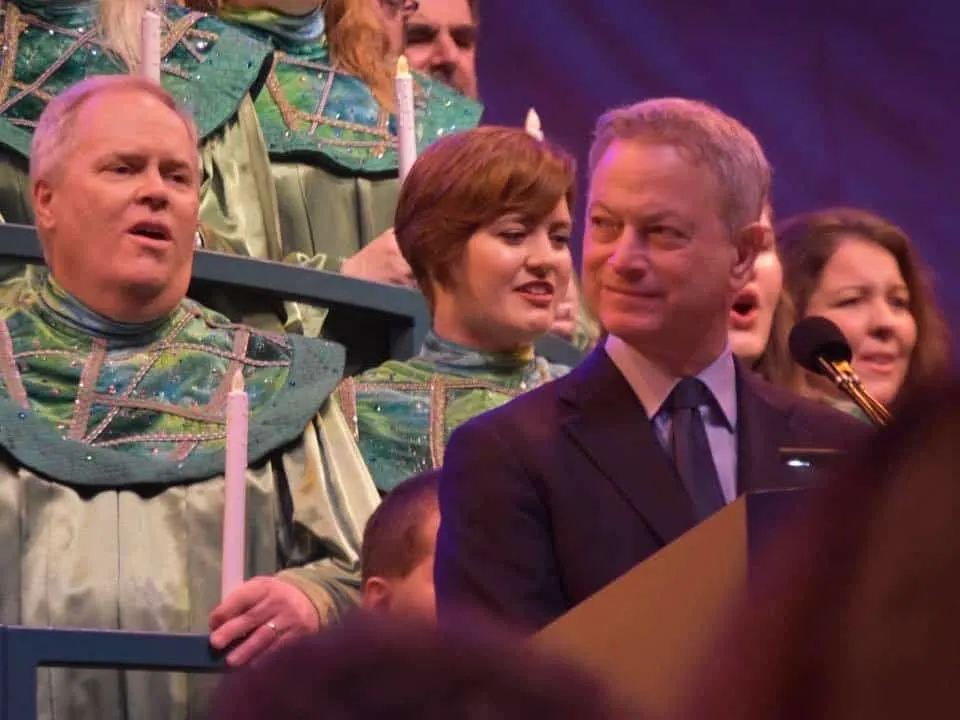 When can guests start to queue for Candlelight Processional?
That all depends on whether or not you have a ticket for the event.
If you have a dining package ticket, you can start queuing shortly after the previous group has been let in. You will end up seeing the show twice, since the entrance to the theatre is fairly close.
For us, our showing was at 6:45 pm, and the previous show had started at 5 pm. We could have started to line up then, but we waited until closer to 6:30 pm. The line was all the way in Morocco. That is two pavilions away. We were a little scared at first but the theatre holds an impressive number of people and we were only a few rows back in the rear section – the front half looked like it was reserved for family of the performers or other level of guests.
For standby guests, we witnessed many waiting as early as 11 am when the World Showcase opened. Even for a 5 pm showing, I can't imagine spending my entire day waiting in line for a single show, regardless of how amazing the show is. By 4 pm, we heard Cast Members telling guests that the 5 pm show was already full and if everyone were to stay in the queue, that 6:45 pm would be filled as well.
Bottleneck at World Showcase
Because there are two massive sets of queues on either side of the theatre, and everyone standing behind the fence wanted to watch it from way back there, walking from Italy to Morocco can be a little dangerous.
The path became standstill with all the ECV and strollers trying to get past and guests cutting each other off, while others just stood there in the way of traffic. Cast Members did their best to help traffic move along but when bodies refuse to move, there is only so much they can do. Our suggestion is to be on the side of the theatre that you plan on spending the rest of the evening in, well before 5 pm.
2019 Candlelight Processional Narrators
Each night, a celebrity narrator tells the biblical tale of a savior born to a virgin in Bethlehem. All the while, gorgeous choral pieces are woven into the production as an orchestra and choir provide an inspirational backdrop with songs of hope and joy.
This year, the following celebrity line-up will lend their talents to the performance:
Nov. 29-Dec. 1: Ming-Na Wen
Dec. 2-Dec. 5: Neil Patrick Harris
Dec. 6-7: Whoopi Goldberg
Dec. 8-10: Isabella Rossellini
Dec. 11-12: Chita Rivera
Dec. 13-15: Gary Sinise
Dec. 16-18: Pat Sajak
Dec. 19-21: Warwick Davis
Dec. 22-24: Steven Curtis Chapman
Dec. 25-26: Edward James Olmos
Dec. 27-28: Marlee Matlin
Dec. 29-30: Lisa Ling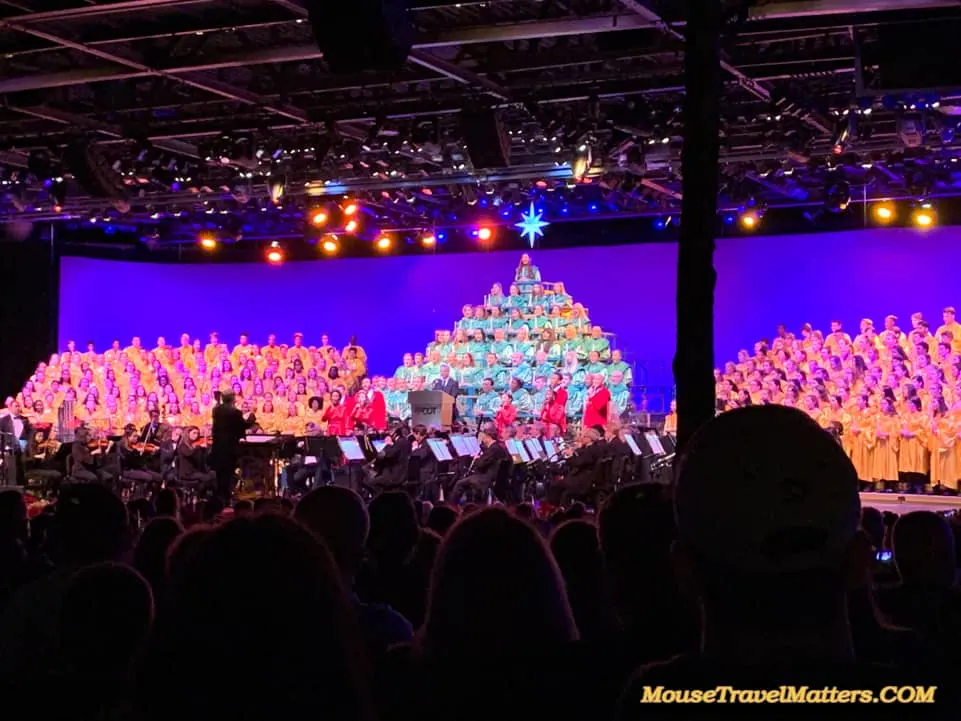 2019 Epcot International Festival of the Holidays – Candlelight Processional Dining Packages
The Candlelight Processional dining package allows you to enjoy a meal at one of Epcot's restaurants, or a surrounding restaurant while guaranteeing you a seat for that evening's show.
It's important to note that at times this is THE only way to get a seat. Those with Dining Packages are the first to be seated – those waiting in line (a.k.a. those who didn't buy the package) will be given the very few seats that remain. If you're at Walt Disney World during the holidays this is a not-to-be-missed event.
Guests who have a Disney Dining Package or Deluxe Dining Package will use 2 table service entitlements per person.
Booking for the 2019 Candlelight Processional Dining Packages will be open on July 3, 2019. Interested guests may book online or by calling (407) WDW-DINE.
2019 Candlelight Processional Dining Package Restaurants
Ale & Compass
Biergarten Restaurant
Chefs de France
Coral Reef Restaurant
La Hacienda de San Angel
Nine Dragons Restaurant
Restaurant Marrakesh
Rose & Crown Dining Room
San Angel Inn Restaurante
Spice Road Table
Teppan Edo
Tokyo Dining
Trattoria al Forno
Tutto Italia Ristorante
Via Napoli