Last Updated on December 20, 2019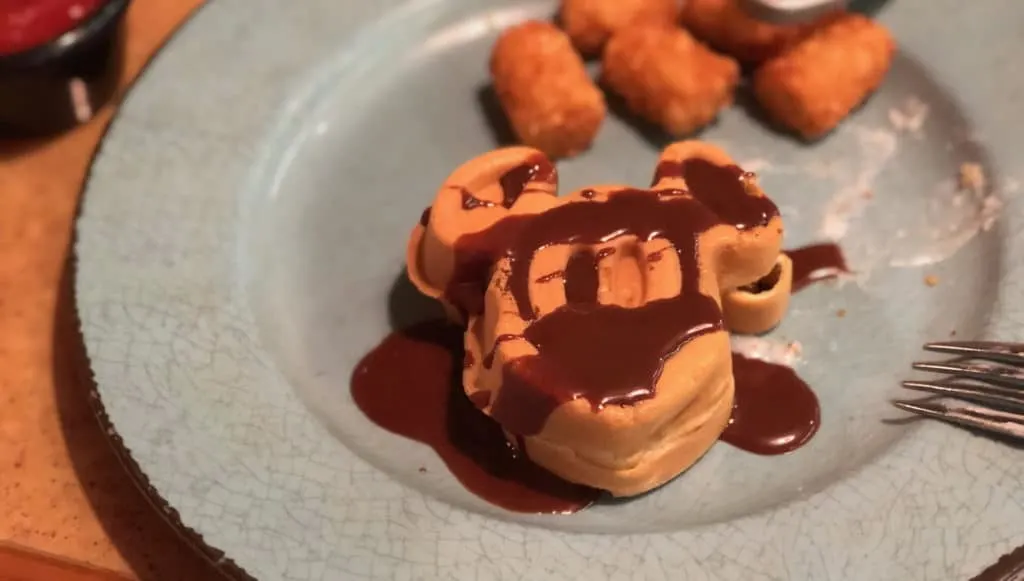 Located in Epcot's Future World, Chip and Dale's Harvest Feast at the Garden Grill restaurant is one of the only places you'll find Mickey Mouse in Epcot — and certainly the only place you'll find Chip, Dale, and Pluto! These four characters provide the ample entertainment at this family-style restaurant!
The food is served on platters here, so it's an all-you-can-eat feast with your family. Since the earliest days of EPCOT Center, this restaurant has had many different styles, but has always featured a rotating circle of tables. Throughout your meal, you'll see several of the different scenes from the Living with the Land ride below!
Service: Table-Service
Type of Food: American
Location: Epcot, Future World, The Land Pavilion
Disney Dining Plan: Yes, 1 Table Service Credit
Tables in Wonderland: Yes
Menu:
Official Disney Breakfast Menu
Official Disney Lunch Menu
Official Disney Dinner Menu
Allergy Friendly Dining Menu
The menu here is all-you-care-to-eat. The rotating menu for lunch and dinner can include grilled steak, roast turkey, and sustainable fish of the day (at dinner only). Platters are served family-style to your table, so there's no getting up to go to a buffet. Also included are salad (featuring ingredients grown within the Land Pavilion), rolls, veggies, dessert, and non-alcoholic beverages. Breakfast features all sorts of traditional fare including eggs and Mickey Waffles, along with the signature dish: Chip's Sticky Bun Bake.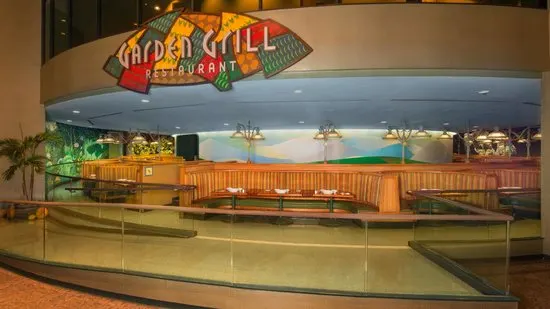 Character Dining Review
Character dining can be a big part of a Walt Disney World Resort visit. It adds an extra element of fun when you can dine with the mouse himself.
Chip and Dale's Harvest Feast at Garden Grill at Epcot's The Land is one of the most underrated character meals at Walt Disney World. The food options are incredibly family friendly, never ending and the character meetings are classic.
In order to secure our Candlelight Processional Dining Package, we had to choose from a selection of table service restaurants. Since I knew we would be spending most of our time in World Showcase and snacking on Festival Kitchens all day, a breakfast reservation made the most sense.
The children got to enjoy character dining, and I got to enjoy the fact I didn't have to drag them through a buffet line. Breakfast also tends to have more -picky-child friendly options, like fruit and bacon. No one can say no to fruit and bacon.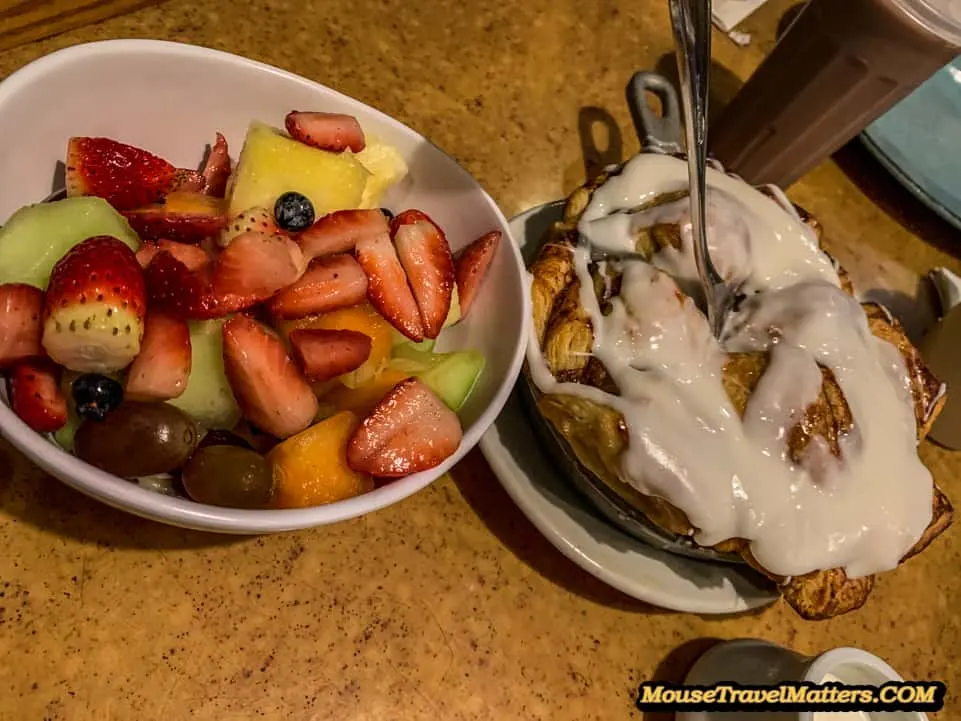 Garden Grill is a family-style dining experience. This means the food is brought to you on platters with enough to serve the entire family. However, you can ask for more of anything as it is still all you care to eat. Mickey, Pluto, Chip & Dale are there to visit your table as well.
We arrived at the table to a cute hidden Mickey set up, with the bowls and plates. Then the server arrived with the first part of the meal. A warm gooey cinnamon bun, and fresh fruit. The boys went to town on the cinnamon bun, and I have to admit I was surprised at how good it was.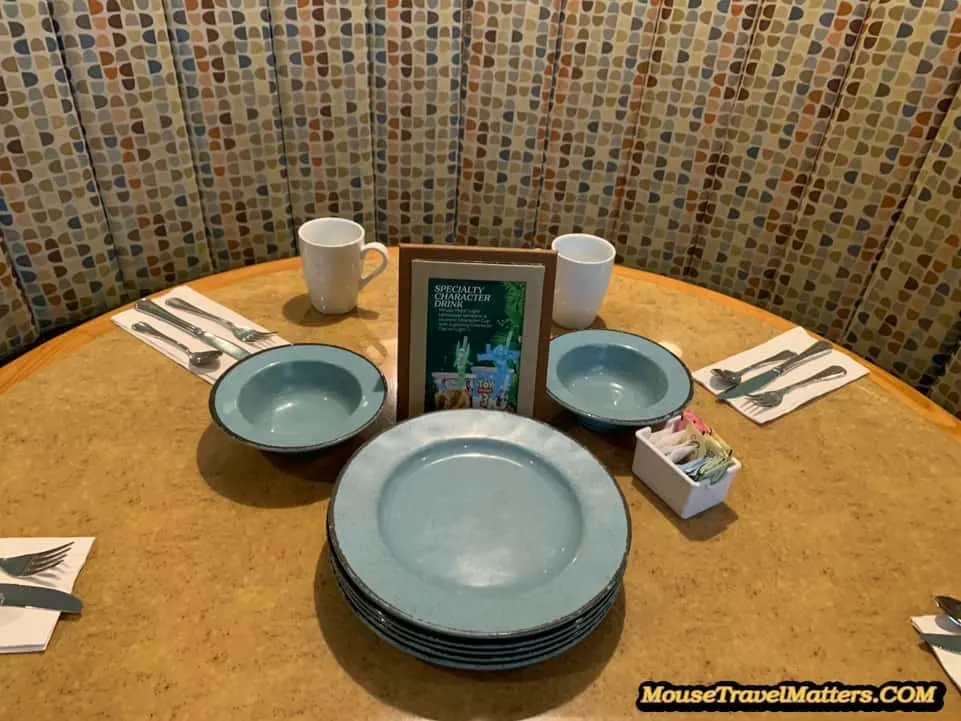 One of the great things about being on the Disney Dining Plan is that drinks are already part of the buffet, so you get another specialty drink with the Table service credit – Hot tea and mimosa it is.
A skillet of goodies then came out with a variety of breakfast goodies. Mickey Waffles, Potato Barrels, Bacon, Sausage, Eggs and Warm Chocolate Hazelnut Sauce (or maple syrup) for the waffles.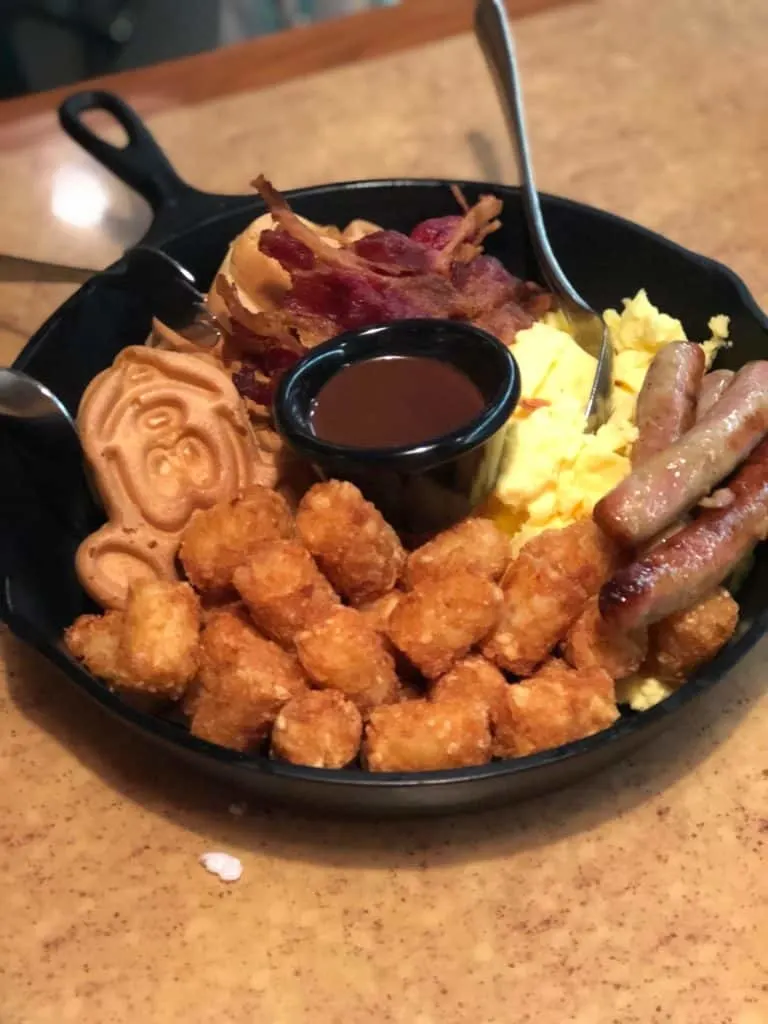 Everything was so hot and fresh. Mickey waffles as always were delicious, but the Hazelnut Sauce made them so much better! I'm not usually one for tater tots but they were so good, we even asked for more of those. Although, ketchup isn't naturally brought to the table so we had to ask for that ourselves.
Have I mentioned the restaurant rotates? Garden Grill restaurant overlooks Living with the Land and rotates around the ride. You can barely see the restaurant through the trees while on the attraction, and we can't really see the individual boats go by, but we can see the farmhouse and forest scenes and the kids thought it was incredible
The character interactions were great and not rushed, and a few even came around a second time. The food was some of the best I've had at All You Care to Eat style breakfast. Give this location a try, and add it to your Epcot Park Day.
Chip N Dale's Harvest Feast at Garden Grill accepts Disney Dining Plan and Tables in Wonderland discounts.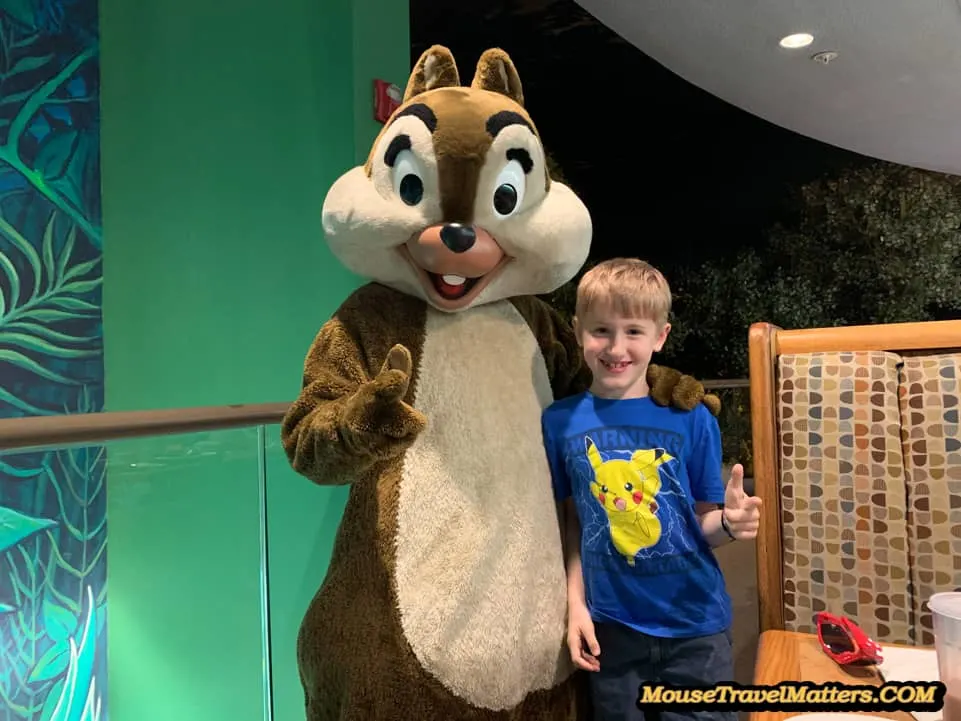 Don't forget to check out our handy Advanced Dining calendar, to remind you exactly which date you are able to make your reservations, and a quick list of all available restaurants at Walt Disney World and Disneyland Paris. View the full list of Disney Dining Plan participating restaurants.
When to book Garden Grill breakfast?
If you mean, how far in advance you should book Garden Grill, then the answer is "immediately". They don't fill super quickly but if you want your specific timing, then you should get on that as soon as you have your touring plans in order and know which day you will be at Epcot.
Don't forget, you need park tickets to access this ride.
On the other hand, timing is everything and we definitely suggest scheduling Garden Grill for first thing in the morning. If you didn't get the timing you wanted, sign up for TouringPlans free dining reservation finder and you will get a text message when something becomes available. We did this for 5 separate reservations and over the course of 6 months, I was able to change them all to better timings.
By having reservations before or at park opening, you will be in a better place to experience Living with the Land and Soarin'. When we entered the queue for Soarin', at roughly 9:45 am, it was practically walk on. The wait time was posted at 15 minutes. When we left the ride, it said 55 minutes.
How to enter Epcot before it opens?
If you have dining reservations before the park opens, aka pre-park breakfast reservations, then you will be allowed in before anyone else. Simply show them your reservation in My Disney Experience or they can scan your Magic Band.
The same goes for entering Epcot via the International Gateway. You will be allowed to enter WorldShowcase before 11 am since that's when Future World opens and corralled towards Canada Pavilion and asked to wait at the rope until 9 am, unless you have a pre-9am reservation in which we get another Magic Band scan and allowed to proceed to our restaurant.
You May Also Like
Your Thoughts...
Please share your thoughts in the comments or reach out on social media...We would love to hear from you.
Follow Mouse Travel Matters for Disney Parks news, the latest info and park insights, follow MTM on Twitter, Facebook, and Instagram.