The new Star Wars Galaxy's Edge just opened on December 5, 2019 and there are still so many questions. We have spent the last few days anaylizing the twitter conversations, Disney's official announcements (and not so official) as well as spending the last few days in Galaxy's Edge ourselves. This post will cover how to experience Rise of the Resistance at Disney's Hollywood Studios Galaxy's Edge.
Plan before you go
It's important to have a plan before attempting to ride Rise of the Resistance. This is Disney's most ambitious attraction and it's rightfully attracting a ton of people. That means you need to do some planning before arriving in Walt Disney World.
What day(s) do you want to ride the attraction?
Who is in your group?
Can everyone commit to an early morning? Remember, you need your entire group in the park to add them to a boarding group.
What time does Hollywood Studios open on the day of your visit?
Who will be the one to secure the boarding groups on their phone?
Is everyone who plans to ride connected correctly on the My Disney Experience app?
What's your plan for the day if your boarding group isn't going to be called right away? Note: You can leave Hollywood Studios after you have your boarding pass and you have two hours to return to the ride once your number is called. We personally went to Animal Kingdom to kill time.
To get a boarding group
First and foremost, you have to be scanned into Hollywood Studios. And so does the entire party you want to join with you.
From here, you will open your My Disney Experience app and select the Star Wars Galaxy's Edge button.
For this to work, you will need to have your park tickets linked to your MDE, but this is a good idea for any park visit – not just visiting Galaxy's Edge.
Once you have been issued a boarding group, be sure to have your push notifications turned on so you can be alerted when your group is ready to join.
You will have 2 hours to join the queue and have your magic band scanned after you have been called. This means you don't have to worry if your boarding group overlaps with an existing reservation elsewhere in the park.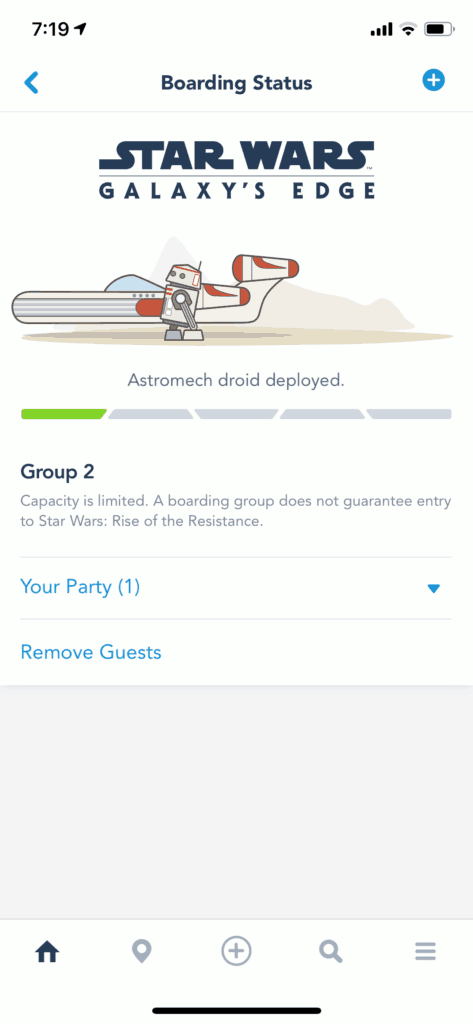 For the first few days, Disney's boarding group allocation system was flawed and countless guests exploited the situation. Once you were scanned into the attraction, guests were able to immediately join another group. This was a problem mostly because the park was opening up to 3 hours before expected and many guests were left in the dark, and without a boarding pass.
Now, that loophole has been closed and guests can only join one boarding group per day.
Getting there earlier than you think
Due to Rise of the Resistance's popularity, it is important to arrive early and expect long queues at the gate. Guests arrive early in order to scan into the park and join a boarding group. Many will leave the park if their group isn't until later (since you have 2 hours to ride), so these crowds are not necessarily indicative of how busy the park will be.
However, due to the limited capacity of the ride, guests will want to scan into the park soon after it opens. Unfortunately, this could mean arriving 1-2 hours before scheduled park opening.
Over the last few days, Disney has opened the park 2 hours before the scheduled opening, leading many guests to arrive as early as 4 am in order to secure our spot in line.
Disney has also opened up the boarding groups before EMH was officially over, leaving many off-site guests without a boarding group, despite communication to the contrary.
We are hopeful that Disney is constantly learning from their mistakes and will continue to effectively communicate their opening hours.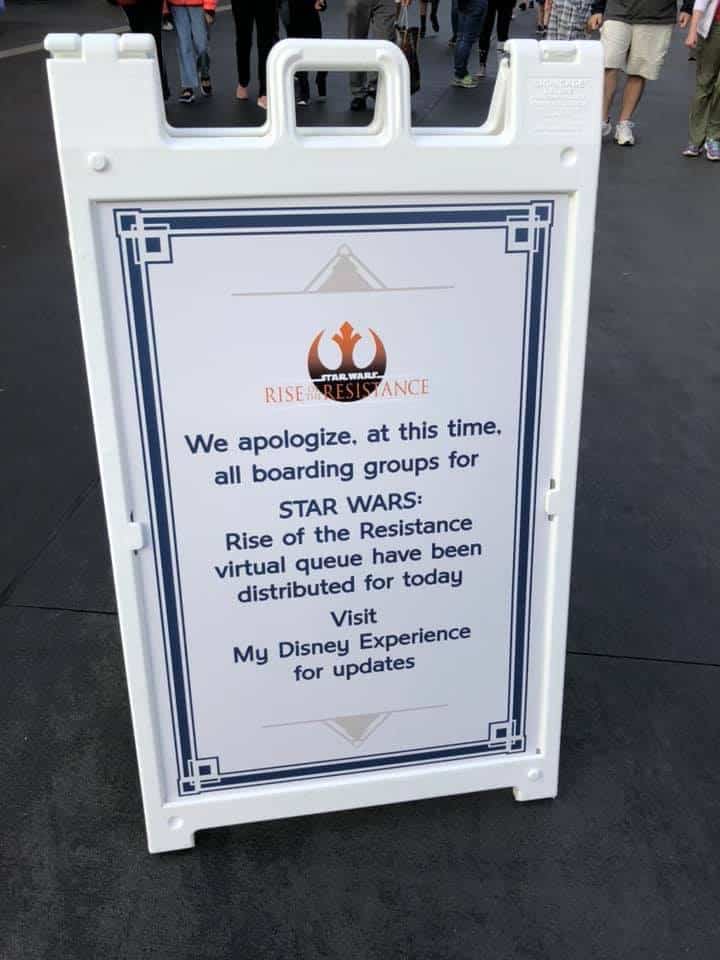 Extra Magic Hours and Rise of the Resistance
Despite popular belief and many prayers from fans, Rise of the Resistance is not included on the list of attractions available during Extra Magic Hours.
Boarding groups will also not be made available until the general public is allowed to enter Hollywood Studios, as to make the boarding process accessible to all guests and not a select few.
Many suggest this is unfair to onsite guests that have spent an exorbitant amount of money in order to have a few park perks and Rise of the Resistance should be included in this package, but the capacity of this ride is so limited, that no one else would have a chance to experience it if onsite guests were given preferential treatment. For once, I am going to side with Disney on this one.
Visiting the rest of Galaxy's Edge
While you wait for your boarding group to be called, or even to join a boarding group, feel free to explore the rest of Galaxy's Edge. Millennium Falcon; Smugglers Run is currently available during EMH and does not have a long wait time due to its refusal to adopt Fastpass queues.
Using a DAS on Rise of the Resistance
Using DAS on Rise of the Resistance is a little different than most rides. For starters, you are still expected to get a boarding group with everyone else. Think of it like a Fastpass reservation and you are simply being escorted to the front of the line – you still need a reservation regardless.
For those using a wheelchair or scooter, you must be able to transfer into the ride vehicle, as they do not have an accessibility car. You are able to use your mobility device in the main queue and the walking portion of the ride, however.
Rider swap is also available for those guests that aren't tall enough or children that simply don't want to ride.
5 tips for securing a virtual boarding pass for Rise of the Resistance
Arrive early – but not too early
As of the date of this article, there's no advantage and no reason to arrive insanely early at Disney's Hollywood Studios. As long as you're in the park and ready to use the My Disney Experience app when boarding passes go live at 7:00 am, you're on equal footing with everyone else.
If you want to "sleep in", arriving at 6:30 am simply means you need to pass security before 7 am, as most guests will already be inside Hollywood Studios and waiting patiently on their phones.
You and your group just have to be in the park before the virtual boarding pass system goes live for the day.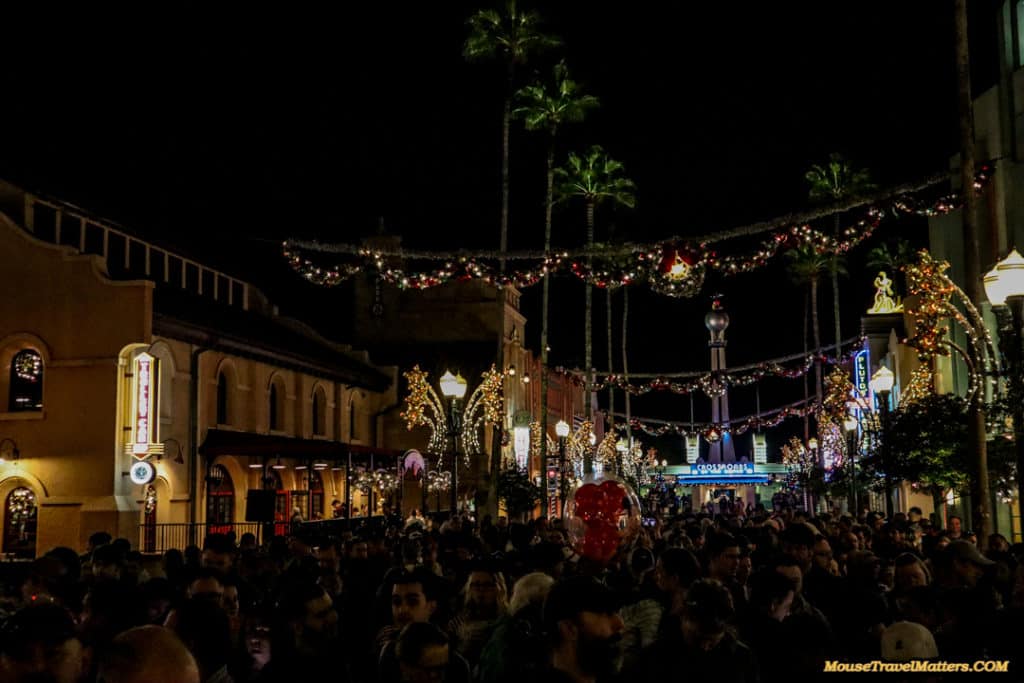 Don't use the WiFi
This is a good tip on any given day that you want to actually accomplish something on the internet within the parks. The Wifi is consistently unreliable and can be easily bogged down with so many people trying to log in at the same time.
If your carrier allows for international usage, today seems like a pretty good day to charge $8/day to use your plan outside of your home country.
Hard close the app and open it again
Currently, the main screen of the My Disney Experience app has a link providing more information on the boarding passes for Rise of the Resistance. Clicking through takes you to a secondary screen with buttons to view your status and to book the boarding pass. The "Join Boarding Group" is the one you need to hit as soon as you can if you hope to ride. This button will activate/turn red when the window to book officially opens.
If this doesn't happen, simply hard close the app and try again. Some have recommended hard closing the My Disney Experience app a few minutes before the window opens and opening it back up once the magic time arrives. 
Stay calm and ride Rise of the Resistance
You're going to get a boarding pass if you're in the park when the window opens. It's really that simple. When you'll actually get to ride comes down to luck, and Rise of the Resistance running smoothly. Keep your plans flexible for your Rise of the Resistance day and you'll be in a much better mood when experiencing the best attraction Disney has made in a long, long time.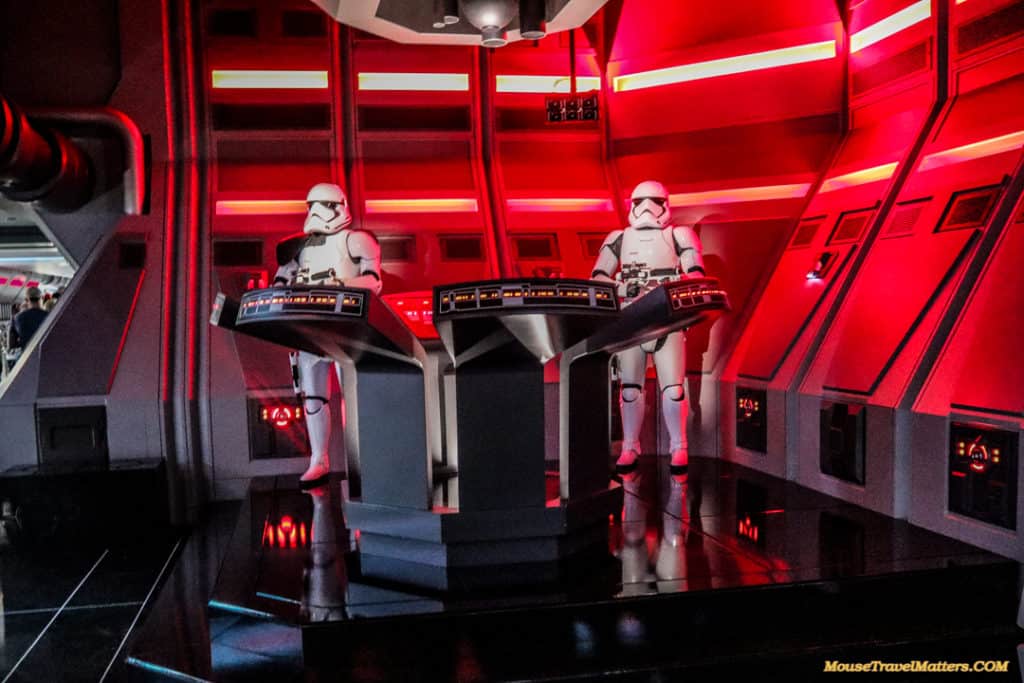 Join our Facebook group
Ask any questions, share your knowledge and just enjoy getting to know other Disney fans in our Facebook groups called Disney Star Wars Blog from Everywhere to Galaxy's Edge and Walt Disney World And Disneyland Paris With Kids
For Disney destinations, our preferred travel agency is Clickthemouse.
They specialize in Disney destinations and will help you with all the details like dining, FastPasses, Magical Express, park days, etc. The best part is that their services are FREE when you book your vacation with them. Personalized service at no extra cost to you! To get a quote from a Click the Mouse travel agent, simply click on the quote button below and they will be in touch: