Last Updated on March 1, 2020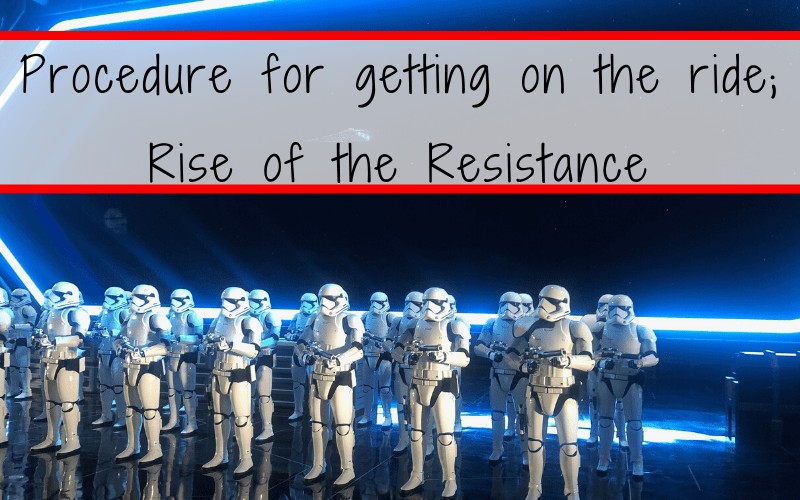 The new Star Wars Galaxy's Edge just opened on December 5, 2019 and there are still so many questions. We have spent the last few days anaylizing the twitter conversations, Disney's official announcements (and not so official) as well as spending the last few days in Galaxy's Edge ourselves. This post will cover how to experience Rise of the Resistance at Disney's Hollywood Studios Galaxy's Edge.
How to Use Boarding Groups and Virtual Queue to Ride Star Wars: Rise of the Resistance
Latest News: Boarding Group Return Time Windows Changed
It looks like the return time window for Star Wars: Rise of the Resistance has changed and guests now have less time to get into the queue once their group has been called in Disney's Hollywood Studios.
In the past guests had 2 hours to return and get in the queue for Rise of the Resistance once they were informed that it was time for their boarding group to start loading. That time has now been reduced in some cases and guests are either getting boarding passes with a 1-hour return time or 2-hour return time. It seems like this is being chosen for guests at random as Disney is probably testing a few things.
Be sure to keep checking the My Disney Experience app to see when it's your group's turn to start getting into line. You definitely don't want to rely on the push notifications as your only way of finding out. We suspect this might end up being a problem with more guests running into conflicts between their boarding group return time and other previously made dining reservations or FastPasses. It will be interesting to see how Disney handles those.
Plan before you go
It's important to have a plan before attempting to ride Rise of the Resistance. This is Disney's most ambitious attraction and it's rightfully attracting a ton of people. That means you need to do some planning before arriving in Walt Disney World.
What day(s) do you want to ride the attraction?
Who is in your group?
Can everyone commit to an early morning? Remember, you need your entire group in the park to add them to a boarding group.
What time does Hollywood Studios open on the day of your visit?
Who will be the one to secure the boarding groups on their phone?
Is everyone who plans to ride connected correctly on the My Disney Experience app?
What's your plan for the day if your boarding group isn't going to be called right away? Note: You can leave Hollywood Studios after you have your boarding pass and you have two hours to return to the ride once your number is called. We personally went to Animal Kingdom to kill time.
How Do Boarding Groups Work for Rise of the Resistance?
First and foremost, you have to be scanned into Hollywood Studios. And so does the entire party you want to join with you.
Here are the steps you need to enter a boarding group for Rise of the Resistance:
As soon as you enter Disney's Hollywood Studios, open My Disney Experience and go to: "Star Wars: Rise of the Resistance – Access by Boarding Group." (This is available after the official park opening time, so if you try it before it won't work).
Click on "Find Out More." You will then see the boarding status of Star Wars: Rise of the Resistance and if boarding groups are still available.
If boarding groups are available, tap the "Join Boarding Group" button.
You will then be given a boarding group number. When your number is called, proceed to the entrance of Rise of the Resistance.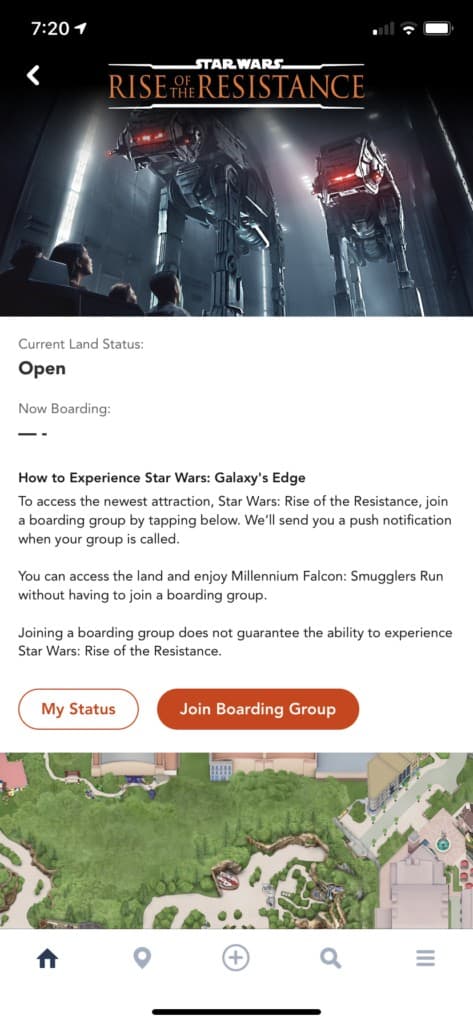 Make sure to download the My Disney Experience app BEFORE going to Hollywood Studios. Technical issues can happen with electronic devices, so make sure your account works and you are already logged in before heading to the park. This will save you valuable time once you are there.
For this to work, you will need to have your park tickets linked to your MDE, but this is a good idea for any park visit – not just visiting Galaxy's Edge.
Once you have been issued a boarding group, be sure to have your push notifications turned on so you can be alerted when your group is ready to join.
You will have 2 hours to join the queue and have your magic band scanned after you have been called. This means you don't have to worry if your boarding group overlaps with an existing reservation elsewhere in the park.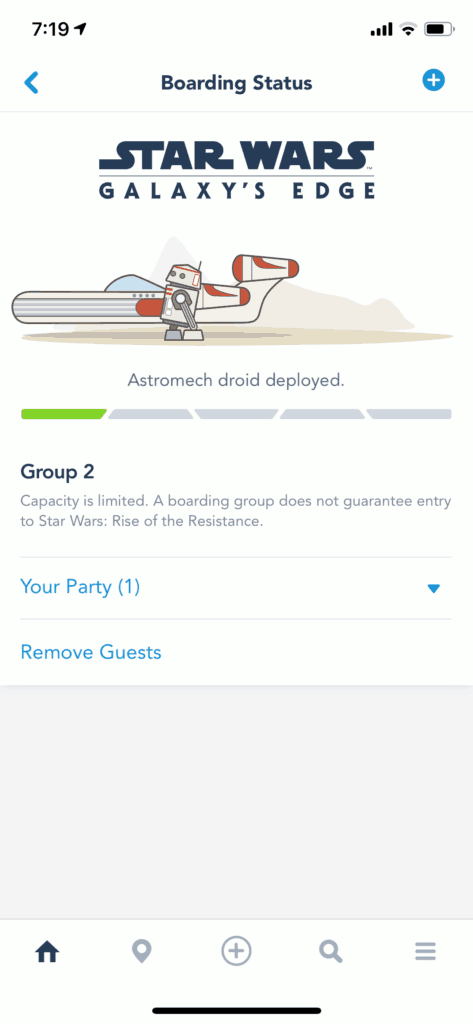 For the first few days, Disney's boarding group allocation system was flawed and countless guests exploited the situation. Once you were scanned into the attraction, guests were able to immediately join another group. This was a problem mostly because the park was opening up to 3 hours before expected and many guests were left in the dark, and without a boarding pass.
Now, that loophole has been closed and guests can only join one boarding group per day.
How Do I Know When My Boarding Group is Ready?
Unfortunately, the boarding passes don't tell you the exact time you have to come back. We suggest you to continue monitoring your status throughout the day to get a feel for how fast the boarding groups are moving. That way you'll be ready when your turn is called.
This return time window used to always be 2 hours, but Disney has recently changed it to 1 hour in some cases so it means you'll have to pay extra close attention now to when you need to return.
If you enable "Push Notifications" for My Disney Experience, you will get a message across your mobile phone screen which will tell you right when your boarding group is ready.
Backup Boarding Groups
Disney has also recently introduced a "Backup Boarding Groups" system. Regular boarding groups will start filling up as normal every morning, immediately upon park opening. However, there are now additional "Backup Boarding Groups" that additional guests can be put into, giving them the opportunity to ride.
If Rise of the Resistance is running efficiently during that day and all the guests in the regular groups ride before the end of park hours in Hollywood Studios, Disney is then queuing up guests from the backup groups. This means that those guests then have the possibility to get to ride Rise of the Resistance.
What Time Do Boarding Groups Open?
Disney is currently allowing guests to enter the park about 30 minutes before the official park opening time.
Guests are NOT given access to the Rise of the Resistance boarding groups immediately upon park entry. Instead, boarding groups are now made available to ALL GUESTS at the same time, at the exact listed park opening time for that day.
For example, if it's an 8:00 am opening, then the boarding groups open at 8:00 am, not earlier.
They will be able to enter the park earlier than the listed time, probably around 7:30 am, but will have to wait to enter the virtual queue and get a boarding group until exactly 8:00 am.
Keep in mind, however, that it can take up to 2 minutes before your app recognizes you as being scanned into the parks. You will want to make sure you are scanned in well before the posted opening times.
Getting there earlier than you think
Due to Rise of the Resistance's popularity, it is important to arrive early and expect long queues at the gate. Guests arrive early in order to scan into the park and join a boarding group. Many will leave the park if their group isn't until later (since you have 2 hours to ride), so these crowds are not necessarily indicative of how busy the park will be.
However, due to the limited capacity of the ride, guests will want to scan into the park soon after it opens. Unfortunately, this could mean arriving 1-2 hours before scheduled park opening.
Over the last few days, Disney has opened the park 2 hours before the scheduled opening, leading many guests to arrive as early as 4 am in order to secure our spot in line.
Disney has also opened up the boarding groups before EMH was officially over, leaving many off-site guests without a boarding group, despite communication to the contrary.
We are hopeful that Disney is constantly learning from their mistakes and will continue to effectively communicate their opening hours.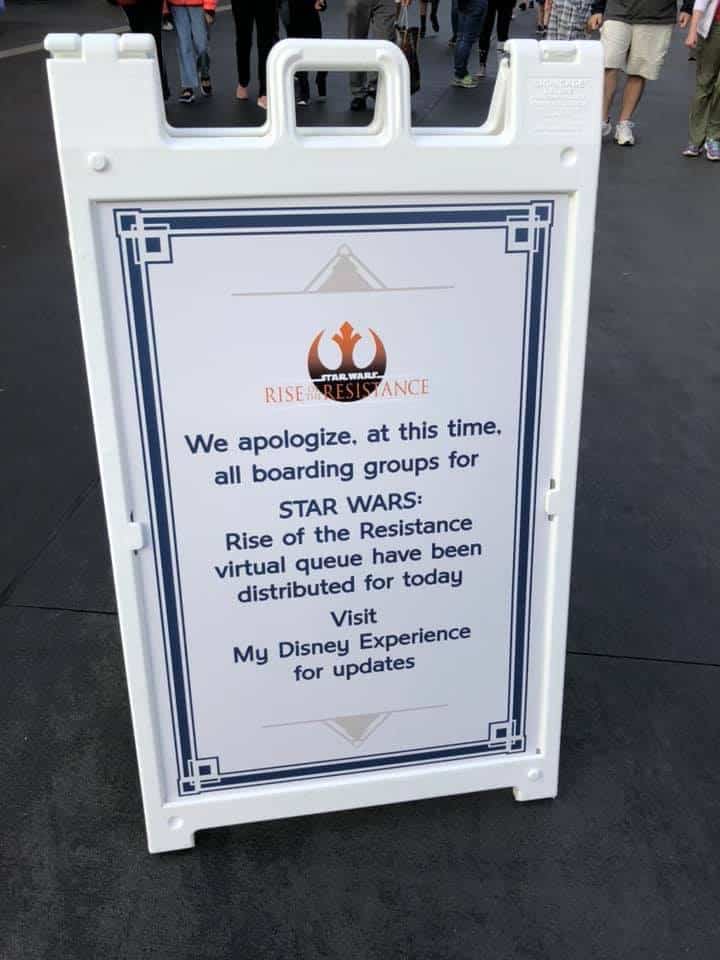 Extra Magic Hours and Rise of the Resistance
Despite popular belief and many prayers from fans, Rise of the Resistance is not included on the list of attractions available during Extra Magic Hours.
Boarding groups will also not be made available until the general public is allowed to enter Hollywood Studios, as to make the boarding process accessible to all guests and not a select few.
Many suggest this is unfair to onsite guests that have spent an exorbitant amount of money in order to have a few park perks and Rise of the Resistance should be included in this package, but the capacity of this ride is so limited, that no one else would have a chance to experience it if onsite guests were given preferential treatment. For once, I am going to side with Disney on this one.
Visiting the rest of Galaxy's Edge
While you wait for your boarding group to be called, or even to join a boarding group, feel free to explore the rest of Galaxy's Edge. Millennium Falcon; Smugglers Run is currently available during EMH and does not have a long wait time due to its refusal to adopt Fastpass queues.
Using a DAS on Rise of the Resistance
Using DAS on Rise of the Resistance is a little different than most rides. For starters, you are still expected to get a boarding group with everyone else. Think of it like a Fastpass reservation and you are simply being escorted to the front of the line – you still need a reservation regardless.
For those using a wheelchair or scooter, you must be able to transfer into the ride vehicle, as they do not have an accessibility car. You are able to use your mobility device in the main queue and the walking portion of the ride, however.
Rider swap is also available for those guests that aren't tall enough or children that simply don't want to ride.
FastPass+ or Advance Dining Reservation Conflict with our Boarding Pass Return Time
Back when you had a solid 2 hours to get back to Rise of the Resistance once your boarding group was called, Guest Services wasn't budging on your Fastpass timings, Dining Reservations or Boarding Group.
Lately, however, guests have reported Guest Services is a lot more lenient with Rise of the Resistance. Many have reported showing up 30 minutes passed their 2 hour allocated return time due to traffic, Dining reservation conflict or unexplained reasons, and they were allowed to enter the queue without much issue.
Join our Facebook group
Ask any questions, share your knowledge and just enjoy getting to know other Disney fans in our Facebook groups called Disney Star Wars Blog from Everywhere to Galaxy's Edge and Walt Disney World And Disneyland Paris With Kids