Last Updated on April 30, 2020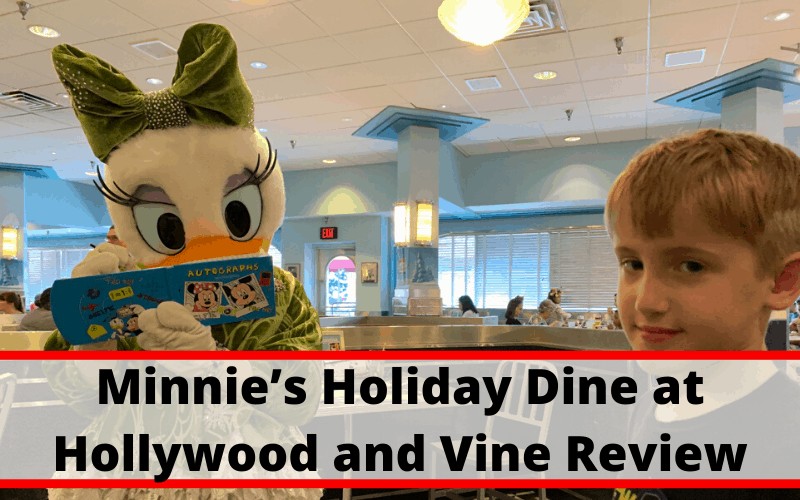 Minnie's Holiday Dine is a Christmas-themed character meal at Hollywood & Vine in Disney's Hollywood Studios. This Minnie's Holiday Dine review features food photos, a look at the holiday finery Mickey, Minnie & friends done for the festive meal, and our thoughts on whether it's worth it.
Hollywood & Vine
As part of our Best 8 day Disney itinerary for families post, we went over a handful of Table Service restaurants that are great for character meetings as well as bonus perks like dining packages. Since we were touring Hollywood Studios for 2 days and there wasn't a guarantee of seeing Mickey and Friends in the park, we decided to have a lunch break at Hollywood & Vine.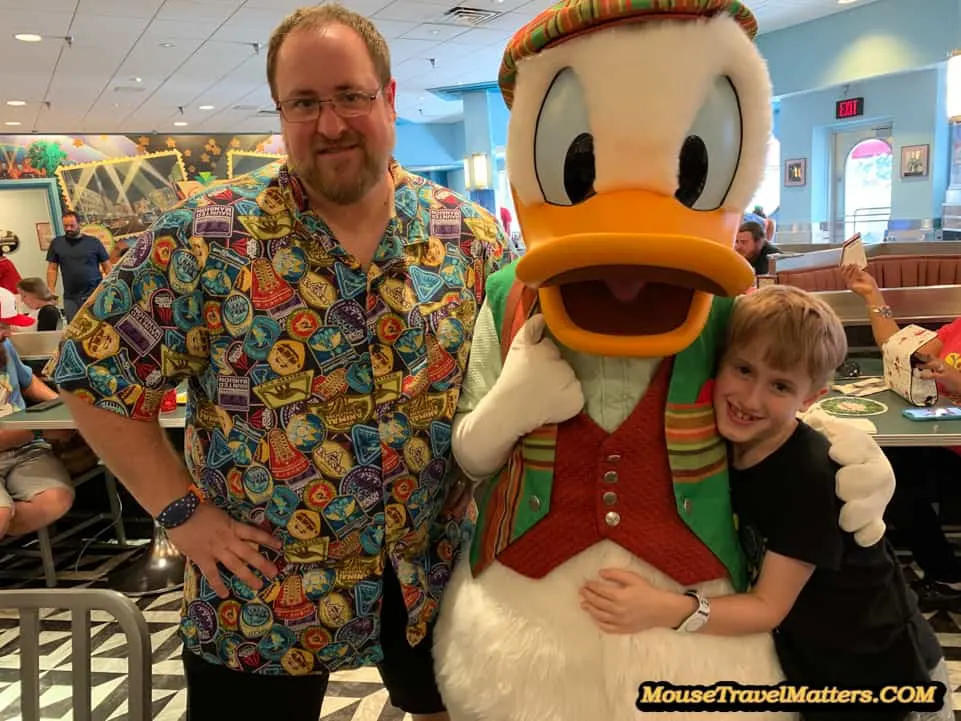 We would have preferred Disney Junior Play 'N Dine during breakfast when the Disney Junior characters come out, but since their hours are limited to 8 am-10:20 am and we already had morning reservations in Galaxy's Edge, we felt that Minnie's Holiday Dine was a great second choice.
Minnie's Holiday Dine Review
We had heard from many readers and bloggers alike that Minnie's Holiday Dine was among the Best Character meals at Disney. Not only was the food incredible, but it was also unlimited. Like most buffets, this was an all-you-care-to-eat restaurant and the options were accessible to those with picky eaters.
We realize that not everyone is going to have 2 full days at Hollywood studios, but if you do, we suggest following along with our Hollywood Studios 2 day family itinerary, which includes a lunch-time break at Hollywood and Vine for the sole purpose of recharging your batteries and meeting a few characters in the process.
I have a personal problem with lining up for characters when I could be touring. But meeting them while I eat, no problem.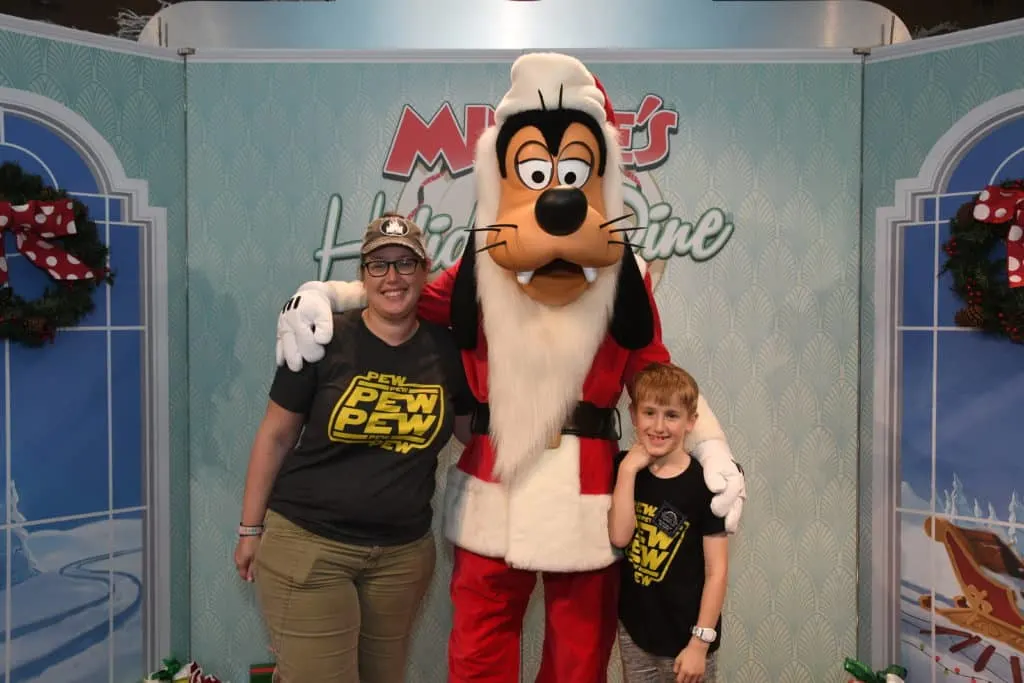 Meal Prices Cash or Dining Plan
For starters, you should probably know that this meal is not cheap. It's nearly $54 per adult or $32 per child, plus tax and gratuity. For a buffet, you will want to come in hungry and stay as long as they let you, just to get your tummies full and your money's worth.
This meal is also only one table service credit for those on the Disney Dining Plan and can be booked as a Fantasmic dining package. Given the price and that it only requires one credit on the Dining Plan, this is one of the best options if you're trying to maximize your value on the Disney Dining Plan.
I can safely say I ate roughly $35/plate worth of food, while the rest of that price tag would be the convenience of character meetings and the dining package. It really comes down to how much your time and energy are worth.
Character Greetings
During the holiday season, Minnie and friends dress up in their Christmas finest. Goofy is at the front of the restaurant, on your way before sitting down, and he is dressed as Santa for the holidays.
We, the adults, enjoy visiting the same characters over and over again to see them in different outfits. The children, however, wondered why we were seeing them again. Especially when we have an autograph book and they refuse to have the same character signature twice – "it's a waste of space, mummy".
What characters are at Hollywood & Vine?
Minnie Mouse hosts lunch and dinner parties with her friends Mickey, Donald, Daisy, and Goofy throughout the year. Remember, all Character appearances are subject to change, and do change.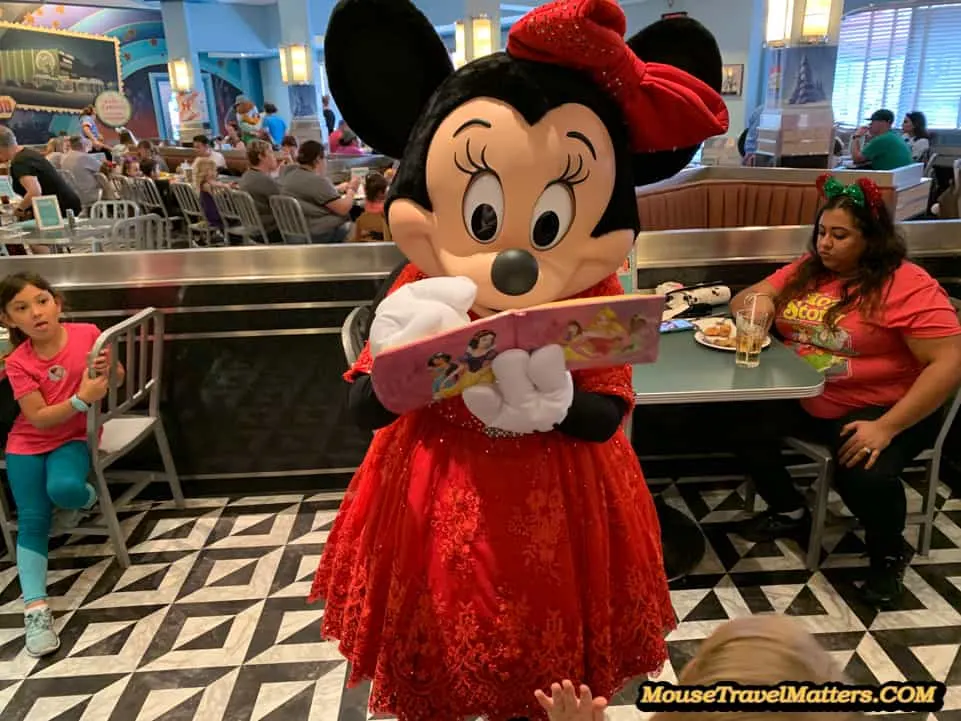 Dining Atmosphere
The building itself is shared with 50's Prime Time Dinner, as they share a common restroom area. The theming is similar to Prime Time, in that it is modelled after a 50's style diner, not your grandma's kitchen. It fits well with the whole theme of Hollywood Studios.
Check out Minnie's Holiday Dine official menu on Disney's official website.
Your Thoughts...
Please share your thoughts in the comments or reach out on social media...We would love to hear from you.
Follow Mouse Travel Matters for Disney Parks news, the latest info and park insights, follow MTM on Twitter, Facebook, and Instagram.
You May Also Like…
Disney's Hollywood Studios Holiday Foodie Guide – with a downloadable checklist
Disney Festival of Fantasy Parade Viewing Tips & Review
Christmas at Hollywood Studios
Hollywood Studios Two Day Family Itinerary