Last Updated on April 25, 2021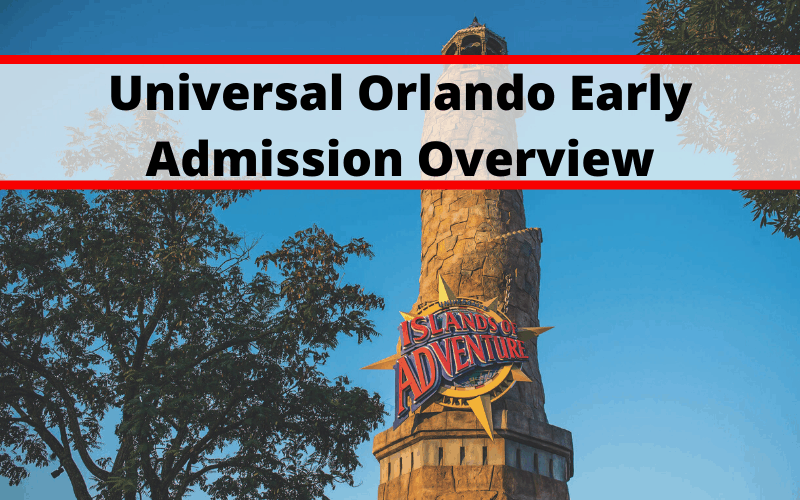 Early Park Admission (EPA, also sometimes referred to as Early Entry) is the most valuable perk available to all Universal on-site Resort Hotel guests.
This perk grants entry to The Wizarding World of Harry Potter (and sometimes other rides) 1 hour before the general public.
This perk is given for free to all guests staying at a Universal Orlando on-site hotel guests. Premier Annual Pass holders can take advantage of Early Park Admission on any morning, as can Preferred Pass holders on select days (block-outs apply).
Universal Early Admission Tips
During early park admission, some of the attractions, shops, and restaurants in the participating Wizarding World area will be open, along with select attractions outside the Harry Potter area. Early entry is by far the best time to experience Escape from Gringotts without waiting an hour or more in the standby queue.
Universal publishes their Early Park Admission calendar a month or two in advance on this webpage,
Here is what is commonly open during the Early Admission (as with everything, subject to change at any time):
Islands of Adventure
Harry Potter and the Forbidden Journey
Flight of the Hippogriff
Caro-Seuss-el (seasonally)
Universal Studios Florida
Despicable Me: Minion Mayhem (sometimes)
Harry Potter and the Escape from Gringotts
Revenge of the Mummy (seasonally)
Who Can Get Early Park Admission
There are 3 types of guests that have access to Early Park Admission
On-site Resort Hotel guests
Premier Annual Pass holders (and referred Pass holders on select days)
Guests that use an Authorized Travel Agency
That's right! If you choose to spend your week at a Disney resort, or an off-site hotel during your Orlando vacation, be sure to ring up your favourite travel agent, and make your purchase through them.
Not only will you pay the same price, because all the great travel agents are free to use, but you will be given Early Park Admission free of charge.
Your Thoughts...
Please share your thoughts in the comments or reach out on social media...We would love to hear from you.
Follow Mouse Travel Matters for Disney Parks news, the latest info and park insights, follow MTM on Twitter, Facebook, and Instagram.
You May Also Like…
A Complete Guide to Universal Studios for Toddlers and Babies
What is the Universal Express?
Everything You Need to Know to Plan a Universal Studios Orlando Vacation
Universal Orlando Single Rider Lines
Universal Orlando Resort On-Site Hotel Benefits