Last Updated on May 15, 2021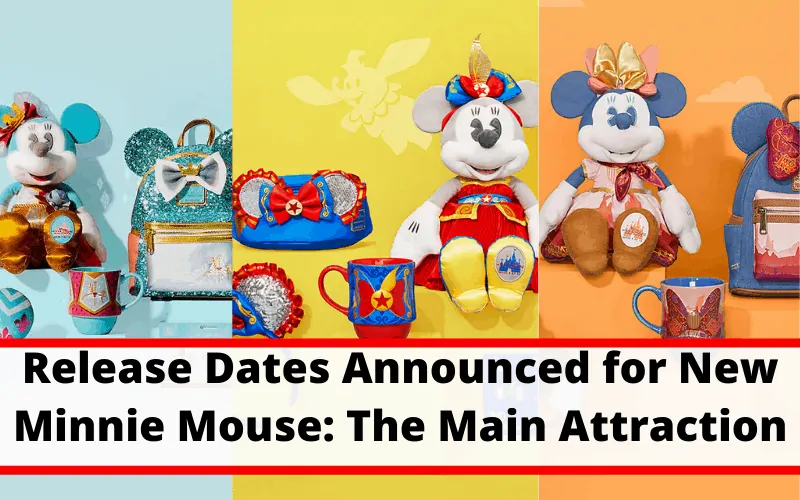 Three brand-new merchandise collections themed around "Minnie Mouse: The Main Attraction" will head to shopDisney.
The King Arthur Carrousel collection will be available on August 11th, with The Dumbo collection available beginning August 18th, and the Big Thunder Mountain collection on September 15th.
Many Disney Stores remain closed, but the collections will be available to purchase through shopDisney's new MerchPass system.
There is no word yet if and when "Minnie Mouse: The Main Attraction" will be coming to your local Disney Store or available in Canada. Previous months' collections are slowly making their way to the stores, but even they don't know when they are able to sell.
Each collection includes a themed Minnie Mouse plush, a bag, a coffee mug, Minnie Mouse ears, and collectible pins.
Series 7: King Arthur Carrousel – August 11th
Series 7 features royal gold and blue designs from King Arthur Carrousel at Disneyland. It includes a sparkly mini Loungefly backpack.
Series 8: Dumbo – August 18th
Series 8 celebrates Dumbo and features circus-themed designs of red, yellow, and blue. The bag available in this series is a fanny pack.
Series 9: Big Thunder Mountain – September 15th
Series 9 is themed around Big Thunder Mountain Railroad, with warm tones and denim details throughout. The bag featured in this collection is a mini Loungefly backpack.
Do you plan on purchasing any items from these upcoming collections? Let us know in the comments!
Your Thoughts...
Please share your thoughts in the comments or reach out on social media...We would love to hear from you.
Follow Mouse Travel Matters for Disney Parks news, the latest info and park insights, follow MTM on Twitter, Facebook, and Instagram.
You May Also Like…
A Look at Merchandise for the 2020 Epcot International Flower & Garden Festival
Shopping Tips for Disney World