Last Updated on May 18, 2021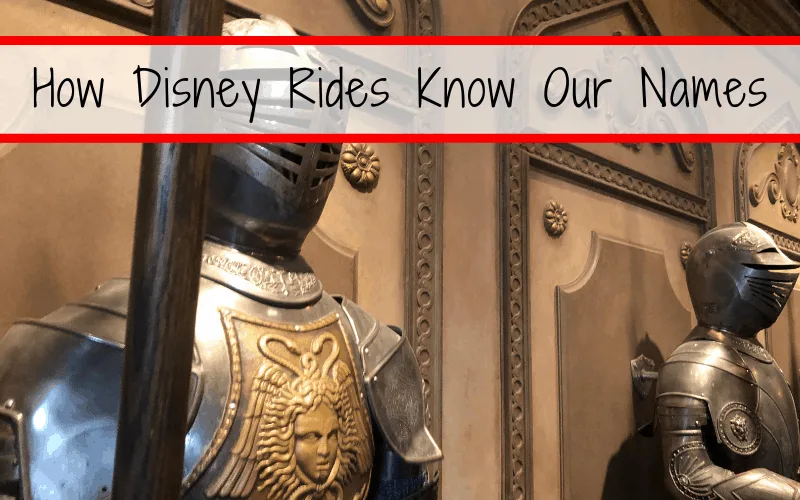 A friend went to Disney World with her kids last Christmas and she posted the greatest picture on her Facebook.
As they were floating out of it's a small world, the signs changed from saying goodbye in various languages, to say goodbye to her children… with their names appearing on the screen.
Now, before anyone says anything, this wasn't random. They both have fairly unique names and for both to appear at the same time, while they were floating out, it was not a coincidence.
MagicBands to Enhance Your Disney Park Experience
Introduced in 2013, MagicBands have changed the way guests visit Walt Disney World. Everyone staying at the resort receives MagicBands for admission to the parks.
Off-site resort guests are encouraged to purchase MagicBands and link them to their My Disney Experience account as it is the most efficient and immersive way to visit the parks.
This post may contain affiliate links.
To which I earn a small commission, at zero cost to you!
Find more info in our
Privacy Policy
.
Technology for Tracking
MagicBands act as tickets to the park, keys to your hotel room, and a way to pay for food and merchandise. More to the point, MagicBands are used when getting onto rides with a Fast Pass+ reservation. Simply scan your MagicBand at the entrance of the Fast Pass queue to confirm your reservation and continue on to the "front of the line".
But, as my friend mentioned, she and her family didn't have FastPass reservations for it's a small world, so they didn't scan their MagicBands at any point for this attraction.
She may not have scanned her MagicBands, but the ride scanned her! The MagicBands actually come with TWO antennas built right into them. A close range RFID chip and a longer range ultra-high-frequency radio receiver.
The RFID is the one we think about when using the MagicBands; this is the technology that allows us to tap our MagicBands at a Fast Pass kiosk, point of purchase and opening our hotel room door. In order to eliminate any funny business, like accidentally paying for someone else's meal or unlocking our hotel room door while nowhere near it, Disney's Mickey to Mickey design ensures that all actions taken as purposeful.
The ultra-high-frequency radio, on the other hand, is the technology that can be used from great distances. A sensor that you don't see, and probably weren't aware of until now, collects the data and uses it to enhance the ride experience.
Where are they Used? Everywhere!
This can be seen at Be Our Guest, where Disney uses your MagicBand to triangulate your location in order to deliver your food to the correct table. Frozen Ever After also uses these sensors to make sure your ride photo is uploaded to your PhotoPass account since there isn't a kiosk at the end of the ride. This is also how my friend was able to see her children's names on the goodbye signs at it's a small world.
There is going to be a whole new host of uses with the open of Star Wars Galaxy's Edge; decisions made during the attractions will decide how you are interacted with throughout the rest of the land. This immersive experience is only made possible with wireless communication between your MagicBand and Disney technology.
The idea makes great business sense. The company actively recruits mathematicians to examine patterns related to everything from food consumption to the schedules of costumed characters roaming the parks. If Disney knows where the guests are, Disney could ostensibly devote more resources to the spots where they flock.
Privacy in Mind
Disney updated the MagicBand Fall 2018 with the release of the MagicBand 2. A new design enabled guests to remove a screw and take out a circuitry-filled medallion that could be attached to a keychain.
Disney says that it encrypts and anonymizes all data collected through the MagicBand system, so you shouldn't necessarily worry about getting spied on at the parks.
Your Thoughts...
Please share your thoughts in the comments or reach out on social media...We would love to hear from you.
Follow Mouse Travel Matters for Disney Parks news, the latest info and park insights, follow MTM on Twitter, Facebook, and Instagram.
You May Also Like…