Last Updated on May 4, 2021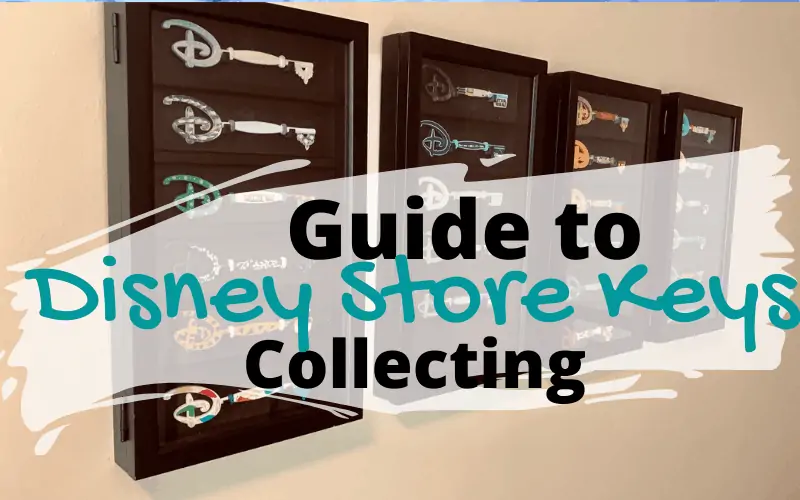 Disney Store keys – what are they, why do people love them, and are they really worth getting up early to stand in line for?
This post may contain affiliate links.
To which I earn a small commission, at zero cost to you!
Find more info in our
Privacy Policy
.
Disney Key Collection Explained
I once invited my parents to join me at the local Disney Store for a new Disney Store Key release and they both looked at me like I had two heads. "What's a Disney Store Key? Is it a toy, a trophy, do you win it?"
Shop Disney often has an exciting lineup of keys here<<<.
When I told them that it was just a plastic key that looks pretty, they quickly declined and stayed home with the kids while I shopped alone (and in peace). So a win-win for me but it had me thinking of how to properly explain the Disney Store Keys to non-Disney fanatics.
Essentially, every Disney milestone is celebrated with a series of Disney merchandise; T-shirts, pins, Minnie Ears, and Disney Store Celebration Keys. Once upon a time, Keys came on a string and a tag that showcased what we were celebrating but recently they have mostly been in decorative boxes. Keys also used to be released once every few months but since COVID-19 started, Disney has been releasing Disney Store Keys a few times a month.
Disney Store Keys usually line up with an anniversary of a popular Disney film like Toy Story or Winnie the Pooh, or the release of a film they just know is going to be huge, like Frozen 2 and Soul. Holiday keys have been known to pop up every once in a while as well. They are 100% for collectors and not meant to be toys for small children.
Disney store opening ceremony key
The first key released is the Opening Ceremony key. Current Covid measures mean Disney Stores can't have line ups and people touching the giant keys, and therefore the opening ceremony has been temporarily suspended for the time being.
But before COVID, and once this pandemic is successfully under control, Disney Stores used to give out an Opening Key to the "first" guest in the line. We say "first" because they ALWAYS choose the first child in the line, even if they are the 10th group. They also take the child's age into consideration; our daughter was selected over our son because she is younger (we went back a few weeks later without her, so he would have a fighting chance of being selected). Disney stores are given a limited number of Opening Ceremony Keys (the green one with white leaves) and they are date stamped in the back room (I am told). If a guest looses a key, they will not be replaced nor can one be purchased in store.
How to Get a Disney Store Key
Each key is released to celebrate a special Disney anniversary or event. They are limited edition, so you usually have to move fast on their release day before they run out. In the past, shoppers would have to make a qualifying purchase so they can get the key. Once Covid measures closed down many of the store's physical locations, Disney started to sell the keys online for a flat fee.
Where to get updates
Again, before Covid, Disney would release the dates for their online launch of the Disney Store Keys and those dates would be the same for physical stores. However, in order to avoid long lines at the store, Disney is simply mailing out the product to the stores and they put them up for sale once it arrives. Cast Members are instructed have guests call back each day and ask if a key has been released yet or not.
For the most part, you can keep track of new updates on Shop Disney's Instagram page and your local Disney fan page on Facebook. There will always be someone there to post a new photo, date and price of new keys mere moments after details are released.
Displaying your Disney store keys
We started hanging our keys on a cork board with our Disney pins but this was not sustainable.
After months of searching and playing around with designs, we discovered the Michaels Coin Display Case and it was the perfect fit for a Disney Key. We did some 3D printing magic and made ourselves some custom Disney Store key holders to display Disney keys.
Since adding these key holders to our Etsy Store, we have been receiving messages from across all of North America, and a handful from England, purchasing our key holders. I am beyond thrilled at how well these were received and I have successfully taken over my husband's 3D printer in order to meet demand #sorrynotsorry
Your Thoughts...
Please share your thoughts in the comments or reach out on social media...We would love to hear from you.
Follow Mouse Travel Matters for Disney Parks news, the latest info and park insights, follow MTM on Twitter, Facebook, and Instagram.