Last Updated on February 15, 2021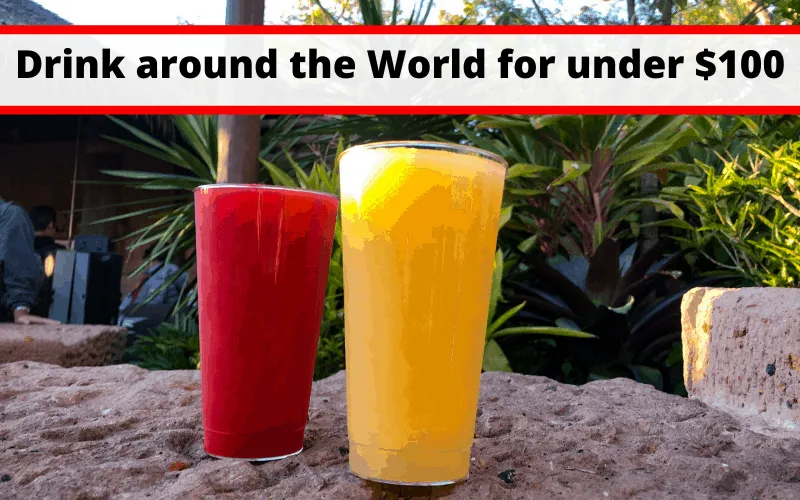 Articles exist about EPCOT Drinking and Snacking around the world some of them are not great. Here's what you need to know.
I recently came across an older (2018) Buzzfeed article suggesting that if guests can drink around the world under $100, they are the winner. I am 100% on board with fun on the cheap, I am not so impressed with the choices that Buzzfeed offered. Nor were the comment sections; nearly everyone came out over $100. Without prices listed on the game board, it was like playing the Price is Right Disney edition.
EPCOT Drinking and Snacking
Personally, I've never made it around the world in a single day. Mostly because I have little humans with me, but even on my adult-only holidays to Disney World, I don't have the stamina to consume 11 alcoholic drinks, in the sun, on my feet, in under 12 hours.
Let's have a better look at all the amazing drink (and snack) options available at each pavilion, including prices, so you can better budget your Drink Around the World experience.
This post may contain affiliate links.
To which I earn a small commission, at zero cost to you!
Find more info in our
Privacy Policy
.
The Ultimate Guide To Drinking Around The World At EPCOT
For starters, "Drinking Around The World" is the process of making your way around World Showcase while stopping for drinks and snacks in each country. Here's your ultimate guide to snacking and drinking around the world at Epcot.
How much does it cost to drink around the world at Epcot?
To say the serving sizes are large, is an understatement. I prefer to share my drinks with hubby and we still knocked off our feet before UK pavilion.
The Epcot drink around the world cost varies depending on what you get and your group. If you drink around the world at every country in Epcot, you are going to be spending at least $8-$15 per drink.
Where To Start Drinking In The Epcot World Showcase
There is a large debate over where to start your World Showcase tour. Many say to start in Mexico, and many others say to start slowly in Canada. While I am all for starting in Canada, I would argue that slow and steady is best at the end of your journey. Especially since the rides all start in Mexico and there isn't much left to experience the closer you get to Canada, I would prefer to ride Mexico, Norway and France while I am at the start of my drinking journey.
Drink around the World Merch
Because of course there is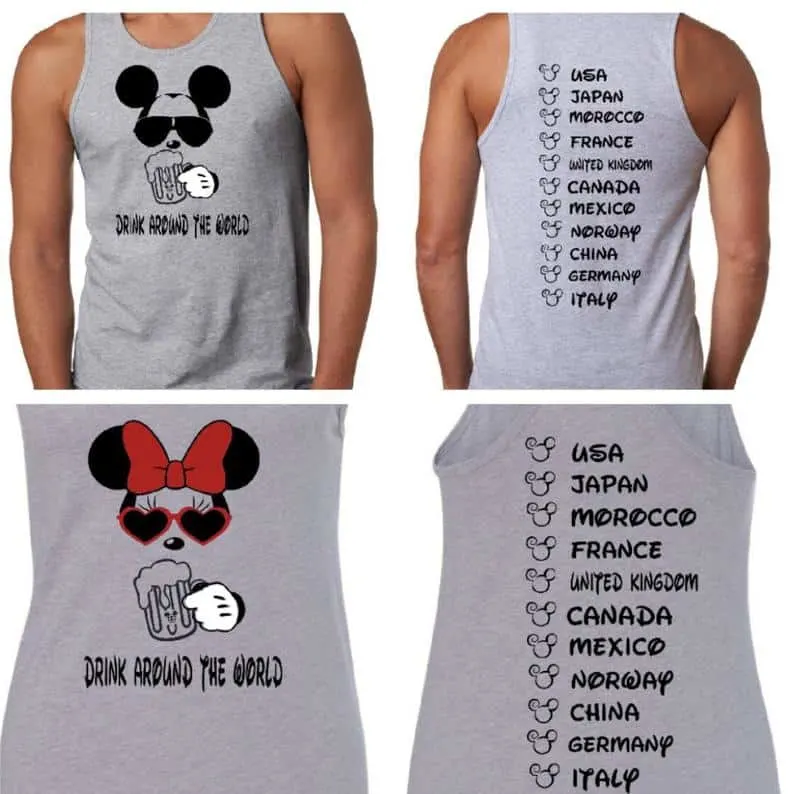 Other than a strong stomach and a pocket full of cash (or an active Magic Band), you will want to have a few things on your side to accomplish this feat. We recommend grabbing a lanyard and Epcot "Passport", a funky shirt or two, and the greatest Disney hat I have ever owned.
Countries Around the World
Mexico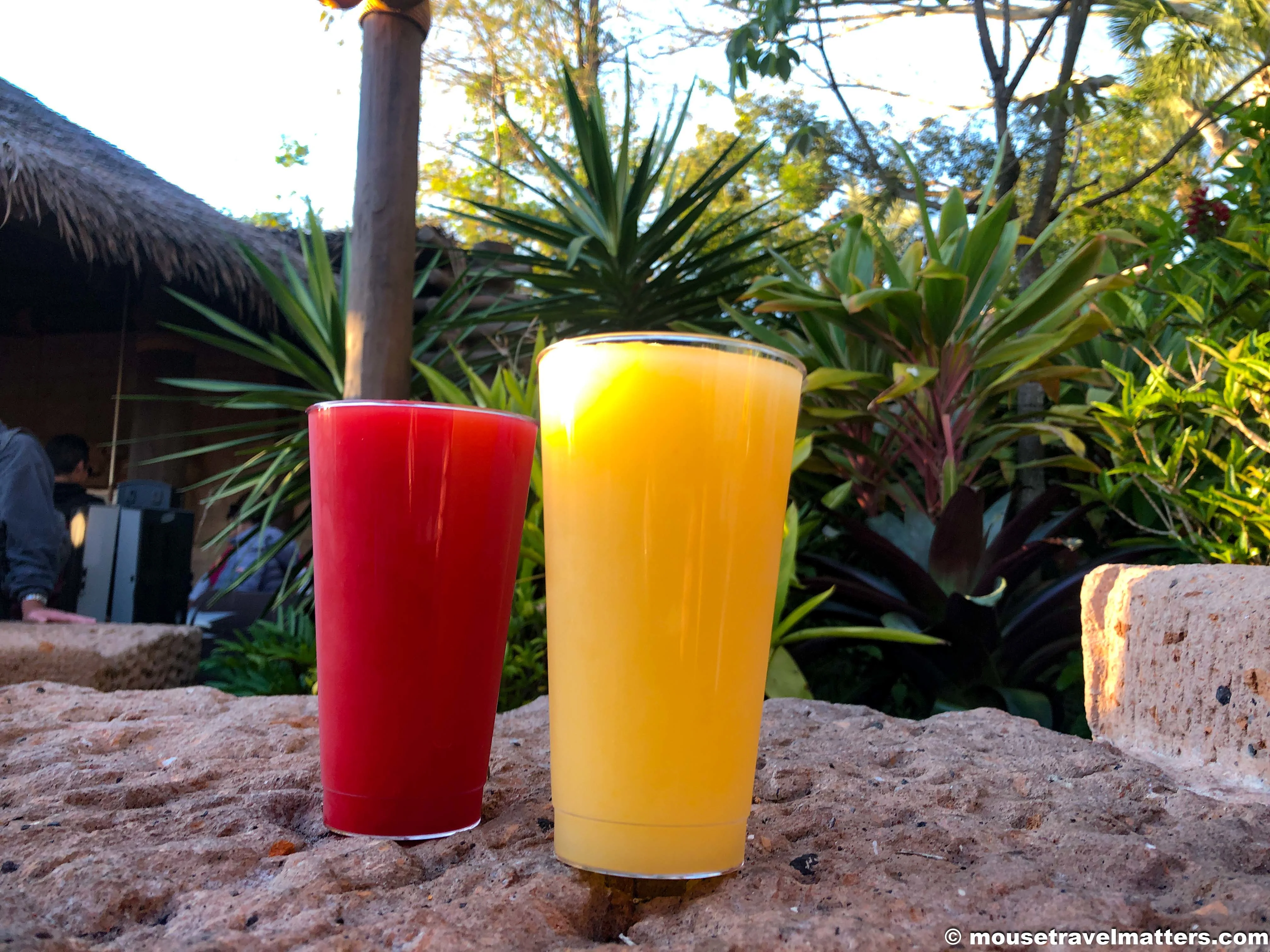 To Drink: There are two main options for drinks that don't require a sit-down reservation; Choza de Margarita on the main road and La Cantina de San Angel inside the Mexico pyramid.
To Eat: For a quick bite, check out La Cantina de San Angel for tacos, nachos, and empanadas.
Norway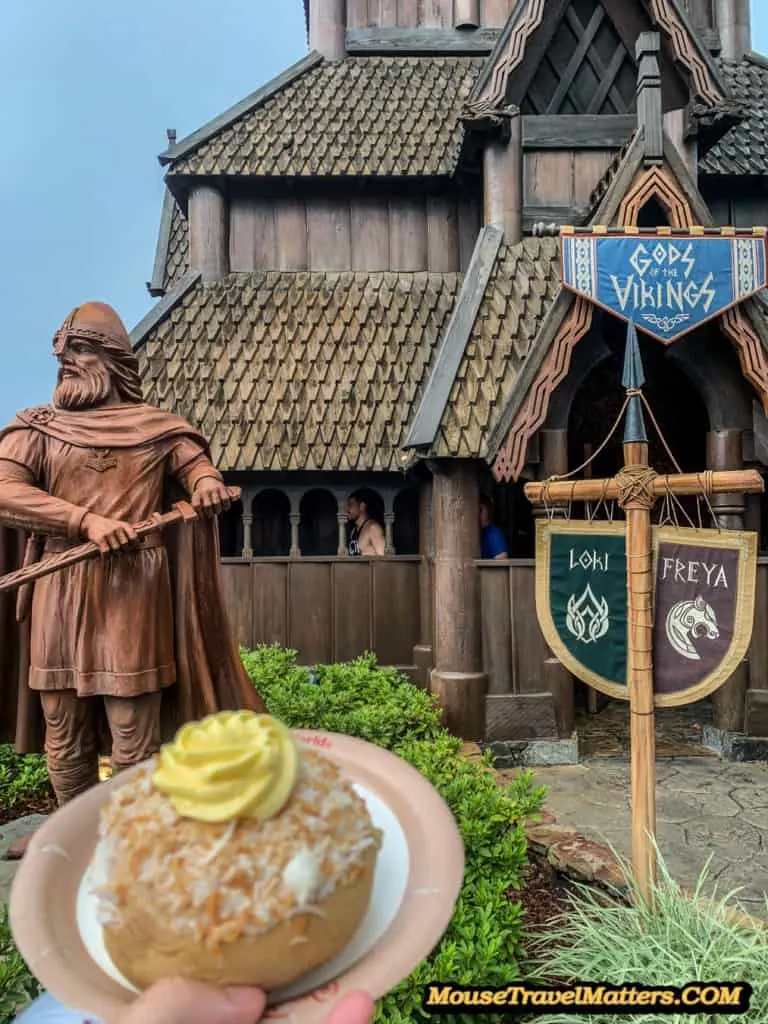 To Drink: Be sure to check out the Norway Beer Stand, this kiosk located in the Norway pavilion in EPCOT sells a variety of cold beverages, including Norwegian beer. You'll find Einstök Icelandic White Ale and Troll Kreme.
To Eat: Try the School Bread, a sweet cardamom bun filled with vanilla crème custard and topped with glazed and toasted coconut, or one of the many sandwiches offered at Kringla Bakeri Og Kafe.
China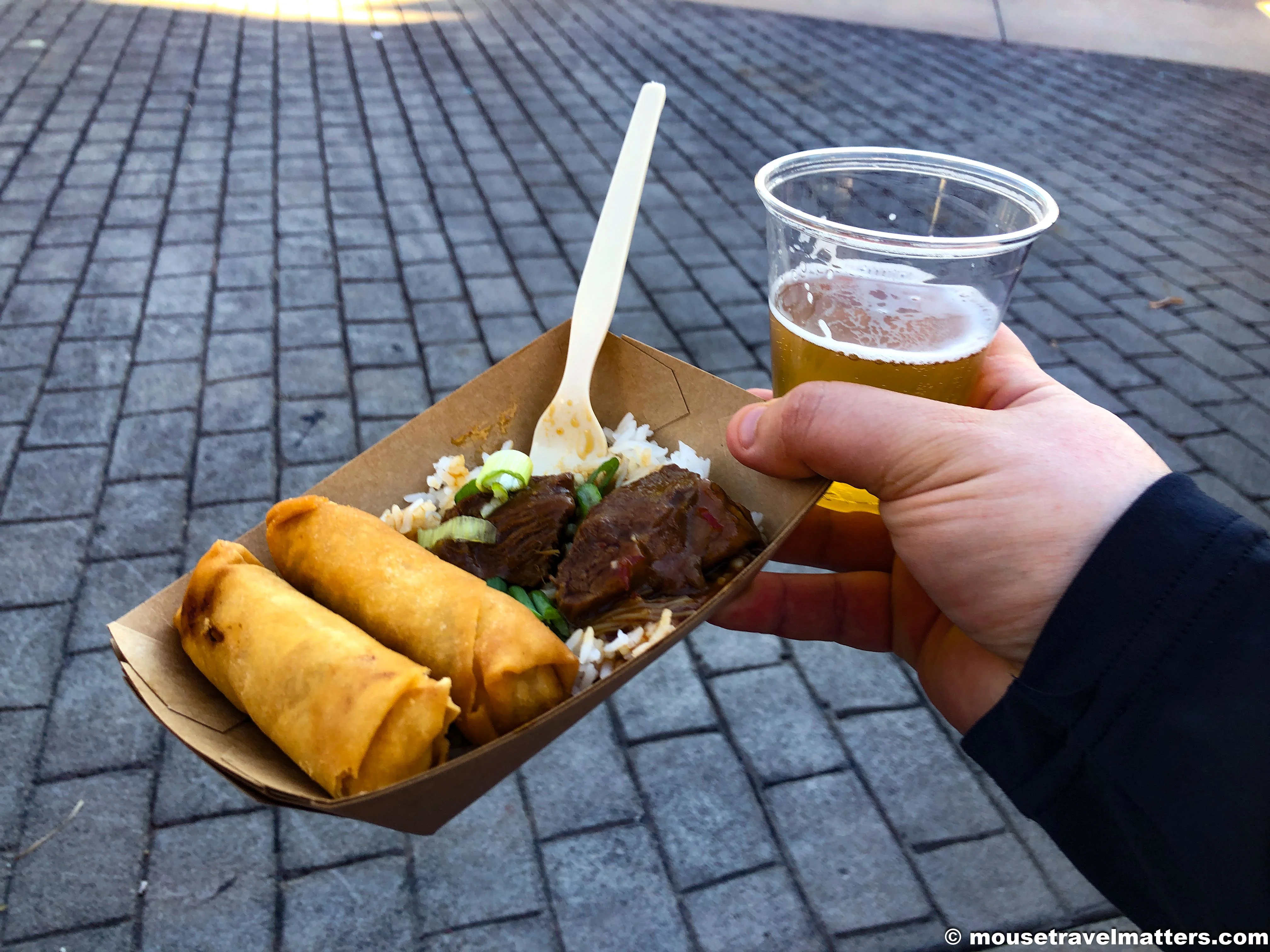 To Drink: I can't remember the last time we stopped for drinks in China Pavilion outside of a glass of water or a festival booth, The Joy of Tea is the best place to get your favorite beer or cocktail.
Germany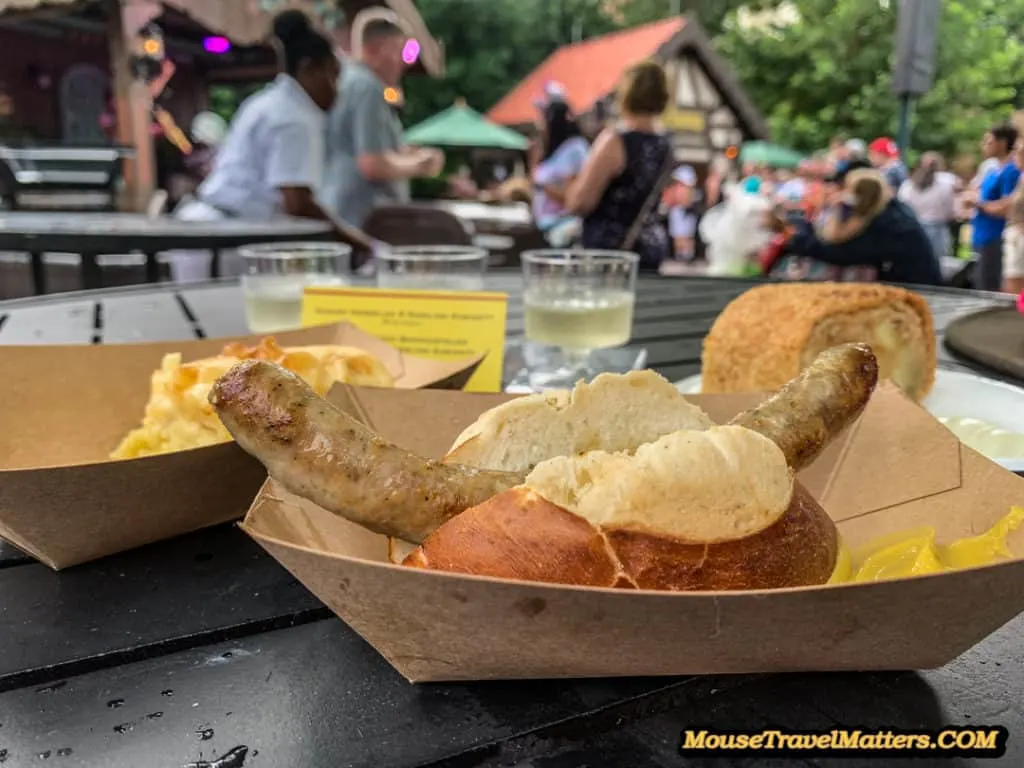 To Drink: Having lived the last 4 years in Germany, I am a little partial to their treats. We have a pilsner from Sommerfest each and every time we visit, along with a light snack of Bratwurst or Jumbo Pretzel.
Italy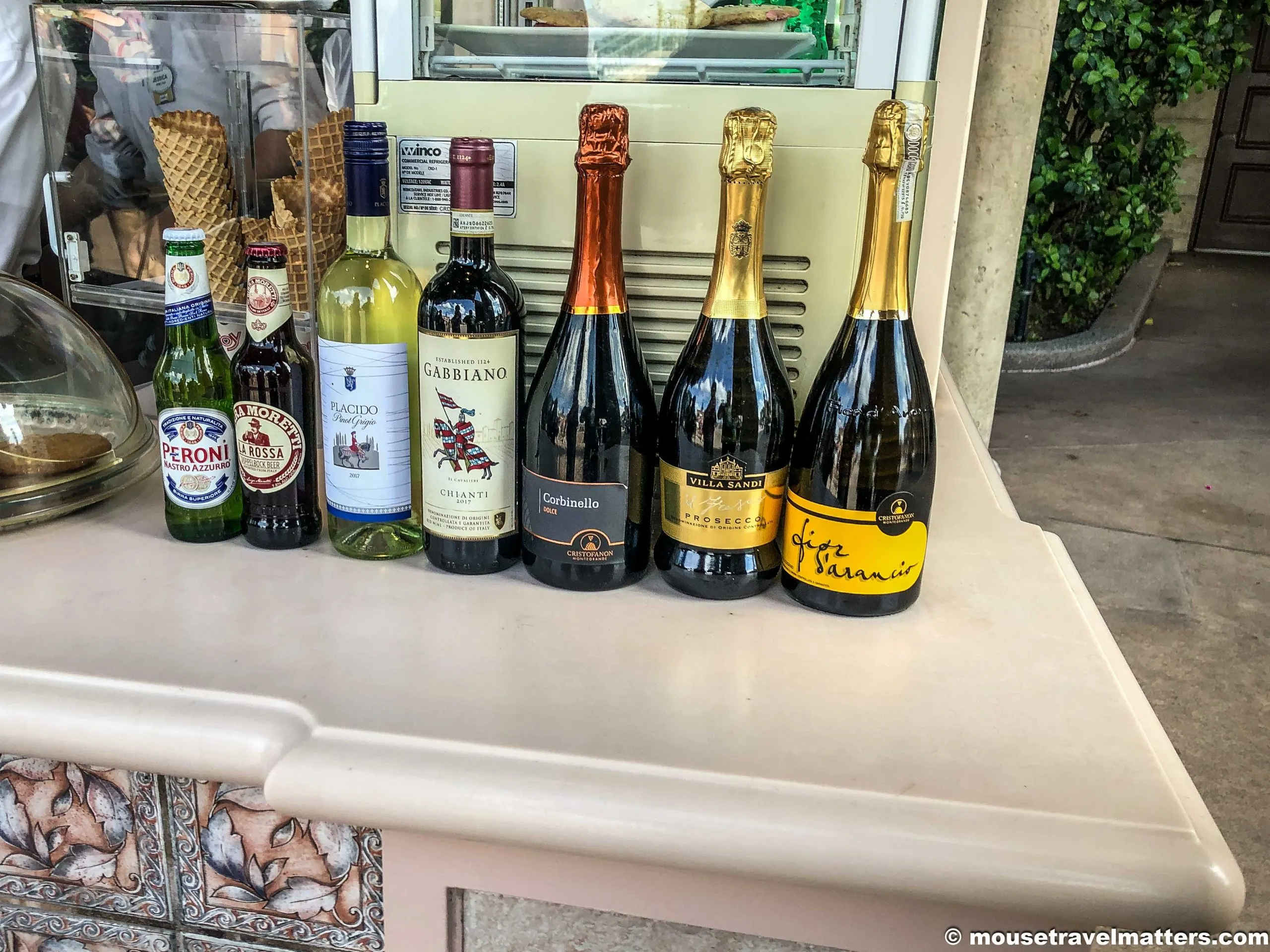 To Drink: We like to save time where possible. In Italy, the Gelati kiosk serves both amazing Gelato and incredible wine, and we can't leave Italy without sampling their famous wine.
The American Adventure (the United States of America)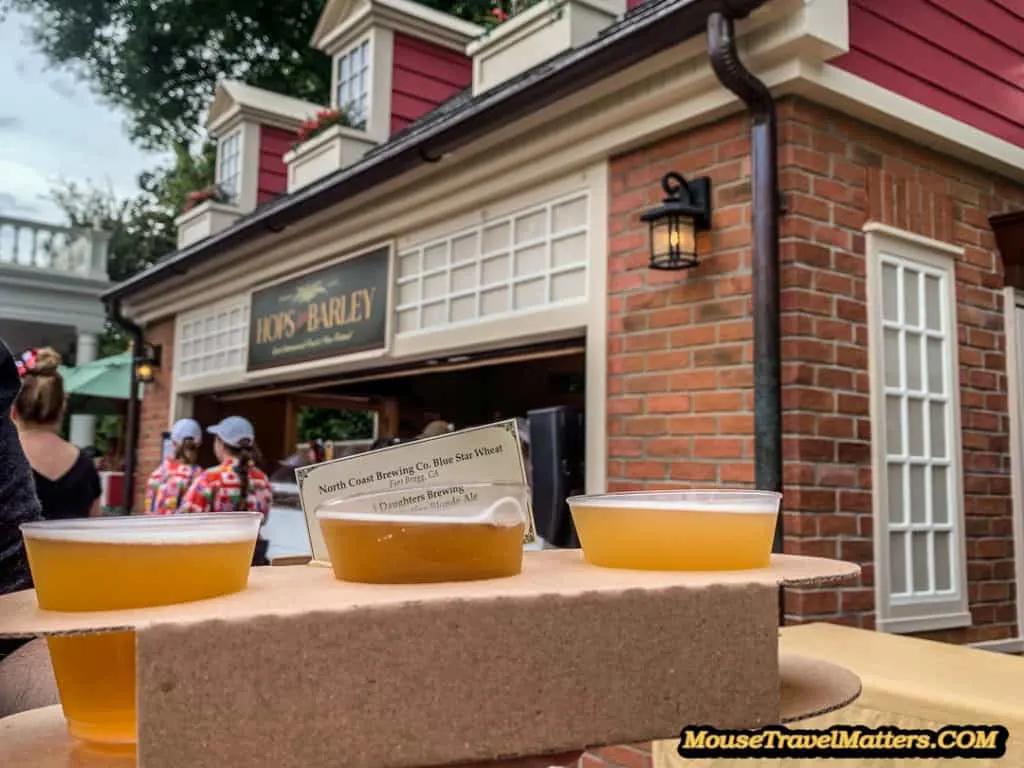 To Drink: At the America Pavilion, Block & Hans guests can find a selection of American craft beers like Key West Southernmost Wheat and Bell's Oberon Ale.
Pro tip – last time we were there, drinks weren't allowed into the rotunda. Do a little shopping or visit Regal Eagle for a meal. There is plenty of seating and the views are worth the sit.
Japan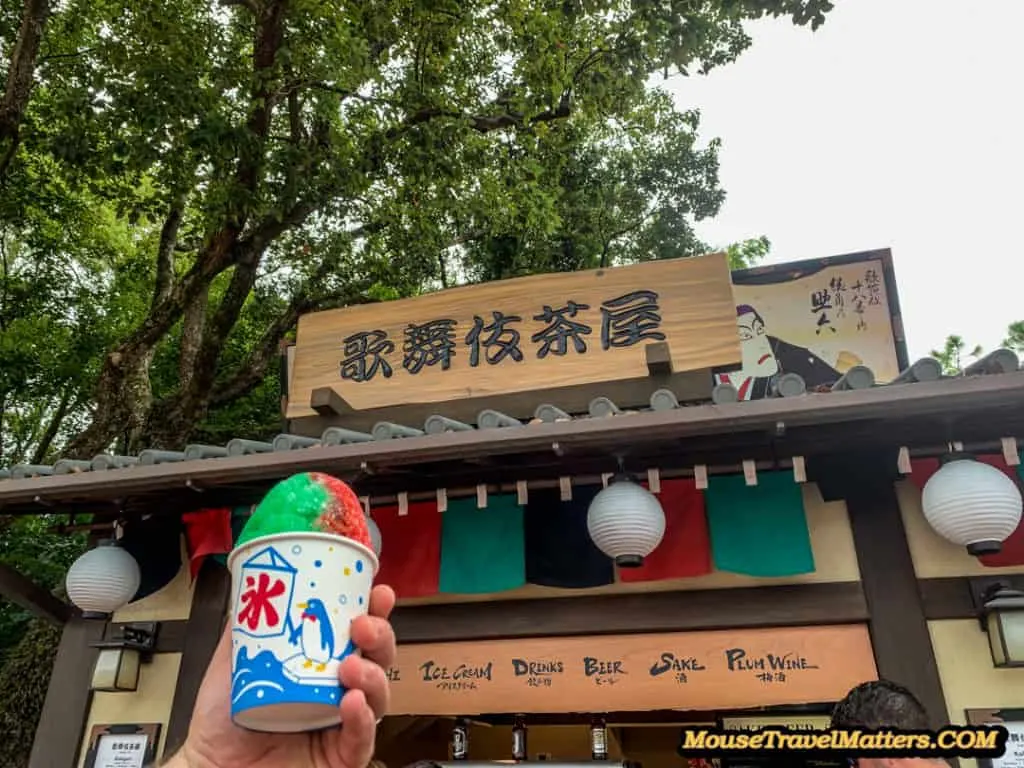 To Drink: The Outdoor Sake bar sells a mouth watering Tokyo Sunset. They also sell shaved ice called the Kaki Gori for those that want to give their liver a little rest. Japan also has a variety os unique drinks like frozen beer, Japanese soda and even plum wine
Morocco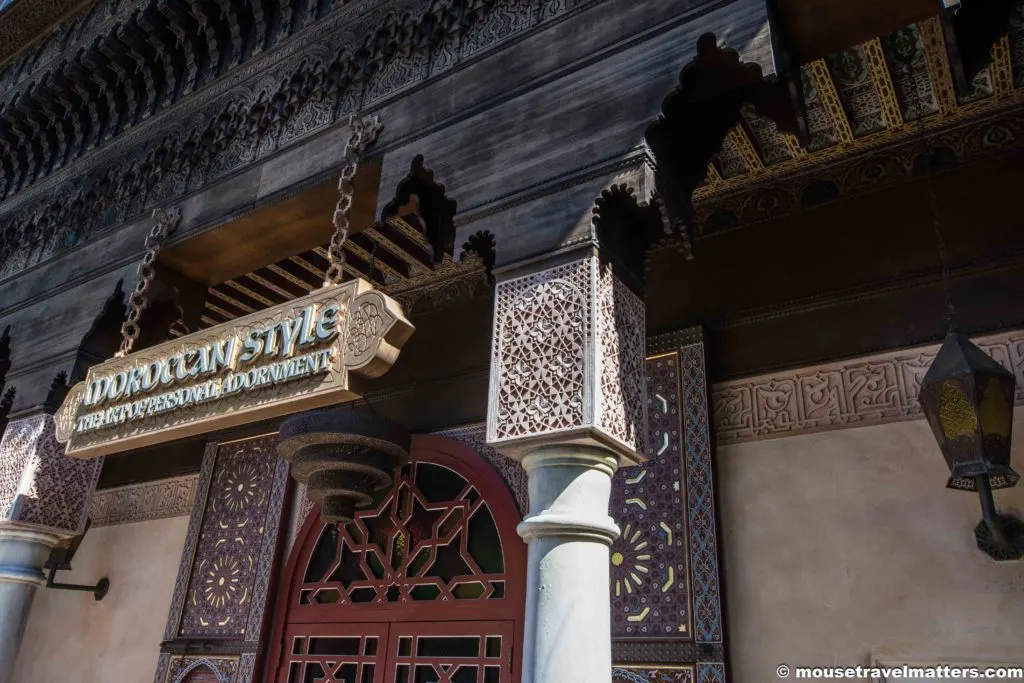 To Drink: the Tangier's Breeze with Peach Vodka, Midori, and Pineapple Juice is delicious and refreshing!
France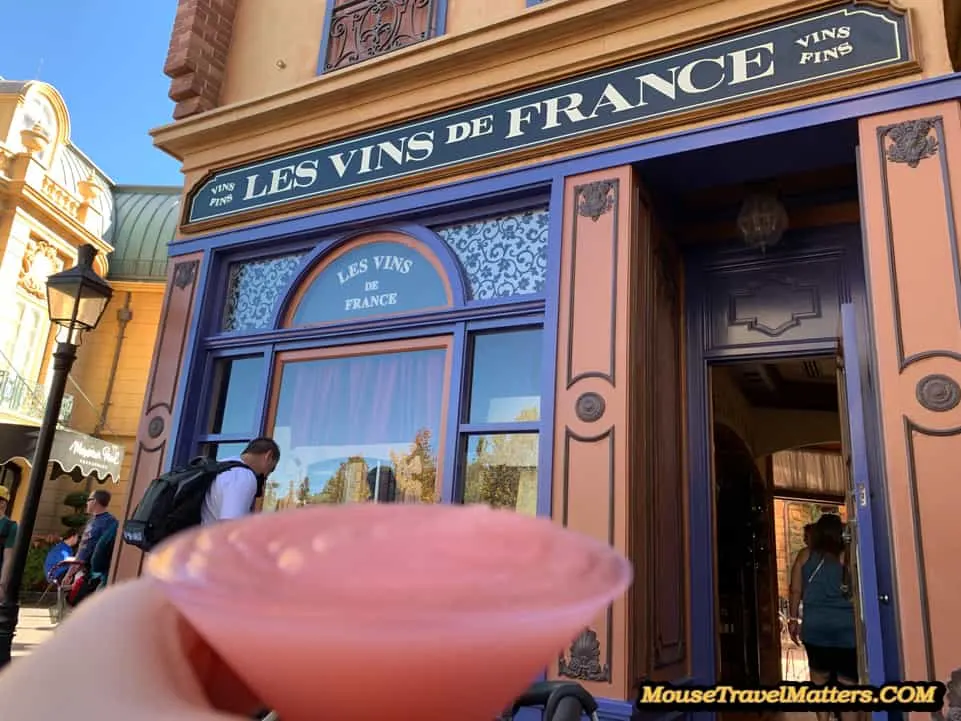 To Drink: France has always been our favourite pavilion to stop for drinks and snacks. Les Vins des Chefs de France serves incredible drinks but you can also find a few gems in the Les Halles Boulangerie-Patisserie while you are stuffing your face with snacks. My personal favourite is the Rosé.
United Kingdom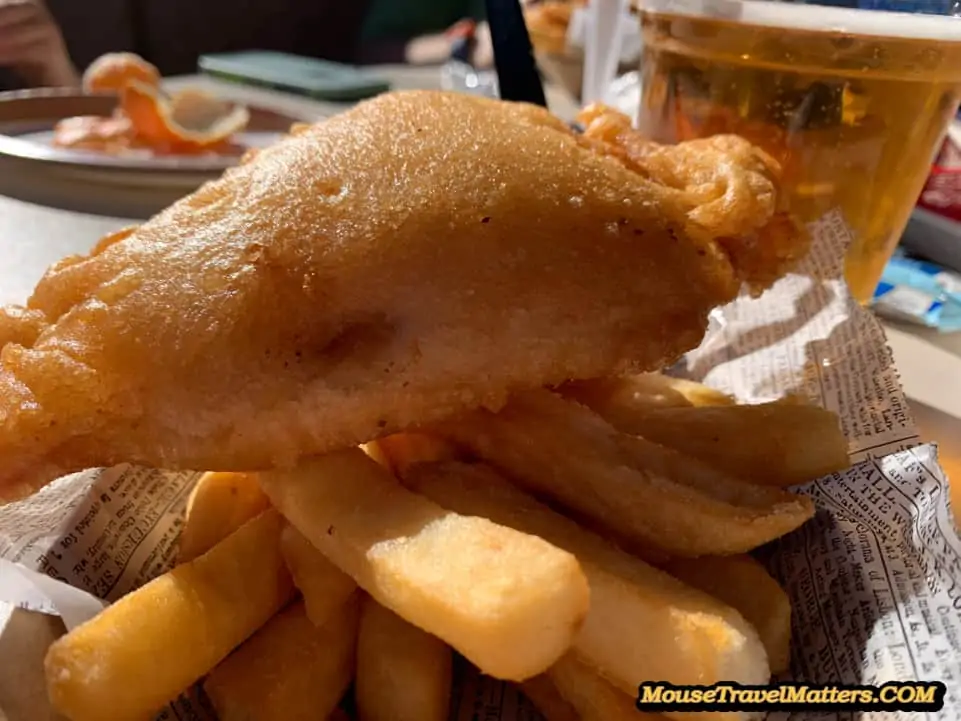 To Drink: The Rose & Crown Pub is a full-service bar designed in the spirit of a local English pub. The Yorkshire County Fish Shop is great for fresh fish and chips if you are wanting to stay out in the fresh air. The seating area next to the fish shop offers a great view of the World Showcase Lagoon.
Canada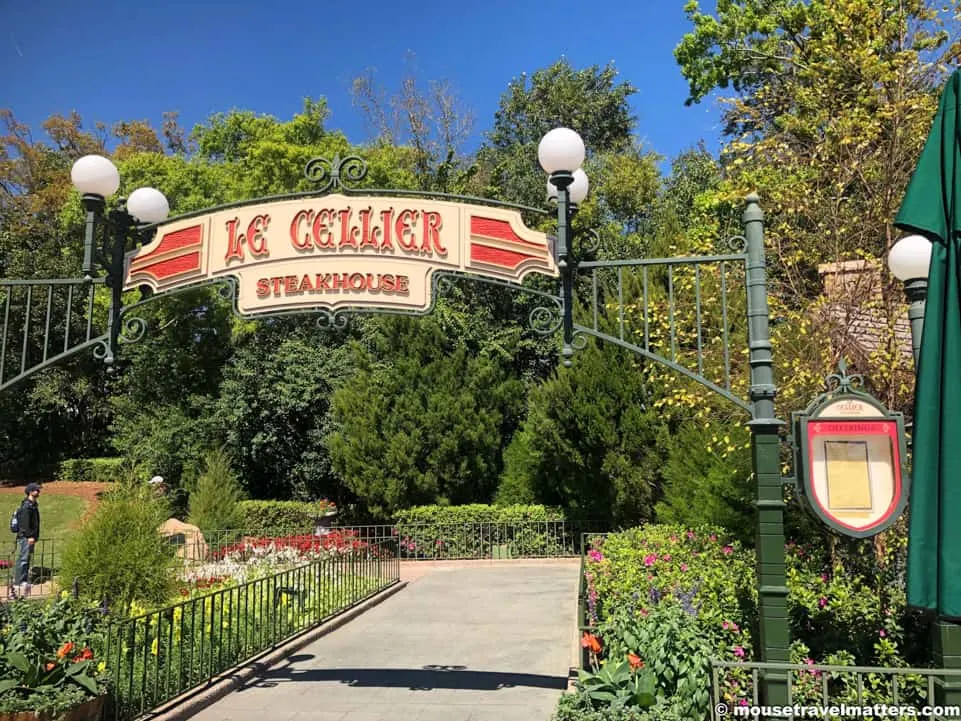 To Drink: As a Canadian, there were a few brands that I wanted to see outside of a sit down dinner thus I was left a little disappointed. However, the selection that was available was still pretty tasty; At the beer/popcorn cart one can find Éphémère and Trois Pistoles, but the real highlight is La Fin Du Monde.
Click here for a PDF copy of all drinks (with prices) available around the work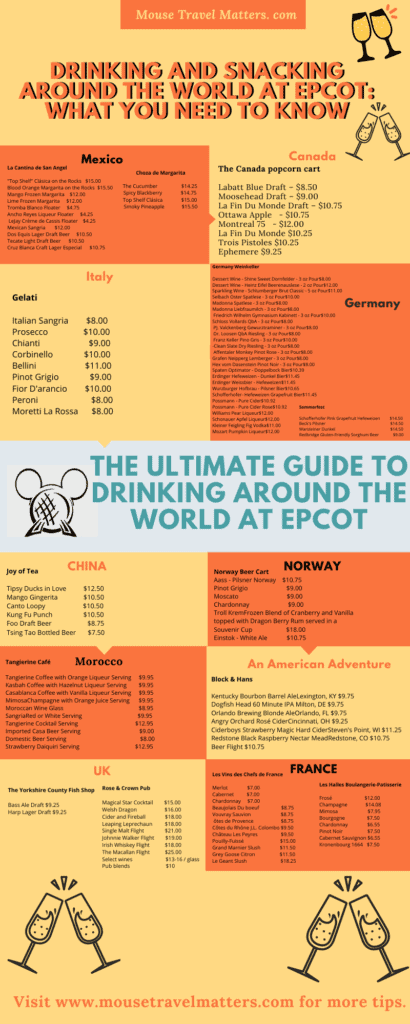 Drink Around The World Final Thoughts
You should also not forget to eat! There are plenty of amazing things to eat at Epcot and it is important to keep your tummy full of yummy snacks if you want to survive your trip around the world.
There you have it, friends! Our Guide to Drinking Around the World at EPCOT in Walt Disney World!
Your Thoughts...
Please share your thoughts in the comments or reach out on social media...We would love to hear from you.
Follow Mouse Travel Matters for Disney Parks news, the latest info and park insights, follow MTM on Twitter, Facebook, and Instagram.
You May Also Like…
DAS Disability Service Car for Disney World
Disney World Mobile Photography tips for theme parks
Top 10 Things to look for in a stroller for Disney and Theme parks
A Guide to a Disney World Monorail Pub Crawl