Last Updated on May 18, 2021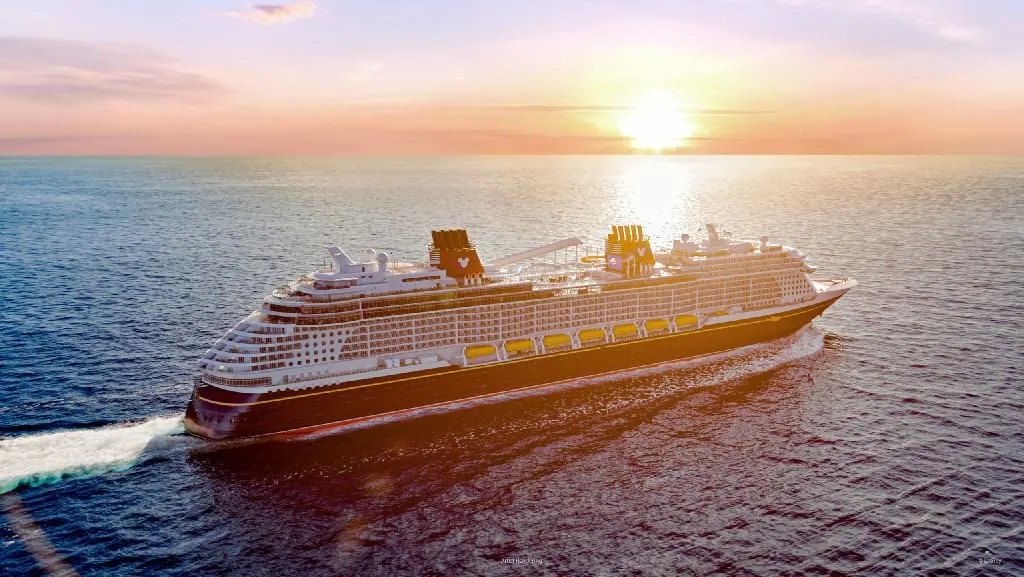 Disney Wish setting sail in summer 2022, will be a celebration of Disney's rich history. With the ship powered by liquidity natural gas, this is really set to be a cutting-edge ship with the latest in entertainment innovation. 'Star Wars,' 'Frozen,' superheroes and more with the magic of Disney at sea
Updated: 18 May 2021
Disney Wish from Disney Cruise Line is the 5th ship in Disney's cruise fleet and is gearing up some of the most exciting dining and entertainment experiences available at sea.
CELEBRATION, Fla. (April 29, 2021) — When the Disney Wish sets sail in summer 2022, families will discover a mesmerizing new world created especially for them: a celebration of Disney's rich legacy of enchanting storytelling that brings to life the fantastical worlds and beloved characters at the heart of Disney, Pixar, Marvel and Star Wars adventures like never before.

Families will embark on a splashtacular adventure with Mickey Mouse and Minnie Mouse aboard the first-ever Disney attraction at sea; revel in a royal celebration during a theatrical dining experience with "Frozen" friends; team up with the Avengers on a Marvel cinematic dining adventure; and travel to a galaxy far, far away in a first-of-its-kind Star Wars experience onboard a Disney ship.

"With the Disney Wish, we're continuing our tradition of delivering the most magical and relaxing vacations at sea, combining legendary service and entertainment with imaginative storytelling and all the care you expect from a Disney vacation," said Josh D'Amaro, chairman, Disney Parks, Experiences and Products. "Our newest ship will celebrate everything that families love about sailing with us, from the incredible dining experiences and character interactions to dazzling shows and the crew's thoughtful attention to detail. We can't wait to welcome our guests aboard the Disney Wish as we expand the reach of our world-class fleet."

The Disney Wish will sail its maiden voyage — a five-night cruise to Nassau, Bahamas, and Disney's private island, Castaway Cay — on June 9, 2022, followed by an inaugural season of three- and four-night cruises to the same destinations from Port Canaveral, Florida. Bookings open to the general public on May 27, 2021.

Disney
Grand Hall
The Grand Hall is a fairytale-inspired tribute to the story of Cinderella, including a beautiful bronze statue of this beloved princess, stained glass embellishments in her signature colours and icons from the film in the carpeting, metalwork and light fixtures.
Disney Weddings
Weddings aboard the Disney Wish will begin June 20, 2022 with 3- and 4-night cruises to The Bahamas!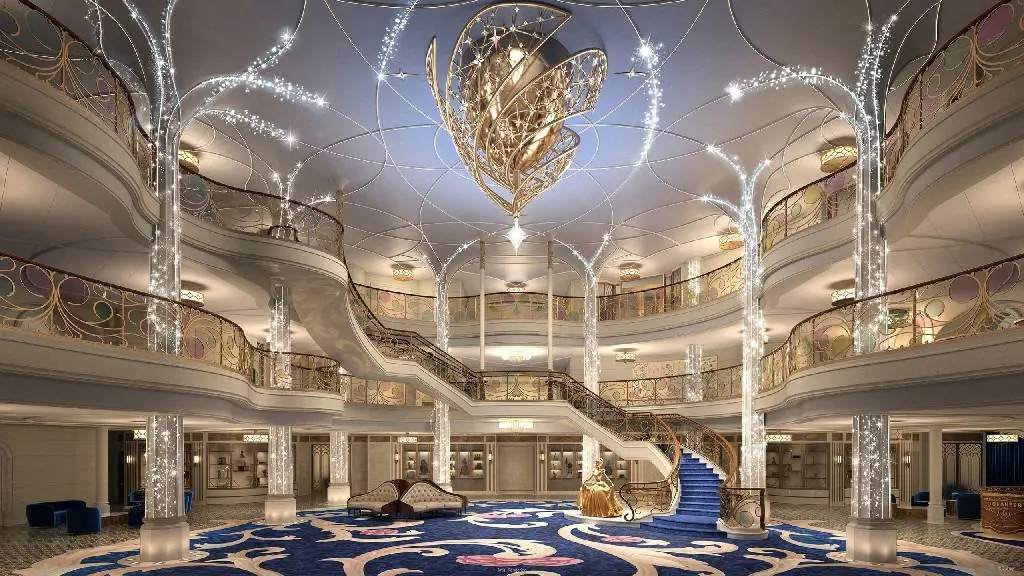 Upper Deck
Space for casual dining, relaxation, and access to the AquaMouse as well exclusive adult-only areas, and an area for little ones called Splash Zone! inspired by the movie Toy Story.
Feature First Disney Attraction at Sea
AquaMouse
Port Misadventures Excursion Company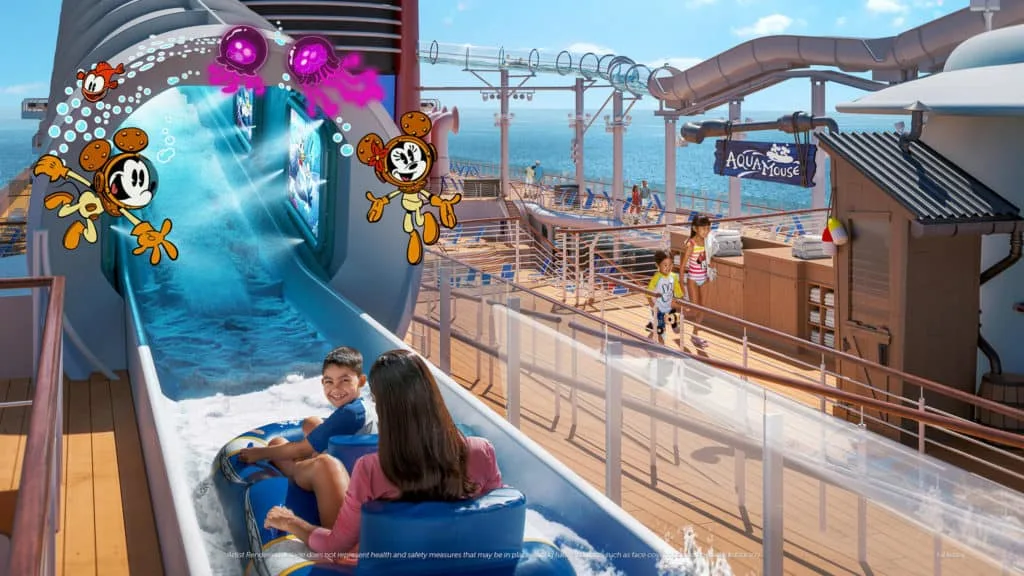 SCUBA Scramble
Families will embark on a splashtacular adventure with Mickey Mouse and Minnie Mouse aboard the first-ever Disney attraction at sea. With lighting, special effects, and show scenes from an original story SCUBA Scramble.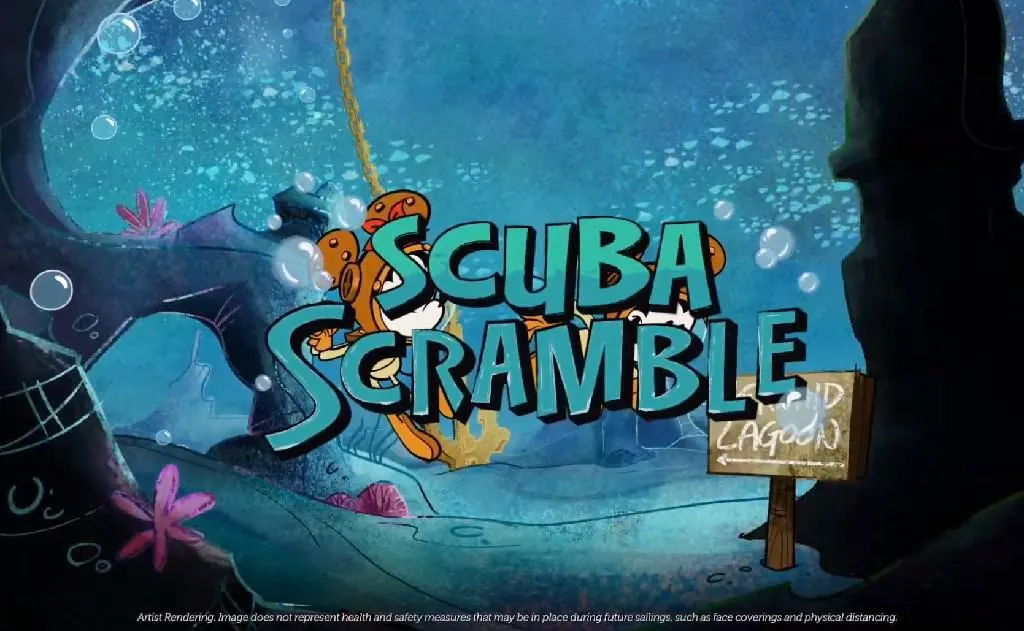 Disney's Oceaneer Club
Disney's Oceaneer Club on Disney Wish will have a secret entrance from the Grand Hall in the form of a slide for the kids inspired by Alice in Wonderland, kids will literally go "down the rabbit hole" on a twisting slide that lands directly and securely into the club according to Disney.
There is an entrance for adults to get there children back…a door. This is a kid exclusive club for ages 3 to 12.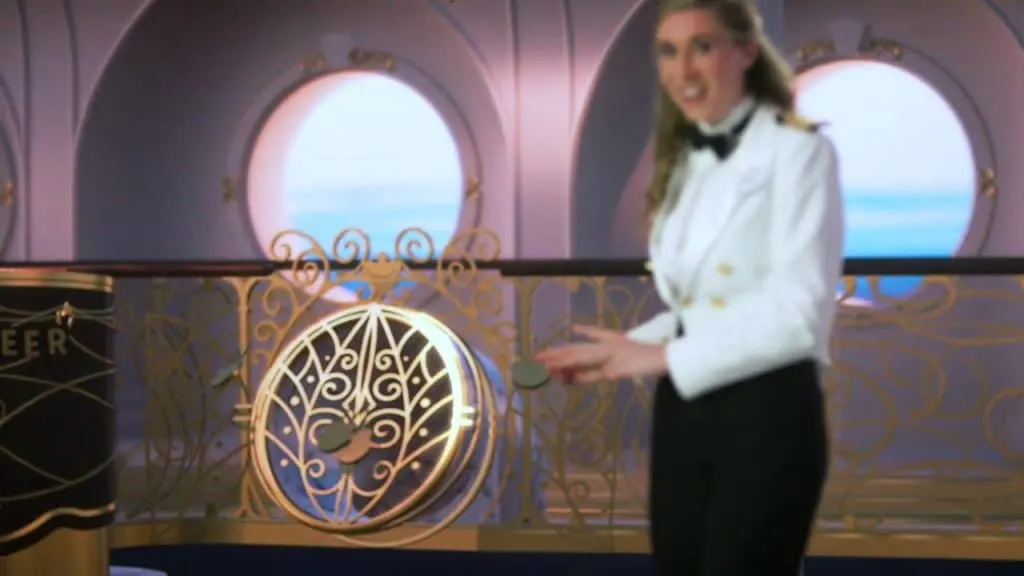 Marvel Superhero Academy
Disney Wish will have many excellent immersive experiences for kids including the opportunity to train with superheroes such as Black Panther, Antman and the Wasp. Plus a unique hero suit experience. Spiderman will make appearances as well.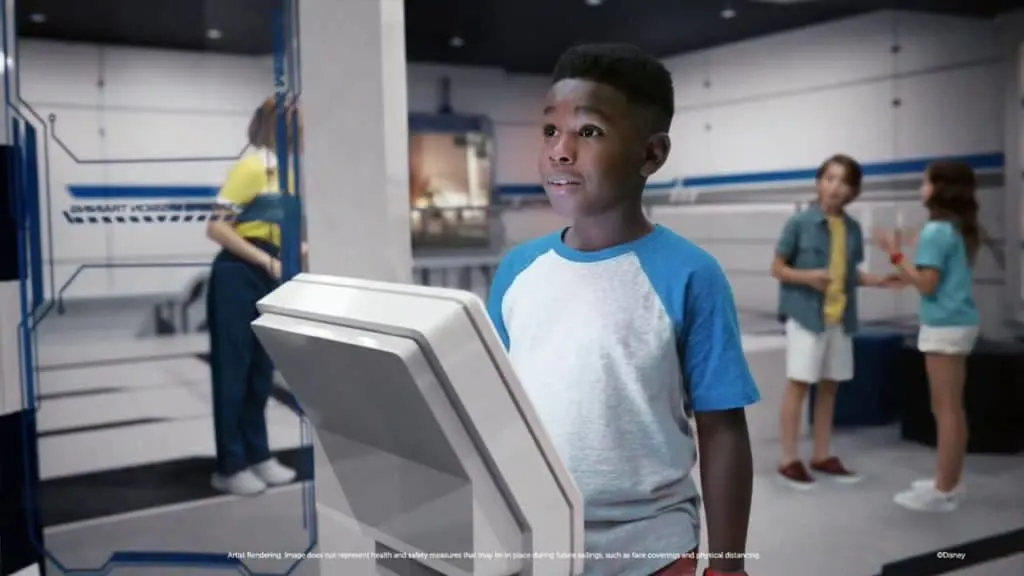 Creative World of Walt Disney Imagineering
Walt Disney Imagineering Lab
Kids vacationing on Disney Wish will explore what it takes to make the magic by exploring the creative world of Walt Disney Imagineering. From designing to testing their own roller coaster, and discover the secrets of world-renowned Disney Imagineers with hands-on activities and inventive experiments.
Fairytale Hall
Fairytale Hall is a royal themed experience with a trio of activity rooms in the Oceaneer Club.
Rapunzel's Art Studio
Channel your inner artist.
Belle's Library
Princes and princesses will have a royal opportunity to explore Belle's library. Perhaps even read stories with belle.
Anna and Elsa's Summer House
Perfect your Frozen powers.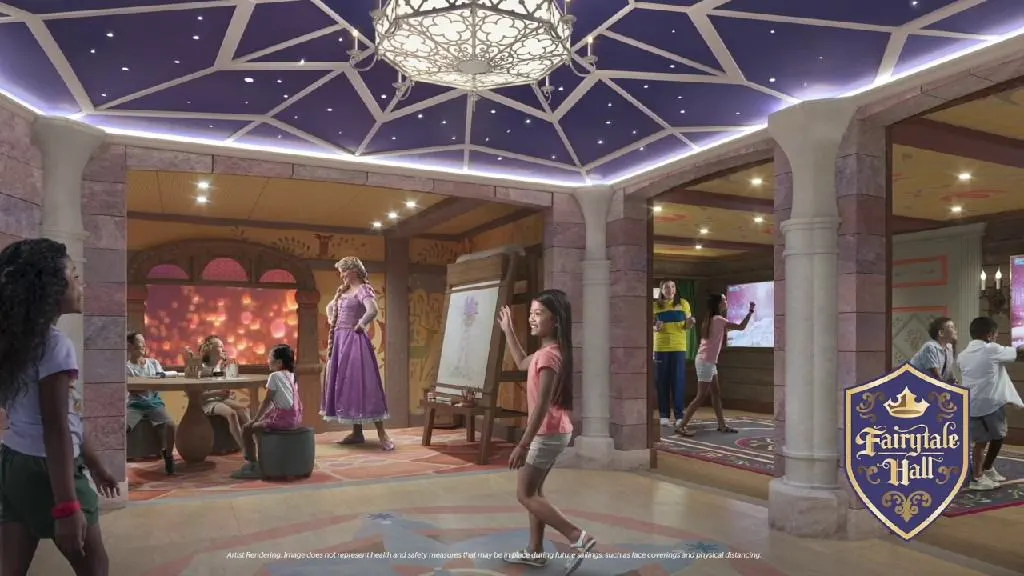 Disney Wish – Family Dining
Arendelle – A Frozen Dining Adventure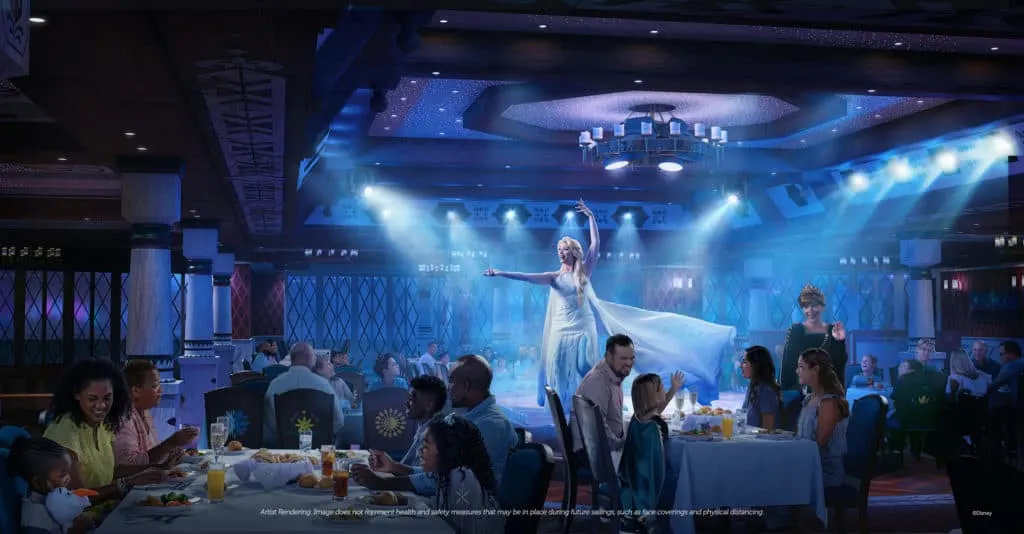 A Frozen themed theatrical dining experience. Elsa, Anna, Olaf, and Kristoff will entertain guests with a musical presentation. The menu will feature cuisine with Nordic influences.
1923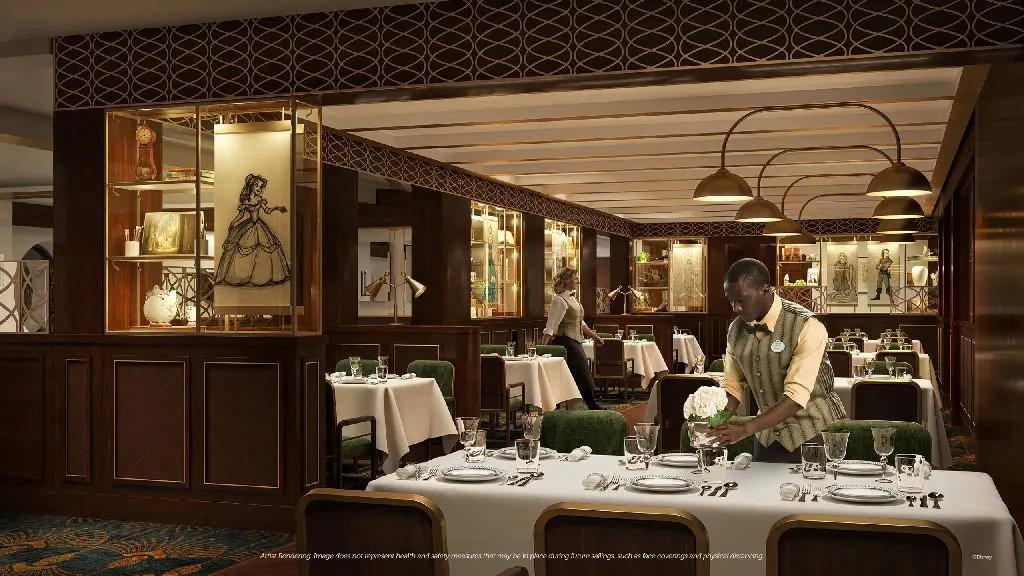 A restaurant inspired by Walt Disney's legacy and nearly a century of Disney animation, named for the year Walt Disney Studios was founded (1923). The cuisine is inspired by a California Fusion of cultural flavours?
Worlds of Marvel – Marvel Cinematic Dining Experience
Worlds of Marvel looks like a very cool interactive dining experience.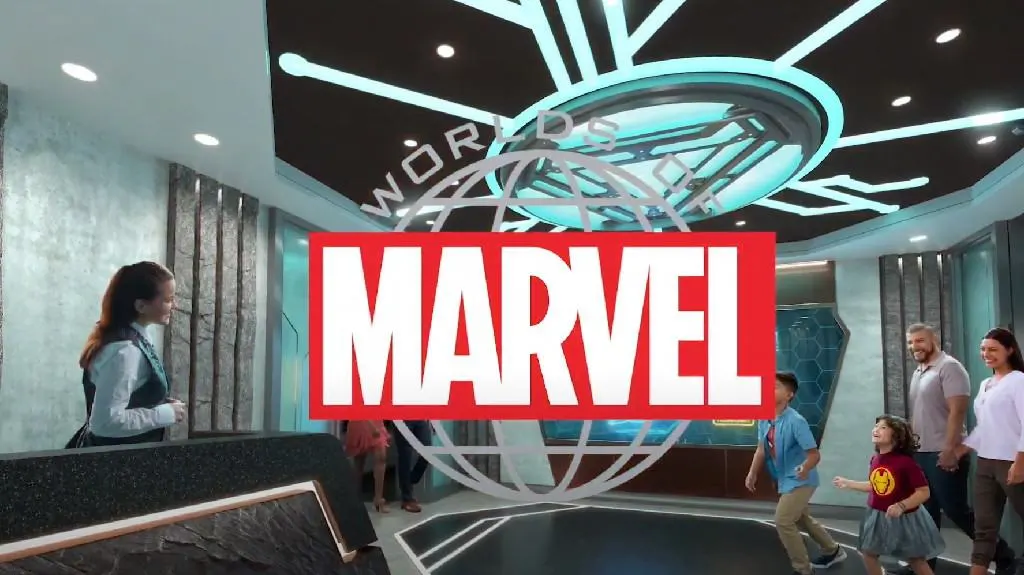 Disney Wish Adult Exclusive Dining
Star Wars – Hyperspace Lounge
An immersive Star Wars lounge is coming to Disney Cruise Lines fleet the Star Wars: Hyperspace Lounge.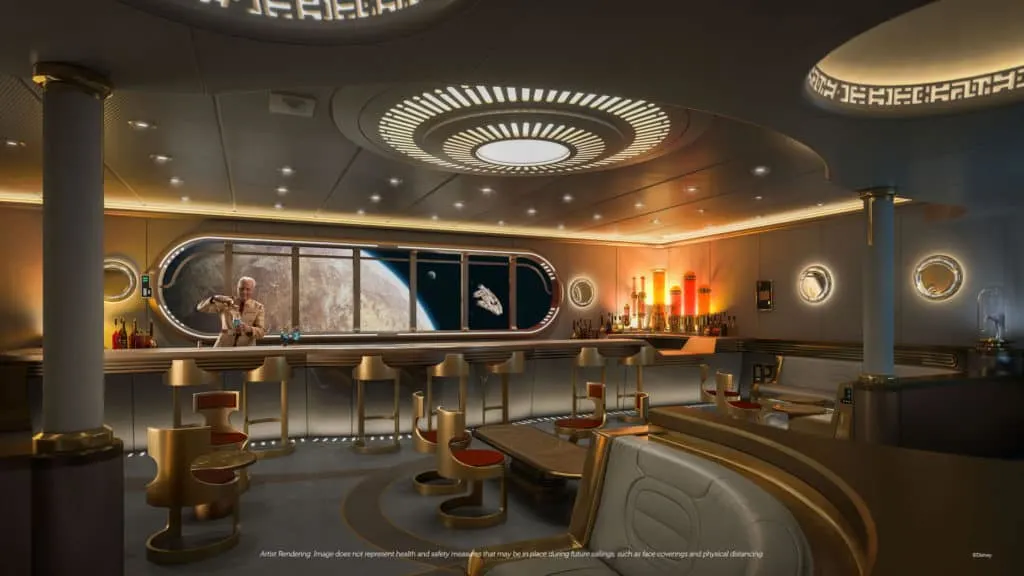 Beauty and the Beast Inspired Adult Dining
The Rose – Lounge
Cocktail bar.
PALO Steakhouse
Décor inspired by Cogsworth, with Italian dining flair in a modern steakhouse.
Enchanté Fine Dining
Elegant dining inspired by Lumiere, menu crafted by 3 Michelin starred, Chef Arnaud Lallement who also developed dishes for Remy on the Disney Fantasy and Disney Dream.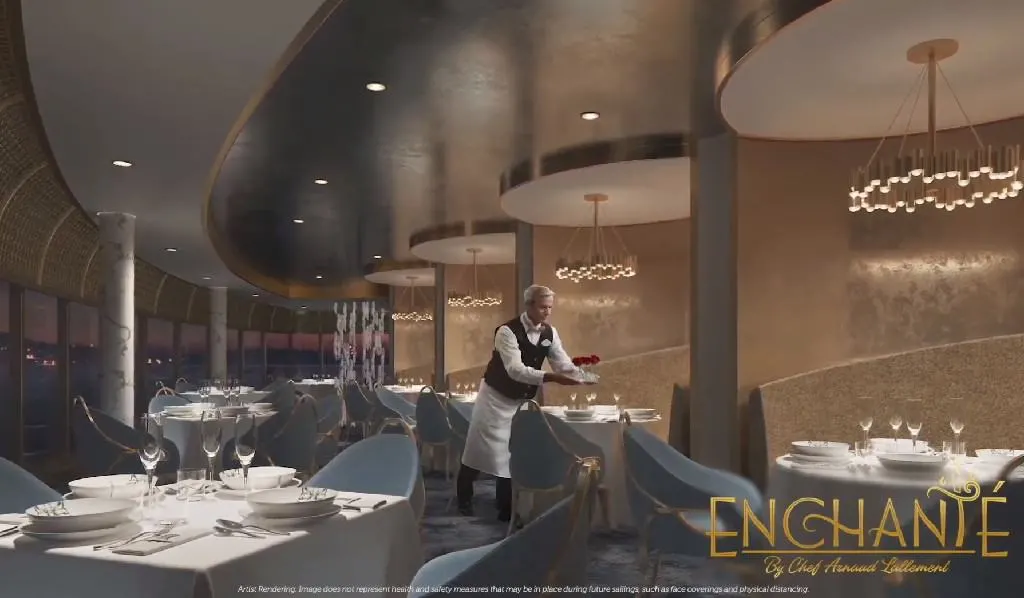 Walt Disney Theatre
The design of the theatre is inspired by the enchanted forest worlds of Disney's Fantasia, and will host Disney Cruise Lines signature Broadway style shows.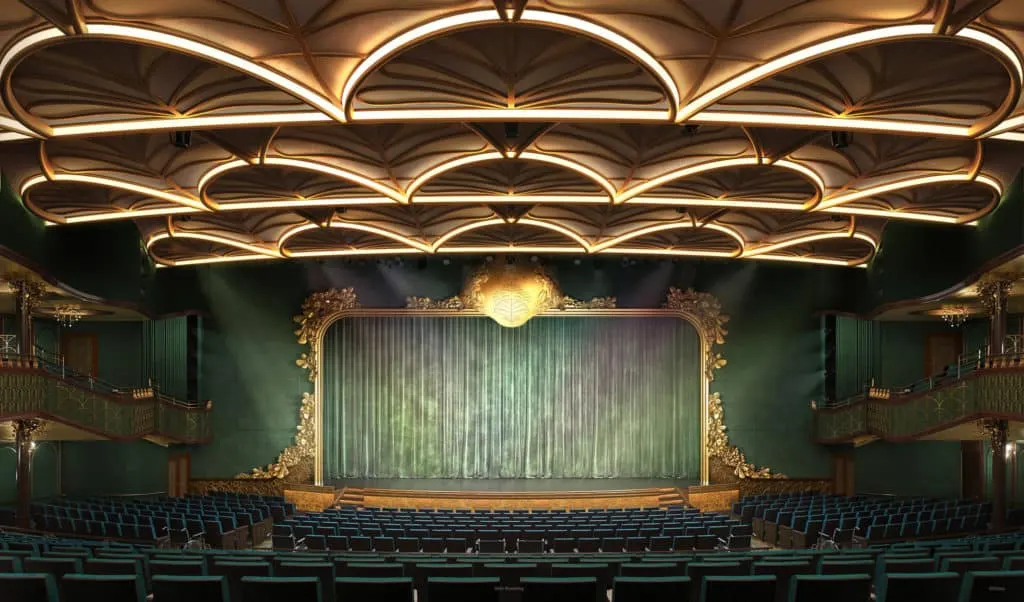 Disney's Aladdin a Musical Spectacular – Reimagined
A Disney Cruise Line fleet favorite.
Two Original Shows are also on the way… more to follow
Wonderland Cinema
Wonderland Cinema is inspired by the fantastical world of "Alice in Wonderland," with nods to the otherworldly creatures and distinctive characters who inhabit the ever-curiouser Tulgey Wood.

Disney Cruise Line
Never Land Cinema
Never Land Cinema is inspired by Peter Pan's flight from London to Never Land, sweeping guests up in their own flight of fantasy and depicting iconic scenes such as Skull Rock and Mermaid Lagoon.

Disney Cruise Line
Disney Wish Family Venues
A place for families to play together and connect.
Grand Hall Stage
Entertainment in the Atrium. Details coming later in the year…
Luna
Entertainment well transition from daytime family entertainment to elegant nighttime adult-exclusive entertainment. It will feature a celestial design inspired by the Disney/Pixar short "La Luna."
Hero Zone
Where imagination will meet active play. Details coming later in the year…
Disney Wish Adult Exclusive Relaxation
Quiet Cove
Retreat to the upper deck, where you will find an infinity pool.
Senses Spa
Treatments and relaxation you would expect from the other ships in the Disney fleet.
Staterooms
Next level storybook-inspired staterooms with fresh new looks and custom artwork throughout and elegant detailing inspired by stories like Cinderella. Oceanview and verandah options you would expect are available on Disney Wish. Expanded premium accommodations will also be available. Also coming to the Disney Wish are seven Disney's Little Mermaid cabins.
Take a look at how the accommodations on the #DisneyWish are being taken to the next level, including the first-ever Wish Tower Suite, a new look and feel for every stateroom and more! https://t.co/WI4gPnMGtp pic.twitter.com/VSuBt5cdy1

— Disney Parks (@DisneyParks) May 17, 2021
Below we have some concept art from Disney.
Inside Stateroom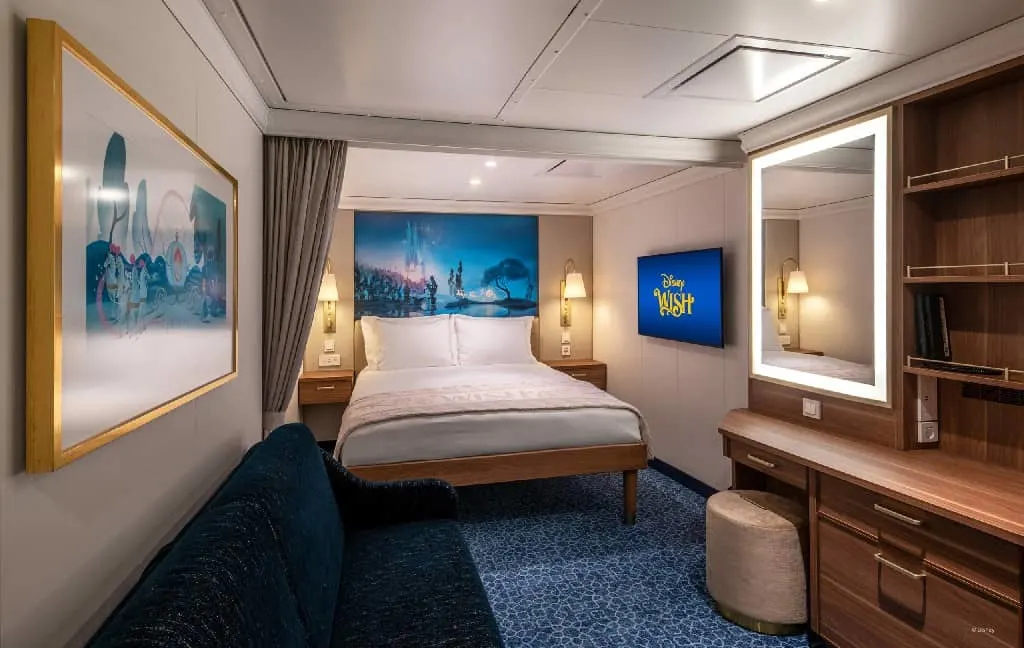 Oceanview Stateroom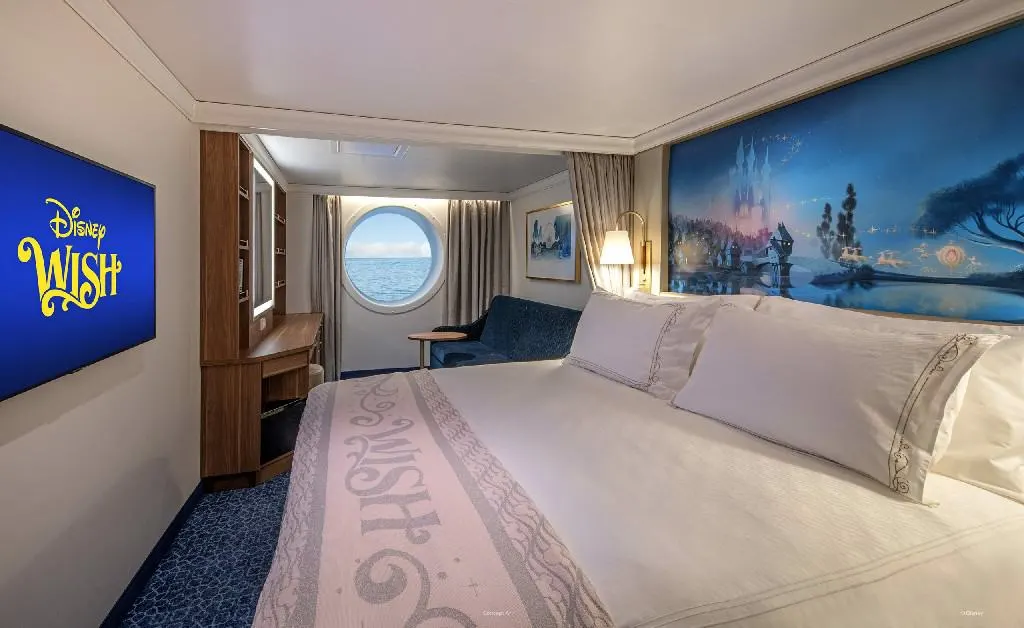 Verandah Stateroom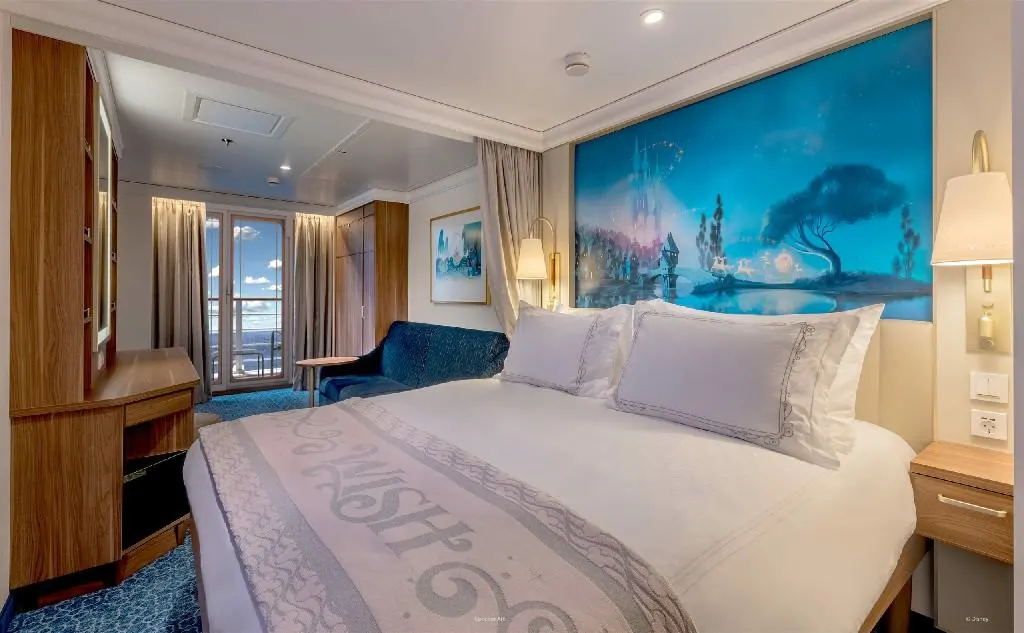 Royal Suites
Disney Wish will debut four royal suites two 2-story royal suites with spiral staircases that celebrate the gilded world of Disney Animation's "Sleeping Beauty", and two concierge suites inspired by Disney's animated movie Tangled. Premium accommodations aboard Disney Wish with amazing views and an exceptional price tag.
two Princess Aurora Royal Suites will boast a soft, dreamlike palette of soft blues and golds, shimmery metallics and white marble, and two Briar Rose Royal Suites evoke the dark wood tones and rich green hues of an enchanted forest.
Princess Aurora Royal Suites
Princess Aurora Royal Suites will boast a soft, dreamlike palette of soft blues and golds, shimmery metallic surfaces and white marble.
Briar Rose Royal Suites
Briar Rose Royal Suites evoke the dark wood tones and rich green hues of an enchanted forest.
Wish Tower Suite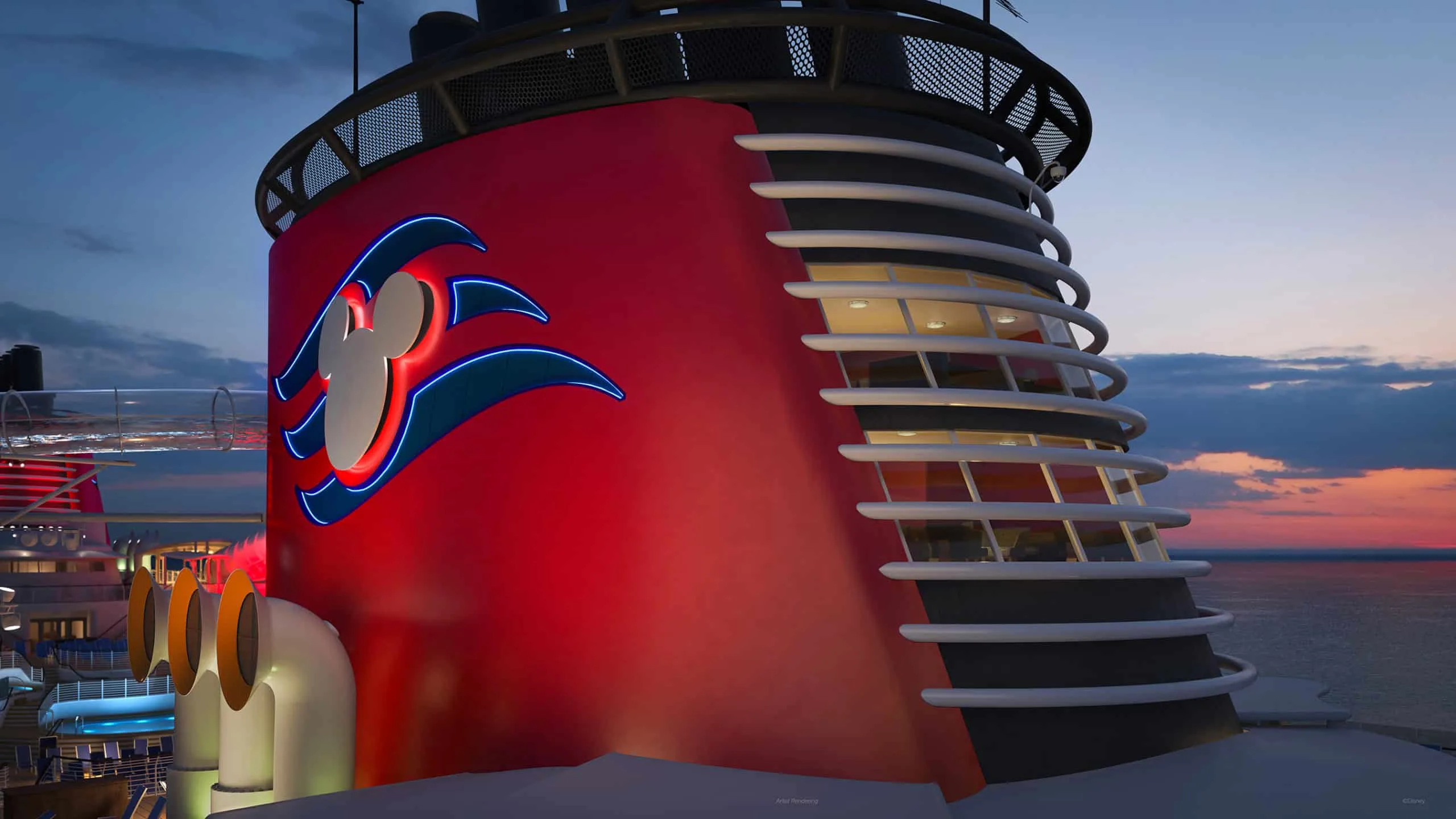 There's a suite in the Funnel of the Disney Wish!
It's a Small World Nursery
For the littlest cruisers ages 6 months to 3 years, It's a Small World Nursery will offer babysitting services in a whimsical environment inspired by the beloved Disney attraction of the same name, where colorful murals depict Disney, Pixar and Marvel characters reimagined as "it's a small world"

Disney
Once Upon a Disney Wish Reveal Video
Disney Wish Reservations
Early Booking for Summer 2022 Disney Wish Itineraries
Castaway Club members and select Disney Guests are invited to book a cruise on the Disney Wish, before the general public—early booking begins May 17, 2021!
Disney Wish 2022 Itinerary
Disney is offering some exciting itinerary's Check them Out.
Not So Final Thoughts
We are super excited and look forward to the release of more details. With so many exciting details release and forthcoming we look forward to making the Disney Wish our next Disney Cruise Line experience perhaps on the maiden voyage!
Your Thoughts...
Please share your thoughts in the comments or reach out on social media...We would love to hear from you.
Follow Mouse Travel Matters for Disney Parks news, the latest info and park insights, follow MTM on Twitter, Facebook, and Instagram.
You May Also Like…
Things I Wish I'd Known Before My Disney Cruise
Disney Wish Disney's Cruise Lines Latest Ship
Ways to Save Money on your Disney Cruise Line Vacation
The Disney Wish is one step closer to completion
How much does a Disney Cruise Cost?