Last Updated on February 24, 2022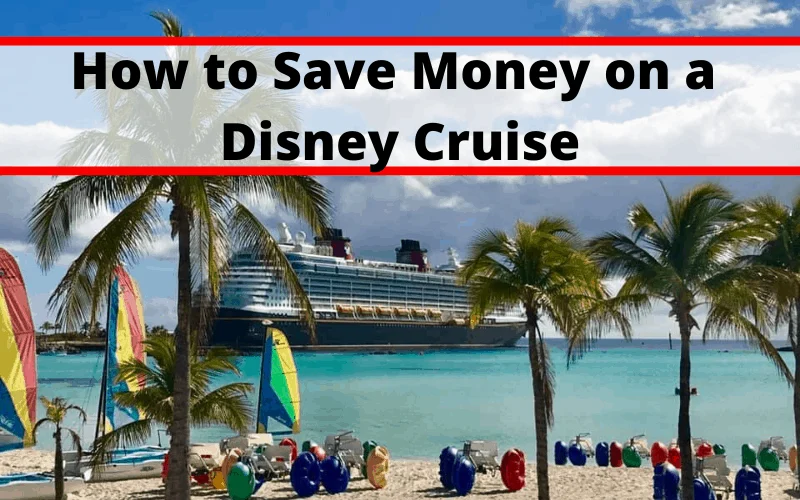 It's undeniable that Disney Cruises are expensive. While they are an all-inclusive resort on water, and offer so much more than your run of the mill Cruise Line, the price tag can still be a hard pill to swallow. Today we are exploring the various ways in which you can Save Money on your Disney Cruise and still have a great time.
How to Save Money on a Disney Cruise
Book early
The best way to save money on your cruise is to book as soon as you know your plans. An increase in demand will also increase the price of your favorite itinerary and this means you will see a dramatic change the closer you get to your sail date.
Book last minute
If you missed the early bird special or simply can't commit just yet, waiting until the last minute maybe your best bet. Disney wants to book every room onboard each ship and will discount their bookings just before sailing.
If you can wait until the 11th hour to book a cruise, then this is the cheapest way to go. I can't say the same thing for your flight to the port though. And you will be limited in terms of rooms available.
Rebook onboard
You did everything right and saved a ton on your first Disney Cruise. Congratulations. Now keep that savings-train running by booking your next Disney cruise while on your current Disney Cruise. Disney offers 10% off your next booking, up to 2 years in advance, by simply rebooking while on board.
You don't even have to have a specific itinerary in mind; it's called a Placeholder reservation. You leave a $250 refundable deposit on your account and hold onto that 10% discount since you can't use it once you've disembarked.
Use a travel agent
Not only do Authorized Disney Vacation Planners monitor any sales offered by Disney Cruise Line but if Disney offers a cheaper last-minute price on your cruise, your Travel Agent will call and have the lower price applied to your reservation.
Travel Agents are also the only ones that are able to offer you On-board credit. This is free money they are offering you in exchange for their services – that's right. They are paying you to be their client. Why wouldn't you want to book with a Travel Agent with perks like that?
Watch for specials
We just mentioned that you can get paid to have someone do this part for you, but it doesn't hurt to have an extra pair of eyes looking for deals. Maybe you see an itinerary that catches your eye that you haven't spoken to your agent about yet.
Every once in a while, Disney offers promotions for existing cruises that just aren't selling as quickly as they would have hoped. Anything from 50% off the deposit, to Canadian resident rates, or military discounts; all offers become available a little closer to the sail date but all have the potential to save you money if you didn't book early enough.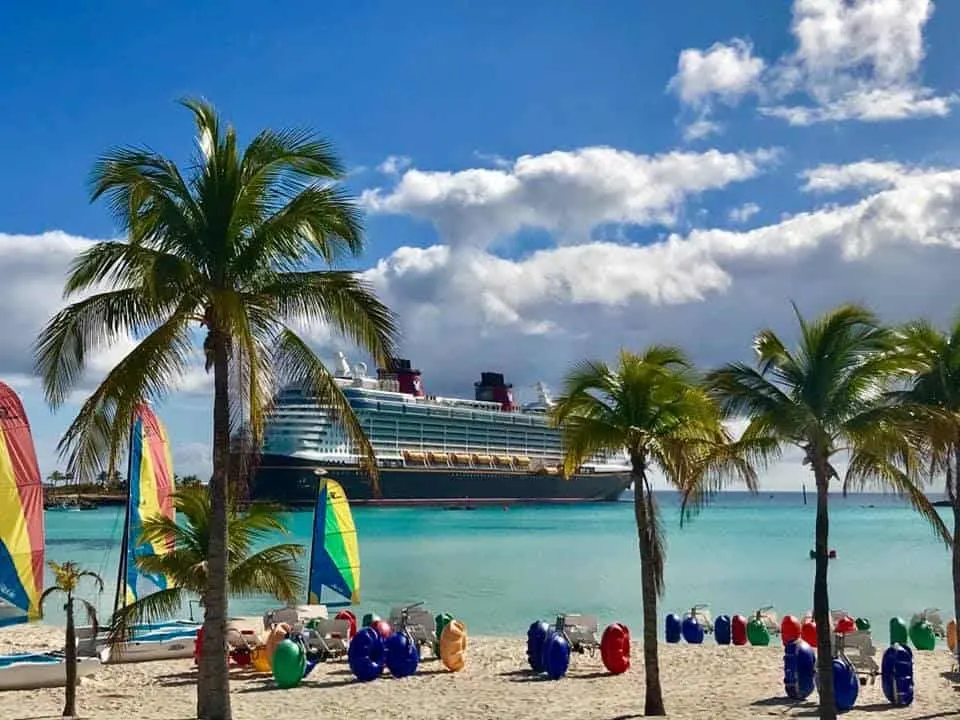 Off-Season / Flexibility
The times of the year when kids are out of school are when prices can go through the roof. This is when there is the most demand, and therefore the highest prices.
Be flexible with your dates and try to book for something off-season. If you don't mind taking your kids out of school for a few days, then definitely book during term time. You will find the price differences are incredible.
Compare dates
Sometimes the same itinerary, even 1 week later, can see a dramatic change in price. This is because of school schedules and expected demand. Head out on vacation a week before March break and save yourself a ton on cruise fares – not to mention Airport crowds and flight prices.
Know your staterooms
Disney cruise ships offer different categories of cabin or stateroom accommodations.
Inside staterooms – no windows
Ocean View staterooms – offer a window or porthole
Verandah staterooms – features an outdoor balcony with seating
Suites – also have verandahs/balconies with larger spaces and additional amenities
Some people want to select their specific cabin. This is especially important for families who want cabins that are connected by a door. Savings can be found with "guaranteed staterooms". This means your family will pay for a particular category cabin and then you'll leave it up to Disney to select the best possible stateroom for you.
Guaranteed staterooms are also the best way to get upgraded – since they are required to place you in your chosen category or higher, Disney will never issue a refund if they don't have to.
If you have a larger family with three or more kids then no doubt savings are even more important. Sometimes it's more affordable to book two cabins connected by a door than it is to upgrade to a higher cabin category that will allow a family of five. You have to know your pricing and do your travel math. This is where an experienced travel agent can certainly help.
Check out our guide to Disney Cruise Staterooms.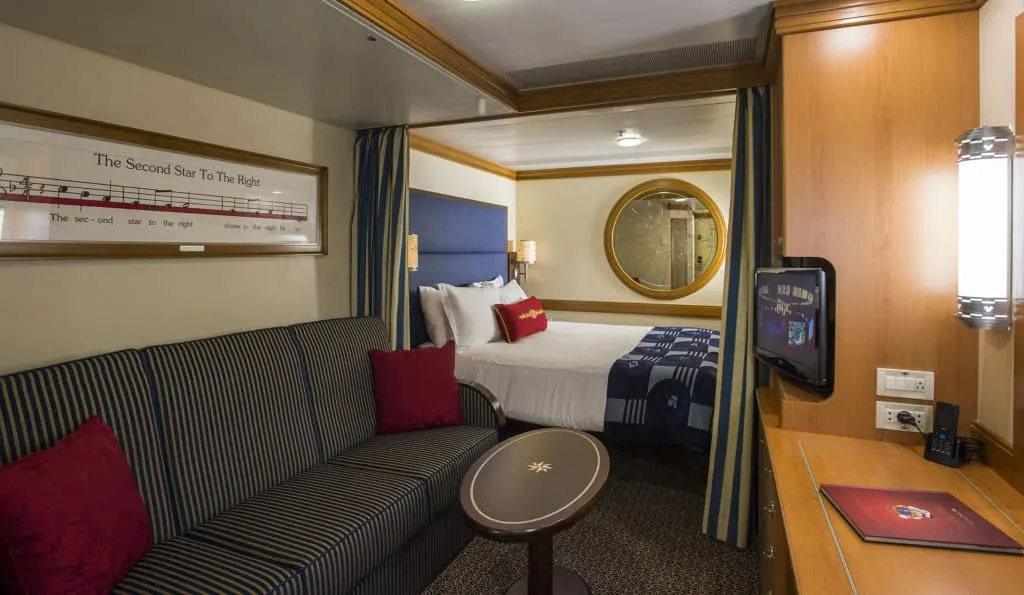 BYOB
Disney Cruise Line Guests 21 years and older may bring a maximum of 2 bottles of unopened wine or champagne (no larger than 750 ml) or 6 beers (no larger than 12 ounces) on board at the beginning of the voyage. Depending on the size of your group, that is a lot of wine and beer that you didn't have to pay Cruise Line price for.
Any alcohol found in checked baggage will be removed, stored, and given back to you at disembarkation.
Pack your own souvenirs
This is a controversial topic among many Disney fans. Half the fun of a souvenir is knowing where and when you bought it. We aren't suggesting you buy pins and t-shirts from eBay before heading to your cruise, because that would be counter-productive.
We are suggesting, however, that you stock up on non-cruise specific items like costumes, stuffies, and autograph books. Anything Disney-generic that can be purchased for less on either Amazon or your local Disney store will save you a fair bit of money while on the ship.
Buy a photo package
You can also buy a package or individual photo at any time that the Shutters desk is open. Just like anything on a Disney cruise, the amount will be charged automatically to your onboard stateroom account.
What you absolutely must do is to purchase the photos that you want whilst you are still onboard your Disney cruise. Once you have left the ship it is too late. There is no going back to reorder!
If you want to buy individual prints on your Disney cruise these are the prices:
Photo Print 8 X 10 $20.95
Photo Print 6 X 8 $14.95
Any 6 prints or digital $99.95
Any 10 prints or digital $149.95
Any 15 prints or digital $199.95
Any 20 prints or digital $249.95
You can also buy a length of sailing Disney Cruise Photo Package. This can be a good value if you are planning on taking a lot of photos. This will give you all the photos that you have taken on your cruise
If you think you are going to buy a number of photos it will bring the cost per photo down if you buy a package. To get these prices you have to purchase in advance via OurCruisePhotos
2 Night Sailing $194.95
3 Night Sailing $194.95
4 Night Sailing $194.95
5 Night Sailing $211.95
7 Night Sailing $295.95
14 Night Sailing $339.95
Prices onboard the ship will be higher:
2 Night Sailing $199.95
4 Night Sailing $229.95
5 Night Sailing $249.95
7 Night Sailing $349.95
14 Night Sailing $399.95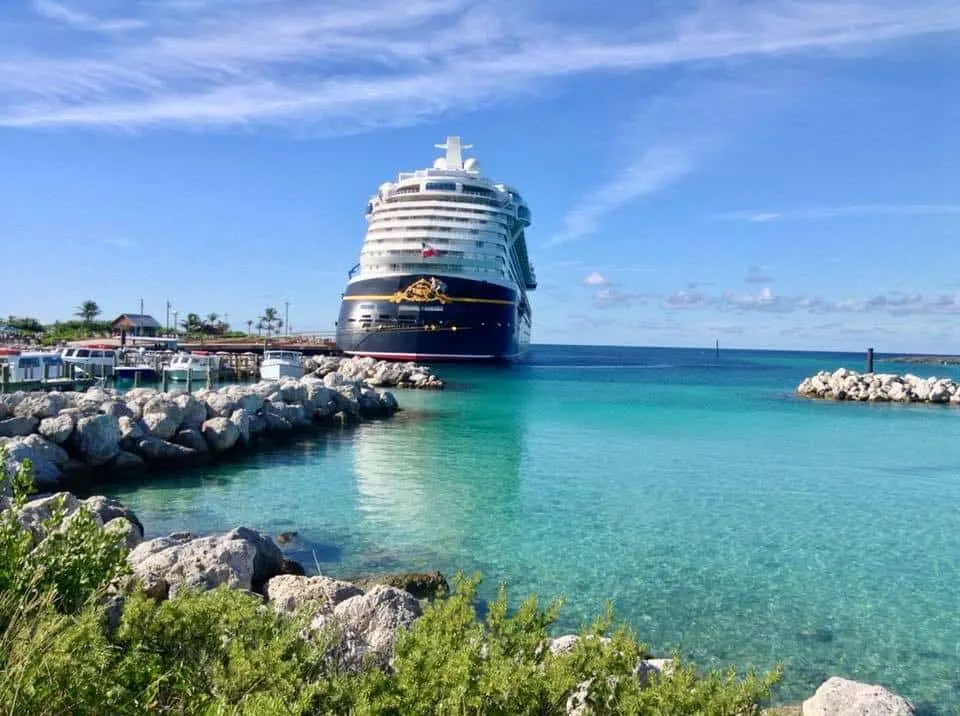 Avoid the internet package
We ended up on a cruise while our House was closing, so we bought the internet package in order to communicate with our lawyer in case something went wrong. And it did. But that's another story. The internet was important and worth the ridiculous price we paid for it.
Unless you have a deep need to connect to the internet while on vacation, wait until you are a Port and connect to the local wifi.
Disney is currently testing the idea of free Apple iMessage services on their ships. Take this into consideration but don't depend on it, just in case.
Book a land and sea package with Walt Disney World
If your family needs to fly to Florida anyway for their Disney Cruise, then doing the parks at the same time can save you big dollars in the long run.
Join our Facebook group!!!!
Ask any questions, share your knowledge and just enjoy getting to know other Disney fanatics in our Facebook group called Walt Disney World with Kids
Also, join us on Instagram.
Your Thoughts...
Please share your thoughts in the comments or reach out on social media...We would love to hear from you.
Follow Mouse Travel Matters for Disney Parks news, the latest info and park insights, follow MTM on Twitter, Facebook, and Instagram.
You May Also Like…