Last Updated on May 17, 2021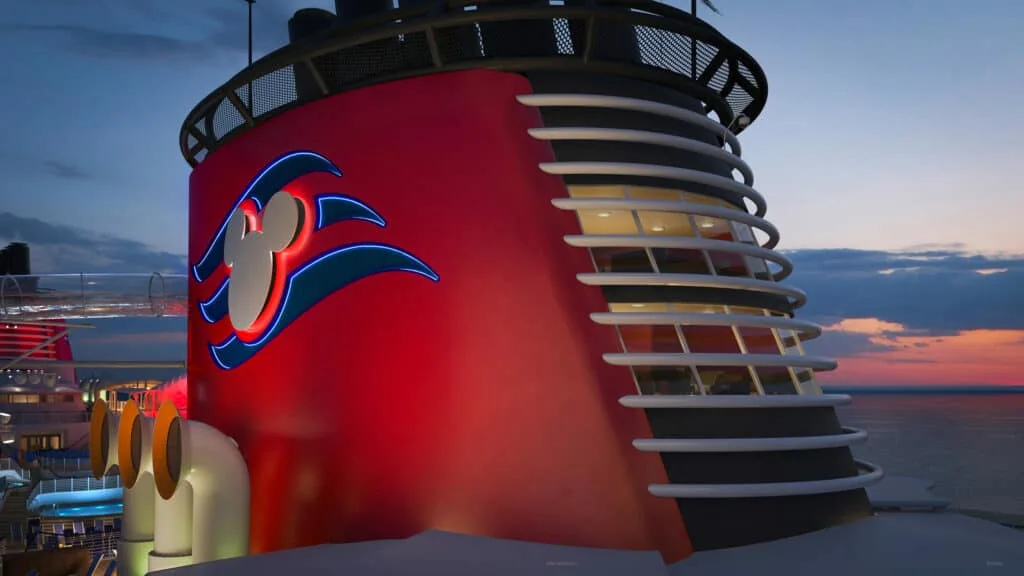 Called the Wish Tower Suite, this first-of-its-kind accommodation inspired by 'Moana' set high in the forward funnel of the Disney Wish, is the latest innovation announced for Disneys' latest cruise ship Disney Wish.
Disney has billed this funnel suite innovation as a 'Storybook Suite in the Sky'. The forward funnel of the Disney Wish has been fashioned into a unique first-of-its-kind accommodation have atop the Disney Wish which begins sailing in summer 2022.
Wish Tower Suite
The Wish Tower Suite looks magical and Disney has stated it has nearly 2,000 square feet of living space, will comfortably sleep eight guests with two bedrooms, a children's room, a library! that converts to a bedroom and a staggering four and a half bathrooms.
Need a bar our large pantry? The Wish Tower suite has it, plus an open dining area all flanking the spacious living room with magnificent views from two-story window walls.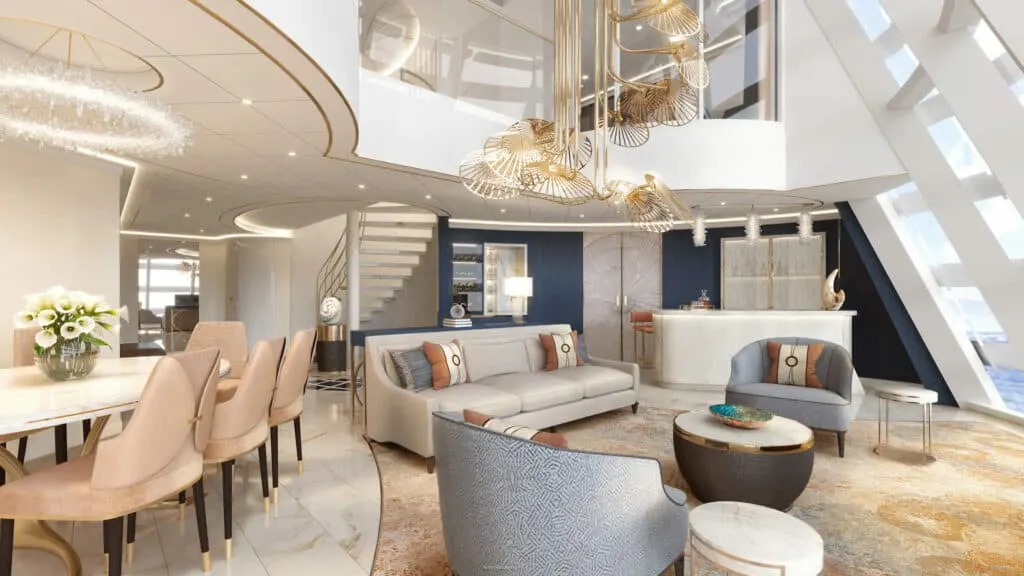 Located on the upper-level loft, the main bedrooms will be lavish and serene with king beds, walk-in closets and floor-to-ceiling windows looking out over the living area below to the views beyond. The main bathrooms will each have double vanities, soaking tubs and rain showers

Disney
'Storybook Suite in the Sky' Enchanted Design
Disney has provided key details of there latest premium accommodation offering. Complete with king beds, walk-in closets, and floor to ceiling windows. Double vanities, soaking tubs and rain showers for the main bathrooms will further enhance this premium accommodation offering.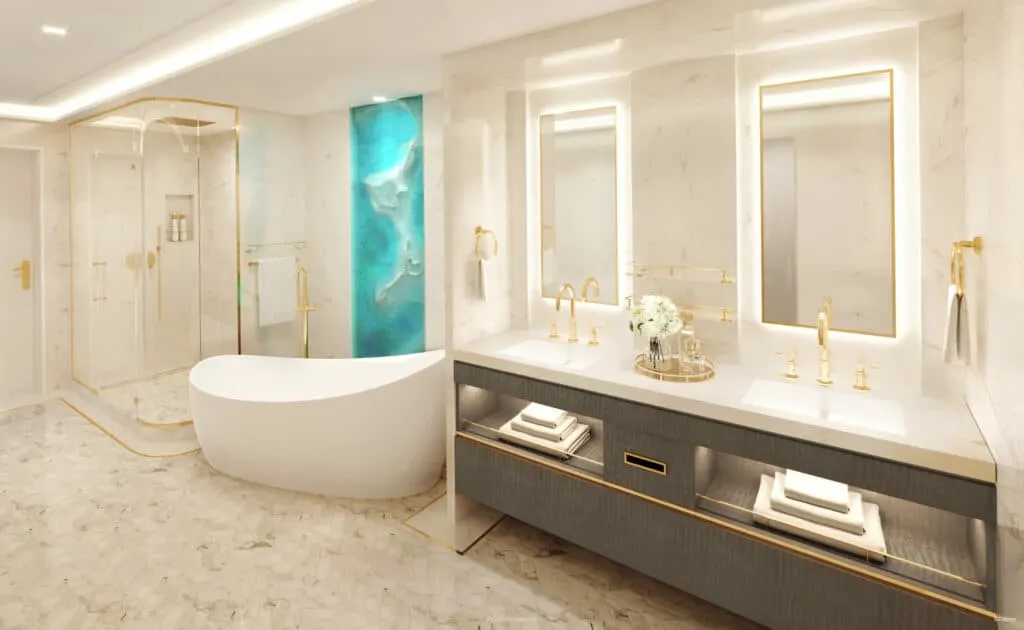 With an elegant design inspired by Walt Disney Animation Studios' "Moana," incomparable ocean views and premium Disney service, this 1,966-square-foot penthouse in the sky will be a celebration of the enchantment and spirit of the sea.

Disney
The Wish Tower Suite is the latest addition to the new Disney ship, where every storybook-inspired stateroom will be a luxurious, peaceful retreat designed with ample room for families, plenty of storage and upscale amenities. Every guest will find their perfect home-away-from-home aboard the Disney Wish — 90% of the 1,254 staterooms will offer ocean views, more than 900 rooms will connect to accommodate larger families and more premium concierge accommodations will be available than ever before.

Disney
Take a look at how the accommodations on the #DisneyWish are being taken to the next level, including the first-ever Wish Tower Suite, a new look and feel for every stateroom and more! https://t.co/WI4gPnMGtp pic.twitter.com/VSuBt5cdy1

— Disney Parks (@DisneyParks) May 17, 2021
Royal Services and Amenities
Disney has stated that guest can except the royal treatment while staying in the Wish Tower Suite. This include a personal concierge team, a range of elegant curated experiences, daily treats and a private elevator.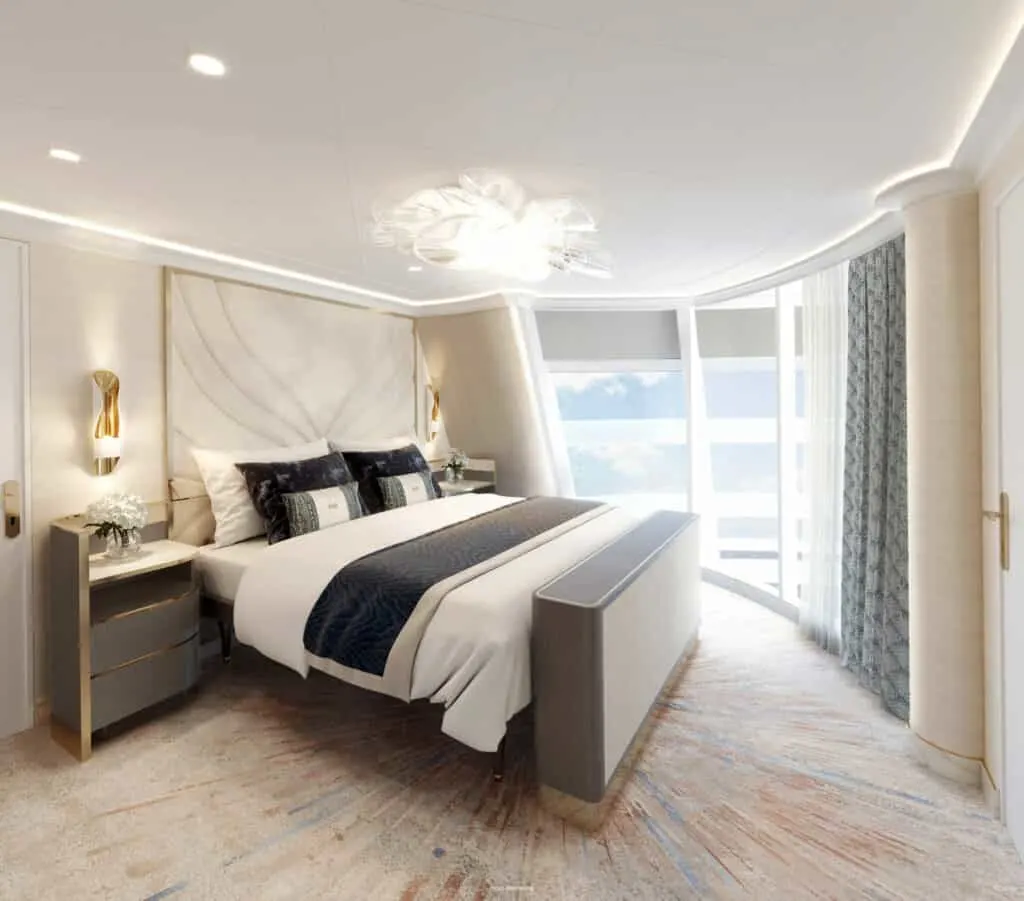 The Wish Tower Suite will feature plush Frette duvets, bed linens, bath towels and robes; motorized sheer and block-out curtains; a wet bar stocked with water and sodas; complimentary internet access; and a deluxe menu of hypo-allergenic, feather and therapeutic memory foam pillows. Guests will also enjoy VIP access to the concierge lounge and sun deck with two whirlpools, a wading pool, a bar, lush lounge furniture and the superlative service of a pool deck host.

Disney
Maiden Voyage and Inaugural Season
The Disney Wish will sail its five-night maiden voyage June 9, 2022. After this the Disney Wish will sail three and four night cruises, which equates to approx. 16 and 15 sailings.
To learn more about the Disney Wish or to book a vacation, guests can visit disneycruise.com, call Disney
Cruise Line at 888-325-2500 or contact their favorite travel agent.
Wish Tower Suite Final Thoughts
This premium accommodation has some very compelling features that cannot be ignored. Personally well this experience is far beyond my price range it would likely be a worthwhile opportunity for a very large family
In my opinion, the details and amenities give off Cinderella Castle Suite at Walt Disney World vibes. Remember though the Castle Suite at Disney World is not available on any sort of schedule at all. It would take a considerable amount of pixie dust for use to stay here.
Your Thoughts...
Please share your thoughts in the comments or reach out on social media...We would love to hear from you.
Follow Mouse Travel Matters for Disney Parks news, the latest info and park insights, follow MTM on Twitter, Facebook, and Instagram.
You May Also Like…
Disney Wish Maiden Voyage Pricing Revealed $$$$
Things I Wish I'd Known Before My Disney Cruise
Disney's Coronado Springs Resort Review