Last Updated on February 6, 2020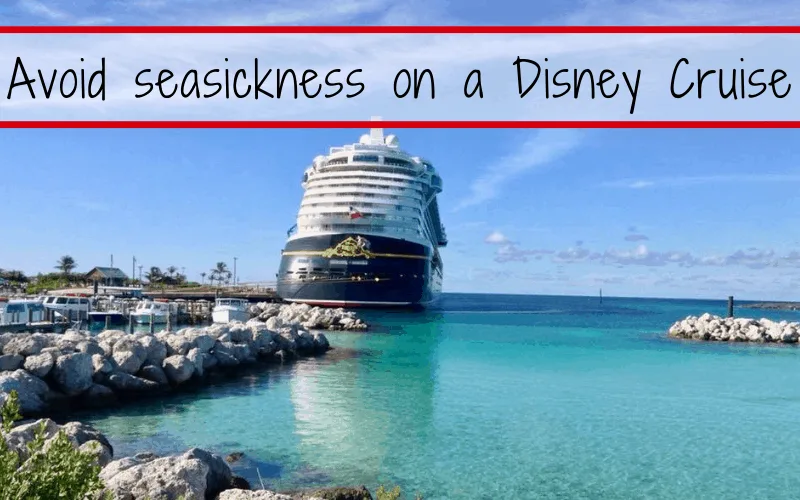 There is little better in life than sitting back and enjoying a cruise on the open sea. From the fun onboard activities to the amazing locations, there's a lot to love about traveling on a Disney cruise.
However, the last thing you want is for your wonderful cruise interrupted by sea-sickness.
Ask Your Health Care Professional
Allergy medication and other medications sold over the counter should be supplemented with expert advise from your doctor. We sometimes take for granted that these drugs are right there and easily purchased and used based on the description on the label.
There can be serious side-effects or allergic to some medications. Expert advice from your doctor is an important step in staying healthy on holiday.
This post may contain affiliate links.
To which I earn a small commission, at zero cost to you!
Find more info in our
Privacy Policy
.
What is Motion Sickness?
Without getting too scientific, or graphic, motion sickness is when your body and eyes can't agree on what is happening around you and your brain is confused. There are many theories as to why your brain reacts this way, but everyone can agree on how the brain reacts.
But why? Why does looking out into the gently rocking ocean cause your body such distress?
If we all think back to high school science class, vomiting is the body's natural defense mechanism against poisons and other intruders. When your body and eyes can't agree on what is happening to you, you brain believes you are hallucinating. And why would a perfectly healthy individual suddenly start hallucinating? Because they have been poisoned, so says your brain.
And there is no talking your brain down either. Once she gets an idea in her head (no pun intended), there is no going back. Remedies, time and avoidance are the only way to clear up the confusion and get back on track.
The following remedies will help alleviate the symptoms of motion sickness until your body has a chance to adjust to its new surroundings and level itself off.
If you are inclined to motion sickness but want to ensure an enjoyable cruise, here are a few ways to avoid getting seasick on your cruise
Some Common Prevention
If you're prone to motion sickness, you need to take sea-sickness medicine before you feel sick, other wise it won't be effiective.
Motion sickness medication is not 100% effective. You can still feel the effects just maybe to a lesser extent.
Be sure to pack enough for the length of your trip but if you need more, the gift shop and the Medical stations will be able to help you out.
Avoid the Portholes
Looking out the portholes was disorienting. The theory behind this remedy is perception; watching the motion in the ocean while your body stays relatively still (because Cruises are equipped with amazing stabilizers these days), your brain is confused and the result is nausea.
Fresh Air
Fresh air and steering clear of the disorienting portholes. By getting outside, your body can have a more encapsulating feeling of moving with the waters you are looking at. If your brain believes your body is moving along with what you are looking at, it is no longer confused. This is called The Sensory Conflict Theory.
Hydrate Often ; Stick to soothing beverages
Stay away from any drinks with carbonation. If the lack of flavor is an issue for you try Mio or another water additive.
Peppermint and ginger are both known to calm upset stomach
Avoid Over Indulging
Any child will tell you, eating too much only makes your tummy ache worst, not better. Stick to starchy foods like soda crackers, bread, and rice. They will help absorb gastric acid and settle a queasy stomach. Carry a few packets of soda crackers around to munch on during the day and keep a few next to your nightstand at night.
You will want to eat small, plain meals throughout the day. Green apples, saltines, and ginger (in the form of a pill, powder, tea) are all natural stomach soothers. It is a good idea to avoid fatty foods or those high in salt and sugar, and avoid alcohol 24 hours prior to sailing. These will give your stomach the best chances of beating body's urge to be sick.
Focus on the Fun
Focusing your attention, ie your Brain, on the fun that you are trying to have, and not wallowing in the fun that you are missing out on, will help distract you from your nausea.
In order to maxmize on fun, one needs to avoid the Cabin. To acclimate to shipboard life and get those sea legs working, it is best to spend as much time as possible outside on deck.
Avoid Becoming Anxious
Worrying about how your family doing without you, that you are missing out on all the fun, or anything else that you can possibly worry about while on a Disney Cruise, will only make things worse.
Being anxious in and of itself can bring on nausea, so if you can't join in on the fun, at least try to relax and make the best of the situation.
Stateroom Location
The best location for a stateroom if you suffer from motion sickness is the middle of the ship. This is where you get maximum stabilization (??) and will feel the least ocean movements. After being queasy all day, a good nights sleep should help take the edge off.
Length of Cruise
Longer cruises, and on bigger ships, are often the most stable in terms of rocking. Cruise ships, Disney included, like to spend their money where they know they will get a great return on investment. Adding their best stabilizers on their larger ships, as well ships intended to take longer cruises will have the maximum impact on their bottom line.
Although, this doesn't mean we suggest booking a 10 day cruise right away. If you aren't sure that you, or someone in your party, will be able to handle such a long cruise and potentially be ill for the majority of it (or all of it), we would suggest starting off slow. Research which ships have the best specs and book one of their shorter cruises. They tend to rotate a few of the shorter routes from time to time.
Avoid Multiple Days at Sea
Being able to get off the ship and relax your stomach is a great way to slowly acclimate to life on board. One day at sea may be all you can handle, and that's ok. Because you have tomorrow at Castaway Cay to look forward to.
Excursion Planning
Plan to spend as much time as possible off of the ship. A docked ship is still in the water, and still rocks with the ocean. Get off the ship as soon as you can, and don't get back on until you absolutely have to. This way, you can maximize your land-based relaxation and fun. Who knows, this may have been the quick break your body needed to get its act together and finally give you some relief.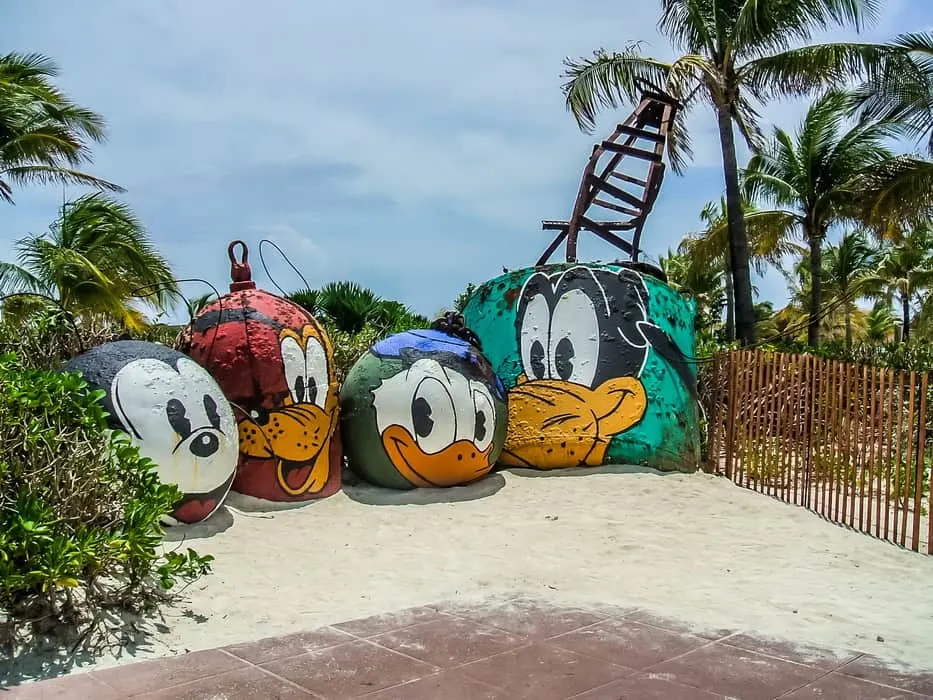 Avoid Powers of Suggestion
Please ask your friends and family to stop asking you how you are doing, pointing out that you look sickly or anything remotely suggesting that you could be or are showing signs of sea-sickness.
The mind is a powerful thing, after all, and that little nudge could be the difference between a little uncomfortable to a full day in bed.
Avoid Key Triggers
There are a number of factors that can contribute to the not-so-great feeling of being off balance. , and poor ventilation as strong smells can overwhelm the senses.
Also, it is best to avoid reading. If you must, read small passages at a time and take frequent breaks to look up and find the horizon.
Your Thoughts...
Please share your thoughts in the comments or reach out on social media...We would love to hear from you.
Follow Mouse Travel Matters for Disney Parks news, the latest info and park insights, follow MTM on Twitter, Facebook, and Instagram.
You May Also Like…
What Not To Pack on a Disney Cruise
What's Included in a Disney Cruise Line Fare?
Disney Cruise Line (DCL) Planning Guide 2019
The Perfect Castaway Cay Excursion Bag