Last Updated on June 29, 2022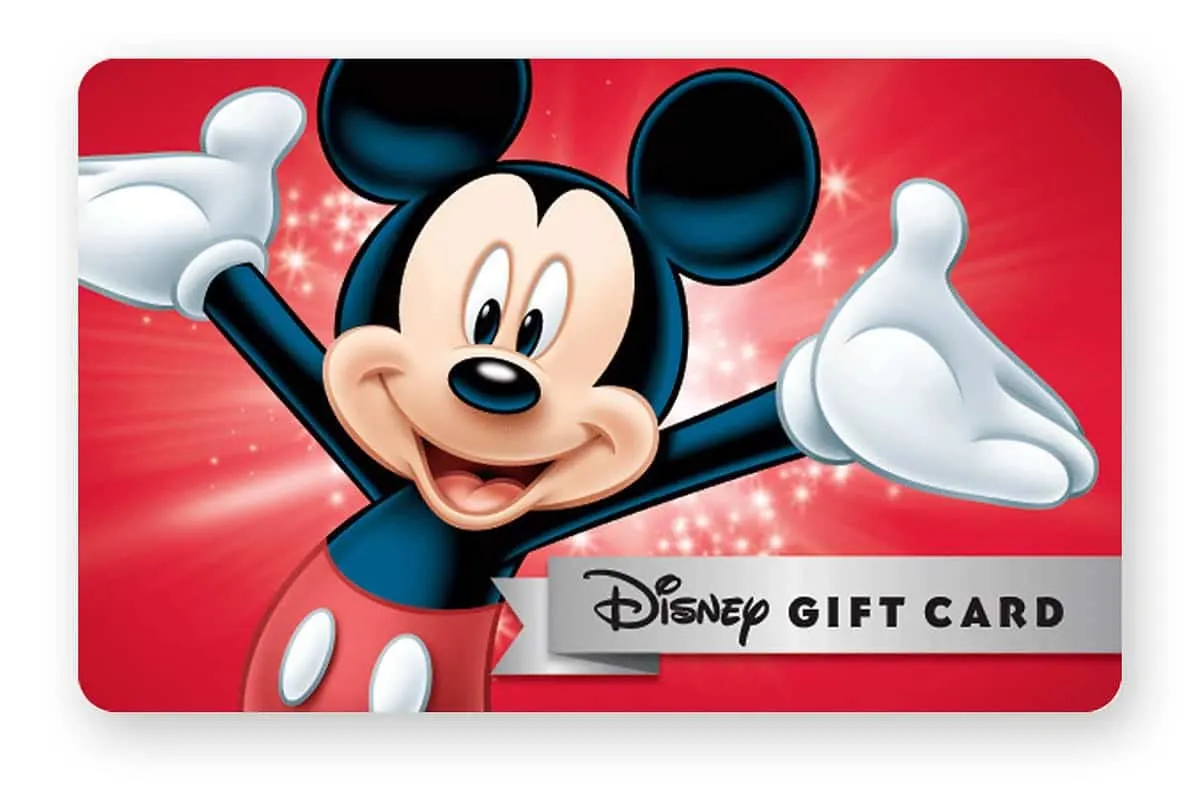 We Canadians tend to get the short end of the stick more often than not. All over social media, there are giveaways and contests and they look amazing.
This post may contain affiliate links.
To which I earn a small commission, at zero cost to you!
Find more info in our
Privacy Policy
.
Wouldn't it be great to win a week at Disney…nope. Cause you live in Canada and the small print says it's only for US citizens.
So when it came time to budget for our next Disney trip, we thought it would be great to check in on some of those discounted Disney gift cards everyone keeps telling us about. It's a long shot, but research isn't going to hurt anyone. Right?
Why buy Disney gift cards in Canada?
For the vast majority of Canadians, we get whichever Credit Card our bank tells us is the best deal for our spending habits. This usually means low-interest rates, low to no annual fee and a few terms and conditions.
While this is great for online shopping and traveling to visit Grandma for the holidays, it isn't great when leaving the country.
Credit Card companies have created this fee called Foreign Currency Fees. In a world of electronic transactions, it is odd that they would keep such fees but they need to make their money somehow.
And this is where they get you. Anywhere from 2.5% or 2.9% per transaction is charged as this processing fee; for the pleasure and convenience of using their credit card across the border.
Disney Gift Cards Discount
Sadly, here in the north, we don't have Disney Gift Card Discounts at any of the gift card vendors. One day, hopefully, but not today.
Disney Gift Cards, Canada Exchange Rate
If you purchase a Disney Gift Card here in Canada, it will be in Canadian funds, just like your credit card.
And when you make a purchase with your Canadian-funds Disney Gift Card at Disney World, you will be charged the exchange rate based on yesterdays closing numbers. Just like your credit card. The only difference is, no Foreign Currency fee.
By using a Disney Gift Card purchased in Canada, you aren't buying the card at a discount, as you would in the States, but you are saving yourself the Foreign Currency Fee.
Which, based on a $6,000 vacation, that's between $150-175 savings. Better in my pocket than in theirs.
Best places to buy Canadian Disney Gift Cards
Sam's Club
The first thing you will hear about is Sam's club. Similar to Costco, Sam's Club is a membership-based warehouse retailer that sells bulk gift cards for less than face value – a $50 gift card sells for $44.99. That's amazing.
But you need to pay for the annual membership first, which is $49 USD ($59.49 CAD). Everything you purchase will be in USD funds and your credit card may or may not charge Foreign Currency Fees.
Once you have created an account and signed up for their membership, simply purchase the cards and the codes will be emailed to you. Easy Peezy.
Grocery Stores
Grocery stores are a great way to purchase a few cards while doing what you normally do. Add a $50 card to each purchase or every other purchase and you are slowly making your Disney dreams come true.
Why grocery stores above any other store? Because most credit cards give up to 3% cash back / rewards for shopping at grocery stores – and they don't actually care what you purchase there. Clothes, gift cards, or a tub of ice cream, it's all the same on your Visa statement.
Best Buy and Walmart
As one of the few major Chain retailers left in Canada, both Best Buy and Walmart sell Disney gift cards at the store level.
Both companies offer their own corporate cards and both have their own cash-rewards programs for purchases made in-store. It does not look like there are exceptions to their rewards program but check with them just in case.
Disney Store
The easiest way to purchase a Disney gift card is to go to the source; a Disney Store. They will be more than happy to sell you what you need.
You won't earn anything from it, in terms of reward points or Airmiles, but you won't have to worry about being out of stock either.
Drug Stores
Shoppers Drug Mart and Rexall both carry a wide range of Gift Cards. While you can't claim your 20x Optimum points for purchasing a gift card, you can still reap a few rewards with your cash-back Visa.
And just in case you were wondering, no, you can not claim Air miles on gift card purchases either. We checked. You also can't buy a Disney gift card with your Sobey's gift card. They are sneaky little buggers.
Canadian Tire/ Lowes / Home Depot
Just like the drug stores, you can purchase as many Disney cards as you like at your local Canadian Tire, you just won't be receiving any Canadian Tire money from it. Once again, you can not use Canadian Tire money to purchase a gift card either.
Not an option for most Canadians
Target
While we no longer have Target in Canada, that doesn't mean we can't cross the border to buy some gift cards. You can only buy gift cards at the discounted rate if you have a Target Red card – their in-house credit card. And you need an American address to apply for the card.
Can I use multiple Disney Gift cards to pay for my park tickets online?
Now that you have upwards of 100 gift cards in your possession, you need to actually use them to pay for your vacation. Very rarely will a retailer carry gift cards larger than $50.
If you have multiple gift cards, it's best to combine them into one. Merging Disney Gift Cards is fairly easy and straightforward. Regardless of denomination, simply create an account on the official Disney Gift Card Website, upload your Primary Gift card – this is where you want all the money to be loaded on to – and add 4 more cards to your cart. Transfer the balance, delete the empty cards and repeat. Each card can hold a maximum of $1000 USD.
Registering your cards on the website is also a great idea because if you lose one with a balance, you can go online to your account and transfer it to another card! Do this for any cards that remain in your possession and will tour with you into the parks or left in your hotel room.
How to use a Disney Gift Card to buy an annual pass online?
Yes, you can absolutely use Disney Gift Cards to buy an annual pass, and you can also upgrade a ticket into an annual pass.
The initial down payment for a Florida Resident Walt Disney World Annual Pass must be paid with a credit or debit card. After the initial down payment, Guests can make changes to their payment information and pay using Disney Gift Cards by contacting the Passholder Payment Team at 1-888-701-4100.
Is buying Disney gift cards in Canada worth it?
The short answer is yes. And no.
There are a handful of great Credit Cards available that don't force you to pay Foreign Currency fees, which is the main reason one would want to buy an American Discounted Disney Gift Card in the first place.
If you can't get a hold of a fee-free credit card, all of your savings will be eaten up by this fee.
Let's look at Sam's Club, for example. Since it is the only Gift Card that would require you to purchase across the border.
After paying for your membership, which comes to roughly $59.49 per year, you need to pay that off in savings, before you are in the black. At 3.5% savings, and 2.5% fees, it takes a minimum of $6,000 spending before you net save your first $50.
You are then still looking at 1% savings on every dollar spent after that. While it is better than nothing, you are not hitting any multipliers on your credit card from your local grocery store.
As mentioned above, you are looking at between $150-175 savings on a standard $6000 purchase, which is better than nothing, but don't spend too much time looking for deals.
Your best bet is to earn Air miles for "free" tickets, or PC Optimum points for free groceries (and put the cash towards your Disney purchase). Simply buy gift cards whenever you see them, knowing you are saving these fees and prepurchasing expenses.
Your best bet is to earn Air miles for "free" tickets, or PC Optimum points for free groceries (and put the cash towards your Disney purchase). Simply buy gift cards whenever you see them, knowing you are saving these fees and prepurchasing expenses.
Be sure to sign up for our newsletter. We will be updating this list as new offers become available and finding new ways for Canadians to pay for their Disney vacations.
Your Thoughts...
Please share your thoughts in the comments or reach out on social media...We would love to hear from you.
Follow Mouse Travel Matters for Disney Parks news, the latest info and park insights, follow MTM on Twitter, Facebook, and Instagram.
You May Also Like…