Last Updated on November 1, 2019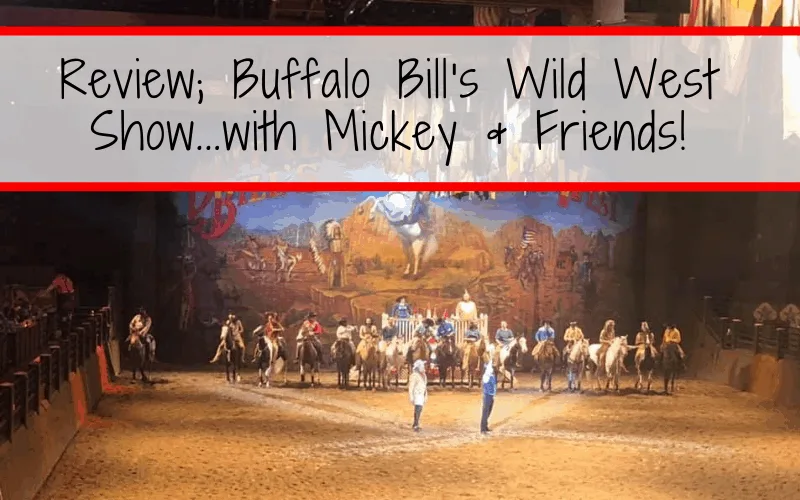 We first heard about Buffalo Bill's Wild West Show…with Mickey & Friends! when we took our 2-year-old to Disneyland Paris back in 2014. Since then, we have gone 3 more times and we love it, even more, each time we go.
In this review of Buffalo Bill's Wild West Show at Disneyland Paris, I'm going to take you through our experience and give some recommendations on making the most of this awesome and unique Disneyland Paris experience.
Buffalo Bill's Wild West Show Pre-Show Review
When you get to Buffalo Bill's and check-in, you're given both a cowboy hat to wear for the night. This is the colour of your section to sit, which doubles as the team you will be rooting for during the games section of the show.
As you make your way in, there are a couple of photo opportunities, and then there is a bar and a stage. You're asked to arrive quite a bit before the show starts, and while you wait there is a pre-show featuring a band singing classic American "western songs," and you may even be joined by a Disney character or two!
We stayed at Disneyland Park to watch the 6 pm parade. Watching from near the park entrance, we were able to dash to Buffalo Bill's Wild West Show just in time to pick up our tickets and grab our hats before the show started. This isn't ideal but when you are crunched for time, you do what you have to do.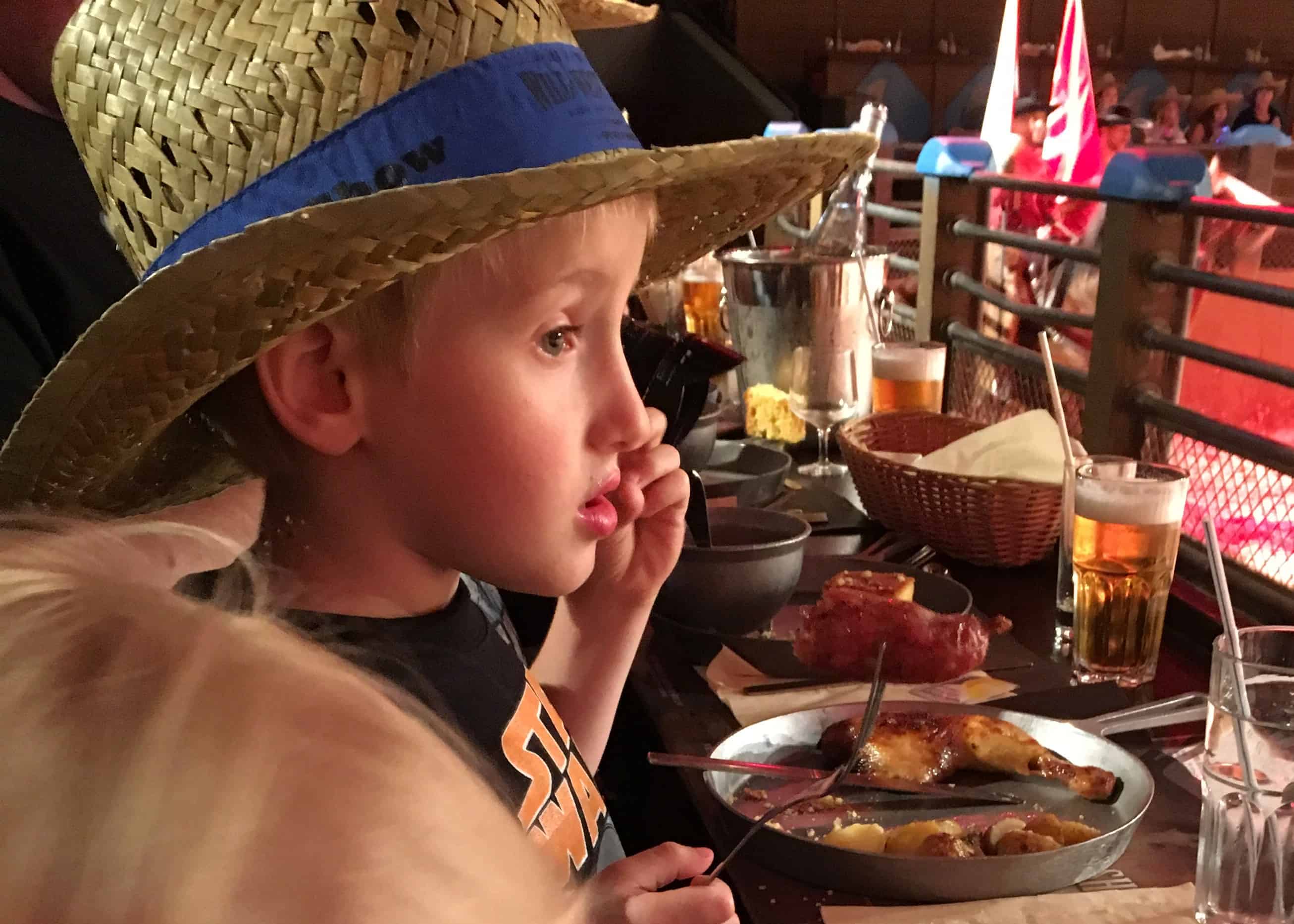 Buffalo Bill's Wild West Show Entertainment
You'll first be shown to your seat. Category 2 are long benches overlooking the main arena. Category 1 are bucket seats, like in the theatres.
Once everyone is seated, the show begins and you're treated to a show filled with actors portraying famous American western characters such as Buffalo Bill and Annie Oakley, along with shooting contests, and team games played with Disney characters.
Buffalo Bill's Wild West Show with kids
Children under 3 are free. This means they will share from your plate (though the servers do give you a larger helping when they see the kids, so nice), and they are required to sit on your lap. If there is a spare chair next to you, they are welcome to sit on their own, but this is rare.
We had him sit on my lap the first time, myself and the poor woman beside me regretted that decision almost right away. The next time we went, she was now 18 months and he was 4, made it a point of purchasing her own chair. Both kids are good eaters and the food was very attractive to them so I wasn't too worried about wasting money.
Children are also given an ice cream bar for desert instead of warm apple dessert.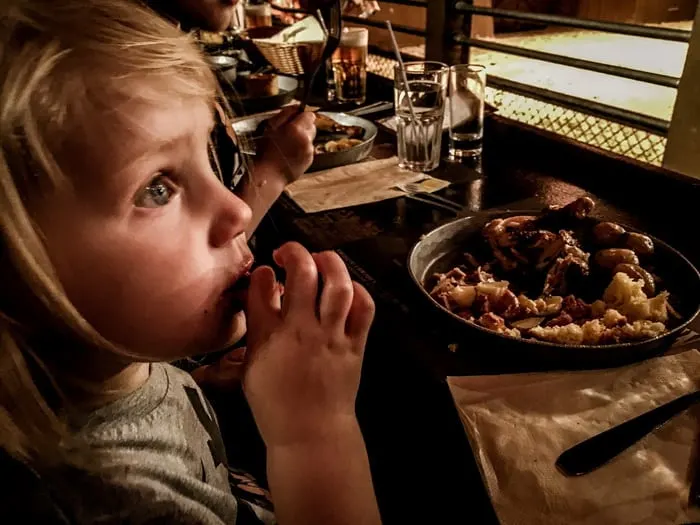 What About the Food?
Buffalo Bill's is a dinner show at Disneyland Paris, which means that you get a full meal (appetizers, an entree, and dessert and drinks) as part of your entrance.
I'll list a full menu below, but as for the quality of the food at Buffalo Bill's Wild West show, I have to say – so good! It was really delicious, and the serving of the food in a skillet went along perfectly with the theme.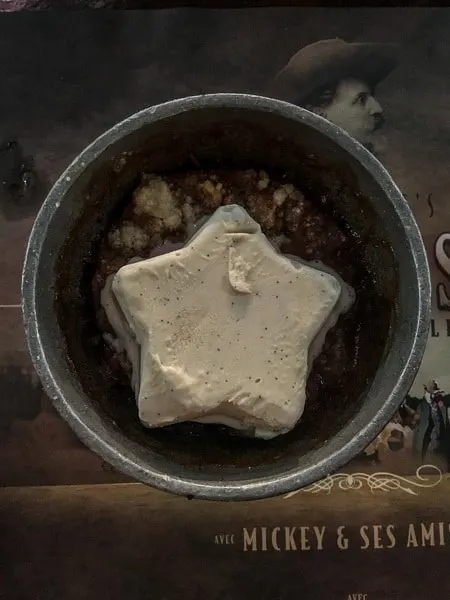 It was hot, fresh, and the waiters made sure to come around often to replenish our drinks (soda or beer).
You do have silverware, so you don't have to eat with your hands if you don't want to, but it's highly encouraged if you want to get into it.
Buffalo Bill's Wild West Show Menu
The current menu, according to Disneyland Paris's website is:
Cornbread
Chili
Texan skillet (meat)
Potato Wedges
Warm Apple Dessert with Vanilla Ice Cream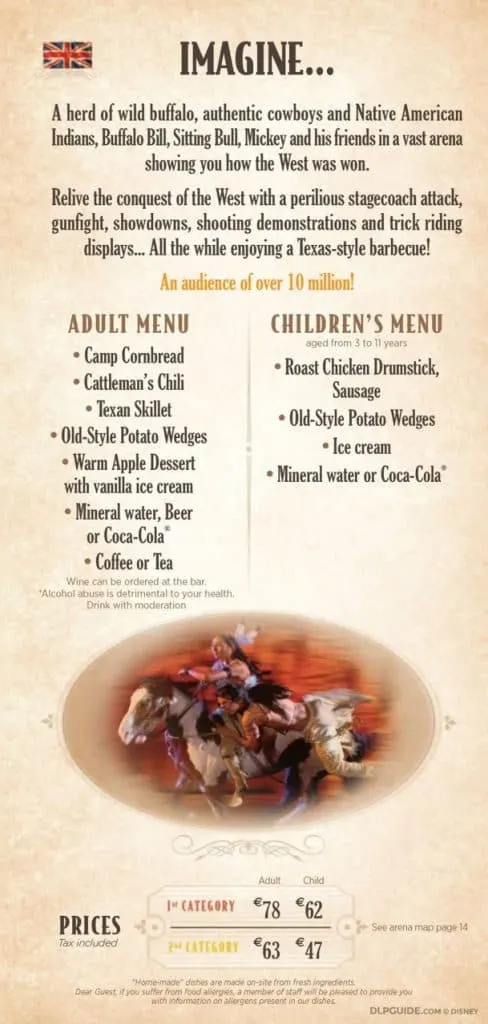 Buffalo Bill's Wild West Show Duration
Buffalo Bill's Wild West Show in Disneyland Paris lasts for about 1 hour and 30 minutes.
Buffalo Bill's Wild West Showtimes
Buffalo Bill's isn't on every single night, so you'll need to plan ahead to make sure it's on during your stay, but when it is on, they have two showings per night.
The showtimes are at 6:30 pm, and then again at 9:30 pm. The second showing is cheaper and gives guests more time to spend in the parks. With the little ones, 9:30 pm is a little late for dinner usually means we don't have time to experience the nighttime spectaculars.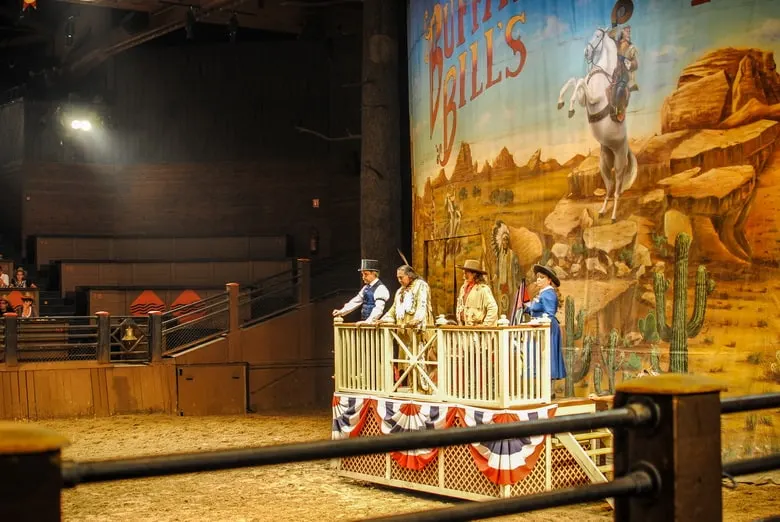 Buffalo Bill's Wild West Show Tickets
You can book tickets in two different categories: Category 1 and Category 2. Category 1 tickets are the ones closer to the front.
You can book directly through Disneyland Paris or with Buffalo Bills. Booking with Disney means you pay at the door when you pick up your tickets. Booking with Buffalo Bills means you pay at the time of booking.
Disneyland Paris' Premium Meal Plan covers the full cost of Buffalo Bill's Wild West Show. Face value of the Plus Meal Plan voucher can be used to pay for part of the tickets. The face value for half board plus meal plan vouchers is €36 for adults and €18 for children.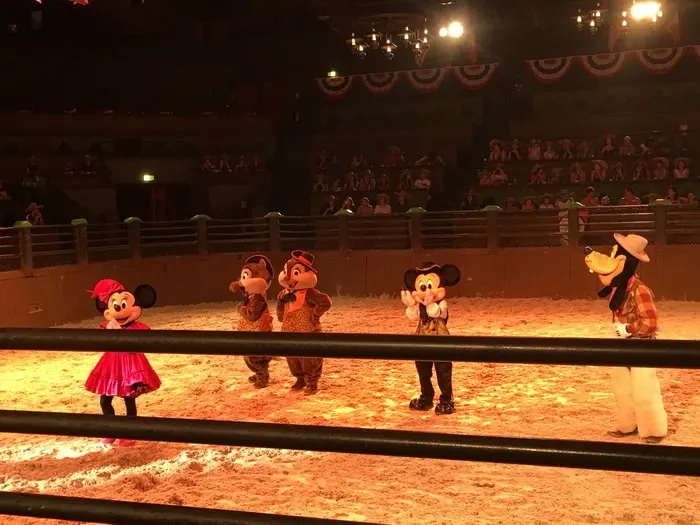 Buffalos to be replaced in Buffalo Bill's Wild West Show at Disneyland Paris
The show will receive a brand-new scene that will use projection technology, special effects, and feature an updated soundtrack that will immerse guests in a new way. This new scene will completely replace the former buffalo sequence in the show.
Your Thoughts...
Please share your thoughts in the comments or reach out on social media...We would love to hear from you.
Follow Mouse Travel Matters for Disney Parks news, the latest info and park insights, follow MTM on Twitter, Facebook, and Instagram.
You May Also Like…
Disneyland Paris Price: How Much Does a Day Really Cost?
Best Places to Eat in Disneyland Paris; Top 10 Best Disneyland Paris Restaurants
The most essential item of all: Your Disneyland Paris park tickets