Last Updated on September 19, 2019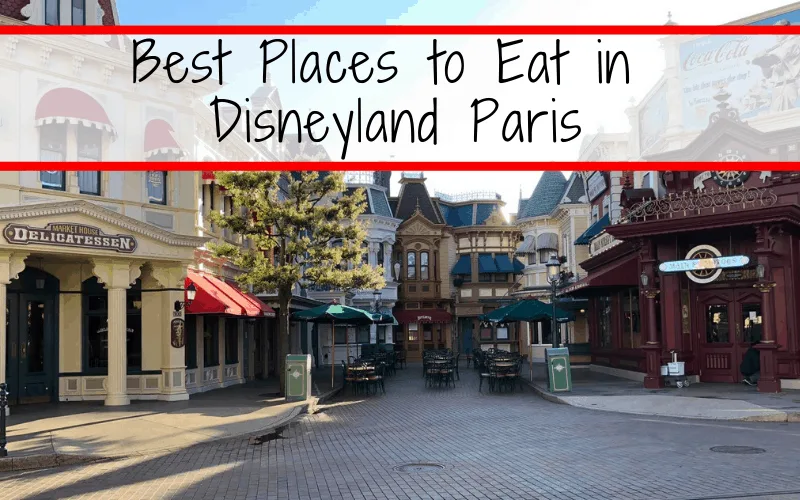 Best Restaurants for family dining at Disneyland Paris
While we haven't been to every single Disneyland Paris restaurant, we have visited some 5 times in the last 4 years. During this time, we had the privilege of experiencing a great number of locations and a handful of return visits to our family favorites. These are our picks for the best places to eat in Disneyland Paris.
This post may contain affiliate links.
To which I earn a small commission, at zero cost to you!
Find more info in our
Privacy Policy
.
10 of the Best Restaurants for family dining at Disneyland Paris
Our first tip, however, is to make advanced dining reservations if you plan to dine out at any buffet or sit-down restaurants. It may seem like a little Type A planning but it is much easier to book and cancel than to find a last-minute reservation when the parks are crawling with guests.
You may also want to plan your meals around the Disney parade times. Traditionally, the parade is at 5:30 pm every evening (though we suggest checking the times when you get closer to your arrival date) so typically you would want to sit down 1.5 hours before you plan on finding a parade viewing spot or for roughly 6:15 pm – after the parade and enough time to get to the restaurant.
There are 3 main types of places to eat in Disneyland Paris. The first is a sit-down restaurant, where you order and your meal is served to you. The second is a buffet-style restaurant. The third is counter service, where you order at the till and receive the food there, and carry it over to a table yourself.
Top 10 Best Restaurants at Disneyland Paris
Best Places to Eat in Disneyland Park
Captain Jack's – Restaurant des Pirates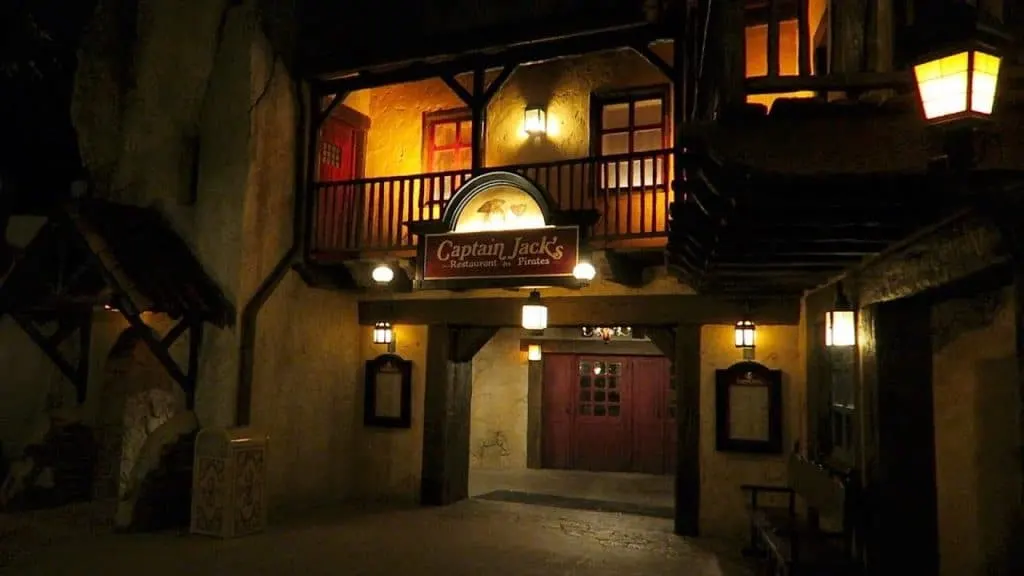 Captain Jack's is located next to the Pirates of the Caribbean ride and even has a view of the ride from the inside. The theming is incredible and the whole place smells amazing. The menu is seafood-heavy, obviously, but there is a red-meat option for adults and for the children. The kids really wanted to experience a Pirate-themed restaurant and they were not disappointed. If you visit during slower months, you can make reservations the same day without much trouble.
Pizzeria Bella Notte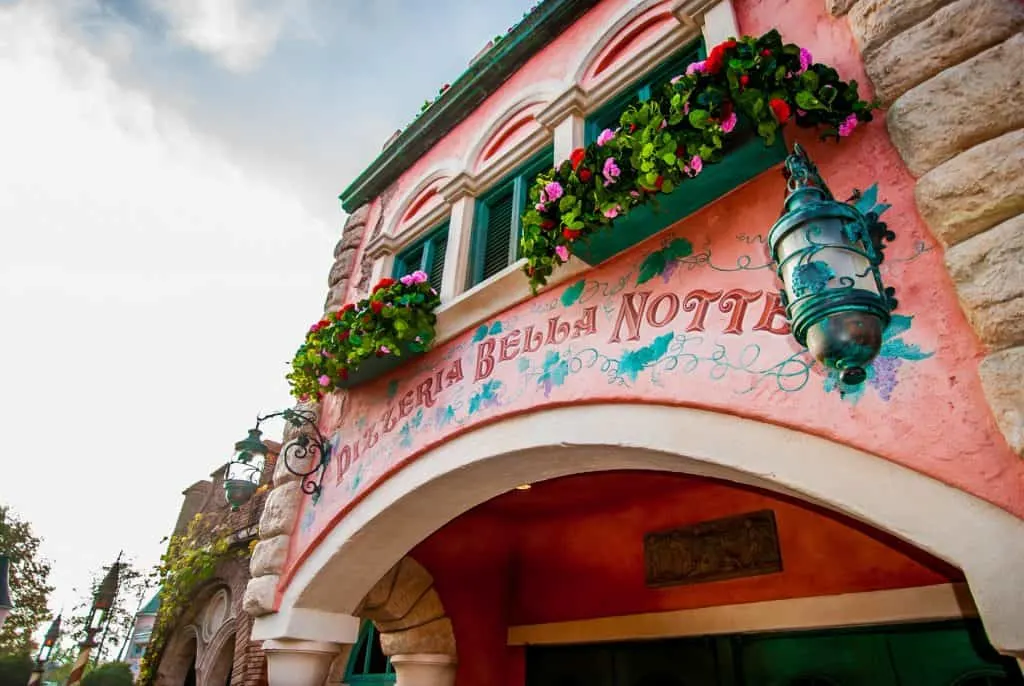 Share a magical moment over some Italian specialities in this pizzeria inspired by the Disney classic Lady and the Tramp. We felt that this restaurant provided great ambience, the food was very nice, very well seasoned and reasonably priced for what was on offer. This is a counter-service restaurant so be prepared to wait in a queue to order your food and find a seat but the restaurant itself is top-notch.
Auberge de Cendrillon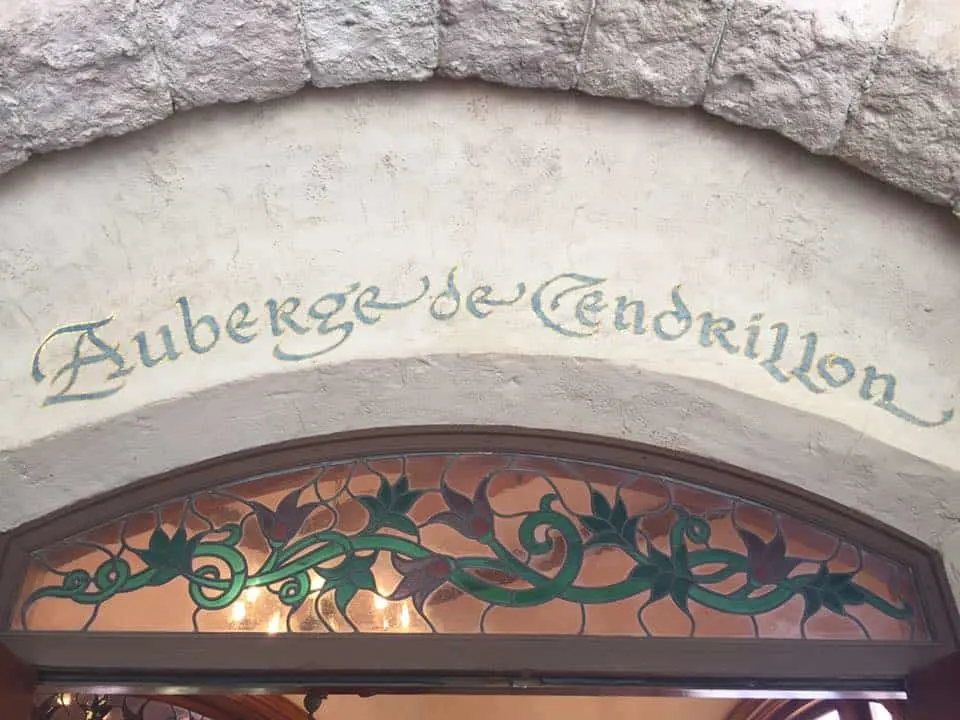 There are only 3 character restaurants at Disneyland Paris and this is the only one you can see the princesses. Getting a reservation can be a little tricky during the busier times so it is suggested you make them 60 days from arrival or when you are booking your vacation over the phone with Disneyland Paris themselves – the 60-day window seems to be at the agent's discretion during this phone call.
The experience is roughly 1.5 hours long and you will have the pleasure of meeting 3 princesses and 2 of Cinderella's mice, all of whom are ready and willing to sign autographs and take photos. The food is traditional French cuisine and amazing. The children's menu is a little on the sophisticated side, they don't serve chicken nuggets and fries here; Chicken breast with vegetables, tomato pasta or cod fillet. All of this is available on the Premium Meal Plan or equivalent price, which is to say this restaurant is not necessarily for those that are light or picky eaters.
Cafe Hyperion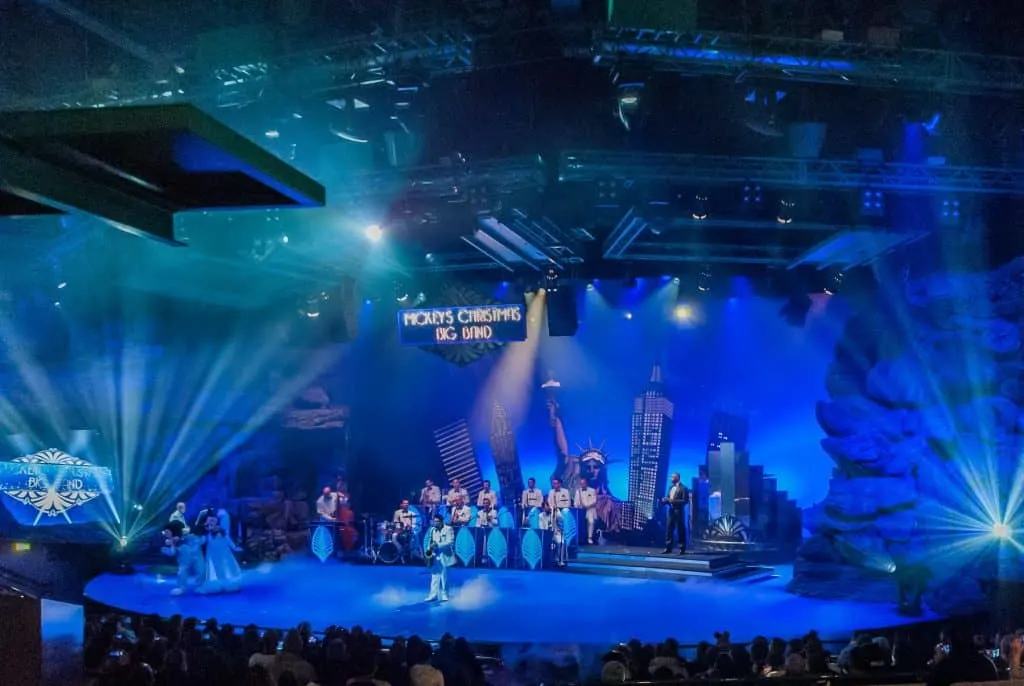 Cafe Hyperion has gotten a bad rap for selling chicken nuggets, burgers and fries, but when your kids are picky eaters, this is a must-have eatery and we all appreciate it. What makes this one special is the stage and seating arrangements; throughout the seasons, there will be various productions set to play on the Cafe Hyperion stage and the seating is divided between viewers (floor level) and tables with chairs. This way, we can eat and watch the show at the same. This does mean, however, that you will be hard-pressed to find seating shortly before or during a show. Check the showtimes on the board or in your parks map and be sure to arrive in advance, or shortly after the show has ended.
Plaza Gardens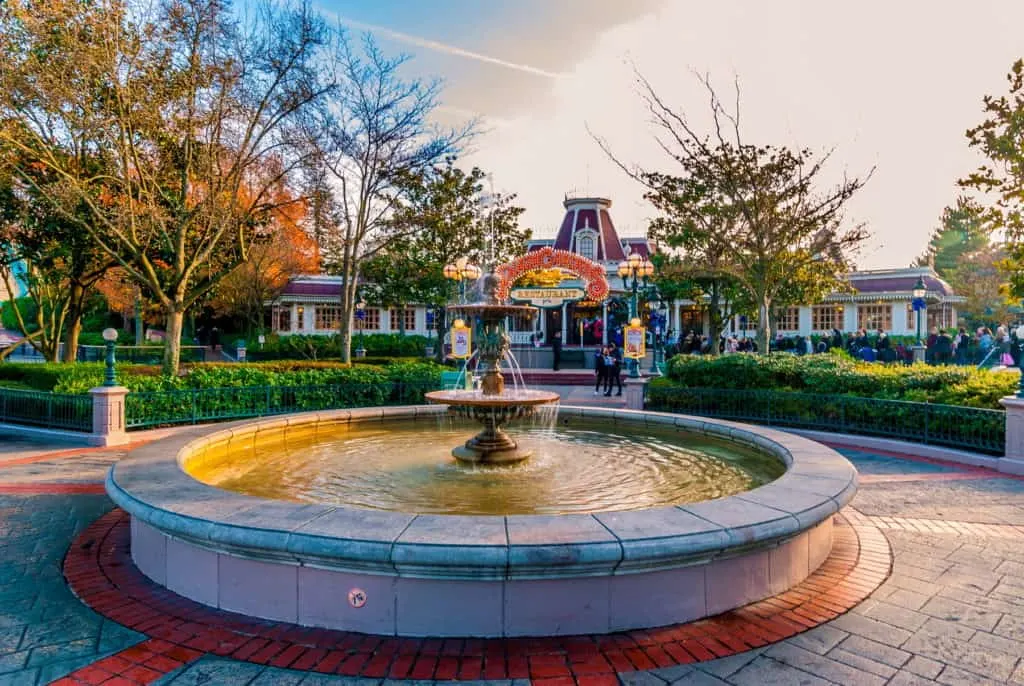 The only place where you will find Character breakfast, Plaza Gardens is located within Disneyland Park and is a great excuse to get up early in the morning. Beat the queues to enter the park and have breakfast with Mickey and Friends. The buffet is your typical American spread; eggs, pancakes, waffles, bacon and baked goods. The coffee and juice are unlimited and this too should take about 1.5 hours to experience.
Because of the limited number of character dining experiences at Disneyland Paris, you are able to book this through the website or over the phone when making your hotel package reservation. You will be asked to pay in advance for your group and will receive a full refund upon check-in if you are using a meal plan voucher for this experience.
Cowboy Cookhouse BBQ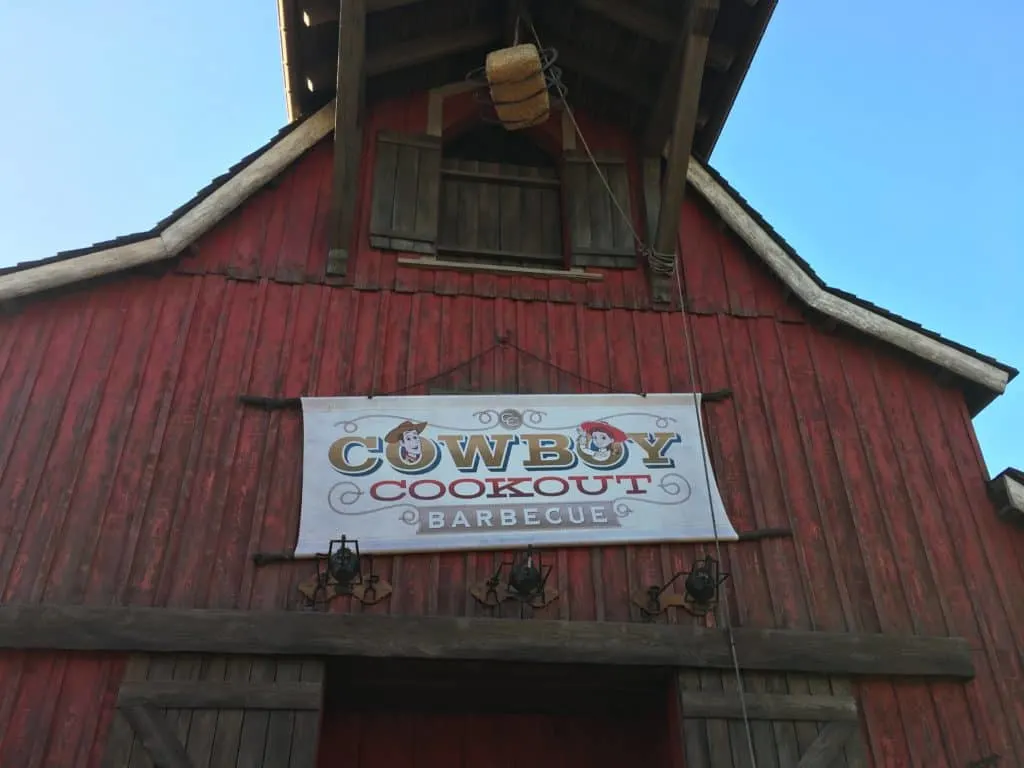 Hidden in Frontierland near Woody and Jessie's character spot, this little restaurant caught us by surprise. Another counter service stop, they serve bbq legs, ribs, and burgers. During peak times, you can even catch a live band on the barn stage. We found this to be a great place to wait for Jessie to come back after her own lunch break.
Best Places to Eat in Walt Disney Studios Park
Restaurant en Coulisse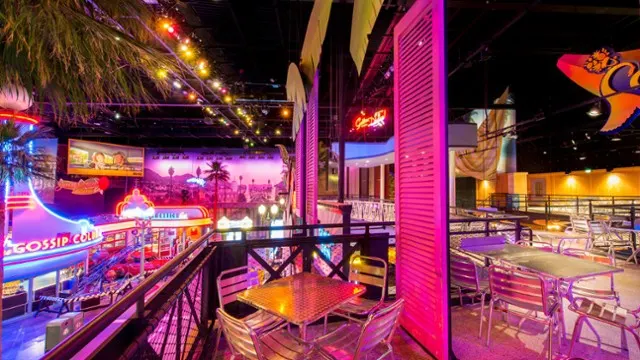 There aren't many restaurant options available in Walt Disney Studios Park but this one is pretty cool. Located in the giant hanger guests must pass through to reach the Park from the main entrance, you will find gift shops and the main restrooms on the left, and counter service restaurants on the right. There is plenty of seating here, as well as a cafe for coffee and desserts if you are only feeling peckish.
This is also where you will grab your breakfast in the morning should you have the Free Meal Plan with park breakfast.
Bistrot Chez Rémy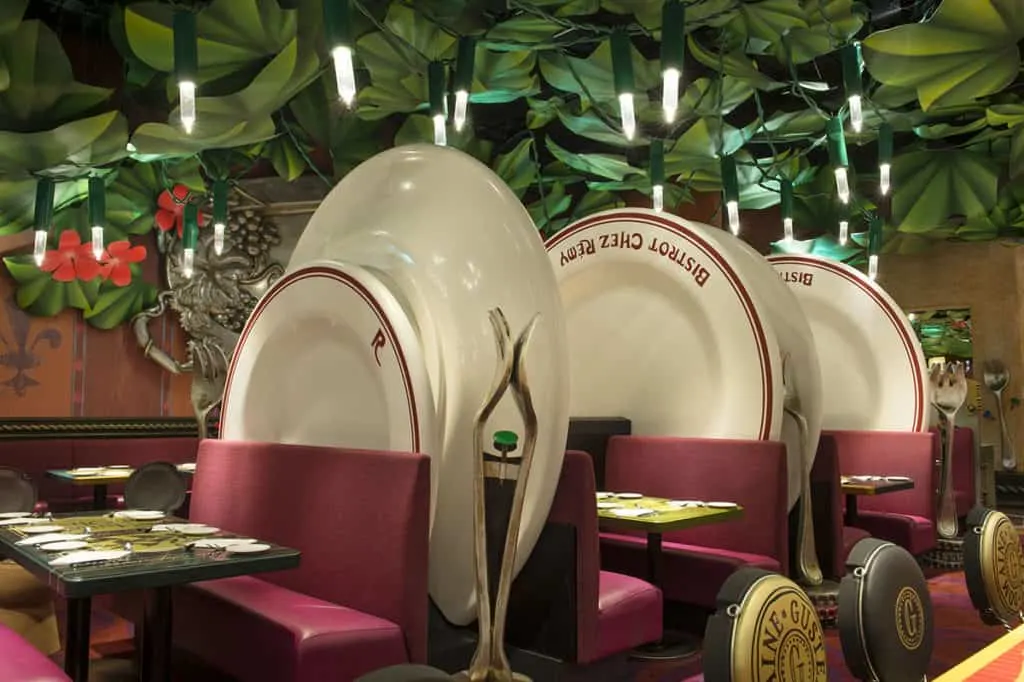 Bistrot Chez Rémy is among the children's favorite restaurant for the theming and desserts alone. They love the idea of being shrunken down to the size of a rat and having eclairs after their meals instead of the traditional cupcake or ice cream cup. We love the menu options and that they have something for both Plus and Premium meal plans. Cod fillet, grilled beef or sauteed chicken, the children's menu is more picky-friendly while still having the sophistication of a high-end French restaurant.

Best Places to Eat at Disney Village
Buffalo Bills Wild West Show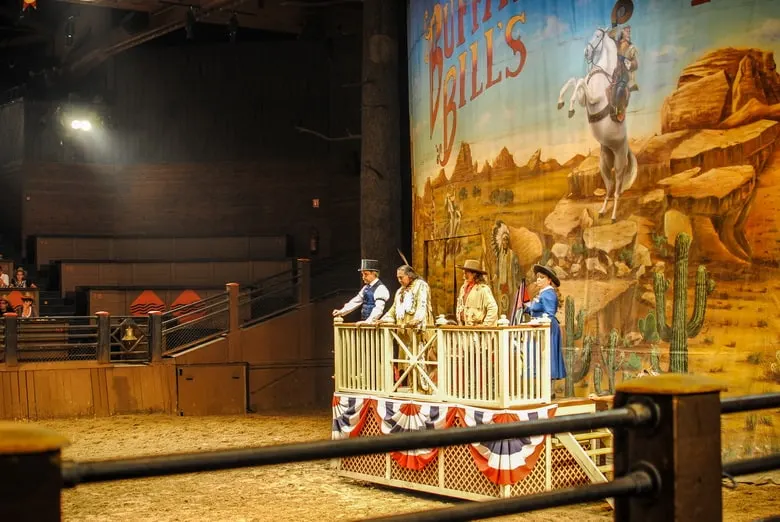 We have enjoyed Buffalo Bills Wild West Show every time we visited Disneyland Paris and the children keep asking to go back. Advanced reservations are also required here, they do accept Meal Plan vouchers or prepayment in advanced in order to make the booking. Children under 2 years old are allowed in free if they sit on a parents lap and are not given their own plate – though we have seen servers give mum an extra portion in this case. We tried this once and I was not a fan, nor were the guests sitting next to us. We decided to purchase a seat for our under-2 next time and we all had a much better experience, and she ate everything so it wasn't wasted money.
There are 2 tiers of seatings; Category 1, which is more expensive and is the first 2 rows, or Category 2 – everywhere else and generally more budget-friendly. Both sections have amazing views of the show but category 1 does have individual bucket seats vs a large bench on category 2. We found this added to our comfort with the children but to each their own.
Check out our Full review here
Rainforest café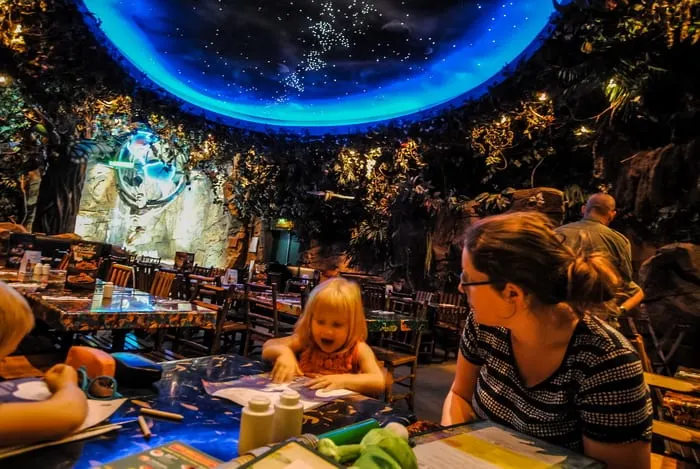 Not owned by Disney, the Rainforest Cafe does not accept reservations nor does it honour the Meal Plan vouchers. Immediately following the evening fireworks, the queue can last 45 minutes before being seated but as long as one person waits in line, others are welcome to explore the Lego store across the way.
Should I purchase Full-board or Half-board meal plans for Disneyland Paris? And how does it work?
During our many trips to Disneyland Paris, we have tried both pay-out-of-pocket and Disneyland Paris meal plan. Just like Walt Disney World, these vouchers are redeemable for meals at select locations.
Absolutely. By visiting the Disneyland Paris Dining website, here, you will see every restaurant, table service and counter service, available at Disneyland Paris. Once you click through to the specific one you want, there will be a menu available for browsing.
How to make a Disneyland Paris restaurant reservation
There are many ways to do this:
Up to 2 months prior to your arrival date, by calling our Dining Reservation Service on +33 1 60 30 40 50 (international call rates apply)
Online Reservation (Not available on the English site version but your browser should translate automatically)
Upon your arrival, through the reception desk at your Disney Hotel.
Or at the restaurant directly.
Disneyland Paris restaurant prices
Disneyland Paris restaurant prices very by restaurant type. On the official Disney dining website, you will find a price guide; 1,2 or 3 Euro symbols, €€€ , indicating the approximate value of each plate at this restaurant.
Obviously, counter service is going to be the cheapest €, buffet and informal table service restaurants are €€, then the more formal table-service restaurants – Like Bistrot Chez Remy, are €€€.
You May Also Like
YOUR THOUGHTS…
Have you ever dined at any Disneyland Paris restaurants? Which did you like best? Which did you think had the best theming? If you haven't been to Disneyland Paris, which restaurants look most interesting to you? Any questions? Your comments are half the fun, so please share any questions or feedback about dining in Disneyland Paris that you have in the comments!