Last Updated on February 15, 2020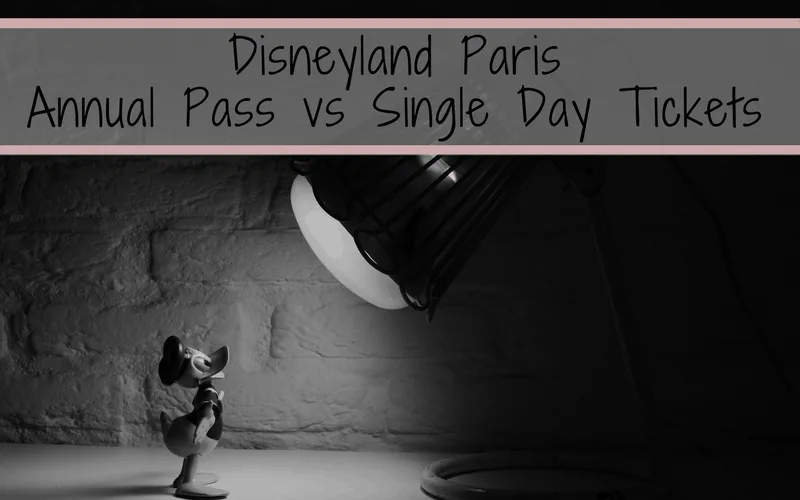 A lot goes into deciding what kind of Disneyland Paris ticket is best for your holiday. This article will help you make that essential deciding and save you money in the process.
This post may contain affiliate links.
To which I earn a small commission, at zero cost to you!
Find more info in our
Privacy Policy
.
How many days?
Do you want to visit for just a single day or multiple days? How long you plan on visiting Disneyland Paris, this time and throughout the next 12 months, are the key questions you must ask yourself before you can buy your Disneyland Paris tickets and save money.
Ideally, a good overview of Disneyland Park takes 2 days whilst Walt Disney Studios Park takes 1 day
The ultimate tip for cheap Disneyland Paris entry, if you're visiting for 3 days or more or plan to return the same year: consider an Annual Passport.
Disneyland Paris admission and ticket prices
Types of Disneyland Paris tickets available
1 Day Disneyland Paris Tickets
Single-day tickets vary in price, according to expecting crowds and therefore make it hard to budget. Purchasing these at the door if you aren't sure of your arrival date, or in advance online for a specific date, are the better options.
Buying online is always cheaper than buying at the gate, and you get to choose your preferred type: MINI (buy during working days, off peak), MAGIC (all week except holidays), or SUPER MAGIC (all year long including Christmas, New Years, Halloween etc.)
Mini and Magic tickets are valid until January 31, 2020 regardless of when they were purchased.
Multiday or Park Hopper tickets
Unlike Walt Disney World where you must decide between one park per day or Park Hopper for the entirety of your vacation, Disneyland Paris has made it that much easier for you to choose. All multi-day tickets are Park Hopper tickets, there is no other option.
This is especially amazing because the two parks, Disneyland Park and Walt Disney Studios Park are directly across from each other; walking distance close.
Disneyland Paris is currently running a special promotion, in which they are offering Multiday Experience+ ticket. These tickets include:
1 multiday ticket for the selected number of days: the two first days of visit must be consecutive.
1 access to a preferential viewing area to watch the Disney Illuminations show valid only on the first day of visit.
1 Super FASTPASS – 3 Family Attractions is valid only on the second day of visit
15% discount on food valid at buffet and table service restaurants
20% discount in shops for a minimum spend of €60 per transaction
Is the Disneyland Paris Fastpass worth it?
The word "worth it" comes up a lot online but truthfully, this all depends on you. Depending on what you want out of your Disneyland Paris vacation, the Super and Ultimate Fastpass purchases can be worth it… and they can be a colossal waste of money.
Fastpasses get you in and out quickly so you can move on to the next ride. This is great if you are limited in time and money, and want to see as much as possible in the short 1-2 days you have available. This is also great when the crowds are high and you have zero interest in waiting in the standby queues.
If, however, you are visiting during an off-peak time, typically when school is in session, you have an abundance of days at your disposal and you just want to soak up all that Disney energy. Don't bother with extra fast passes. You probably won't even use the free ones that they give you with your entrance ticket.
Click here to learn more about the Super Fastpass options and other paid Fastpass options at Disneyland Paris.
Annual pass
Disneyland Paris is a unique little theme park, in that Annual Passes are more often than not, cheaper to purchase than individual park tickets.
For example, the lowest tiered Annual Pass, Discovery, is available for 179 euro, whereas a 3 day/2 park ticket (all tickets cover both parks, they are just being clear on what you are purchasing) will cost you 227 euro.
What is that?! Access is limited to 150 days a year due to block out dates, so depending on your schedule, the 259euro Magic Flex may be your best bet – but spending an extra 32euro to receive an Annual Pass and 10% discount on all shopping (plus discount Photopass for 1 year) is probably a better way to spend your money.
Even if you only purchase an Annual Pass for one member of your family, use their discount and only visit once per year, you are in the green.
Did we mention the hotel discounts, since you won't be purchasing the rooms and tickets as a package anymore? Annual Passes seem to be their upsell and they are doing a great job of promoting it.
There are four types of Annual Passports at Disneyland Paris: Infinity, Magic Plus, Magic Flex, and Discovery. All four offer various discounts in addition to admission.
You can save 20% when you buy annual passports for a family of five or more. The passports must all be purchased from a ticket booth at the Disneyland Paris theme parks at the same time, for persons in the same family who are all living at the same address. You must present ID for all members to prove that you are the same family.
Each offers more perks than the last, including ship discounts, restaurant discounts, free car park, invite your friends, use of a Disney stroller and access to Annual Pass events.
Annual Pass prices are always changing, but the benefits are always great and increase with their multi-day and single-day tickets. Check out their official website for price details.
Top Tip
On the day of your visit and up to 30 days afterward, deduct the price of your 1-day admission ticket from the price of any Annual Pass.
What is Annual Pass Sponsorship?
You can choose to sponsor your friends so they too can get their own Annual Pass and enjoy the magic with you! With this, you get 6 months free on your Annual Pass and your friend receives a 10% discount when they purchase their Annual Pass.
At either park, Disneyland Park or Walt Disney Studios Park head to the ticket booths. Let the Cast Member know you would like to sponsor your friends Annual Pass. You will be given a form to fill in and this will get stamped. Once you have managed to sponsor 3 friends, you will have 3 stamps on your form and you can then receive your free 6-month pass. Just take your stamped for to the Bureau Pass Annual.

Military Discounts
Members of the US Military get 50% off adult and child (ages 3-11) 2-day/2-park tickets and 3-day/2-park tickets to Disneyland Paris. These tickets must be purchased in person at the Disneyland Paris ticket window. US Military ID required. This offer is valid for one member of the US military and up to 4 other people. The days do not have to be used consecutively.
As we have experienced first hand, gate agents only ask for military ID and are not particular about whose military you are serving in. As Canadians, we were happy to be able to use our military ID to get a great deal on our entrance tickets.
Is Disneyland Paris free on your birthday?
Back in 2012, for their 20th anniversary, Disneyland Paris was offering free tickets for those celebrating their birthdays. Sadly, this is no longer the case at any of Disney's many locations.
All is not lost, however. You are able to visit Guest Relations and request a special birthday button. It's not the same as a free entrance ticket but it's still a pretty sweet gift.
How to book Disneyland Paris; 3 different ways to buy tickets to Disneyland Paris
Where can I buy cheap or discount tickets?
Gate price
If you are making a last-minute trip to Disneyland Paris and haven't decided on the dates yet, then, by all means, purchase your tickets at the gates.
This is also where you will need to make any discounted purchases. You will be asked for proof of discount eligibility and this can only be done in person.
On the Disney Website
There is a lot of confusion when it comes to buying tickets online, mostly because there are so many options and they are not always obvious as to what each means.
As mentioned above, you have a choice of many 1day park tickets and many multi-day park tickets. It is imperative that you plan your time wisely and purchase the appropriate tickets.
You can show the Disney eTicket barcode on your mobile device at the theme park Main Entrance to gain admission—there is no need to print out a paper ticket. Tickets purchased on the Disneyland mobile app can also be scanned directly from the barcode on your mobile device.
Authorized third-party vendor
Many readers have asked, "Where can I buy cheap or discount tickets?" There are a number of places that will sell you Disneyland Paris tickets. Some are authorized and some are not. Unauthorized retailers, like Ebay, are selling portions of used tickets and are non-transferable. Disney does not tend to help those that have been taken advantaged of in this way.
On the other hand, there are a few authorized Disney ticket vendors. These are the places where you can trust to sell you proper Disney tickets, and Disney will help you in the case of a mix-up or problem using your purchase.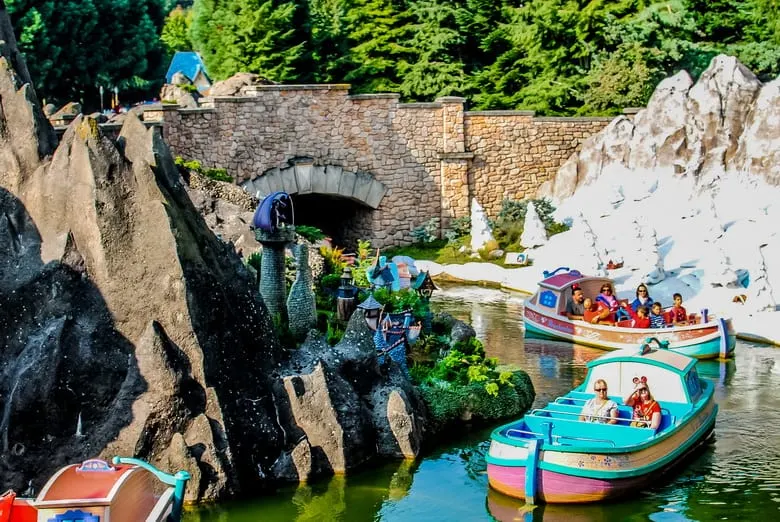 The best price
The cheapest price is always going to be an authorized third-party vendor or travel agent. They seem to be able to get a little off the top and pass the savings onto their clients, and this is great.
However, whenever Disneyland Paris has an offer on, or upgrade available, packages must be booked through Disney directly. This means guests that have the budget route and made ticket purchases through third-party vendors are not able to add the Meal Plan to their reservations.
You May Also Like