Last Updated on July 6, 2021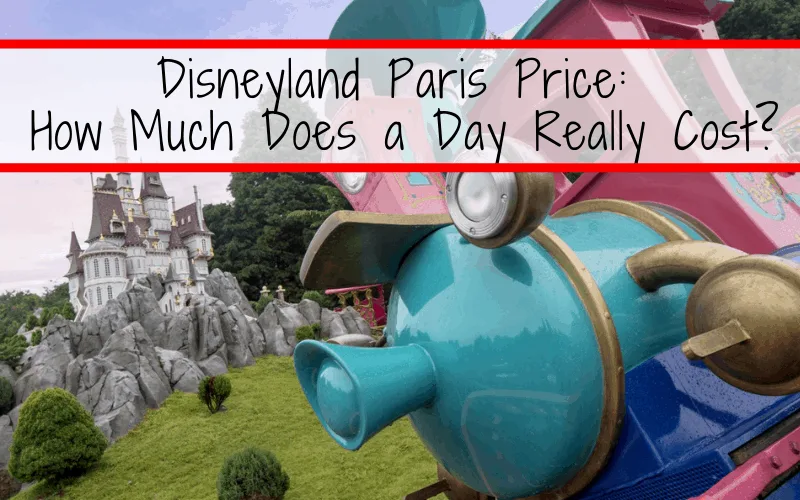 The cost of your vacation isn't just about the flight and the hotel. There is so much more to a Disney vacation than a traditional holiday; entrance tickets, shopping, restaurants, and skip-the-line passes. How much does a day trip to Disneyland Paris cost?
This post may contain affiliate links.
To which I earn a small commission, at zero cost to you!
Find more info in our
Privacy Policy
.
How much does it cost to visit Disneyland Paris for the day?
While there are definitely ways to visit Disneyland Paris on a budget, keeping these additional costs in mind will do a long way to reducing the stress and surprise from your Disney vacation.
Disneyland Paris ticket prices 2019
Disneyland Paris Park entrance tickets
There are a handful of ticket options available at Disneyland Paris; single day or multi-day. Single-day tickets get you into one park for one day, whereas multi-day tickets are automatically hopper tickets.
If you or a member of your party are in the military, French or otherwise, you are eligible for a significant Disneyland Paris military discount.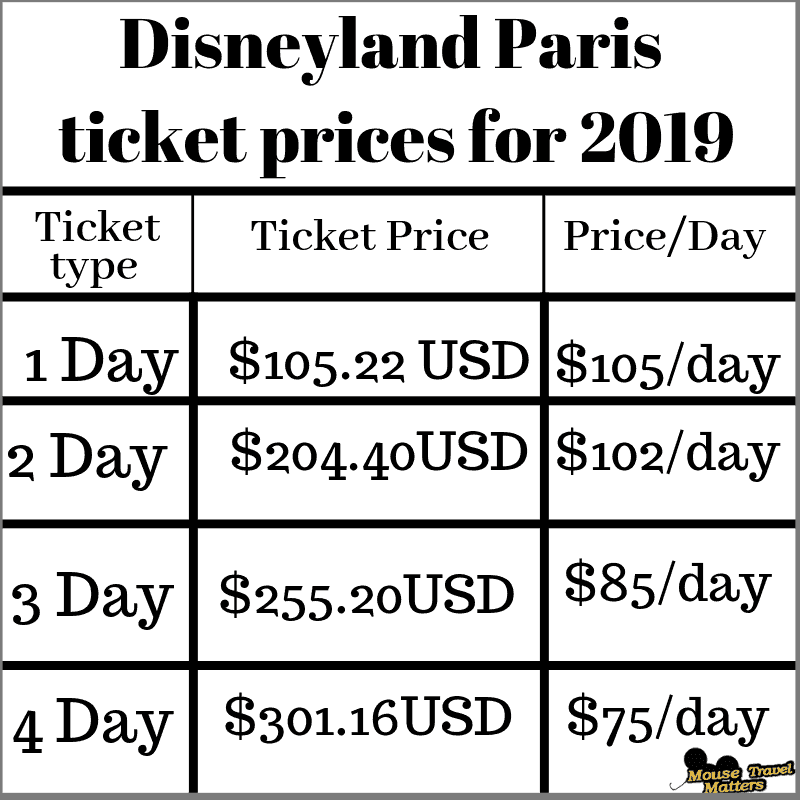 At the gate
Disneyland Paris offers the same regular rates at the gate as they do on their website. They do not offer discounts for purchasing your tickets in advance on regular priced tickets.
Online
Disneyland Paris does, however, offer a Special Ticket Magic for select days during the summer and this is only available online. This comes to roughly 6.50€ savings per ticket on both the 1 day/1 park and 1 day/2 park ticket.
If buying tickets online, it is cheaper to buy tickets in advance for a later day instead of buying for the same day. It is 14€ cheaper to buy a ticket that is valid tomorrow morning than one that is valid within 15 minutes of purchase.
Disney Premier Access
From anywhere inside the parks, guests can use the App to book an assigned time slot for select attractions, with prices at launch starting at 8€ per person per ride depending on the attraction and day of use. Guests without a smartphone can also purchase Disney Premier Access at select locations in the parks. By choosing Disney Premier Access, guests have the option for more flexibility in planning their day and will be able to spend even more time enjoying attractions, shows and so much more
Disneyland Paris replaces free Fastpass with Disney Premier Access
Ticket and hotel deals
If trying to figure out which ticket to buy and how many days you need is a little overwhelming, let this piece of advice clear the air.
Disneyland Paris hotel packages come with tickets and they are a great deal. Your ticket and hotel deal comes with one more days worth of tickets than the number of nights you are spending; that is to say, if you book for 5 nights, you will receive 6 days of tickets. This means you are welcome to visit the parks on your arrival day, or after you check out. Your choice.
And as we have mentioned before, all multi-day tickets are automatically Hopper tickets so you don't need to choose which park you want to visit on which day.
How much is an annual pass to Disney Paris?
There are four types of Annual Passports at Disneyland Paris: Infinity, Magic Plus, Magic Flex, and Discovery. All four offer various discounts in addition to admission.
Disneyland Paris is a unique little theme park, in that Annual Passes are more often than not, cheaper to purchase than individual park tickets. Each tier is strategically priced to be of great value for all kinds of Disney vacationers.
If you plan on staying 3+ days per year, the Magic Flex is your best bet – spending an extra $45 to receive an Annual Pass and 10% discount on all shopping plus discount Photopass for 1 year is a much better way to spend your money.
If you are still confused about tickets, don't worry. Check out Your Disneyland Paris park tickets for all the gritty details.
Disneyland Paris buggy hire cost
Guests can hire a pushchair or wheelchair inside the parks. Due to limited quantities and overwhelming demand, the lines can be surprisingly long, even in the morning, and supply does tend to run out by mid-day.
Rental strollers cost €20, a €75 deposit is also required by cash or credit card.
Rental locations
On the right after passing under Main Street Station, next to the Transportation building
Main Street, U.S.A., Disneyland Park
Next to Studio Photo, to the right of the Disney Studio 1 entrance
Front Lot, Walt Disney Studios Park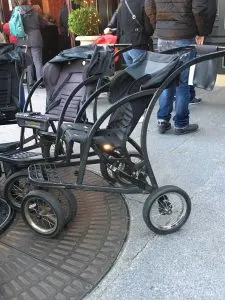 Rental strollers also tend to be hard plastic covered in a thin layer of fabric, as pictured above. They are not the most comfortable piece of child equipment. We do suggest bringing your own stroller from home. As of yet, we are not aware of any third party stroller rental agency in the vicinity that would be able to rent a stroller.
It is also worth noting that guests have habitually taken the wrong stroller (by accident, of course) so it is best not to leave valuables in the stroller and to have it well marked as your own.
Getting Around
There isn't too much to say about getting around Disneyland Paris. Everything is nicely placed in one single area that is 100% walkable, even for little legs.
The real question is how are you going to get to Disneyland Paris in the first place; train, taxi or Magical Shuttle. Since everything is so close together, you won't need to rent a car, even if you do plan on making a day trip into the city.
How much does the Disneyland Paris train cost?
Paris centre to Disneyland: the best way to get there
If you're going from Charles de Gaulle airport to Parc Disneyland, you can take either a TGV train direct from CDG to Disney (Marne la Vallée) or first take the RER B train to Paris then at station Chatelet Les Halles, switch to the RER A train line towards Marne La Vallée.
If you are traveling between central Paris and Disneyland, you will be traveling on RER Line A. Fortunately, the station used for Disneyland, Marne-la-Vallee is at the end of the line. Trains to Disneyland run at 15-minute intervals between about 5.30am and midnight.
| Fare Type | Single | Return |
| --- | --- | --- |
| Adult | €7.60 | €14.20 |
| Child (4-9 inclusive) | €3.55 | €7.10 |
Photo Pass Package
Similar to the Memory Maker program at Walt Disney World, Photo pass + at Disneyland Paris uses a Photo pass card to collect and store your photo pass images. The card is free of charge and guests are under no pressure to purchase. During or at the end of your stay, simply visit a Photo pass vendor within the Parks and view your images. You can decide then if you wish to buy the package or as individual photos.
It is less expensive to purchase the Photopass+ ahead of time but if you aren't sure how many pictures you will be collecting, waiting is sometimes the best option. Learn more about Disneyland Paris Photo pass here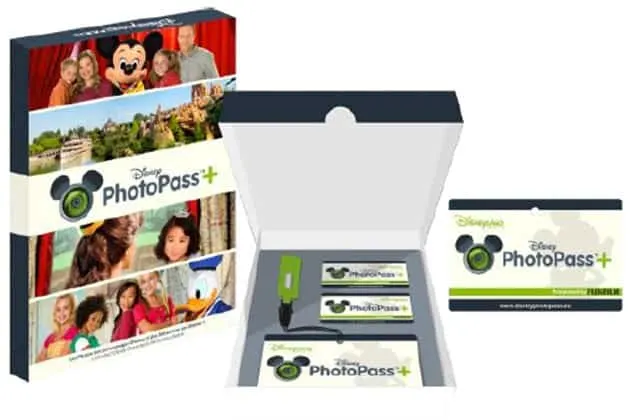 Character breakfast Price at Disneyland Paris
Unlike the other parks, Disneyland Paris only has one character breakfast option; Plaza Gardens. This is located within Disneyland Park, near the center hub grass. Getting a reservation at Disneyland Paris Plaza Gardens is available 60 days in advance by calling into the reservation desk.
This beautiful restaurant will set you back 34.99€ per adult and 17.99€ per child ages 3-11.
There are 3 other Character meal options available at Disneyland Paris; Auberge de Cendrillon – this is a princess lunch/dinner option next to Sleeping Beauty's castle, Cafe Mickey – Mickey and Friends, and this option is available for all guests in the Disney Village, and finally Inventions – this character meal is hosted in the prestigious Disneyland Hotel and is available for all guests to book reservations.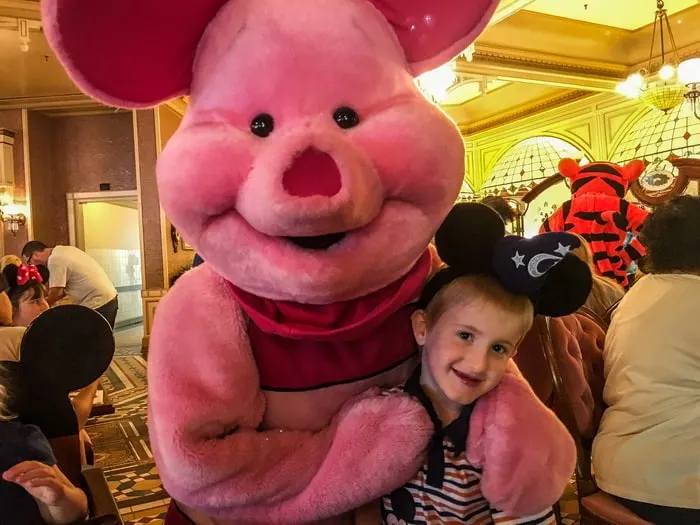 Food and restaurant prices
It is very important to remember; you are allowed to bring food into the parks! Even if you are just packing snacks and drinks for the day, do it.
There are plenty of places that offer inexpensive meals, and "snacks" can definitively double as a meal, and shared with a partner.
If you do decide to purchase meals in the parks, we would recommend budgeting 45Euro+ per person, per day. The counter service options are typically burgers and fries, or Chicken nuggets and fries. There are a few counter service options that offer BBQ ribs or Deep Fried fish but they are scattered throughout the parks.
For a good quality meal, we would suggest something in the sit-down department. They can easily hit 20euro per person for a single meal but the options are plenty, the food is amazing and you get to sit for an hour and recharge your batteries. This is a great time to get the kids to quiet down and maybe get ready for nap time; we typically settled them down after lunch and use Rider Switch and some strategically timed fast passes at this time.
On the other hand, Disneyland Paris does offer a Meal Plan option for its onsite guests. These are pre-purchased meal tiers available for use at a wide selection of Disneyland Paris table service restaurants.
Shopping at Disneyland Paris
It will not come as a surprise to mention that the prices of merchandise within the shops are a little outrageous. The stuffies, Mouse Ears, collectibles and everything in between do come with a little bit of a higher price tag than you may find at your local Disney store. This is true.
However, in their defense, you may not find the same item at your home store once you have left. There are cases where we have seen something at the Disney Store in the Disney village and it was not available outside of the parks or they were in limited quantity.
We always suggest you buy it immediately and return it the next day if you have changed your mind; if you tell them before paying for it, the staff are able to keep your purchases and bring them to your hotel on your behalf instead of you dragging bags around all day. This is a free service, by the way.
If you don't have your heart set on a specific souvenir, we do suggest looking at your local store before heading to the parks, as well as poking around Amazon to see what is available.
We created a quick guide to smart shopping at Disney. It was designed for Walt Disney World but the tips apply to Disneyland Paris as well.
Disney Shopping Service
This FREE service lets you shop in the morning and collect in the evening.
Disney Shopping Service transfers them over to the Disney Store in Disney Village, at the exit of the parks, where they'll be available to pick up from 6 pm onwards. Or, if you're staying at a Disney Hotel, they can even be sent to your hotel's boutique, where they'll be available to pick up from 8 pm.
What Does a Disneyland Paris Trip Cost? The Results Are In!
A trip to Disneyland Paris will cost you a little more than just your hotel room and entrance tickets, unfortunately. But armed with these tips, you have the best chances of setting a much more realistic budget for your family and having a much better vacation because of it. One not full of shocking surprises and price tags.
Get our Best Disney Tips
Save money by buying these 5 items before you leave home
Be sure to join our MTM Newsletter to stay on top of ALL things Disney!